Top Ten Best NFL Wide Receivers of the 2015-2016 Season
The Top Ten
1
Antonio Brown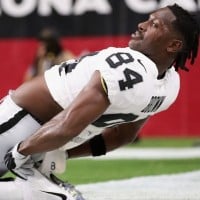 Antonio Brown is a former NFL wide receiver and for the Tampa Bay Buccaneers of the NFC South Division. He was drafted in the 6th round of the 2010 draft by the Pittsburgh Steelers, and has also been on the Oakland Raiders and New England Patriots. He is a 7x pro bowler, and regarded as a skilled player.
Antonio Brown was the best receiver last season and he is the best receiver this season. He is the best route runner, has the best hands (most receptions in a two-year span with 265 and a three-year span with 375) and he is an impossible cover + he is a brilliant return specialist.
Calvin Johnson is to Randy Moss as Antonio Brown is to Jerry Rice. By far the best receiver of all time (excluding Jerry Rice). I don't know what it is but he just gets it done. If his quarterback hadn't gotten hurt we would be talking about a 2,200 plus yard season.
Antonio Brown is simply the best. The only other WRs that should have recieved votes as the best is Julio Jones, Odell Beckham JR and Deandre Hopkins. Votes for any other WR as being the best in the league is a joke. Only the players themselves, their family, friends and fans of that player must have voted for anyone outside of the 4 WRs I mentioned above.
2
Odell Beckham Jr.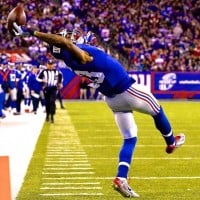 Odell Beckham Jr. is a NFL wide receiver, playing for the Los Angeles Rams. He is most-known for making an incredible one-handed catch against the Dallas Cowboys. Beckham was drafted 12th overall to the New York Giants.
Odell Beckham Jr. is my favorite NFL player. He plays for the New York Giants. In my opinion he is one of the best wide receivers at this time. He is great at one handed catches and he is able to catch the ball with one hand almost every time. He has a 14.7 career average and 25 touchdowns. Odell Beckham Jr. In the regular season finale against the Philadelphia Eagles, Beckham had a career high 185 receiving yards, which was the most in a game by a rookie in franchise history. On December 14, 2014, Beckham became the first NFL rookie with at least 12 catches, 140 yards and three scores in a game racking up 143 receiving yards, 12 catches and three TD's.
The dude is flat-out unstoppable. Since he had those issues with Josh Norman back in his rookie season, he has gotten so much more intelligent with his ability to deal with aggressive DBs. He has crazy lateral quickness and excellent hands, especially since he has to adjust to most of the passes he receives because Eli Manning can't hit him in stride. If he had a more accurate QB and the Giants had an offensive line, Odell Beckham Jr. would have the best receiving stats in the entire league, year after year. Watch him explode in 2018 if the Giants draft Sam Darnold or Josh Rosen
3
Julio Jones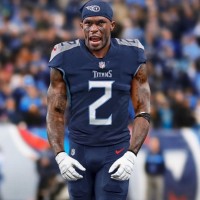 Quintorris Lopez "Julio" Jones is a current wide receiver who plays for the Atlanta Falcons of the National Football League. Jones was selected sixth overall in 2011 to the Atlanta Falcons, and since made it to one Super Bowl.
He's not just amazing on the field, but off the field too. Leading the league in recieving yards this monster of a player has been described by numerous articles as a teamplayer. He is always looking ahead to the future and is constantly helping the Atlanta Falcons and his teammates reach their potential. Its an obvious pick for me who is the best...
The only reason this is even a debate and he isn't number one is the fact he plays for Atlanta. Look at the tape this year, the catches, the stats, the performances against elite corners. Far more dominant than Brown or Beckham.
Julio has to be number one. 136 receptions. (tied with antonio brown). Doesn't have talents around him, unlike brown. He plays in a division with Josh Norman. Antonio Browns biggest challenger at CB in his division is Jimmy Smith.
4
Calvin Johnson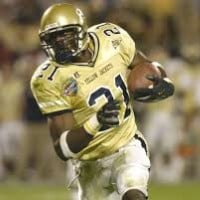 Calvin Johnson Jr. is a retired American football wide receiver who played his entire career for the Detroit Lions of the National Football League. He is often called the nickname ''Megatron'' for his rare combination of size, speed, and leaping ability on the field.
What is everyone thinking? By far the best wide receiver in the NFL is Calvin Johnson. He can run a 40 in 4.35, jump 40+ inches, is 6-5, owns the record for the most receiving yards in a season in NFL history (with a hand injury), and catches anything thrown at him. In college, he made a catch better than Odell Beckham Jr. Too. Look it up. Sure he's almost 30, but if you watch him play, you can't tell. He can grab just about anything and has the potential to bring in 2,500 yards. That is if he were thrown to basically every play like some of these guys. The only reason he hasn't had had more yards this year is because the lions haven't gotten him the ball on deep plays enough. Some many great plays that it is unbelievable that he is not #1.
Madden create a player. Best physical specimen ever at the position. Best receiver for many years, would probably be if healthy
Definitely one of the best of all time. Megatron is the #1 receiver now and a top 10 of all time.
5
Jordy Nelson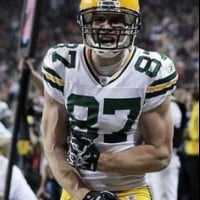 Jordy Ray Nelson is a former American football wide receiver of the National Football League. Nelson was drafted in the 2nd round as the 36th overall pick to the Green Bay Packers in 2008.
He is the reason the packers have victory, he is the bomb, he is the weapon of mass destruction on he team am I right!?!
He is the catcher and allstar touchdown man
Has dedication and strength to show of his skills he is legit!
Hope he comes back fully from the knee injury, looking forward to seeing how he competes this year.
6
Demaryius Thomas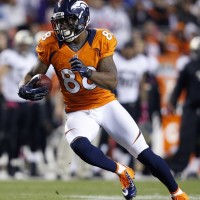 Demaryius Antwan Thomas was an American football wide receiver for the Denver Broncos of the National Football League. Thomas was drafted twenty second overall to the Broncos in 2010.
When he catches the ball, he is just plain dangerous. One of the best in yards after the catch, and showed some magic in a very dull Denver offense. A top 3 receiver for sure.
Demaryius Thomas is simply better than Brandon Marshall and Aj Green because of his one handed catch against the chiefs.
He is better then BMarshall. He will break away from everyone next year!
7
Deandre Hopkins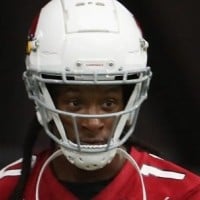 DeAndre Rashaun Hopkins, also known as "Nuk," is an American football wide receiver for the Arizona Cardinals of the National Football League. Hopkins was drafted 27th overall to the Houston Texans in 2013.
No matter who throws the ball he will cath it no matter what hopkins should of been top 10 instead off odell the diva!
What number 4 more like number 2! Way better than those two Julio Jones and Odell Beckham.
DeAndre Hopkins is a top 3 wide receiver along with Antonio Brown and Julio Jones.
8
A.J. Green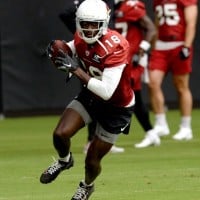 Adriel Jeremiah Green also known by many being called A.J Green to shorten his first name. He was drafted 4th overall in 2011 draft by the Cincinnati Bengals.
I think AJ Green is underrated and people don't like hime because he's on the bengals. and he also has the most bare minimum QB in the NFL I give AJ more credit than AB because he has good franchise QB so does Odell and Julio. And I'm gonna leave Deandre outta it until he gets an eliagble QB. AJ belomgs in top three. I think it should go

AJ Green
Julio Jones
Antonio Brown
Odell
Nuk
if AJ doesn't perform the way he did last year I would say he's number 4 being julio 1st AB 2nd Odell 3rd and Nuk 5th
The best WR in the league. 5 straight seasons of 1000 yards or more. He is crazy athletic and seems to make catches in impossible ways. He is that damn good!
Top 3: check the stats he's being balling since his rookie year, and that's with a qb with a weak arm. No particular order my top 3 AJ, Julio, AB
9
T.Y. Hilton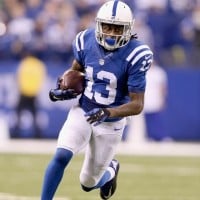 Eugene Marquis commonly known in the NFL as ''T.Y Hilton'' Is an American wide receiver for the Indianapolis Colts. Hilton was drafted in the 3rd round ninety two overall to the Colts in 2012.
Hasn't really shown up most of the season can he turn it around.
T.y. Hilton is a aggressive wide receiver he fights for the ball he's definitely in top ten good pick @TheTopTens.com
He could be 5 or 6
10
Jeremy Maclin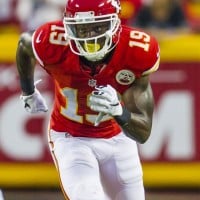 Jeremy Maclin is an American football wide receiver for the Baltimore Ravens of the National Football League. Maclin was selected 19th overall in 2009 to the Philadelphia Eagles. Maclin has been with 3 teams in his NFL career.
He is coming off a great second half of last year and the Chiefs look like they will continue to build their passing game.
His the reason the WR no TD streak ended they found their #1 weapon on offense.
Because he is home team
The Contenders
11
Alshon Jeffery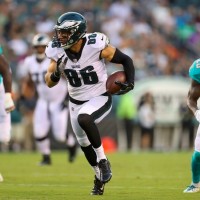 Alshon Jeffery is an American football wide receiver for the Philadelphia Eagles of the National Football League. Jeffrey was drafted 2nd round forty fifth overall to the Chicago Bears.
The injuries are killing em to back back out there.
So underrated! He's among the top 10
Amazing but injured
12
Larry Fitzgerald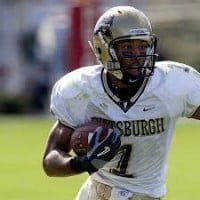 Larry Darnell Fitzgerald Jr. is an American football wide receiver for the Arizona Cardinals of the National Football League. Fitzgerald was drafted 3rd overall to the Arizona Cardinals in 2004, he is considered to be one of the best players of his position to never win a Super Bowl.
This guy will catch pretty much anything thrown at him. I think he's got a much better catch rating than Beckham. He should be in the top 5.
He will catch anything and run with the ball. Have you seen him block he is one of the only wide receivers that can hold a block.
So much to say about Larry the legend, he's the best wide receiver to ever live but it just wasn't showing
For a few years do to crappy quarterbacks like Kevin kolb, and Skelton.
13
Robert Woods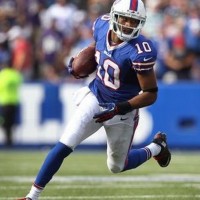 Robert Thomas Woods is an American football wide receiver for the Buffalo Bills of the National Football League.
Um, he is competing for #3 receiver, enough said.
His decent but not great
This has to be a typo
14
Jarvis Landry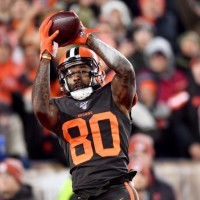 Jarvis Charles Landry is an American football wide receiver for the Cleveland Browns of the National Football League. Landry was drafted in the 2nd round sixty third overall to the Miami Dolphins in 2014.
He has the skills. Just skeptical of the QB that has to get him the ball.
His he has up and downs but in the end has upside.
Should be so much higher
15
Amari Cooper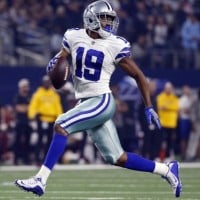 Amari Cooper is an American football wide receiver for the Dallas Cowboys of the National Football League. Cooper was drafted 4th overall to the Oakland Raiders in 2015.
Amari Cooper can line up any where. He can beat one on one coverage he is really good at catching running and getting past defenders. He can make ay kind of catch. He is fast. This is why I think Amari Cooper should be one of the top 10 receivers in the NFL right now.
Great Wr Talent Much Potential and A Great nack for RAC Good for years to come!
Monster on field. 2017 coming
16
Doug Baldwin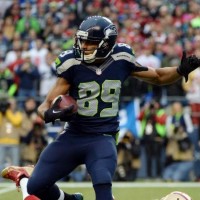 Douglas Dewayne Baldwin Jr. is a former American football wide receiver of the National Football League. He played all 7 seasons of his career with the Seattle Seahawks.
Doug Baldwin is an extremely underrated excellent wide receiver who, besides a dominant Seattle running game, has been the offense powerhouse and second part of the dynamic duo between him and Russell Wilson.
He can make plays and it looks like the Seahawks finally started to put a passing game together when all the running backs went down. I hope that continues this year.
Recorded ONE drop the entire 2015/16 season. Do I have to say more?
17
Dez Bryant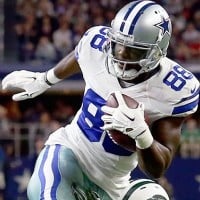 Desmond Demond "Dez" Bryant Sr. is an American football wide receiver for the Dallas Cowboys of the National Football League.
Once again, another reciever that should be a lot higher on the list! I am not a Cowboys fan and definitely not a Dez Bryant fan. However I am honest and will give credit where it's do. I have also seen this guy make some unbelievable catches, he should be in the top 10 at least. If he can touch it, 99% of the time he will catch it!
Tell me how he can be listed as 6th and 8th best on reputable websites such as ESPN and CBS Sports, but is placed 56th on website specifically designed for "top tens"? Obviously, stats are not calculated when generating this list. This picture is preposterous, and so is this list
Haha was in talks for number 1 last year. Top 3 talent when he and qb are healthy and Dallas actually gives him the ball. Don't know why they don't some games
18
Emmanuel Sanders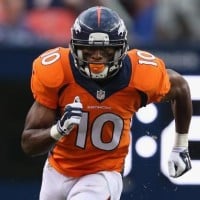 Emmanuel Niamiah Sanders is an American football wide receiver for the New Orleans Saints of the National Football League.
He deserves to be higher on the list than this, I have seen him catch the ball in high traffic. Get the hell knocked out of him where some of these others would have dropped the ball. He should at least be in the top 25.
He is better than this
Having a ok year
19
Brandon Marshall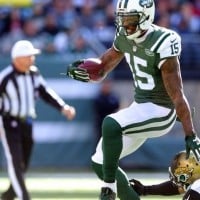 Brandon Tyrone Marshall is an American football wide receiver for the Seattle Seahawks of the National Football League. He has played for six different teams in his NFL career. Marshall was drafted in the fourth round, 119th overall to the Denver Broncos in 2006.
3rd in Fantasy this year! How is he not top 3! Most under-rated receiver of all time. Imagine the stats with a decent QB! He has played with Orton, Henne, Moore, Cutler and Fitzpatrick! Put's up 1300+ yards and 10+ touchdowns with all of them! Julio, Antonio, Odell, Hopkins etc. all have Elite QB or are the only decent receiver on the team so they get way too many targets. Brandon is unquestioned top 3, maybe #1 receiver in NFL.
He is really underrated and a beast. Imagine the damage he would do if he had a good quarterback.
Having a pretty solid year with fitzpatrick under QB.
20
Desean Jackson
DeSean William Jackson, nicknamed "D-Jax", is an American football wide receiver and return specialist for the Tampa Bay Buccaneers of the National Football League. Jackson was drafted in the second round forty ninth overall to the Philadelphia Eagles in 2008. Jackson has played for 3 different teams in his career.
Desean Jackson is the best WR ever.Because he always makes long passes and when he played Eagles Kirk cousins through that 80 yard pass to him and he caught it and ran to the touchdown like a boss!
Lost his touch, poor guy...
This doodle my homey
21
Allen Robinson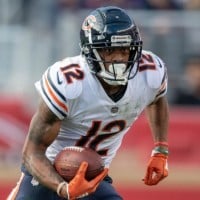 Allen Bernard Robinson II is an American football wide receiver for the Chicago Bears of the National Football League. Robinson was drafted in the 2nd round 61st overall to the Jacksonville Jaguars in 2014
This guy is a top 5 receiver. He not only racks up yards, but has a gift for getting into the end zone.
This guy is top 10 talent no idea how he's this low. Maybe top 5 in a year
Stat wise top 5 this year on a team too. Only his second season too
22
Julian Edelman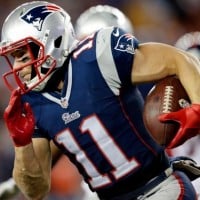 Julian Francis Edelman is an American football wide receiver for the New England Patriots of the National Football League. Edelman was drafted in the seventh round two hundred and thirty two overall to the New England Patriots. Edelman played quarterback in college, but in the NFL he changed position to wide receiver due to his height.
Not having as good of a year he had last year.
He was injured
Not as physically talented as some but the guy does it all and is tough as nails
23
Mike Wallace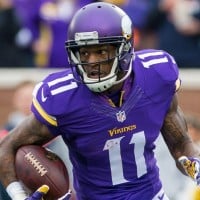 24
Stefon Diggs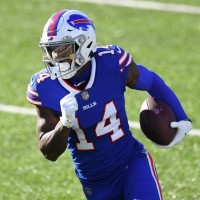 Stefon Diggs is an American football wide receiver for the Buffalo Bills of the National Football League. Diggs was drafted in the fifth round one hundred and forty sixth overall to the Minnesota Vikings in 2015.
I agree dude he should definitely be top 20. Ahead of Wallace go vikes but Diggs is better.
A Very Surprising Young Rookie with a lot of potential.
He should be top 20
25
Sammy Watkins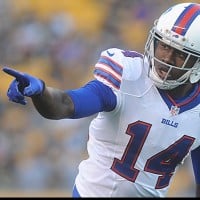 Sammy Watkins is an American football wide receiver for the Green Bay Packers of the National Football League. Watkins was drafted 4th overall to the Buffalo Bills. His known for having injury prone problems on multiple occasions in Buffalo since coming into the league in 2014.
Doing slightly better but is having injury prone problems.
One of the best in the making. Bad qb again or stats would be even better
He should be at the very bottom. #trash
PSearch List