Top Ten Best Cincinnati Bengals Wide Receivers of All Time
Hello Bengals fans! Let's test your knowledge of our teams history. Who's your top ten? A.J. being the wildcard because baring injury this guy is our jerry rice

The Top Ten

1 A.J. Green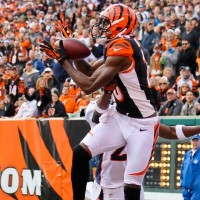 Adriel Jeremiah Green also known by many being called A.J Green to shorten his first name. He was drafted 4th overall in 2011 draft by the Cincinnati Bengals.
I easily think he will be the best Bengals wide receiver we've ever had. But for now, sorry A.J., you're 6.
2
T.J. Houshmandzadeh
He was big-time side-by-side with Chad.
3 Carl Pickens
4
Isaac Curtis
The 15th overall pick in the 1973 NFL Draft. Pro Bowler in 1973, 1974, 1975, and 1976. He was never quite the same after a 1977 knee injury.
5
Cris Collinsworth
Today many fans know him as a multiple Emmy Award-winning sportscaster, but back in the 1980s, he was a great receiver for the Stripes. In his rookie year, Bengals fans knew that the Bengals had picked the right man. He was the legitimate deep threat due to his speed. During his tenure as a Bengal, he led the team to 2 Super Bowl appearances. He had 1,000 or more yards receiving in 4 seasons (1981, 1983, 1985, and 1986) and made the Pro Bowl 3 years in a row (1981, 1982, and 1983). He retired after the 1988 season, but man, this player has the gift of grab.
Its Joeysworld
6
Chad Johnson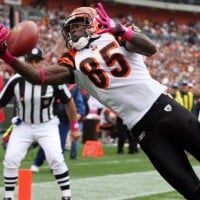 Chad Johnson, formerly Chad Ochocinco, is a former American football wide receiver. He played college football for Santa Monica College and Oregon State University, and played eleven seasons in the National Football League for the Cincinnati Bengals, New England Patriots, and the Miami Dolphins.
7
Chip Mayer
Went old school on this fella. Back when passing was more of a gimmick lol. But either way, he led the Bengals in receiving for 3 years and made the Pro Bowl.
8 Tim McGee
9 Darnay Scott
10 Eddie Brown
The Contenders
11
Speedy Thomas
Now it was 1971, and the Bengals' offensive firepower was still going, and one of the reasons was Speedy Thomas. In his 4 seasons as a Bengal, he produced great numbers. In 1969 against the Broncos, he caught 7 passes for an amazing 177 yards, both Bengals records. In 1971, he had 22 receptions for 327 yards (a 14.9 average). He also had his longest career reception and the longest in the NFL in 1971, a 90-yard touchdown pass from Virgil Carter against the Philadelphia Eagles. He finished his Bengal career with 93 receptions.
Its Joeysworld
12 Dan Ross
13
Ja'Marr Chase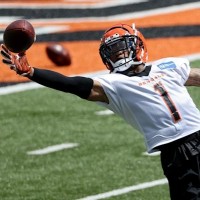 He's amazing and has proved himself.
14
Rod Sherman
To know the Bengals wide receivers, you've got to start at the beginning, 1968. While Bob Trumpy, as a tight end, led all receivers with catches, a non-tight end Rod Sherman, one year removed from playing in the Super Bowl as an Oakland Raider, caught 31 passes that year in his only season as a Bengal. But it's the start of the franchise.
Its Joeysworld
15
Don Bass
During the lean years of the franchise (1976-1980), Don Bass was one of those bright spots for the team. In 1979, he led the team with 58 receptions for 724 yards and 3 touchdowns, and played on a team that went to Super Bowl XVI two seasons later. Sadly, he left us way too soon, but what a great man he was.
Its Joeysworld
16
Eric Crabtree
With Rod Sherman gone, it was now Eric Crabtree who was the Bengals' prime-time receiver, thanks to the great passing of rookie sensation Greg Cook. Crabtree led all Bengal receivers in 1969 with 40 receptions for 855 yards, a 21.4 yards-per-catch average, and 7 touchdowns. Crabtree played with the Bengals until 1971, but he was the next great Bengal receiver.
Its Joeysworld
17
Billy Brooks
In 1977, the Bengals were a team on a decline. One of the few bright spots was Billy Brooks. On a 7-7 team and on the decline, Brooks led the team with 39 receptions for 772 yards and 4 touchdowns. His longest reception was a 94-yard touchdown pass in a game against the New York Giants in the snow. A forgotten great.
It's Joeysworld
BAdd New Item