Top 10 Most Interesting Metal Musician Marriages
The Top Ten
1
Dave Mustaine's wife is a country music fan and she never really liked metal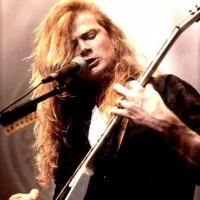 David Scott "Dave" Mustaine (born September 13, 1961) is an American musician, singer, songwriter, actor and author. Mustaine is best known as a pioneer in Thrash Metal, being the former lead guitarist of Metallica before his dismissal in 1983, leading to finding and becoming the front man of his own ...read more.
They've been married since 1991 and despite a stereotype popular among metal haters, he didn't kill her for liking music that isn't metal.
Besides, his daughter Electra is attempting a career in country music but again, he did't kill her.
PS. Yesterday there was a list on this site claiming that metal fans want to kill pop fans. There was another list about a month ago, claiming the same thing.
2
John Petrucci, Dream Theater guitarist, married Rena Sands, guitarist for Meanstreak (all-female metal band)

John Peter Petrucci is an American guitarist, composer and producer. He is best known as a founding member of the progressive metal band Dream Theater. Compared to his level of skill, John Petrucci is relatively unknown in the modern music industry.
3
John Myung, Dream Theater bassist, married Lisa Martens, bassist for Meanstreak (all-female metal band)

John Ro Myung is an American bassist and a founding member of the progressive metal group Dream Theater.
4
Mike Portnoy, Dream Theater drummer, married Marlene Apuzzo, guitarist for Meanstreak (all-female metal band)

Michael Portnoy is an American drummer primarily known as the former drummer, backing vocalist, and a co-founder of the progressive metal/rock band Dream Theater. Known for his technical skill as a drummer, Portnoy has won 30 awards from the Modern Drummer magazine.
So basically Dream Theater married Meanstreak! No wonder Meanstreak are known as the Dream Theater wives.
Meanstreak are an all-female metal band that has a page on Encyclopaedia Metallum. They play Power and Thrash Metal which are heavier than their husbands' Prog Metal!
5
Tony Iommi has been married four times

Anthony Frank "Tony" Iommi is an English guitarist, songwriter and producer. Best known as lead guitarist and founding member of the pioneering heavy metal band Black Sabbath, he has been the band's sole continual member and primary composer. At age 17, he accidentally lost the fingertips of his middle ...read more.
He can't beat Elizabeth Taylor but still...
Led Zeppelin drummer John Bonham served as Iommi's best man for the ceremony of his first marriage in the early 1970s.
In the mid-1980s Iommi was also briefly engaged to rock musician Lita Ford. Iommi co-produced her album The Bride Wore Black, which to date remains unreleased because "there's a certain amount of bad blood between Tony and I", due to her breaking off the engagement, Ford said in a Kerrang! interview.
6
Tarja Turunen (Finland) married Argentine businessman Marcelo Cabuli

Tarja Soile Susanna Turunen-Cabuli (born August 17, 1977), generally known as Tarja Turunen or simply Tarja, is a Finnish singer-songwriter. She is a soprano and has a vocal range of three octaves. ...read more.
This isn't a very typical combination - metal musicians and people from the business world. Tarja and Marcelo got married in 2003 and live in Buenos Aires with their daughter.
7
Devin Townsend, 44, has been married to his girlfriend since he was 19

Devin Garret Townsend is a Canadian musician, songwriter and record producer. He was the founder, songwriter, vocalist, and guitarist in extreme metal band Strapping Young Lad from 1994 to 2007 and has an extensive career as a solo artist.
They have a son. Long lasting marriages are something rare among musicians in general. I was really surprised because Devin looks so crazy and evil on his videos. Oh, and also sounds like that, respectively.
8
Simone Simons, Epica singer, and Oliver Palotai, Kamelot keyboardist

She named her band Epica after a Kamelot album. - Metal_Treasure
9
Marty Friedman married a Japanese cellist (Hiyori Okuda)

Martin Adam "Marty" Friedman is an American guitarist, known for his tenure as the lead guitarist for heavy metal band Megadeth which spanned nearly the full decade of the 1990s, as well as Cacophony alongside Jason Becker until 1989. Friedman has resided in Tokyo, Japan since 2003, where he has hosted ...read more.
And the ex-Megadeth guitarist lives in Tokyo, Japan. - Metal_Treasure
10
Sharon Den Adel and Robert Westerholt (Within Temptation co-founders)

Sharon den Adel, Dutch singer and the vocalist of symphonic rock band Within Temptation. ...read more.
They have 3 children. Sharon is a singer, Robert - guitarist.
The Contenders
11
Angela Gossow and Michael Amott (Arch Enemy bandmates)

They were a couple for at least 10 years and were also engaged but they were never officially married. Unfortunately, they are no longer together. - Metal_Treasure
12
Floor Jansen (Nightwish,ex-ReVamp, ex-After Forever) is married to Hannes Van Dahl (Ex-Evergrey, Sabaton)
They've been together since about 2012, got married in 2015 and have a daughter together, Freja. They live in Sweden together.
BAdd New Item