Best Places for Cooking Workshops in Israel
An institution that educates in the art and of cooking and food preparation where you can participate in master class and learn about local cuisine. In such studios, you are not only watching as a chef prepare the meal but you actively participating (hands-on) in the preparation of the dishes. Very advised activity when visiting Israel, the best way to enjoy local food and wine while having a very entertaining and unique experience.

The Top Ten

1 Cooking Studio Tel Aviv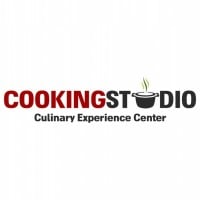 Located at the center of Tel Aviv is the biggest culinary studio in Middle-East, spread over 1000 Meters, and 7 different culinary halls. The home for the best and most renowned chefs in Israel.
This place outstands all other options for its uniqueness and magnitude, when you enter the place you feel like you entered into a kitchen of Master Chef!

You can enjoy there a culinary master class workshop while taking active participation

(hands-on) in the preparation of most of the dishes. The class is delivered in English, but also suitable for speakers with basic English fluency. The Dishes are Kosher. Must place to visit when coming to Israel.
Been there several times amazing and totally recommended place, a complex over more than 1000 meters with 7 halls a house for Israeli top chefs.

a must experience if you love food and want to get know the local cuisine. You can participate in A hands-on master class about Mediterranean kitchen and prepare yourself 6-7 delicious dishes.

The class delivered by master chefs in fluent English.
The Place where you can find and learn from top chefs of Israel.
Unique and magnificent at the heart of Tel Aviv, for me it was unforgettable experience.
2
Phyllis' Kitchen
Famous in Israel as "the guru of healthy cooking," celebrated chef, writer, T.V. personality, and best-selling cookbook author Phyllis Glazer is one of Israel's top food personalities. Phyllis was the first to introduce the preparation of delicious vegetarian cuisine to the country, helped create a nation-wide consciousness of healthy, organic food.

If you are in for an amazing adventure of hands-on healthy/Vegetarian cooking this is the right place for you. the class delivered in English.
3
Lol & Pop
LOL & POP Candy great for children from 6 years old and grown-ups too, a master class of making delicious sweets. Everybody who has sweet teeth will mold candies by themselves, learn about the small candy preparation process and get a sweet set of candies made by their own hands to take home, really advised experience for families visiting with children.

The class delivered in English.
4
CookinIsrael
A small and quiet place to have a private workshop with high ratings of approval.

By clinical nutritionist Orly Ziv, you definitely will enjoy her masterclass.

They deliver English spoken hands-on culinary tour, a delicious journey of discovery that brings you the very essence of what Israel is all about.
5
Bossi's Kitchen
Come learn the secrets of the delicious colorful Mediterranean cuisine at Bossi's private home kitchen. We'll cook together the meal that we'll enjoy thereafter with wine, music and magical atmosphere.

Delivered in English, small and magical workshop advised.
6
Eat & Meet
Eat & Meet Jerusalem will take you on a private culinary tour, you will pick the freshest ingredients for an exciting cooking class at their kitchen. Then you will prepare a delicious and colorful feast of the local cuisine! The tour and workshop advised for small and intimate groups of 2-6 participants.

Delivered in English
7
The Culinary Workshop
When it comes to grilling and smoking techniques, and meat lovers this is a place to visit.

At the Culinary Workshop, Chef Lucas uses traditional Argentinean cooking methods that take him back to his memories of childhood. Join him in his workshop and learn all about how to prepare your meat.

Class Delivered in English.
8
Delicious Israel
Delicious Israel offers foodies and culture-seekers a unique and adventurous way to vacation in Israel. Their culinary tours are limited to small groups. Explore, learn and experience the authentic "insider" scene of Israeli lifestyle, history, and culture.

Tour delivered in English.
9
Citrus & Salt Cooking Lessons
Citrus and Salt offer hands-on culinary experience in Tel Aviv food.

Whether you are an experienced chef or a budding beginner, Citrus and Salt offer you a new way to explore and experience Tel Aviv.
Delivered in English.
10
Culinary Tours in Israel by Nurit
Daily tours all over Jerusalem, a classic Old City tour and Wine tours around Jerusalem.

Nurit's culinary tours focus on biblical culture, historical stories, religion, Israeli culture, and local culinary experience. Nurit is a talented chef who constantly explores the tastes and aroma of local cuisine.
BAdd New Item