Top Ten Best Swedish Metal Vocalists
Sweden are a country known for many great metal bands, and naturally, many great metal vocalists. Some can hit soaring notes, some can perform growls that could make the ground shake, and a select few can even do both. Here are 10 of the greatest vocalists from the land of Swede.
The Top Ten
Mikael Akerfeldt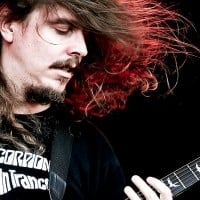 Lars Mikael Åkerfeldt is a Swedish musician, prominently known as the lead vocalist, guitarist, and primary songwriter of progressive death metal band Opeth, as well as being the former vocalist of death metal supergroup Bloodbath for three albums up until 2012. ...read more.
Dan Swanö

Dan-Erland Swanö is a Swedish musician who is currently the vocalist, guitarist, ex-bassist and ex-drummer for the band Nightingale, lately vocalist, keyboardist and drummer for the band Witherscape, as well as the Owner of Unisound but he achieved fame as the vocalist and songwriter of progressive ...read more.
Jonas Renkse

Jonas Petter Renkse is a founding member, songwriter, lead vocalist and ex-drummer of the band Katatonia, founding member, songwriter, bassist, backing vocalist, ex-guitarist of the band Bloodbath.
Bjorn Speed Strid
Christian Alvestam
Quorthon

Tomas Börje Forsberg, known by the stage name Quorthon (1966-2004), was a Swedish musician. He was the founder, songwriter, vocalist and guitarist of the band Bathory, which pioneered the black metal genre and is credited with creating the Viking metal style. A multi-instrumentalist, Quorthon wrote ...read more.
This guy defiened a the black metal genera with his vocal style
Johan Hegg

Johan Hegg, born in 1973 in Stockholm, Sweden, is the singer of melodic death metal band Amon Amarth. He joined the band in 1991.
Mikael Stanne

Bengt Mikael Stanne is the vocalist and one of the lyricists for the Swedish melodic death metal band, Dark Tranquillity and the ex-vocalist for Swedish power metal band HammerFall.
Messiah Marcolin

Messiah Marcolin, also known as Eddie Marcolin, is a Swedish singer best known as the former vocalist for the doom metal band Candlemass. He's also known for his operatic voice.
Epic frontmen - Doomed_God
Anders Fridén

Anders Fridén is the vocalist/lyricist of the Swedish metal band In Flames. Fridén was also the vocalist of Passenger, a side project.
The Contenders
Peter Tagtgren

Alf Peter Tägtgren is a Swedish musician, multi-instrumentalist and producer. He is the founder, main songwriter, lead vocalist, and guitarist of the death metal band Hypocrisy as well as the industrial metal band PAIN in which he is the only member.
Joacim Cans

Daniel Heiman

Daniel Heiman (born June 11, 1974) is a Swedish power metal singer. He is most famous for his time in Lost Horizon. After leaving Lost Horizon, he recorded an album with the band Crystal Eyes, and later founded the band Heed.
Tommy Karevik

Tommy Karevik is a Swedish metal vocalist, best known as the singer for metal bands Seventh Wonder and Kamelot.
Daniel Gildenlöw

Daniel Gildenlöw is a Swedish musician and songwriter. He is best known as a multi-instrumentalist and vocalist for the progressive metal band Pain of Salvation.
Joakim Brodén
Jens Kidman
Papa Emeritus III
Papa Emeritus

Papa Emeritus, alias Tobias Forge is best known as the lead singer of the masked Swedish band Ghost. He is also the lead singer of the death metal band Repugnant and Swedish rock band Subvision
Jimmie Strimell
Ralf Gyllenhammar
BAdd New Item