Best Rappers of 2015
The Top Ten
1
Kendrick Lamar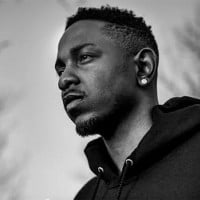 Kendrick Lamar Duckworth (born June 17, 1987) is an American rapper and songwriter. Raised in Compton, California, Lamar embarked on his musical career as a teenager under the stage name K-Dot, releasing a mixtape that garnered local attention and led to his signing with indie record label Top Dawg ...read more.
Kendrick is so lyrically gifted he raps about what is making this world infected clashing with religion politics and inequality between women and races he thinks on such a sociological level its almost scary and his lyrics really hit the heart especially if you can relate to him kendrick usually talks to blacks in his raps making us realise we are magnificent and he's not scared to express this
You dudes are forgetting, Best rapper of 2015. "2015"

Eminem didn't even make any songs this year and your already topping him like god damn stop being an extreme fanboy, this site is way to one-sided to Eminem lol.

Kendrick definitely wins lol.
Kendrick Lamar is such a poetic rapper..."To Pimp A Butterfly" is arguably the most well-constructed rap album of the decade. - EmperorAguila
Kendrick lamar should be the 1# rapper of this year
2
Eminem

Eminem, born Marshall Bruce Mathers III, is an American rapper, actor and music producer born on October 17, 1972 in St. Joseph, Missouri. Eminem has sold over 300 million records making him the bestselling hip-hop artist of all time. In addition to his solo career, he is a member of D12 and (with Royce ...read more.
Favorite Rapper great flow with Slim Shady his alter ego when he's dealing with all of stuff while having a fun attitude Marshall Mathers Eminem is more of a serious while also funny attitude with more dope songs and more grown up.
He is an amazing songwriter and actor as he has played in his film 8 mile and his songs are just as good maybe even better than any other rapper out there
I'm a Stan and your not good enough Eminem fans if you don't know what a Stan it I have been with em since the start from watching him at underground battles till now he don't know me but I know everything about Marshall his age how many grammys he's won blood type height shoe size everything don't every doubt him or I will kill you
I grew up listening to Eminem and I see him has a role model, and when he raps, it comes from down deep so his songs mean a lot and unlike other people his songs don't talk about sex, getting drunk, doing drugs, and money, his music is the best
3
J Cole

Jermaine Lamarr Cole is an American rapper, singer, songwriter and record producer. Born on a military base in Germany but raised in Fayetteville, North Carolina, Cole initially gained recognition as a rapper following the release of his debut mixtape, The Come Up, in early-2007.
J COLE is a god. His music takes a little while to like, but if just sit down and listen to it, you'll realize it's amazing
J. Cole is and should be the number 2 greatest rapper behind Kendrick Lamar who should be number 1
J cole is amazing not only does lyrical content his beats are on point. I look up to J cole as a role model and all of that if I gotta say his latest album did amazing 2014 forrest hills. His top songs of all time are "workout", "no role modelz" and "she knows"
What makes J Cole special is his storytelling. Like Kendrick Lamar, he's one of those rappers with a great lyrical ability and flow. He's the most underrated artist ever and deserves some respect. 9/10 - AlphaQ
4
Drake

Aubrey Drake Graham, known professionally as Drake, is a Canadian rapper, singer, songwriter, record producer and actor, born on October 24, 1986 in Toronto, Canada. He started his career on Canadian reality show "Degrassi: The Next Generation".
Horrible, overrated "rapper."
You're crazy if you don't think Drake is the man. Every project since 2010 has gone platinum (solo), he (along with Kendrick won't discredit) released one of the most important albums in the last 10 years. He can adopt multiple flows, he is an above average lyricist and has a lot of technical skill. If you seriously doubt his rapping skills listen to 5 AM in Toronto from 2 years ago. Then come back and let me know how you feel.
He makes good music and lyrics mostly about his life which is honesty
Just turn on your radio who do you hear drake drake drake oh ya and some more drake haha
5
Logic

Born on January 22, 1990, in Gaithersburg, Maryland. Sir Robert Bryson Hall II, better known as Logic, is one of the most influential artists in the rap game today, with amazing lyricism and flow. Logic first gained major fame through making 2013's edition of the XXL Top-10 Freshmen List, and has easily ...read more.
There is no equal to the amount of swagger that this dude has. He is a super hardcore rapper who is into all of the nerdy stuff like Rubiks Cubes, Star Wars, Halo, the list goes on forever. He honestly does not care about what people think about him and his lyrics are illuminating in every sense of the world. Like Star Wars there is a Dark and Light side to Logic when you hear his rapping. He is a man that wants to shine light on the Hip-Hop world while also confronting some of the dark moments of his past. If you don't think that The Incredible True Story is spectacular then you honestly don't know true Hip-Hop/Rap at all frankly. He is among lyricists such as Kendrick Lamar, Eminem, Nas, and more. The coolest thing is, he hasn't even peaked yet.
He is a lyrical mastermind. Don't even know why people praise people like Eminem, Logic is the real Rap God. enough said.
Lyricism is not on a level of some like kendrick but his flow is one of the best I've heard. He's also pretty good at story telling.
Logic makes me straight go places with his lyricism. Looking out for him to, one day, be one of the best all time.
6
Joey Badass

Jo-Vaughn Virginie Scott, better known by his stage name Joey Badass, is an American hip hop recording artist and actor.
Joey badass Is hands down better than drake
Joey Badass is hands down better than Kendrick lamar - DaWyteNight
Joey Bada$$ is dope! He should be up there more
Has launched one of the best rap albums in 2015 "B4DA$$ better than drake and all the other thrash rappers
7
Jay Z

Shawn Corey Carter, known by his stage name JAY-Z, is an American rapper, record producer, entrepreneur and investor born on December 4, 1969 in Brooklyn, New York. He is best known for his albums Reasonable Doubt, The Blueprint, and The Black Album. He is considered to be one of the best rappers of ...read more.
He is a rapper that is married to Beyoncé and I wonder if he has children and I think of you as is a good rapper almost but I never heard your music before and before when you did songs in the 2010s try to think of if Notorious B.I.G. was still alive what songs would you do with them end how many and jay you should play a popular new song with drake.
Jay Z is overrated but incrediblE. Also I don't know if he did anything in 2015. The last time he was active was in 2013 like Eminem was. - AlphaQ
Jay Z has been musically MIA since 2014, I don't know what you're talking about - KUZGUN
He is God manufactured dude who blends culture, art and poetry in hip-hop
8
Dr Dre
He actually made a stunning comeback! Compton is a masterpiece although it's not as good as Straight Outta Compton. Also what makes him a lot better than Eminem is that he SIGNED Eminem. Even Eminem admitted that without Dre he'd suck. - AlphaQ
Compton was his first album in years, it was pretty damn good.
At this time Dr. Dre is one of the most best older rappers.
Dr dre you and snoop Dogg should make new beats.
9
Nas

Nasir bin Olu Dara Jones, better known by his stage name Nas, is an American rapper and entrepreneur born on September 14, 1973 in New York City. His album, Illmatic, is considered to be one of the best rap albums of all time. He is also considered to be one of the best rappers of all time.
I'm arsenio spear I'm a rapper cell see evil raw nas the best real talk
The Nasty Nasir Jones shidd what happened to the nikka last got a glimpse of him back in 2012 with "Life is Good". Stillmatic
the best
Fearless.!
10
Lupe Fiasco

Wasalu Muhammad Jaco (born February 16, 1982), better known by his stage name Lupe Fiasco, is an American rapper, record producer, and entrepreneur. He rose to fame in 2006 following the success of his debut album, Lupe Fiasco's Food & Liquor. He also performs as the frontman of rock band Japanese Cartoon ...read more.
One of the best albums of the year yet no one acknowledges it
he my baby
The Contenders
11
Kanye West

Kanye Omari West is an American rapper, songwriter, and fashion designer. He was born on June 8, 1977 in Atlanta, Georgia. After West's parents divorced, him and his single mother moved to Chicago, Illinois. At the age of 10, West temporarily moved to Nanjing, China, because his mother was teaching ...read more.
This man has won 23 Grammys in 12 years, yea way more than Eminem who had a 4 year head start and 2 more than Hova and is the most critically acclaimed rapper he has never had just an okay album all of them are good and most are future classics this man made the classic debut College Dropout, he changed the game with his beautiful album 808's and Heartbreak influencing artist like Drake, Frank ocean and many other artists. He dropped a masterpiece, one of the greatest albums of all time in 2010 with the highly critically acclaimed My Beautiful Dark Twisted Fantasy with his best song yet the breathtaking Runaway. He made a Dynasty album for years to come with jay z with Watch the Throne. And dropped the most experimental rap album of all time With Yeezus which included future classics blood on the leaves, black skinhead, and song of the year New Slaves. So far ye's 2015 follow up So Help me God will be another classic with the beautiful lullaby that is only one, one of the most unique ...more
Except for the part where his fans don't know who Paul McCartney is.
What is with his profile picture?
Hmm this is 2015 we talking about not 2016. - AlphaQ
12
50 Cent

Curtis James Jackson III, better known by his stage name 50 Cent, is an American rapper, actor, entrepreneur, investor, record, film, and television producer.
Great job 50 cent Harrison
Isn't is best rappers of 2015?
Best rapper of all time
This is the main dude that should be way higher. if 50 wanted to he can make a #1 album easily
13
Big Sean

Sean Michael Leonard Anderson, known professionally as Big Sean, is an American hip hop recording artist from Detroit, Michigan.
His first two albums were average club bangers. With his third attempt Dark Sky Paradise, he stepped into not just a proper one, but an excellent one at that. Slept on, he now definitely deserves proper attention now.
Dude has BEEN at it, he is now on my top 15. This is coming from someone who didn't take you seriously from the start. Keep bringing the magic.
Big doesn't get the credit he deserves. Puts down some of the best verses in rap.
Big Sean is great, dark sky paradise was one of the best albums I've ever heard
14
LeCrae

Lecrae Devaughn Moore, mononymously known as Lecrae, is an American Christian hip hop artist, songwriter, record producer and actor. He is also the co-founder of reach records.
This is the best Christian rapper ever! You don't even know he is talking about good stuff. He is a rapper that raps like he is a crazy porno who is stupid.
Best ever and knows God.. Great for people who realize there is a purpose in life and like rap.. The youth should listen to good rap like this
You should team up with Toby Mac
He's singing the important stuff
15
Azealia Banks

Azealia Amanda Banks is an American rapper, singer and songwriter. Raised in the Harlem neighborhood of New York City, Banks began releasing music through MySpace in 2008, eventually being signed to XL Recordings at age 17. After releasing her debut single "212" to commercial success, she secured a ...read more.
You are awesome and sexy
Idc what she says on twitter, her music is dope.
She's hot - Antwon
16
ASAP Rocky

Rakim Mayers, better known by his stage name ASAP Rocky, is an American rapper, record producer, director and actor from Harlem, New York.
Keep your classic raps up two thumbs up
Smooth flow. ASAP the most dope and the mob got every type of music
The dude is the best... he obviously belongs in the 90's era
Asap rocky is by far the best
17
Hopsin

Marcus Jamal Hopson, better known by his stage name Hopsin, is an American rapper, record producer, director and actor from Los Angeles, California. Hopsin was born on July 18, 1985. His first album was called Emurge but he's best known for his album titled Raw.
Hopsin is great, he hasn't had much success since the whole funk volume thing, but this guy is still an amazing rapper
Love everything about his music, have every song but my fave two are kill her and sag my pants. Can't wait for more!
Your kidding right? This guy hopsin should be Top 10 easily, could argue top 5 too
Too far down the list..
18
Lil Wayne

Dwayne Michael Carter, Jr. is an American rapper from New Orleans, Louisiana. He was discovered by Brian "Baby" "Birdman" Williams at a very young age, and was signed to Cash Money Records, where he would be one quarter of the rap group Hot Boys. In the years to follow, he would go on to find his own ...read more.
Why isn't he number one?
He is horrible he should be arrested fired retired and needs to kill himself.
Wow. You people wouldn't know a good rapper if he punched you. Wheezy is simply the best.
Somebody's terrible voice isn't relevant to their rap skill. That applies to wheezy
19
Tech N9ne

Aaron Dontez Yates, born November 8, 1971, better known by his stage name Tech N9ne, is an American rapper. In 1999, Yates and business partner Travis O'Guin founded the record label Strange Music. He has sold over two million albums and has had his music featured in film, television, and video games. ...read more.
Tech is one of the best ever and is the best independent rapper of all time, so if all these other rappers are better than him just because they are in the mainstream media then these people don't know what rap is
Man. This guy is wack! His music is not your generic drake song. Tech n9ne is a unique and talented rapper who can compare to any modern day rapper. ANY RAPPER! He needs to be in the top ten. - Antwon
I'm sorry, but have you heard his new album "Strangeulations, Vol. II"?
10/10 beats anything Drake, Lil Wayne, Kanye West and J Cole have made.
What a word smith.
20
A$AP Rocky

Rakim Mayers, better known by his stage name ASAP Rocky, is an American rapper, record producer, director and actor from Harlem, New York.
Needs to be higher
Best rapper ever
Lame rapper
21
Big K.R.I.T.

Justin Scott, better known by his stage name Big K.R.I.T., is an American rapper and record producer from Meridian, Mississippi.
Amazing rapper
This is the best rapper for all time by his biggest fan alive DeVontay Driver aka tay
22 Meechy Darko
23
Action Bronson
Great rapper and knows how to keep the flow going. Mr. Wonderful was a very good album. Good lyricist
24
Earl Sweatshirt

Thebe Neruda Kgositsile, better known by his stage name Earl Sweatshirt, is an American rapper, record producer, and disc jockey from Los Angeles, California.
Y'all are tripping if you think earl is the 42nd best... Saying like Lil Wayne and ugly azalea are better... If you really think that the your taste in rap music is awful. Get it together, top tens.
If you want rap there it is
God
25
Wiz Khalifa

Cameron Jibril Thomaz, better known by his stage name Wiz Khalifa, is an American rapper, songwriter, and actor. He was born on September 8, 1987.
What? Wiz is definitely the best ever no question. Anybody who doesn't like wiz just doesn't like rap period!
Keep doing what your doing
Best and sang for the ninja turtules and furious 7
jesus
PSearch List