Top 10 Best NCAA Basketball Teams of All Time
When you think about the best NCAA basketball teams, it's likely a mix of unparalleled skill, cohesive teamwork, groundbreaking strategies, and sometimes, a sprinkle of good fortune that comes to mind. Is it the resilience and groundbreaking lineup of the 1966 Texas Western Miners that resonate with you? Or perhaps the unforgettable Cinderella story of the 2018 UMBC Retrievers leaves you in awe. And let's not forget the powerhouse teams, like the 1976 Indiana Hoosiers, whose flawless season and indomitable spirit have become the stuff of legends.

As you mull over which teams deserve the esteemed title of being the best, consider not just their triumphs, but also the heart and soul they poured into the game. Reflect on the inspiring narratives, the thrilling climaxes, and the enduring influence these teams have had on the game of basketball and the sports world at large. In this symphony of hoops and dreams, your voice counts in deciding which melodies resonate the loudest and which harmonies linger the longest in the illustrious history of NCAA basketball.

The Top Ten

1 1982 North Carolina Tar Heels The 1982 North Carolina Tar Heels were a formidable team, known for clinching the NCAA championship title under the adept coaching of Dean Smith. This team is notable for featuring the legendary Michael Jordan, who scored the game-winning basket in the championship game. They demonstrated incredible talent, coordination, and sportsmanship throughout the season, culminating in their triumphant victory against Georgetown.

This is definitely the best team of all time. I hate Duke so much, and they should not even be on this list. And people say the '92 Duke team should be 1 when their best player stepped on a player. This is definitely the best. GO TAR HEELS!

Your statement is irrelevant whether they went to class or not. They were the greatest team ever, in my opinion.

Finally! Someone put Carolina at the top instead of Duke. Go Heels!

2 1976 Indiana Hoosiers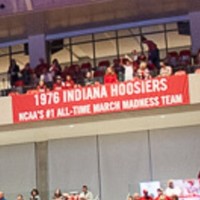 The 1976 Indiana Hoosiers, coached by the iconic Bobby Knight, achieved an unbeaten record, marking them as one of the greatest college basketball teams in history. This team etched their names in the annals by clinching the NCAA Championship, defeating Michigan in the title game. Their undefeated record still stands unparalleled, showcasing the relentless dedication and skill of each player.
They just put up a banner at I.U., stating the 1976 Indiana Hoosiers are the best team in NCAA basketball history.
Once you have a banner, it's true.
I still believe this team should be at #1 of all time.
Did not lose. The best, case closed.
3
1990 UNLV Runnin' Rebels
The 1990 UNLV Runnin' Rebels dominated the courts with their aggressive and fast-paced play, winning the NCAA Championship under coach Jerry Tarkanian. They achieved a remarkable victory against Duke in the finals, with a record margin of 30 points. This team is remembered for their unprecedented energy, athleticism, and the unique ability to control the tempo of the game.
The UNLV teams from both 1990 and 1991 would have destroyed the 1982 UNC. So would that 1992 Duke team. Take Jordan away from that team and nobody would care about them at all... Just another chance to worship the golden calf. The 1984 Georgetown Hoyas, 1976 Indiana Hoosiers, and that 1968 UCLA team are all better choices. Heaven forbid Jordan take a backseat to anything, right?
Best team in history and should be number 1. 34-0 and outscored opponents by 28 points for the season. That's ridiculous!
Loaded top to bottom. One of the great underrated coaches. Completely outclassed every opponent.
4
1968 UCLA Bruins
The 1968 UCLA Bruins, under the legendary coach John Wooden, were a testament to excellence and discipline in college basketball. They successfully secured the NCAA Championship, defeating North Carolina in the finals. This team, featuring the phenomenal Lew Alcindor, showcased a blend of talent, strategy, and resilience throughout their journey.
Where do we start? They had the NBA's all-time leading scorer, Kareem Abdul-Jabbar. Oh, and they had Gail Goodrich. Both are in the Hall of Fame along with John R. Wooden. Three of them are in the Hall of Fame.
The best college basketball team ever... Kareem... Gail Goodrich... John Vallely (a pure shooter)... Wicks and Rowe (who won a Championship in 70-71)... These UCLA teams had an 88-game winning streak...
Definition of a team. Had all the parts. Destroyed Houston after falling to that great team earlier.
5 1989 MIchigan Wolverines The 1989 Michigan Wolverines, under the interim leadership of Steve Fisher, secured the NCAA Championship in a thrilling encounter. They triumphed against Seton Hall in an overtime nail-biter. This team's resilience, adaptability, and undying spirit are lauded as they battled adversities and emerged victorious.
6
1993 Kentucky Wildcats
The 1993 Kentucky Wildcats, coached by Rick Pitino, displayed a dazzling array of skills and teamwork in their play. They reached the Final Four but were ultimately defeated by Michigan in a tightly contested match. Despite the setback, their high-energy play and cohesive teamwork are remembered fondly by basketball enthusiasts.
We are the Kentucky Wildcats!
7 1979 Michigan State Spartans The 1979 Michigan State Spartans, featuring the legendary Magic Johnson and coached by Jud Heathcote, won the NCAA Championship by defeating Indiana State. This victory was notable as it saw a riveting matchup between Magic Johnson and Larry Bird, a precursor to their iconic NBA rivalry. Their game strategy, skillset, and execution were crucial elements in their triumphant journey.
8
1992 Duke Blue Devils
The 1992 Duke Blue Devils, led by coach Mike Krzyzewski, made history by winning back-to-back NCAA Championships. Christian Laettner played a pivotal role in their journey, delivering one of the most iconic moments in college basketball with a game-winning shot against Kentucky. This team epitomizes skill, determination, and the relentless pursuit of victory.
This is the best team of NCAA's history with the best player of the NCAA history.
9
2009 Kentucky Wildcats
The 2009 Kentucky Wildcats, under the guidance of newly appointed coach John Calipari, showcased a revamped lineup and reached the Elite Eight. Although their journey ended there, their blend of young talent and disciplined play set the foundation for the subsequent successes of the Kentucky basketball program. John Wall and DeMarcus Cousins were instrumental figures during this transformative season.
John Wall, DeMarcus Cousins, Patrick Patterson, Eric Bledsoe. Arguably, the most talented team in the nation at the time. John Wall was the best point guard in the nation. DeMarcus Cousins won gold in the Rio Olympics. Eric Bledsoe was the second-best point guard in the nation, and Patrick Patterson was in the top 15 NBA drafts of the season. People to this day wonder how Kentucky didn't win the national championship that year, and people speculated they were good enough to stack up against NBA teams.
10 1987 Indiana Hoosiers The 1987 Indiana Hoosiers were a force to be reckoned with, securing the NCAA Championship under the guidance of coach Bobby Knight. Their victory over Syracuse in the championship game was marked by Keith Smart's iconic game-winning shot. The team's strategic play, unwavering focus, and commitment are enduringly memorable.
The Contenders
11 2000 Michigan State Spartans The 2000 Michigan State Spartans, led by coach Tom Izzo, demonstrated grit and skill en route to their NCAA Championship victory over Florida. Mateen Cleaves' inspirational leadership and the team's unyielding defense were pivotal to their success. The synergistic combination of individual talents, teamwork, and strategic execution distinguished them as one of the elite teams in college basketball history.
12 2013 Louisville Cardinals The 2013 Louisville Cardinals, with coach Rick Pitino at the helm, displayed resilience and tenacity, securing the NCAA Championship by overcoming Michigan in the finals. Their triumph was a product of dynamic play, staunch defense, and commendable teamwork. However, it is important to note that the NCAA vacated this championship due to rules violations.
13
1983 North Carolina State Wolfpack
The 1983 North Carolina State Wolfpack, led by coach Jim Valvano, stunned the basketball world by winning the NCAA Championship. Their victory over Houston in the finals is one of the greatest upsets in college basketball history. This underdog team's relentless spirit, determination, and belief in each other are inspirational elements of their storied journey.
Didn't lose between the first game of the ACC tournament and the national championship game. Defeated the great Ralph Sampson and the Virginia Cavaliers twice in postseason play. They also defeated Guy Lewis's Houston Cougars for the championship.
Beat the team who, as of right now, is number one on the list, along with the famous Michael Jordan, and won the ACC tournament, and finally topped it off with probably the most famous buzzer-beater of all time.
14
2012 Kentucky Wildcats
The 2012 Kentucky Wildcats, coached by John Calipari, stormed to victory in the NCAA Championship, defeating Kansas in the finals. This team was renowned for its ensemble of future NBA players like Anthony Davis and Michael Kidd-Gilchrist. Their collective talent, versatility, and disciplined play significantly contributed to their triumphant season.
Anthony Davis and Michael Kidd-Gilchrist were the first two overall draft picks in their class. Additionally, they had Terrance Jones, Marquise Teague, Doron Lamb, and Darius Miller, who were all solid and did make it to the NBA.
Anthony Davis. NCAA Championship. There were six players drafted, that's 11 eyebrows (if you didn't know).
This team was made up of six NBA players with a chemistry unlike anything anybody has ever seen.
15 1966 U.T.E.P. Miners The 1966 U.T.E.P. Miners, formerly Texas Western College, coached by Don Haskins, made history by winning the NCAA Championship against Kentucky. This victory was groundbreaking as they were the first team to start five African-American players in the championship game. Their triumph is not just a sporting achievement but a landmark moment in the fight against racial segregation in sports.
16 2002 Maryland Terrapins The 2002 Maryland Terrapins, under the leadership of coach Gary Williams, exhibited exceptional skill and strategy, capturing the NCAA Championship by defeating Indiana. Juan Dixon's stellar performances and the team's balanced offensive attack were crucial components of their success. Their journey was a blend of determination, precision, and exemplary teamwork.
17
1972 UCLA Bruins
The 1972 UCLA Bruins, another remarkable team coached by John Wooden, showcased unparalleled dominance in college basketball. They secured the NCAA title, demonstrating incredible synergy and discipline. The brilliance of Bill Walton was pivotal in their journey, contributing significantly to their remarkable winning streak and championship conquest.
This is the best team ever. It's not even close. By not having this team number 1, this list is a complete joke.
They went 30-0 that season with Bill Walton, and they beat everybody they faced by nearly 25-30 points.
18
1974 North Carolina State WolfPack
The 1974 North Carolina State Wolfpack, led by coach Norm Sloan, achieved greatness by winning the NCAA Championship. They overcame formidable opponents, defeating Marquette in the championship game. David Thompson's remarkable athleticism and the team's cohesive play were instrumental in their glorious victory.
Ended UCLA's unbelievable title run and was undefeated the following year as well. Would have easily won another NCAA title if not for NCAA's silly infraction in '75. David Thompson was the first Michael Jordan. Great team.
Not sure why this isn't higher on the list. Went 30-1 overall and 12-0 in the ACC, and then went on to win the NCAA and ACC championships. The '83 team needs to be higher as well.
David Thompson... enough said.
19 2014 Kentucky Wildcats The 2014 Kentucky Wildcats, led by coach John Calipari, were characterized by their resilience and tenacity, reaching the NCAA Championship game as a No. 8 seed. Despite falling to UConn in the finals, their journey, marked by dramatic finishes and cohesive play, is a testament to their fighting spirit and talent. The Harrison twins' clutch performances were memorable highlights of their run.
20
2013 Michigan Wolverines
The 2013 Michigan Wolverines, coached by John Beilein, exhibited immense skill and coordination, reaching the NCAA Championship game. Despite their formidable play and offensive prowess, they were narrowly defeated by Louisville. Trey Burke's outstanding leadership and the team's overall performance left an indelible mark in the annals of college basketball.
Yes, it's because they went to the championship game in 2013 against the Louisville Cardinals but then they lost. They play well most years!
21
1954 Kentucky Wildcats
The 1954 Kentucky Wildcats, under the leadership of the renowned coach Adolph Rupp, displayed exceptional prowess and strategy in their gameplay. Though they had an impressive season, they were not able to participate in the NCAA tournament due to NCAA violations. Nonetheless, their contributions to the sport, coupled with their refined skills and strategies, are still acknowledged by basketball aficionados.
Look at history, not just the last 20 years. Lots of dominant teams that you forgot about.
22
2007 Florida Gators
The 2007 Florida Gators, coached by Billy Donovan, achieved the remarkable feat of winning back-to-back NCAA Championships, defeating Ohio State in the finals. Joakim Noah and Al Horford were key figures in this extraordinary team, contributing significantly to their successes. Their cohesive play, relentless defense, and ability to rise to the occasion are enduring aspects of their legacy.
Two in a row, can't argue with that.
23
2015 Kentucky Wildcats
The 2015 Kentucky Wildcats, under coach John Calipari, were a powerhouse, completing the regular season undefeated. However, their quest for perfection ended in the Final Four, with a loss to Wisconsin. Karl-Anthony Towns and Willie Cauley-Stein were notable players, and the team's depth, talent, and accomplishments are celebrated in college basketball lore.
Kentucky was way better than Wisconsin. It was just that Wisconsin was better that day.
Didn't win the title, but you can't take away a 38-0 start and an exit in the Final Four.
Great season. Just fell a little short. We'll be back next year.
24 1956 San Francisco Dons The 1956 San Francisco Dons, with coach Phil Woolpert, achieved greatness by winning the NCAA Championship and completing an undefeated season. Bill Russell's dominating presence and the team's disciplined play were pivotal in their triumph over Iowa in the finals. This team is remembered for their defensive prowess, teamwork, and the remarkable legacy they left behind.
25
2005 Illinois Fighting Illini
The 2005 Illinois Fighting Illini, coached by Bruce Weber, showcased a remarkable season, reaching the NCAA Championship game with a stellar record. However, they were narrowly defeated by North Carolina in the finals. Despite the loss, their resilience, impeccable teamwork, and dynamic gameplay resonated with fans and left a lasting imprint on college basketball.
Having seen every game of the '05 season, it is easy for me to say this is the greatest team in Illinois history. That said, they are certainly Top 5 all-time but not number 1. Had Sean May not gotten away with his 'fat man' strategy, I think they would have had a great deal more press. Deron, Dee, and Luther were all in the right place at the right time.

The best team ever was probably '92 Duke. They had a near flawless inside/outside game.
Very good chemistry between Dee Brown, Deron Williams, and Luther Head brought them together on the court to have an unstoppable frontcourt. And with Roger Powell Jr. and James Augustine in the backcourt, they were more unstoppable. Definitely should've won the NCAA tourney in '05.
PSearch List