Top Ten Best NCAA Basketball Teams of All Time
The Top Ten
1
1982 North Carolina Tar Heels
This is definitely the best team of all time. I hate duke so much and they should not even be on this list. And people say the 92 duke team should be 1. When there best player stepped on a player. This is definitely the best p. GO TAR HEELS!
Your statement is irrelevant whether they went to class of not there we the greatest team ever in my opinion.
Finally! Someone put Carolina at the top instead of Duke. Go Heels!
2
1976 Indiana Hoosiers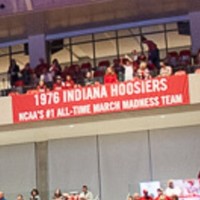 They just put up a banner at I.U. stating the 1976 Indiana Hoosiers are the best team in NCAA basketball history.
Once you have a banner it's true.
I still believe this team should be at #1 of all time.
Would beat anyone today
3
1990 UNLV Runnin' Rebels
UNLV teams from both 1990 and 1991 would have destroyed 1982 UNC. So would that 1992 Duke team. Take Jordan away from that team and nobody would care about them at all... Just another chance to worship the golden calf. The 1984 Georgetown Hoyas, 1976 Indiana Hoosiers and that 1968 UCLA team are all better choices. Heaven forbid Jordan take a backseat to anything, right?
Loaded top to bottom. One the great underrated coaches. Completely outclassed every opponent.
Won while being investigated by the NCAA who was willing to do anything to stop them!
Team was better than any college team that I've seen.
4
1968 UCLA Bruins
Where do we start? They had the NBA's all time Leading scorer Kareem Abdul Jabbar. Oh, and they had Gail Goodrich. Both are in the Hall of Fame along with John R. Wooden. Three of them are in the Hall of Fame.
The Best College Basketball team ever.. Kareem.. Gail Goodrich.. John Vallely (a pure shooter).. Wicks and Rowe (who won a Championship in 70-71).. These UCLA teams had a 88 game winning streak..
Definition of team. Had all the parts. Destroyed Houston after falling to that great team earlier.
Hands down the best ever
5 1989 MIchigan Wolverines
6
1993 Kentucky Wildcats
We are Kentucky wildcats!
7 1979 Michigan State Spartans
8
1992 Duke Blue Devils
This is the best team of NCAA's history with a best player of the NCAA history.
9
2009 Kentucky Wildcats
John Wall, DeMarcus Cousins, Patrick Patterson, Eric Bledsoe. Arguably the most talented team in the nation at the time. John Wall was the best point guard in the nation, DeMarcus Cousins won gold in the Rio Olympics, Eric Bledsoe was the second best point guard in the nation, and Patrick Patterson was in the top 15 NBA drafts of the season. People to this day wonder how Kentucky didn't win the national championship that year, and people speculated they were good enough to stack up against NBA teams.
10 1987 Indiana Hoosiers
The Contenders
11 2000 Michigan State Spartans
12 2013 Louisville Cardinals
13
1983 North Carolina State Wolfpack
Didn't lose between the first game of the ACC tournament and the nation championship game. Defeated the great Ralph Sampson an the Virginia Cavaliers twice in postseason play. They also defeated Guy Lewis's Houston Cougars for the championship.
Beat the team, who, as of right now, is number one on the list, along with the famous Michael Jordan, and won the ACC tournament, and finally topped it off with probably the most famous buzzer-beater of all time.
14
2012 Kentucky Wildcats
Anthony Davis and Michael Kidd-Gilchrist were the first 2 overall draft picks in their class. And they had Terrance Jones, Marquise Teague, Doron Lamb, and Darius Miller who were all solid and did make it to the NBA
This team was made up of 6 NBA players with a chemistry unlike anything anybody has ever seen.
Anthony Davis. Ncaa championship. There were six players drafted, that's 11 eye brows (if you didn't know)
This team was ridiculous not a single team could get in their way
15 1966 U.T.E.P. Miners
16 2002 Maryland Terrapins
17
1972 UCLA Bruins
This is the best team ever, it's not even close. By not having this team number 1 makes this list a complete joke.
18
1974 North Carolina State WolfPack
Not sure why this isn't higher on the list. Went 30-1 overall and 12-0 in the ACC, and then went on to win the NCAA and ACC championships. the 83 team needs to be higher as well.
Ended UCLA's unbelievable Title Run and was
Undefeated the following year as well and
Would have easily won another NCAA title
If not for NCAA silly infraction in 75. David
Thompson was the first Michael Jordan
Great Team
19 2014 Kentucky Wildcats
20
2013 Michigan Wolverines
Yes. Its because they went to the championship game in 2013 against the Louisville Cardinals but than they lost. They play good most years!
21
1954 Kentucky Wildcats
Look at history not just the last 20 years lots of dominate teams that you forgot about
22 2007 Florida Gators
23
2015 Kentucky Wildcats
Kentucky was way better than Wisconsin it was just that Wisconsin was better that day.
They are undefeated 31-0
Didn't win the title, but you can't take away a 38-0 start and an exit in the Final Four
24 1956 San Francisco Dons
25
2005 Illinois Fighting Illini
Having seen every game of the 05 season it is easy for me to say this is the greatest team in Illinois history. That said, they are certainly Top 5 all time but not number 1. Had Sean May not gotten away with his 'fat man' strategy I think they would have had a great deal more press. Deron, Dee, and Luther were all in the right place at the right time.

Best team ever was probably 92' Duke. They had a near flawless inside/outside game
Very good chemistry between Dee Brown, Deron Williams and Luther Head brought them also together on the court to have an unstoppable frontcourt. And with Roger Powell. Jr and James Augustine in the backcourt they were more unstoppable. Definitiely should've won the NCAA tourney in 05
31-1 and having to go through the big 10 is a tough thing to do. greatest team ever! I-L-L... I-N-I
PSearch List