Best Slam Dunkers in Basketball
The Top Ten
1
Vince Carter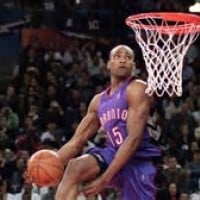 Vincent Lamar "Vince" Carter is an American professional basketball player for the Sacramento Kings of the National Basketball Association.
This list is severely flawed. I know everyone worships the ground Michael Jordan walks on, but the truth is MJ is a good-not great-dunker. He sure wasn't better than Dominique Wilkins in the 88' dunk contest. Wilkins killed him.

Darryl Dawkins at No 12 is an insult. No one was better in terms of brute strength and power. And where is Larry Nance? He could rock the cradle like nobody's business. That certainly brought more style points than an MJ regular dunk from the foul line.

Dr. J was one of the greatest. His beautiful windmill dunk over Michael Cooper in the 83' Finals was one of the best I've ever seen.

No way Lebron gets elite status either. Step up to a dunk contest if you really are the King. I doubt he ever will.

Vince and Dominique Wilkins are the ultimate combination of grace, style, and power. I'd put Vince on top but it's extremely close. If Vince gets a 99 then Dominique gets a 97 or 98.

MJ isn't even capable of dreaming about the ...more
No no no no. If you believe Michael Jordan is the best dunker than clearly you have never seen the 2000 Dunk Contest. Sure Jordan did the Free Throw dunk but Carters dunks were far more innovative and jaw dropping. You could feel the power he dealt with every dunk. Elbow in the rim dunk, bounce pass between legs dunk and my favourite, the 360 windmill dunk. Easily the greatest dunker. VINSANITY!
Probably the most underachiever basketball player of all time, Vince did became the best he could in one area: Dunking.
No Nique, no Josh Smith, no Shawn Kemp, no Jordan, no Nate, nor anybody else. Vince is the definition of a dunker, absolutely the best in-game dunker, and the most powerful and impactful contester of Slam-Dunk night.
The perfect dunker. Some of the other guys in this list probably have an edge over him in certain aspects of dunking, but no one has it all togheter like Carter.
2
Michael Jordan

Michael Jeffrey Jordan, also known by his initials, MJ, is an American retired professional basketball player.
Highly overrated he did some good dunks but not even close to the best everbody thinks he is because he was such a good player he would ankle brake somebody and then do a dunk and everbosy would go crazy none of the dunks he did were really that hard but creative.
Drafted by the Chicago bulls in 1984, Jordan is the greatest player of all time. His dunk have definitely stood the test of time. A two time dunk contest qualifier and had one it once. Plus a hall of famer.
Created so many types of in-game dunks and was the most completely unstoppable dunking force of all time. And easily the greatest player EVER.
Hands down, Michael Jordan. Why? The one handed slam dunk with his tongue sticking out. He had the best dunks in the 90s, and the best of all time.
3
Julius Erving

Julius Winfield Erving II, commonly known by the nickname Dr. J, is an American retired basketball player who helped popularize a modern style of play that emphasizes leaping and playing above the rim.
I grew up in the Dr. J error, Doc is the MAN! Period, end of story! If it wasn't for his love for the game and his passion, his hart, the entertainment on the basketball court. Are you kidding me? Come on everyone, give this man his due because he paid all of them. Someone had to be the leader, started it all and he is it. The rest of the gentlemen learned from him. Their wouldn't be any magnificent highlights in this wonderful sport if he didn't play the game. Raise that percentage.
Dr J was not as athletic as Vince Carter or Jordan, but without the Doctor, dunking wouldn't be an exciting event, when Dr J attacked the rack he would posterize anyone in his way and make you look like a fool for even trying. Jordan and Vince added some pieces in, but the Doctor put the heart in the body.
You can't realize how good dr j is unless you watch him when he was around because its not all that he did fancy dunks is that he ALWAYS dunked he would be posting somet up and he would jump up and dunk the ball he would be on a fast brake against 7feet players and dunk it easily he was the second best right next to vince carter.
The greatest dunker ever. Michael Jordan has no choice but to take a back seat to the master above the rim who started it all. The Doc had hang time and he was certainly a better leaper than MJ, well, when Doc was in his prime of course.
4
Dominique Wilkins

Jacques Dominique Wilkins is an American retired professional basketball player who primarily played for the Atlanta Hawks of the National Basketball Association.
Drafted by the Atlanta hawks in 1981, dominque is considered one of the greatest Dunkers of all time. He was known for beating Jordan in the dunk contest and is a hall of famer.
He is so much better than Jordan look it up and he's the number one best just so u know look it up
So underrated but so talented. Definitely the best dunker of all time
#teamdominque
All other players were great players
but guys no one slam dunked like this man
he just was the best
5
Kobe Bryant

Kobe Bryant (1978 - 2020) was an American retired professional basketball player. He played his entire 20-year career with the Los Angeles Lakers of the National Basketball Association. Kobe Bryant has won 5 NBA championships with the Lakers and was the all-time leading scorer in Lakers franchise history. ...read more.
Kobe is very artistic in air. Above the rim, there's nothing he can't do in any place on the floor, fearless, not only dunks but he's living legend, the best player in his generation, just watch his highlights! Tnx...
HIGh flier best dunker from the side. Dunks are so smooth. And by the way doc j didn't invent the dunk it just wasnt allowed... And lebron is horrible anyone that big should be able to throw it down
If you don't admit to one's self that he is the greatest to play during his time then, you haven't been paying attention.
I can't believe LeBron James is ahead of Kobe. NO WAY! He doesn't even come close to the finesse of Bryant.
6
Lebron James

LeBron Raymone James is an American professional basketball player for the Los Angeles Lakers of the National Basketball Association. LeBron has played for the Cleveland Cavaliers, Miami Heat, and the Lakers.
He sucks so bad steph curry is way better than him in everything ball handling shooting 3's he is way better than lebron james lebron thinks he is the best but he's not and he never will be he's not even that good so I don't why people think he is so good like come on people are you blind. steph curry is way better and a better baller and can beat lebron any day and the Golden state warriors will win the finals again this year and will beat the best starting record of 18-0 they will dominate. p.s. Lebron sucks Steph Curry is WAY better!
LeBron is far from the top 10. All he does is pull it back and slam it in. No creativity at all. He would be lucky to get by the first round of the dunk contest.
He's the best no one can be better than him. He should be at the top of the list because he is just like a monster eating people he can defeat everybody
He is like King Kong when he threw it down. So aggressive and I loved the way he does it on the court.
7
Blake Griffin

Blake Austin Griffin is an American professional basketball player for the Detroit Pistons of the National Basketball Association.
Y is Blake not the top. I can't think of anyone better. Hello he was a slam dunk champ. Plus he's super hot. He's got the whole package. Plus his Kia commercials r outrageously funny! If you haven't seen them yet watch them. Of there is anyone else who could dunk better than him and look sexy while doing it I'm sure I would have heard of them.
Right now there are non better than blake at dunking, he basically makes a living off of attacking the rim. Jordan in all honesty was better but today, there are none better than griffin.
Blake is truly an epic dunker. And a delicious one at that. He's so hot! Anyway, from the lobs from CP3, or the putbacks made possible by DJ, this 6'10 behemoth can start a rim massacre.
He's a great dunker! I'll never forget when he jumped over a car in 2011.
8
Shawn Kemp

Shawn Travis Kemp is an American retired professional basketball player, who played in the National Basketball Association for 14 seasons.
Power style creativity... kemp had it all... remember lob city with Gary Payton?
Kemp always threw it down hard and was explosively quick he gets my vote
I was never a big fan of Kemp, but this is a joke. He is hands down the best dunker to ever step foot on a court. I don't think there's even an argument
No doubt about it. Some of those guys at the top of this list are great. Shawn Kemp was hands down the greatest of them all!
Kemp is the best ever! His best dunks were in pressure situations and he would dunk over the top of other players.
9
Spud Webb
Spud Webb is a awesome NBA player way did he retire because everybody will be coming from every were just to see him Spud Webb is a short guy like me but we can jump high because one day. I jumped 89 feet in a fitness test.
If a guy under 6 foot can whip everyone in a dunk contest, how the hell is he not the best?
Spud was so small and he could jump that. Hi give him number ten
Has one of the best vertical jumps in the game.
10
Gerald Green

Gerald Green is an American professional basketball player for the Houston Rockets of the National Basketball Association.
Drafted by the Boston celtics in 2005, he showed some of the most unbelievable and athletic dunks ever. A three time dunk contest qualifier and had won it twice.
People don't know Gerald Green because he's never been a big name player, but dude can get up and throw down like nobody's business.
The Contenders
11
Jason Richardson
Easily one of the greatest to ever dunk a basketball. Top 3 for sure
Yeah better than kobe and james! He should be in the top 5
What this guy should be top 5. He's very underrated
Mid-Michigan's finest. Oh you didn't know.
12
Clyde Drexler

Clyde Austin "The Glide" Drexler is an American retired professional basketball player. During his career, he was a ten-time All-Star, and named one of the 50 Greatest Players in NBA History.
Drafted by the Portland trail blazers in 1983, Clyde " the glide" drexler wowed people with his ability to glide as he dunks. Drexler is now a hall of famer.
How is THIS low? Get your heads out of your butts and vote for this guy!
1 of Kobe Bryant's top 5 players to defend
Best dunker in the 80's
13
Tracy McGrady

Tracy Lamar McGrady Jr. is an American retired professional basketball player who is best known for his career in the National Basketball Association, where he played as both a shooting guard and small forward.
Drafted by the Toronto raptors in 1997, Tracy brought show time dunks to Toronto. His dunks were unpredictable; it could be skillful, powerful, or athletic dunks. Tracy came straight from high school to the nba and is a possible hall of famer.
The Best- He takes the most ridiculous shots and risks and comes through
Ask Shawn Bradley who he thinks the best dunker of all time is.
How is he number 12 broke the backboard
14
Dwight Howard

Dwight David Howard is an American professional basketball player for the Washington Wizards of the National Basketball Association.
In my opinion, best slam dunk contest winner (Great leaping ability for how tall he is)!
Blake griffin's not that great and not as good as Dwight Howard. (Blake is a better shooter)
Great dunker all around. He could win any NBA dunk contest anytime he wanted to.
He didn't have the best season but when he wants to he can dunk the basketball.
He. Is. Superman. There's nothing left to say... And he knows that fast don't lie.
15
Josh Smith

Josh Smith is an American professional basketball player who last played for the New Orleans Pelicans of the National Basketball Association.
He's on here twice.
16
Nate Robinson

Nathaniel Cornelius Robinson is an American professional basketball player for Homenetmen Beirut of the Lebanese Basketball League. Born in Seattle, Robinson played college basketball for the University of Washington in Seattle and was the 21st pick in the 2005 NBA draft.
Nate Robinson's only 5'9'' so back to #2. How the (swear word) isn't he first in this whole entire all-time first. 2nd is Spud Webb. The last is Shaq. He doesn't jump, he only just ordinary hang on tight!
Jumped over dwight howard slammed it home, dubbed "krypto-nate", won the contest. Oh, yeah, and he's 5 feet 9 inches. Now tell me again how he's not number 2. (Gotta give it to Vince)
Little guy but guess what! He could dunk and jump over the taller man
Great dunker for his size
17
Zach Lavine

Totally the best dunker he's the defending slam dunk champion and won the 2015 and 2016 slam dunk contests! Go Timberwolves!
He is the only one that might be able to challenge the GOAT Vince Carter.
He should by be first with Michael Jordan trailing him!
He did the freethrow line alley oop, free throw line windmill and freethrow line under the leg in the dunk contest!
18
Derrick Rose

Derrick Martell Rose is an American professional basketball player for the Minnesota Timberwolves of the National Basketball Association.
He is quite possibly the best dunking PG in the history of the league.
19
Darryl Dawkins

Darryl Dawkins was an American professional basketball player, most noted for his days with the National Basketball Association's Philadelphia 76ers and New Jersey Nets, although he also played briefly for the Detroit Pistons and Utah Jazz late in his career.
Drafted by the Philadelphia 76ers in 1975, he had powerful dunks that were so strong that they had to make the rims stronger because he had broken two backboards. He was one of the first players drafted out of high school
It think you are in top two
he shattered backboards and dunked the ball like he was holding a tennis ball
20
Shaquille O'Neal

Shaquille Rashaun O'Neal, nicknamed Shaq, is a retired American professional basketball player who is currently an analyst on the television program Inside the NBA. He is known for his fun, friendly personality, and is one of the most beloved athletes of all time.
Shaq is the best dunker of all time because he makes the rim suffer.
He always broke the rim when he floats in the air and aiming for a slam dunk.
Got to remember the question is not who is the most FLASHY dunker its who is the best dunker and he was unstoppable. but couldn't could shoot for live
Shaq and LeBron shouldn't be on the list.
I thought shaq needed some love
21
Russell Westbrook

Russell Westbrook Jr. is an American professional basketball player for the Oklahoma City Thunder of the National Basketball Association.
Russell Westbrook is the most athletic pg in the game right now. Have you seen his highlights from the 2015 and 2016 all star games. The guy is a beast. He's a point guard that dunks like a big man
He is only a point gaurd and he dunks better than most centers
This guy is an overrated piece of crap
Pretty good dunker
22
Wilt Chamberlain

Wilton Norman "Wilt" Chamberlain was an American basketball player. He was born on August 21, 1936 in Philadelphia and died on October 12, 1999 in Los Angeles due to heart failure. ...read more.
His "baseline dunk" was truly amazing; he jumped straight up with his head BEHIND the backboard, and reached up under the basket to dunk it in with his wrist.
Wilt is also the ONLY player in history to actually dunk from behind the free-throw line; all the rest, including MJ and Dr. J had their toe touch the line when they took off.
Highest vertical leap of any 7-footer in NBA history.
Only player in NBA history to legitimately dunk from completely behind the FT line [no toes on the line! ].
Only player in NBA history to legitimately dunk on a 12-foot basket [when playing for the Globetrotters], the other times its been done were actually 11-11.5 foot baskets.
Nearly 2 inches taller than Shaq, over 2 inches wider at the shoulder, along with being much stronger and MUCH faster.
Scored 100 points in a game, and AVERAGED 50 points in a season.
The most impressive physical specimen to ever play the game of basketball.
Wilt once dunk the ball so hard that he broke somebody foot when the ball hit the ground
Has anybody ever even seen this guy dunk? Shouldn't be on the list.
23
DeAndre Jordan

Hyland DeAndre Jordan, Jr. is an American professional basketball player for the Los Angeles Clippers of the National Basketball Association.
Jordan's dunk in Detroit was monstrous.
The most athletic center of all time.
Best fg% in league because of this man's dunk!
24
Aaron Gordon

Aaron Addison Gordon is an American professional basketball player for the Orlando Magic of the National Basketball Association.
He is a really good dunker like have you watched Zach LaVine vs Aron Gordon
Have you seen him since he came up in the nba
He can't be lower then tmac
25
Draymond Green

Draymond Jamal Green Sr. is an American professional basketball player for the Golden State Warriors of the National Basketball Association.
PSearch List