Top 10 Projected Incoming College Basketball Freshmen of 2021-2022
These are the top 10 projected incoming college basketball freshmen for 2021-22.

The Top Ten

1 Chet Holmgren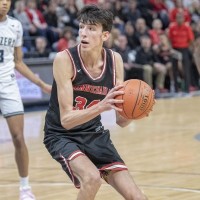 One of the only players in recent memory to receive a 100 score from 24/7, Holmgren proved himself to be an incredible talent in high school, both on the offensive and defensive ends of the floor. In high school, Holmgren averaged 20.8 points, 12.6 rebounds, 4.7 blocks and 4.5 assists. He also shot 80% from the field, helping him lead his team to their fourth straight state title. Gonzaga got themselves a good player, who will likely leave for the NBA after this upcoming season.
2
Paolo Banchero
A very talented player who played his high school basketball in Washington, Banchero is seen by many as the number 1 center in the class of 2021. In his junior season, he averaged 22.6 points, 11.0 rebounds, 3.7 assists and 1.6 blocks per game. This upcoming season, we will see if he can live up to the hype and become the next superstar big man for the Duke Blue Devils.
3
Patrick Baldwin Jr.
Coming out, and staying in the state of Wisconsin, Patrick Baldwin Jr. committed, oddly enough, to Milwaukee, where his father is the head coach. Baldwin, in high school, averaged 24.2 points, 11 rebounds, 4.2 assists, and 1.7 blocks per game in his final year of high school, earning himself Wisconsin player of the year honors. At a program like Milwaukee, he will likely be the most talented player on the floor, allowing for him to catch national attention.
4
Jabari Smith
A 6'10 Power Forward from Georgia, Jabari Smith will be playing for Auburn this coming season. In high school as a junior, he averaged 24.5 points, 10.8 rebounds and 2.8 blocks per game, earning Georgia player of the year honors and led his team to a 28-4 record. Coming into an incredibly young Auburn team, he will be provided with the opportunity to start and get big minutes and chance to prove himself.
5
Moussa Diabate
A 6'10 Power Forward from France originally, but who played high school basketball at IMG academy, committed to play for Michigan this upcoming season. In high school, Diabate averaged 14.5 points and 7 rebounds per game for one of the most prestigious high schools in the country, becoming the second highest ranked player in the state of Florida. Next season, he should be a big part of a Michigan team hoping to get deep in March.
6
Kennedy Chandler
Chandler, a point guard coming from Memphis by way of Kansas, looks to help Tennessee build upon their success last season. In his final year of high school, he averaged14.8 points, 4.2 rebounds and 3.3 steals per game, leading his team to a 21–4 record. After a bad loss in the first round of the NCAA tournament last season, Tennessee hopes with Chandler's help, they can go further and make a statement this upcoming season.
7
Hunter Sallis
A 6'5 Point Guard coming out of Omaha, Nebraska, Sallis is the first 5 star recruit in Nebraska State history. He committed to Gonzaga to play on a stacked team for this upcoming season. Sallis averaged 22.2 points, 4.6 rebounds and 3.8 assists per game in his senior season, leading his team to their first state title. Alongside such a stacked Gonzaga team, Sallis should have many opportunities to improve and prove himself.
8
Peyton Watson
Peyton Watson is a 6'7 Small Forward from California, and the highest ranked player in a talented class, who committed to UCLA to play next season. Watson averaged 23.2 points and eight rebounds per game, earning his high school's league MVP. For an already talented UCLA team who made the Final Four last season, Watson will be a good asset who will have the chance to prove himself in a competitive locker room.
9
AJ Griffin
AJ Griffin, a 6'7 shooting guard out of New York, goes into a Duke program hoping to rebound from an unusually horrible season. Griffin averaged a strong 17.3 points, 8.8 rebounds, and 2.3 blocks per game in his final year of high school. Duke needs a great deal of help this upcoming season, and Griffin can provide some of the help necessary for Duke to return to glory.
10
Jaquan Carlos
Jaquan Carlos, a 6'1 point guard out of Brooklyn, may not be as well known as some other players on this list, but he is easily one of, if not the best and most efficient scorer coming into his freshmen season. This high school season, he has scored 90+ points multiple times, and is averaging over 70 points per game. Coming into Hofstra, he will have the chance to put himself in the national spotlight and become a well known player, something which he is currently not.
BAdd New Item