Mackenzie Ziegler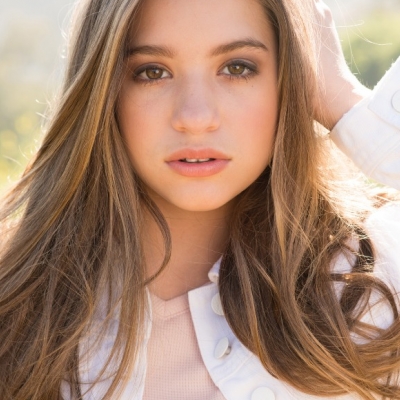 Found on thezieglergirls.com
Info
Mackenzie Ziegler is an American dancer, singer, actress and model. She is the younger sister of dancer and actress Maddie Ziegler and is best known for appearing for six years on Lifetime's reality dance show Dance Moms.
Comments
Top
Popular
Newest
Mackenzie is a very good dancer and she's very flexible. Some haters make her feel bad but she doesn't give up! Mackenzie is compared to maddie, her older sister. I think they are both great dancers, but I like Mackenzie more. She is also so cute and she has a great voice. She is the youngest girl, but that doesn't mean that she can't do like the other girls! Maddie is maybe better at lyrical, but Mackenzie is in higher gymnastics class than maddie and she can do a lot of stuff maddie couldn't do when she was younger. Abby always cares about maddie more than about kenzie, but Mackenzie is better than maddie, that is my option.
Mackenzie may be the youngest but when I watch her dance she is absolutely wonderful! Every one thinks she needs to do more lyrical and mature dance but her jazz and acro are perfect. As long as she brings happiness to who's watching and to the judges, in my opinion, she doesn't have to change. She is very talented and she just turned 11 and wow how much progress she has had from season 1 to season 5! I mean now she's a pop singer with already a big hit "Girl Party" but she still has so much coming out! She may be small but I'm telling you how much she works and try's to be the best. Abby always says she's just maddies little sister but in my opinion she is so much more! Now she's starting to beat maddie which everyone thinks is the best and has been moving from petite division to junior to sometimes pre-teen. I think she is definitely one of the best at ALDC.
Even though Mackenzie is the youngest, she is a really strong dancer and she seems to be able to keep up with the other girls. She is usually compared to Maddie since they are sisters, which often makes people think she isn't as talented since Maddie is the strongest dancer on the team, but she has her own style and she is more talented that people think! Mackenzie does really well in all her solos and she works really hard, and in my opinion she is the best on the show!
I love Mackenzie so much! She is such a good acrobat and she can do anything all the older girls on dance moms can do maybe even better. I LOVED Mackenzie's music video it's a Girl Party! I can't wait to see what Mackenzie becomes when she gets older! She's totally the best dancer,singer,and acrobat on Dance Moms. SHE SHOULD BE NUMBER ONE.
I don't know how she does it since she's only 8 all the flips must be really hard!
Mackenzie is the youngest, she is also fearless when comes to her solo's like dance doctor or killer bee.

She stands out from everyone and is an amazing acrobatic dancer.

She has a puppy to look after but she always finds a way to do some dance!

WELL DONE MACKENZIE
Mackenzie is a wonderful dancer just like mad die and I wish people would quit comparing her to maddie because she is not her and she is just has good as maddie but never gets a chance because Abby just cares about maddie and Mackenzie is better than maddie.
Mackenzie is the youngest out of all the girls on dance moms, she's my favorite dancer on dance moms! I love when she was in the middle of the dance "Stomp The Yard" in season 5 episode 2, she has had lots of more opportunities than Maddie... Maddie got to star in "someone else's" video, Mackenzie got her own career as "Mack Z". Mackenzie also got to perform "Christmas all year long", on the news! VOTE MACKENZIE!
I get so excited when she gets on the top I love her so much she is good at a lot of things she good at what she does dance! I don't think she gets a lot of credit because everyone thinks she has to be her sister and she knows it to she knows everyone loves Maddie the most but I love them both equally
Mackenzie is a great acrobatic dancer! Maddie is a great dancer as well, but I don't think that Mackenzie should be compared to her she is great the way she is! Mackenzie is also a great singer! She always works her hardest to get 1st place and to reach Maddie's level. Guess what...she does that every time she is in rehearsal and competition! You go Mackenzie, you rock!
Mackenzie is a beautiful little girl I think she was adorable when she was younger and I think that it was amazing how quickly she could learn choreography at such a young age she is beautiful and hard working and deserves to be a star
Mackenzie is an amazing dancer! She does amazing in all styles of dance-jazz, acro, lyrical, contemporary, etc! She has very good facials when she's on stage and you can tell how much she loves to dance. She works and trains hard, and you can tell! She is also an amazing singer and has an album coming out!
Mackenzie Is Sooo talented! I mean she's 11 years old and already has 12 songs and has been in 3 music videos (summer love song by Brooke Hyland, Shine and Girl Party By Herself.) She Is Very Pretty And personally I think she's the best dancer on the show and should be treated like her sister instead of Maddie being the favourite all the time. It's really frustrating to watch all the girls get treated unfairly. Brooke, Chloe, Paige, Kenzie, JoJo & Kalani have all forgot solos and when they did they ended up on the bottom of the pyramid. When Maddie forgot hers she was in the second row. I mean come on Abby!
Mackenzie is a great little dancer and is still finding some of her strengths but I believe she is already AMAZING and is for sure the best tumbler's on the team.
Mckenzie's really good at acrobatics she's adorable
Mckenzie is the best dancer at that company she has to live up to the other girls standard and she wins a lot of her solo and it gets compared to Maddie is her older sister she should be cheering each other on and mckenzie was a little girl when she started and was more flexible than most of them she is a very beautiful dancer and verry talented and watch win she comes out more successful than all of them with her dabce and singing career
Mackenzie who is now 11 years old, is a wonderful dancer at the ALDC! She puts a lot of hard work and effort into her dances and has improved a lot during the years. She is often compared to Maddie, and we all know she hates it, but she keeps that out of the way by trying to impress Abby. Mackenzie is also a singer as well as a dancer, and is excellent at acro dancing. She is really flexible, and tries her best to use facial expression into her fabulous dances. Go Mackenzie!
I love Mackenzie so much, she deserves to be higher! She's so talented and really positive all the time, even though she's always compared to Maddie. She's her own dancer and she's amazing!
I'm not really a fan of kid/teen celebs, but I have to say Mackenzie is a very talented kid. She and Maddie are nice, they are great dancers and Mackenzie has more mature sounding songs then other teen celebs, which I like. Her songs are also pretty catchy, and this is a compliment because I am very judgy when it comes to teen celebs.
She is so good.I wish I could meet her. I loved her solo Take it to go.
She is the best kid dancer in the world I think. She would be a lot better than her sister Madison Ziegler if Abby gave her the same kind of attention she gives Maddie. Mackenzie is the best.GO MACKENZIE!
Mackenzie is the youngest and she is better then everyone else when they were her age
I'm really like mackenzie I'm always the youngest in school and anything else and I love singing and dance but I also love horse riding
Mackenzie is an amazing Acrobatic dancer! She's one of the youngest dancers but still is as good as the others. Even though Abby and Melissa favor Maddie, Mackenzie is still able to be so good! Did you see that episode where Mackenzie beat Maddie?! YOU GO KENZIE!
Mackenzie is an amazing dancer. She gets better every season. She is really talented
She is energetic fun to watch makes you smile with all her face expressions has fun with her dance routines love how cheerful she is
Related Lists
Best Mackenzie Ziegler Songs