Best UFC Fighters of All Time
The Top Ten
1
Anderson Silva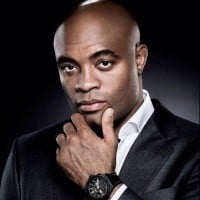 Anderson da Silva (born April 14, 1975) is a Brazilian professional mixed martial artist currently signed with the Ultimate Fighting Championship (UFC). He is a former UFC Middleweight Champion and had the longest title reign in UFC history at 2,457 days. This started in 2006 and ended in 2013 and included ...read more.
Still don't know if he's my pick for GOAT or not. Someday I'll have to sit down, compare W columns, and do some serious soul-searching.
I think this is too obvious, Anderson Silva is G.O.A.T. He is the most dominant champion of all time, making his opponents look like they were amateurs. His timing and precision is second to none, plus he has the best highlight reel ever and it is not even close.
Anderson Silva = UFC
Perfect Fighter: An athlete (Anderson Silva) who is well-rounded in all aspects of fighing (Anderson Silva) and is willing to prove so at any given moment (Anderson Silva), refusing to accept anything but success (Anderson Silva).
Gotta go with Anderson Silva, too obvious. Fighting him must be like striking at smoke. Smooth and elusive movement, ridiculously accurate strikes, and the Muay Thai clinch... Vicious. Definitely the best
2
Georges St-Pierre

Georges St-Pierre (born May 19, 1981) is a Canadian retired professional mixed martial artist. He is widely regarded as one of the greatest fighters in mixed martial arts (MMA) history. He is a two-division champion in the Ultimate Fighting Championship (UFC) having won titles in the welterweight and ...read more.
Came back after a 4 year hiatus to choke out Bisping and become a two division champion. Has convincingly avenged his only two losses, completely dominating both Serra and Hughes (twice) in the rematches. Only clean fighter in the GOAT conversation (alongside Fedor). Dominated a division stacked with talent (Don't forget that most adult males would fall in the welterweight division, which means that fighters who make it to UFC overcome the higher level if competition.). Only fighter who has won 30+ consecutive rounds. Survived a juiced up Hendricks.
People might criticize him for the number of fights he won by decision, but don't forget that this sport is not about who does the more physical damage, it's about who displays more dominance in terms of skill and endurance.
No doubt that he is the best, he fought the most dangerous fighters and came out smiling. He mastered many styles of martial arts, he is the most respectful fighter in UFC and he is the most consistent fighter of all time. He is a TRUE martial artist with a big heart. Even though he fought against animals like Hendricks and Diaz, he never lost his soul...

Over the years I've learned a lot from him mentally and physically and I wish him all the best in the future.
GSP is no doubt the greatest mma fighter of all time! He has held the welterweight and middleweight belts, his record currently sits at 26 wins and 2 losses and he avenged both those losses and just look at the names he's beaten ( frank trigg, Sean sherk, bj penn, matt Hughes, josh koscheck, matt serra, Jon Fitch,
Thiago alves, Jake shields, Carlos condit, nick Diaz, Johnny Hendricks, Michael bisping) and pierre consistently fought much harder opponents than Anderson Silva. There is no doubt in my mind Pierre would beat Silva, think about it Pierre's biggest strength is silvas biggest weakness which is wrestling. I also believe Silva would not have been able to beat opponents Pierre has particularly Hughes, Fitch and koscheck due to there strong wrestling.
I think GSP has shown more heart and integrity in the UFC then most any other fighter. He is one of the hardest training fighters and has excelled in skill beyond almost anyone he comes up against - (his constant wins testify to his). I also think GSP has what it takes to beat Anderson Silva if they can ever make the match up happen!
3
Jon Jones

To be honest, he should be no. 1. The reason why I put him over GSP is because he is basically undefeated and he dominated and owned a top 3 fighter of all time twice, DC. No one else can say that they have done something like that. He's also beaten his next biggest rival, Gus, twice. He's beaten six hall of famers. If everyone all time was in the same weight class as Jones in their prime, Jones would be able to beat all of them. My top ten:
1. Jones Jones
2. GSP
3. DC
4. Henry Cejudo
5. Khabib Nurmagomedov
6. Demetrius Johnson
7. Anderson Silva
8. Conor Mcgregor
9. Randy Couture
10. Bj Penn
Always will be the undisputed light heavyweight champion of the ufc, at least according to me! Nobody's perfect, everyone has flaws! Makes me sick to my stomach whenever I'm reminded that cormier is champ, because realistically he's not! Never had an answer for Jones, nobody did!
No one stacks up to Jon Jones he is the best of all time no doubt about it. The guy is an assassin out there. He's an absoulte freak that can beat you in any way. Technique, speed, power, athleticism, versatility, vision, etc. Jon Jones is a clear number 1 no question about it.
Light heavyweight has always been and always will be the toughest division in the UFC. Jon Jones will make you reconsider your whole life. If Jon fought Silva or Pierre at the same weight based on skill alone he'd ko in the first. Not a real list if bones ain't #1.
4
Chuck Liddell

Charles David "Chuck" Liddell (born December 17, 1969) is an American mixed martial artist and former UFC Light Heavyweight Champion. He has an extensive striking background in Kempo, Karate, and Kickboxing, as well as a grappling background in collegiate wrestling and Brazilian jiu-jitsu. A professional ...read more.
Chuck Liddell and Anderson Silva are the only two who seem interesting to watch. Chuck is a very stronger hitter than anyone else in the UFC and has some good kicks too. Chuck can dominate in the octagon and knock somebody out cold and had a cool nickname as the Iceman the only name that's as cool as that is Silva's the Spider. Chuck I think at least is at least number 2 if not 1 in my opinion. Great fighter with much power he gets my vote.
Chuck is a legend. Even though he lost to Rampage he still impressed way more people then Rampage. Chuck comes up on top of Ranpage in the end.
Man the fighters the Chuck turned to ice is unbelivable Randy Coture 2 times, tito ortiz 2 times, ken shamrock, wanderlie silva I belive if Chuck liddel was as young as the fighters today he would still be DOMINATING THE COMPATION!
Finished fights in a devastating fashion. St. Pierre is great, but nowhere near as exciting as Liddell.
5
Conor McGregor

Conor Anthony McGregor (born 14 July 1988) is an Irish professional mixed martial artist and boxer. He is the former Ultimate Fighting Championship (UFC) featherweight and lightweight champion. ...read more.
Why is conor not #1 he is the #2 P4P in the world by statistics and he will sure be number one he has just turned 27 and fought at welterweight and he had to eat extra that week to make that weight which is also the cause of him running out of breath too much weight but he repeated it and won and now he won another fight outside his vision by becoming the only ever man to hold 2 ufc tittles at the same time and made it look easy. If he is not number one within a week or two it means this site is rigged and anti mcgregor.
Sorry to break it to all of you sensitive Fanboys and girls but Conor doesn't belong in the top 30. He never defended any belt he's ever had even when he was in cage warriors. This list is clearly based by popularity.
Good striker (was able to knockout Aldo in 13 seconds) but that's about it. It's apparent he doesn't train in other areas of fighting, like the clinch, wrestling, or submission defense, Nate proved that.
He found UFC had no competition held 2 belts at once and did better than pacquiao against the best boxer of all time should I say any mote
6
Brock Lesnar

Brock Edward Lesnar is an American professional wrestler and former amateur wrestler, professional American football player, and mixed martial artist who is currently signed to WWE.
He's not even the best "real" fighter in the WWE. Get him out of the cage and send Kurt Angle to kick his ass again, assuming he's not too arthritic to move, by now.
Most overrated UFC fighter by far, just overhyped and overrated because he's a wrestler with WWE, and he's also overrated in WWE all he does is stay home, watch T.V., Eat Chips, and get his ass kicked by Cain Velasquez.
The beast incarnate Brock Lesnar is the best in its class, because he went through a bad time, but still woke up and delivered big time!
We are very fortunate to have him in our ERA!
Brock lesnar is a beast. He an defeat silva in a fight but the don't fight because they are in different weight class
7
Randy Couture

Randall "Randy" Duane Couture is an American actor, retired mixed martial artist and former collegiate and Greco-Roman wrestler.
This guy made what Connor McGregor did he was the first person to conquer 2 weigh classes he has a record of winning the heavyweight championship 3 times and is tied with Jon Jones for the most Light heavyweight championships with 2 (3 if you include the fact that both have one interim title each and are the only light heavyweights to hold the interim title) and the uff 13 tournament winner.He is the only UFC hall of fame inductee to win a championship after being inducted. He is also the oldest title holder in MMA history from 43 until 45 and won his last fight against boxer James Toney as the oldest fighter to win a fight at 47.
This list is SO stupid! McGregor and Leaner in the top 10? what
I think so that he is the best
He is the best fighter in ufc
8
Royce Gracie

No pound-for-pound ranking discussion.
Royce would fight any guy no matter how bigger, heavier and stronger he was.
If he was contemporary to Fedor, I bet he would challenge him without a doubt.
Gracie fought and beat bigger fighters them him. He could submit anyone. He is a human anaconda.
I have absolutely no clue how Conor is even ranked in the top 20.
There was nothing he couldn't do grappling wise!
9
BJ Penn

The BJ Penn that beat Joe Stevenson and Diego Sanchez is without a doubt the best LW ever. He did overstay his welcome, but that does not take away from the greatness that is The Prodigy.
No way penn should be ranked..but Showtime isn't..
won a round against layoto, beat 2 gracies, beat matt huges when every one tought he was unstopable, put an ass whoping on gsp in 1st fight, he also put an ass whopin on din thomas, kenny florian, carl uno, dieago shanchez, jens polver, takanori ghomi, joe daddy stevason
10
Khabib Nurmagomedov

Khabib Abdulmanapovich Nurmagomedov (born 20 September 1988) is a Russian professional mixed martial artist of Avar ethnicity. Nurmagomedov is a two-time Combat Sambo World Champion and the reigning undisputed UFC Lightweight Champion. He currently holds the longest undefeated streak in MMA, with 27 ...read more.
Swift and accurate like an eagle...
He is the reigning undefeated and undisputed lightweight champ... He should be#1... 28-0... The Eagle landed and ate up the chicken and destroyed the diamond...
Undefeated, and a champion, basically unheard of for the sport. A lotta people questioned the people he fought but he took every fight that was given to him. The only reason you don't see him higher is his language barrier which makes it hard for him to get American fans. He dominated Dos Anjos, he dominated Michael Johnson, He dominated Edson barboza, he dominated Darrell Horcher and recently wiped the floor with Conor McGregor. This guy seriously hasn't lost a single round.
THE BEST OF ALL TIME! And he is the same religion as me he is also calm when stupid Connor mcgregor try's to talk bad about him saying oh you can't have beer cause your Muslim and all that crazy stuff and Khabib stays calm and when ever the match comes out he dominates so bad the the best of the best are afraid of him
Soon enough everyone will agree just wait and watch
The Contenders
11
Matt Hughes

Matthew Allen Hughes (born October 13, 1973) is a retired American mixed martial artist with a background in wrestling. He is a two-time UFC Welterweight Champion, UFC Hall of Fame inductee, and NJCAA Hall of Fame inductee. During his tenures in the Ultimate Fighting Championship, Hughes put together ...read more.
Former GOAT, probably underrated in hindsight, since his true peers caught up with him post-prime. You'd need a sports channel bio pic, to adequately cover his W column.
Matt Hughes is pound for pound the strongest UFC fighter ever. He literally man handle his competitors. UFC puts him at number 4 and I think that's a good spot for him.
How Hughes isn't top 5 at least is absolutely bizarre! He's amazing and one of the longest reigning champion! How is lesnar 6! He is not good at all! But that's my opinion
It's funny how Hughes had defeated two of the people ahead of him on this list. But apparently he is lower then them lol
12
Ken Shamrock

Kenneth Wayne "Ken" Shamrock is an American mixed martial artist, Ultimate Fighting Championship Hall of Famer, and professional wrestler.
Dude the world's most dangerous man he was at the first ufc event
He was the world's most dangerous man
Best ufc fighter ever
13
Demetrious Johnson

Demetrious Khrisna Johnson is an American wrestler and mixed martial artist. He is the first and current Flyweight Champion of the Ultimate Fighting Championship and currently holds the longest active championship reign at 8 title defenses.
Should be higher, just because he's small doesn't mean he can't fight, in my opinion he should in top 10 greatest fighters of all time.
Finally the all the time best. Just like its suppose to be, the only fighter who is amazing in Everything.
Number 1 pound for pound why is he lower than mcgregor?
14
Forrest Griffin

Forrest griffin is a true definition of a great ufc fighter he have fighting moves that most ufc fighters can not compete with he is a great ufc fighter and he is good looking with his supermodel hair hairy body, and goofy personality and I just think forrest griffin is one of the most greatest fighters and he can actually fight and hold his own inside the ring and never get tired he is a and born a fighter.
Forrest griffin! Amazing man, amazing fighter, amazing heart! Still to this day had the best fight ever with Stephen bonner so who could forget that :D
If this list was for personality and heart, he is number 1
Forrest was never a great fighter in my opinion
15
Cain Velasquez

One of the strongest hitters in UFC and mma history.

I've got a nick name for him: The Mexican Nightmare
He would be ranked higher that that red neck Brock he whooped his ass
Velasquez should be number 1. He would destroy Anderson:Pierre:Jones
Come on lets get him to #1 he is the best and there is no denying that!
16
Quinton Rampage Jackson

Yo I don't even watch mma at all but I know for sure rampage Jackson is a BEAST
MINT! loved the way he put silva away
17
Daniel Cormier

Currently champion of light heavyweight and heavyweight! Best only one loss.
He beat everyone that ever stepped in fhe octagon with him except for Jon "The Juicer" Jones.
Why is he 17th come on people he should be at least top ten
Great both outside and inside the ring
18
Nick Diaz

Nick and nate Diaz are two tougest fighters of all time the more you hit em the stronger they get
He grew up in Stockton California you gotta be tough to live there
The toughest guy in the business absolutely NO QUIT in him
Sad that he doesn't get the respect he deserves
19
Dan Severn

How could no one put this guy on the list! He was one of he first to go in the ufc hof. he went toe to toe with royce gracie
20
Claudia Gadelha

Ana Claudia Gadelha is a Brazilian MMA fighter and currently competes in the women strawweight division in the UFC and with a record of 14-2-0
She is an amazing fighter. BJJ blackbelt and heart of a champion. I would put her at number one but she definitely should be top ten pound for pound.
Should be in the top ten for her ass alone
Claudia is great but the queen of strawweights is Joanna Jedrzejczyk
21
Jose Aldo

José Aldo da Silva Oliveira Júnior (born September 9, 1986) is a Brazilian mixed martial artist who competes in the Ultimate Fighting Championship. He was the fourth and final WEC Featherweight Champion, becoming the first UFC Featherweight Champion after the UFC/WEC merger. He is a former three-time ...read more.
Would destroy the lil leprechaun in a rematch
22
Urijah Faber

Urijah Christopher Faber (born May 14, 1979) is a retired American mixed martial artist and actor who fought as a bantamweight and featherweight in the Ultimate Fighting Championship. Faber won the WEC Featherweight Championship at WEC 19 on March 17, 2006, and held the title for over two years until ...read more.
23
Lyoto Machida

He has the best technique and the best cardio of all the fighters
No one and noo one beats lyoto
Look at his resume.
Drink piss!
24
Wanderlei Silva
Greatest two dimensional fighter of all time, even though he hasn't had so many victories in the ufc he is a warrior
25
Nate Diaz

Nathan Donald "Nate" Diaz (born April 16, 1985) is an American professional mixed martial artist currently signed with the Ultimate Fighting Championship. Diaz is the younger brother of former Strikeforce Welterweight Champion and WEC Welterweight Champion, Nick Diaz. Prior to signing with the UFC, ...read more.
Should be higher than McGregor he beat him once and should of beat McGregor again
One of the striker in mma, even Connor can't knock him out,the only guy who can beat Khabib
He is the best of all time
This guy reckt mcregor into retirrment scrub
PSearch List