Top Ten Dogs with Origins in Germany
The Top Ten
German Shepherd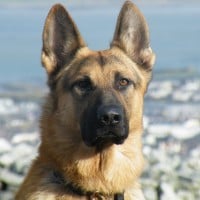 The German Shepherd is a breed of medium to large-sized working dog that originated in Germany. The breed's officially recognized name is German Shepherd Dog in the English language. The breed is known as the Alsatian in Britain and Ireland.
So protective. - DaringXx
I love this dog I have one.if you bond with this.kind of dog they will died trying to protect you
Rottweiler

The Rottweiler is a breed of domestic dog, regarded as medium-to-large or large.The dogs were known in German as Rottweiler Metzgerhund, meaning Rottweil butchers' dogs, because one of their uses was to herd livestock and pull carts laden with butchered meat to market.
I liked the First and this dog is DAMN big and I liked it too.
Pomeranian

The Pomeranian is a breed of dog of the Spitz type, named for the Pomerania region in Central Europe. Pomeranian Dogs tend to get sick very often, however.
German Spitz
Large Munsterlander
Doberman Pinscher

The Doberman Pinscher, or Dobermann, or Doberman, is a medium-large breed of domestic dog originally developed around 1890 by Karl Friedrich Louis Dobermann, a tax collector from Germany.
German Shorthaired Pointer

The German Shorthaired Pointer is a medium to large sized breed of dog developed in the 19th century in Germany for hunting.
beautiful - Metal_Treasure
American Eskimo Dog

The American Eskimo Dog is a breed of companion dog originating in Germany. The American Eskimo is a member of the Spitz family.
Great Dane

The Great Dane is a large German breed of domestic dog known for its giant size. The German name of the breed is Deutsche Dogge, or German Mastiff.
Dachshund

The Dachshund is a short-legged, long-bodied, hound-type dog breed with floppy ears, and short fur. Although, this Dog, which comes in a variety of colours, is not hypoallergenic.
The Contenders
Boxer

The Boxer is a medium-sized, short-haired breed of dog, developed in Germany. The coat is smooth and tight-fitting; colours are fawn, mahogany, black or brindled, with or without white markings, and white.
Eurasier
Leonberger

The Leonberger is a giant dog breed. The breed's name derives from the city of Leonberg in Baden-Württemberg, Germany.
Miniature Pinscher

The Miniature Pinscher is a small breed of dog originating from Germany. The breed's earliest ancestors may have included the German Pinscher mixed with Italian greyhounds and dachshunds.
Hovawart
German Long-Haired Pointer
German Pinscher
BAdd New Item