Top Ten Pittsburgh Steelers Players of All Time
The Top Ten
1
Mean Joe Greene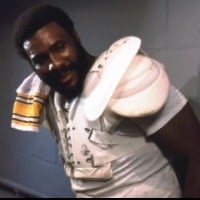 Charles Edward Greene, better known as "Mean" Joe Greene, is a former American football defensive tackle who played for the Pittsburgh Steelers of the National Football League from 1969 to 1981.
I can't knock anyone on this list cause they're all Steelers, but Mean Joe has got to be at the top. If you saw what the Pittsburgh Steelers looked like before Mean Joe was drafted, it was sad. He was the best player on the best defense in the history of football and changed the Steelers from losers to winners!
#1 Pittsburgh Steeler of all time. Mean Joe was the catalyst that changed a perennial loser into the Steel Curtain & the team of the 1970s.
Indisputably the greatest defensive tackle of all time on any team.
2
Troy Polamalu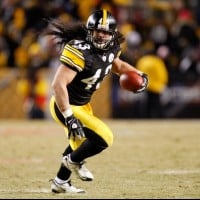 Troy Aumua Polamalu is a former American football strong safety who played his entire twelve-year career for the Pittsburgh Steelers of the National Football League.
Love him! This man is the DEFINATION of a football player! He's all into this game gives 100% all the time he's hands down the best safety I've ever seen! Plus he's an amazing human being hopefully he will be a Steeler for many more years to come! Steeler football is all about defense and Troy is the exclamation point on this team!
Troy has pulled plays out of the air just when you thought it was over. He should definitely make the top 10, but lets not forget, it's the team work that makes the Steelers great...
He is a playmaker and game changer. Opposing QB's base their entire offensive plan around avoiding him... And nobody is more altruistic off the field
3
Ben Roethlisberger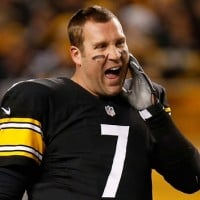 Benjamin Todd Roethlisberger, Sr., nicknamed Big Ben, is an American football quarterback for the Pittsburgh Steelers of the National Football League.
He is my favorite player and I think he is a really good quarterback.
Really good QB steelers has had!
He is boss... Good luck next year
4
Jack Lambert
I think that he really should of been in the #1 spot! To me, mean Joe Green didn't play anywhere near as good as Jack Lambert! I mean at least put him in the #2 spot for sure!
Reflected the city in which he played. Rough, tough, no nonsense and intense. His style of play was emulated by every high school linebacker in America.
Together, Jack & Terry were the best I can remember, to make them winners on both sides of the ball (not that they both didn't have a lot of helpers).
5
Terry Bradshaw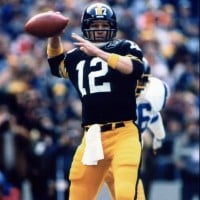 He brought the Steelers from lovable losers to super bowl winners.
He is way better than Big Ben and I'm a Steelers fan.
Come! Terry Bradshaw is the best hands down!
6
Jerome Bettis
One of only 5 players in NFL history to rush for over 14,000 yards and run for 100+ TDs (including post-season play). The other 4 guys are Walter Payton, Emmitt Smith, Barry Sanders and LaDainian Tomlinson.

BEAST
Line up and get ran over
7
Franco Harris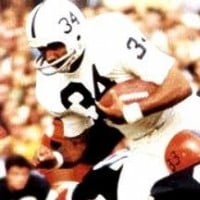 Franco Harris was an American football player. He played his NFL career with the Pittsburgh Steelers and Seattle Seahawks. In the 1972 NFL Draft he was picked up by the Pittsburgh Steelers in the first round, the 13th selection overall.
The Imaculate reception is what saved the steelers and led them to become the greatest NFL team of the super bowl era.
Mean Joe Greene said they didn't start winning until Franco Harris.
The man, and he's Italian. What's better than that?
8
Lynn Swann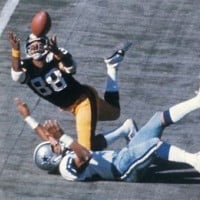 Its Lynn Swann for me. Probably the greatest athlete in NFL history. Who catches the ball out of bounds in midair like a ballerina then lands back in. He played on another team other than Pitt he would have crazy numbers. He also played half his career in a dead ball era where wrs couldn't get into routes. The receptions he made vs Dallas in the first SB matchup in 76 were when the dB's could do like jack Tatum.in my opinion
Lynn was the most acrobatic and graceful receiver in NFL history. Truly a treasure of the best Steelers team in history.
He was probably the best wide receiver there ever was. Between him and Jerry Rice.
9
Hines Ward
I love Hines ward.
He never misses a catch from rotheliestburger.
Ward is a MVP.
He also always have a smile on his face.
He is also very strong and he is my favorite player.
He is simply Unstoppable. Agreed without that amazing pass from Ben Roethlisberger Ward would not be able to make such huge runs leading to Touch Downs
My favorite! One of a kind player. He's an outstanding receiver, committed to his team, and does everything with a smile!
10
John Stallworth
Here's the bottom line why he's one of the best in Steelers history. 537 receptions for 8,723 yards and 63 tds. 3 times he played in the Pro Bowl, 1984 NFL Comeback Player of the Year as he caught 80 receptions for 1,395 yards and 11 touchdowns all career highs. he holds the Super Bowl record for career average per catch (24.4) 40.33 yards per catch in Super Bowl XIV, 12 postseason touchdown receptions, a string of 17 straight postseason games with at least one reception and scored a td in 8 straight postseason games (1978-1983) and a member of the Pittsburgh Steelers all-time team and a member of the Pro Football Hall of Fame in 2002.
Its Joeysworld
The Contenders
11
Mel Blount
Mel Blount is my #3 Top Pittsburgh Steeler of all-time. He was the best DB of his era & caused the NFL to change the contact rules of the game. Mel still played at a Pro Bowl level after the rules changed.
Mel Blount brought pass interference in the NFL.
12
Mike Webster
Iron Mike made great blocks for Franco Harris.
13
Rod Woodson
A Steeler forever Rod defined his position as safety and he was also good returning punts and kickoffs as well. In 1989, he blossomed as a star as he had a combined 80 combined tackles and 3 touchdowns on his way to his first Pro Bowl berth and also his first taste of postseason success with the Steelers. In the 90s no does it better than Rod and in 1992 he became a game breaker, making key plays to many of the Steeler wins for this year and eventually all throughout his stay as a Steeler, earning him many great honors including the NFL 75th Anniversary ALL-Time Team, the NFL 1990s ALL-Decade Team and eventually induction into the Pro Football Hall of Fame.
Its Joeysworld
14
Antonio Brown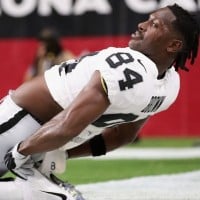 Antonio Brown is a former NFL wide receiver and for the Tampa Bay Buccaneers of the NFC South Division. He was drafted in the 6th round of the 2010 draft by the Pittsburgh Steelers, and has also been on the Oakland Raiders and New England Patriots. He is a 7x pro bowler, and regarded as a skilled player.
Best wr ever. Only people in front of him are nine ward, Lynn swan, and mike Wallace
Should easily be #5! (at least! )
Antonio Brown is the best!
15
Jack Ham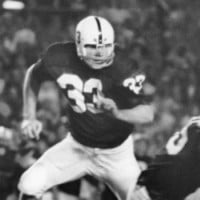 Jack Raphael Ham Jr. is a former American football outside linebacker who played for the Pittsburgh Steelers of the National Football League from 1971 to 1982. He is considered one of the greatest outside linebackers in the history of the NFL.
16
James Harrison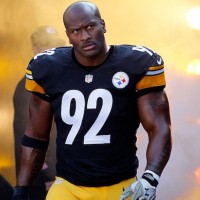 James Henry Harrison Jr. is a former American football linebacker. He played college football for Kent State University and was signed by the Pittsburgh Steelers as an undrafted free agent in 2002. A five-time Pro Bowl selection, Harrison won two Super Bowls with the Steelers: XL and XLIII.
James Harrison has the most sacks for Pittsburgh Steelers.
Really old but plays like he was 28 years old again.
My favorite steelers player of all time! when you see james Harrison you see what a Pittsburgh steeler is supposed to be
17
Dermontti Dawson
Number 2 center of all time behind only Mike Webster. One of the most underrated players of all time!
18
Jack Butler
Obviously you can't put many pre Super Bowl era Steelers on here. But Jack Butler should be on this list. Was 2nd in career interceptions at the time of his retirement in 1959 after 9 NFL seasons all as a Steeler. Keep in mind that he had over 50 career interceptions in an era with less passing and fewer games per season.
19
Greg Lloyd
Bad @$$ when the steelers started to get mean again after the lean 80'so and early 90's.
20 L.C. Greenwood
21
Bobby Layne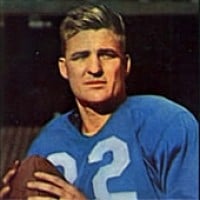 22
William Gay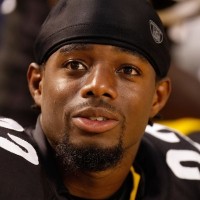 William Gay is an American football cornerback for the Pittsburgh Steelers of the National Football League.
This guy is not only a great player, but fun to watch he has the best td dance ever.
You are my favorite player!
23
Juju Smith-Schuster
He should be higher
24
Alan Faneca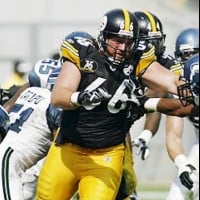 Alan Joseph Faneca is a former professional American football player who was a guard in the National Football League for thirteen seasons.
25
Emmanuel Sanders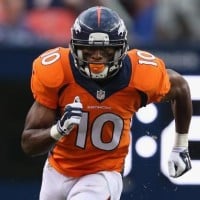 Emmanuel Niamiah Sanders is an American football wide receiver for the New Orleans Saints of the National Football League.
One of the most up and coming Steelers Rookies in the league today! Hard not to love #88!
He has been catching ever thing in touchdown that how we one game
PSearch List