Top 10 NFL Players Not in the Hall of Fame
The Top Ten
1
Ottis Anderson
Ottis Anderson was actually pretty good. He got over 10,000 yards. I think anyone with over 10,000 yards should one day get enshrined to Canton
One of my favorite players, but is only in the Hall of Very Good!
2
Ken Anderson
One of the top three QBs pretty much every year he played. Had the stats and the records, but played in a small market and in the shadow of others like Staubach, Stabler, young Montana, Fouts, Griese, and more. Anderson may only have the one MVP but was consistently great and played for some bad Bengals teams while still showing greatness.
Was a terrific QB and leader. He has waited in line long enough. I've always felt that once Stabler is elected, he would be nominated from the Senior Pool shortly thereafter.
Had stats far and away above most of his contemporaries. His biggest problem is he's a modest guy who played his whole career in Cincinnati.
Ken Anderson played from 1971 to 1986! He could have been a Joe Montana if Bill Walsh had not gone to the 49ers. In his career he through 197 touchdown passes
3
Randy Gradishar
Lesser LB's are in the HOF. If he wasn't making the tackle, he was nearby, when the play wasn't downfield. It took Ray Lewis 17 seasons to pass Gradishar's tackles... in 10 seasons. Some say he wasn't a hard hitter, but Dorsett and Payton said he gave them the hardest hits ever. Regardless, he was the best ever at bringing the opponent down.
He was an amazing player but unfortunately the Broncos inflated Gradishar's statistics and there's no way to calculate how many tackles he actually had. The Broncos once tallied that he had 350 tackles in a season. Deserves HoF but I can see why the committee hasnt voted him in already
Only player to average 200 tackles a season for his Career! Who else has even had 200 tackles in a season once?
Should have been in on one of the first few ballots after retirement. Dominate Linebacker!
4
Sterling Sharpe
Best receiver I've ever seen. Seven straight years of playing all sixteen games spoke of his toughness too. Ridiculous that he continues to be overlooked.
The only player I know of who was All-Pro 3 or more times that isn't in the Hall of Fame. The Gayle Sayers of WRs, he was the best WR in the league for several years in the early-mid 90s. Consider that this period coincides with the latter half of Jerry Rice's prime, and you have a solid case for induction. If Sayers is a Hall of Famer, then surely Sharpe is.
Sharpe also achieved in spite of playing with a terrible crop of QBs. Everyone remembers him playing with Favre starting part-way through the '92 season, but that was an outlier. Here was the norm--starting QBs for the Packers during Sharpe's pre-Favre tenure ('88-'92): Randy Wright, Don Majkowski, Anthony Delwig, Blair Kiel, and Mike Tomczak. Majkowski had one Cinderella season, but apart from that was a very average QB. The rest are worse. One more compelling reason to put the man in Canton.
Numbers stack up to Michael Irving's matter of fact came Into the league with maybe the best W.r group ever and at the time of his injury he was killing these dudes in all major stats two broke the all time reception in a season record setting in and coming back and breaking his own record
5
Tony Boselli
Dominant for a short period of time. I'm against putting Boselli in but Terrell Davis, Gale Says, Bob Waterfield, and Arnie Weinmeister have already been enshrined so its only fair Boselli gets in to.
Was a dominating period for a short time. Tackle version of Sterling Sharpe and Terrell Davis.
I understand his career was cut short by injury... Anyone who saw him just toy with and completely shut down HOF DEs like bruce smith and future hof like jason taylor know that if he had styed healthy he probably would have gone down as the BEST OT in the history of football.
A short but great career
6
Daunte Culpepper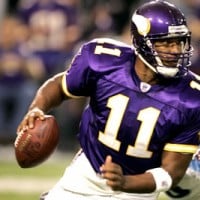 Daunte Rachard Culpepper is a former American football quarterback. He last played for the Sacramento Mountain Lions of the United Football League.
No chance of him in hall. He just wasn't good enough. Simms has a ring and isn't in and was a better qb but isn't in either. Culpepper can get in line behind Simms and about 30 other qbs.
No, I would put Randall Cunningham in before Culpepper.
7
Neil Smith
Neil Smith has many DE's in line before he gets considered.
Yes! Neil smith Deserve to go in the Hall of Fame! Hands Down!
Without a doubt, probably being discriminated because of his concussion statements
8
Jim Marshall
Plain and simple either record, starts or fumble recoveries, is enough in and of itself. When I found out he wasn't in; my first thought was what did he do wrong besides the wrong way run? It is insane to believe that one incident is the reason and if there is something other than that I surly can't find it.
He started over 270 straight games and was an expert fumble recoverer, yet he only made 2 Pro Bowls and will never live down the safety against the 49er's.
127 (unofficial) sacks would rank him 23 all time. He had the 4th most sacks in the NFL from 1967-1971. 3x 2nd team all pro from a small market in a pre-internet age.
There are probably others who are better than him, but his amazing iron-man streak MUST be honored.
9
Roger Craig
Was one of the keys to the 49ers dominance during the eighties and still played well with Raiders and Vikings in spot duty at the end of his career. Is a hall of famer in my book. He was Marshall Faulk of the eighties.
Craig was a true pioneer of the game and was the first running back who was a threat in the passing and rushing game. With no Craig there's no Faulk, Tomlinson, McCaffrey, and Matt Forte.
Revolutionized the position. His stats would have been greater had he been on a team without so many incredible offensive weapons.
Craig revolutionized the RB position & was a complete all-around 4 down back. He definitely deserves to be in the HOF.
10
Ken Riley
Ken Riley is one of the best players not in. I believe Ken Riley should get into the Hall before Ken Anderson. He is the fourth best senior canindate right now behind Randy Gradishar, Jerry Kramer, and Tommy Nobis.
If he and Lamar Parrish played for Lions, Steelers or Packers, they are both in the hall of fame.
One team 15 years all at corner number 4 All time at the time of his retirement.
My opinion definitely the most deserving player not in the hall.
The Contenders
11
Eddie George
Edward Nathan George Jr. is a former college and professional American football player who was a running back in the National Football League for nine seasons.
Eddie George ran against 8 & 9 guys in the box his entire career because the Titans couldn't through the ball, and he still put up great numbers. That's HOF stuff!
Yards per carry was not great and his career came to a sudden halt. Not a hall of famer.
I liked his playing style. He would just go strait through defenders
12
L.C. Greenwood
If it were not for so many Steelers he would have already been elected. He and Donnie Shell get the shaft as a result.
It's been long enough, he deserves a spot in Canton.
Greenwood and Lyle Alzado were the best at there positions when they played. How is he not yet in
For sure he deserves a spot in the Hall of Fame.
13
Jimmy Smith
Too much wide receiver competition. Will always be lumped together with receivers like, Irving Fryar, Henry Ellard and Mushin Muhammed.
14
Lester Hayes
If you have any doubts watch the two Super Bowl winning teams that he played on. He was more than the "stick-um guy." He could flat out cover and when he was partnered with Mike Haynes, team had to rely on screens and the TE to move the ball vs the Raiders.
A true shutdown corner. Only he's not inducted is because he used Stickum.
Man I'm mad. I thought he was already in.
15
Cliff Branch
Cliff Branch was the big play receiver for two Super Bowl Champion Raider teams. It is long past due for Branch to join the elite fraternity that is the HOF.
The best deep threat in the 1970s. At the time of his retirement he was the post season yardage leader.
#37? Should be in top three. More anti-Raider bias.
16
Chuck Howley
This guy defined the weak side linebacker! 6 time pro bowler, 5 time first team all pro! Not a good linebacker, a great one!
The greatest cowboys linebacker ever. he was on the doomsday defense with Darren Woodson, who also should get inducted soon
Maybe the biggest Hall of Fame snub in the four major professional sports (Rogie Vachon and Maurice Cheeks could lay stake to the claim as well.) HOF linebackers are the greatest who's who in the HOF and it seems incomplete without Howley.
One of the all time greats. It is sin he is not in.
17
Jerry Smith
Jerry Smith deserves to be inducted into the Hall
of Fame. He Played TE for the Redskins
from 1965-77. He retired with 60 touchdown receptions, which was more than any
player to play that position until Shannon Sharpe broke the mark 27 years later. Indeed, Smith's stats
match or exceed many of the eight tight ends who are enshrined in the Hall. Smith had 421 catches for 5,496 yards. That's
more receptions than three Hall-of-Fame tight ends, and only six fewer than
Mike Ditka caught. Smith's receiving yards also surpass three inductees.

He has two fewer
touchdowns than Sharpe. But Smith's total is eight more than Dave Casper, 13
more than Ozzie Newsome, 15 more than Kellen Winslow, 17 more than Ditka, 20
more than Jackie Smith, 22 more than John Mackey and 29 more than Charlie
Sanders. The numbers speak for themselves.
He was selected to the Pro Bowl 2x and runner up in Super Bowl VII…

Reminder that he played
when the seasons ...more
Jerry Smith definitely belongs in the HOF. I was never a Skins fan, but this guy's record on the field cannot be dismissed, and that's supposed to count for something...
Worthy candidate who belongs in the Hall.
18
Ricky Watters
Career was marred by selfishness and inability to stay in one place any length of time. Stats did not always translate to wins for his franchises.
I feel he is underrated because of the teams he played for.
One of the best all around running backs of all time.
19
Randall Cunningham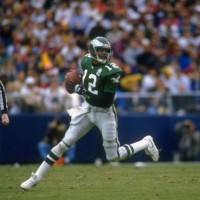 Randall W. Cunningham is a former American football quarterback in the National Football League and current football coach and pastor.
People voting obviously don't know too much about old NFL players, learn your history children.
Cunningham was a great player to watch. I liked him best on the Vikings
No, not good enough!
20
Torry Holt
I like his teammate Isaac Bruce as a better candidate. That Rams group is not getting a lot of love currently for HOF with only Faulk and Aneas Williams. Pace, Warner, Holt and Bruce have all been on the outside looking in.
Not as consistent as Isaac Bruce but had a higher peak than Bruce. Holt will get in soon and probably before guys like Hines Ward and Andre Johnson because he's been waiting longer
He was apart of the G.S.O.T (greatest show on turf).
Pace is going in this year...
21
Jevon Kearse
His career fizzled out each year after his first two seasons. Not even the Hall of Very Good.
Jevon Kearse had 14.5 sacks in his rookie season. That is a record that still stands today.
22
Tommy Nobis
Nobis was on the all decade team of the 1960's. Enough said. He also was rookie of the year in 1966 and made 5 pro bowls including both a first team and second team all pro on a horrid Falcons football team. Some folks need to get their facts straight. Nobis should have been in the HOF years ago.
Tommy was a big time LB for the Falcons during an era when linebackers were the face of football. He was a big time hitter who covered ground from sideline to sideline. He should have been inducted to the HOF years ago.
Underrated for years. If he played in a bigger market, no question Nobis would be in Canton.
Please, he never even made a 2nd or a 1st all-pro team.
23
Stanley Morgan
How many people remember Stanley Morgan. For years the the best downfield threat in the national football league. His numbers were better than Swann, Stallworth or Bob Hayes but because he played for a team that didn't win Super Bowls he has been largely forgotten. Some day should at lest get A seniors nominee. Averaged 20 yards per catch for his career!
Better Stats than most that are in the HOF. Someone dropped the ball on this guy
24
Steve Tasker
I will agree that he was exceptional at his position, but there have been other special team performers that have been pretty good themselves. In fact two current players Matt Slater of the Patriots and Kenyon Rambo are both really good. Having said that Steve Tasker was close to HOF level.
Simply the BEST player ever at his position! He took special teams play to a different level. Just ask the guys that played against him.
25
Patrick Willis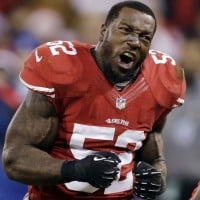 Patrick L. Willis is a former American football inside linebacker who played his entire eight-year career with the San Francisco 49ers of the National Football League.
Will not be eligible for years but because of a lack of longevity his case will be interesting.
Great player deserves more.
PSearch List