Greatest NFL Kick / Punt Returners
The Top Ten
1
Devin Hester
Punt Returns and Kick Returns combined no doubt he is first. I am a huge Hester fan, but no doubt Cribbs was more impressive than Hester on Kick Returns (Leon Washington too, just look at their numbers, a vg. a and ratio's). Cribbs had 426 returns for 8 TD's (his 8 TD's all came in his first 241 returns), Washington 292 returns for 8 TD's, Hester in his career had 276 for 5 TD's (regular season, he had one in the SB also). If you look at Punt Returns no one is even close to Hester. I agree Kick Returns and Punt Returns are much different. Hester and Deion are definitely 1,2 in Punt returns. Cribbs and Leon Washington are 1,2 in Kick Returns however, Sayers is number one in TD ratio = 91 kick returns for 6 TD)
I started watching the bears the year he got drafted. every time he received a kick or punt return, anything could have happened. Hester has had so many extra return touchdowns that were called back that should have easily counted in the record books. In addition, he's had at least 30 almost return touchdowns where he went for 40-80 yards and cane just shy of the end zone
2
Deion Sanders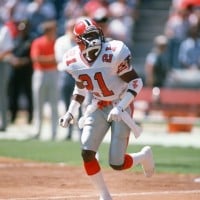 Deion Luywnn Sanders, Sr. is a former American football and former American baseball player, who works as an analyst for CBS Sports and the NFL Network.
I've got two words for you. The best! He was the first to bring true exitement to return game. The art of return was his specialty. The problem is he doesn't get enough credit because was so good at so many other positions.
Prime Time is the best returner of all time! He can return interceptions, punts, kicks anything you can think of he can return.
He's gotta be the best
3
Joshua Cribbs
Kick offs are more difficult to return than punts. The opponent has a running start at you, and more than likely, you are coming out of your own endzone, that's why I believe Cribbs is the best. Hester is amazing, but I would take Joshua's kick return ability first.
Remember a little thing called the immaculate deception? Come on people!
All-time kick returner for touchdown leader. He is way better than 5th!
4
DeSean Jackson
DeSean William Jackson, nicknamed "D-Jax", is an American football wide receiver and return specialist for the Tampa Bay Buccaneers of the National Football League. Jackson was drafted in the second round forty ninth overall to the Philadelphia Eagles in 2008. Jackson has played for 3 different teams in his career.
He is the best player ever I think. And that one punt return with the Giants was epic
Okay, who said he was the best player ever?
Edelman is better
5
Billy White Shoes Johnson
He was the best and the most entertaining. Loved watching him return!
The BEST of all time, especially considering his height!
Whiteshoes was good, but you left out Rick Upchurch, he was just as good. You pchurch retired as the all time yardage leader!
6
Leon Washington
He is the second best returner, just behind Hester. And Washington is now with the Tennessee Titans. The best team in NFL
Should be Top 10, he and Hester are tied for most kick/punt return TDs in NFL History.
7
Dante Hall
Dante was a clutch player, who delivered when the team needed him most, beyond that his sheer talent was undeniable. His ability to evade tackles, and juke ENTIRE TEAMS of defenders, was astounding, something few others could even dream of competing with.
I have to agree with the posts here... In particular, Hall always came through when his team needed him the most. Game changer. Don't kick the Ball to Dante Hall! He would've broken more records had teams actually done that. Hats off to the human joystick!
He got kicked to less and he did it with very little special teams help.. His returns weren't one cut and up the field returns, his returns where he should of been tackled 10 times but he juked the whole team returns.. He should be #1 hands down...
8
Patrick Peterson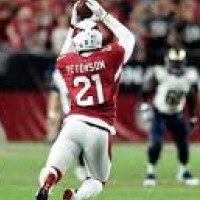 Patrick Peterson is an American football cornerback and return specialist for the Minnesota Vikings of the National Football League.
Little known, but on his first year (2011-2012) he tied a record for most punt returns for touchdowns. He was also the only rookie in the 2012 pro bowl. This guy is going to be amazing next season.
9
Darren Sproles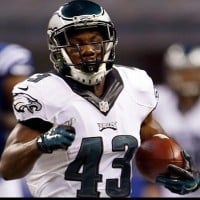 Darren Lee Sproles is a former American football running back of the National Football League. Sproles was drafted in the 4th round, 130th overall by the San Diego Chargers in the 2005 NFL Draft. He also played with the New Orleans Saints and Philadelphia Eagles.
He's on the Eagles 3 most punt returns ever what do you say about that
Small but explosive, that guy got some serious speed and some nasty ankle breakers
10
Desmond Howard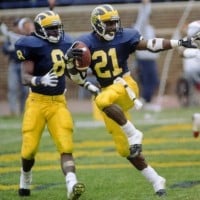 Desmond Kevin Howard is a former National Football League player. Howard was known mostly as a return specialist but also played wide receiver.
I know he's not better than Hester or Sayers, but he's got a Super Bowl Ring and Super Bowl MVP and neither of those two can say that.
The Contenders
11
Reggie Bush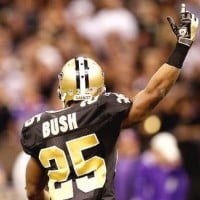 Reginald Alfred "Reggie" Bush Jr. is an American football running back who is currently on the Buffalo Bills roster.
12
Brian Mitchell
He should be in the Hall of Fame. Only Jerry Rice has more All-Purpose Yards than Mitchell's 22,000. 19,000 of those yards are in the return game, where he also had 13 TDs. Only one other person has 15,000 return yards. Brian Mitchell is miles (literally) ahead of anyone in return yardage in the history of the NFL. Greatest returner ever. All-Time leader in punt and kick yards.
All around player. Special teams get ignored in Hall of Fame ballots most of the time. Brian Mitchell should be in the Hall of Fame eventually because of his versatility,character and overall stats.
All-time in kick return and punt return yards. Can't argue with that.
13
Roscoe Parrish
Are you kidding me?!? How is Roscoe not on this list right below Devin Hester?
14 West Welker
15
Mel Gray
Wow as fast as Barry with Barry like moves made that team a legit threat
16
Michael Lewis
The guy never played in college and didn't catch punts until he got to the nfl
17
Gayle Sayers
I saw Gayle Sayers play on TV when I was A kid. He was as a man against boys. In the rain and mud he was sensational. The guy didn't walk on water but he could sure run on mud.
Gale Sayers only played for about six seasons, but he was one heck of a return man.
18
Vai Sikahema
Vai is a bad man.. Nasty punt returner...Punch that goal post Vai he was the pioneer of the goal post punching bag celebration and he had a lot of chances to do it cause he was electric
Pro bowler twice, goalpost punching champ.
19
Jack Christiansen
Holds the record for most punt returner for a rookie and made it to the hall of fame in 1970.
It took 54 years just to get his record tied.
20
Eric Metcalf
P 10, considering he split time as a 3rd down back, best 633 yds and 1 x 1000K receiving seasons. He literally best teams himself. Ask Pittsburg. Better than Desmond Howard, who's a bit over-rated in my opinion. Metcalf belongs in the bottom half of the #10 list, worse case. 3 time pro-bowler, 2 x All-Pro makes my case.
21 Andre Davis
22
Jacoby Jones
Why is he not on this list at #2!
Fantastic 2013 season
23 Teddy Ginn
24
Julian Edelman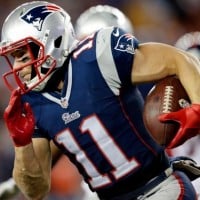 Julian Francis Edelman is an American football wide receiver for the New England Patriots of the National Football League. Edelman was drafted in the seventh round two hundred and thirty two overall to the New England Patriots. Edelman played quarterback in college, but in the NFL he changed position to wide receiver due to his height.
Too good for everyone
Julian Edelman never quits he is a tuff dude and he is small and fast and good at catching
25
Cordarrelle Patterson
Yeah he's a one season wonder, or it's just a sophomore slump. You can't deny his 109-Yd Kick-Off TD against Green Bay. He probably only has one good play this season, his run against a the Rams in week 1, but that's about it. His rookie season should be at least 5th to 15th
Doing great this 2020 year with Matt Nagy experimenting with him. Can't wait to see more!
PSearch List