Greatest College Football Programs
The Top Ten
1
Alabama
I'm a middle aged Notre Dame fan in Illinois and just I voted Alabama #1. Why? Because a "Greatest of All Time" list means you have to be great throughout the history of college football. I love Notre Dame but only Alabama has been consistently great in the distant past, the recent past, right now in the present, and will be great on into the future. Notre Dame was only great from the 1920s-1980s. But in actuality our decline isn't confined to the last 28 years since our last national championship in 1988. It has actually been trending down for the past 50 years, since 1965. In the past 50 years Notre Dame has won 4 national titles and 1 Heisman trophy. Alabama has won 9 national titles, 2 Heisman trophies, and a lot more bowl games than and. I'm a Fighting Irish fan who is reasonable and realistic, and I have no problem admitting Alabama has overtaken us by now in prestige, tradition, and overall value.
After winning 3 National Championships and beating 2 long time thorns in their side (Texas and Notre Dame), Alabama left no doubt who the greatest program of all time is by winning their 4th National Championship in 7 years.
Here is the scary part, as long as Nick Saban is the Head Coach in Tuscaloosa, they'll always be in contention to win another one. And what if the next Championship is next year? That would make 5 uncontested, unshared titles out of the last 10 years... unprecedented.
It's not that I don't like Alabama, because I do, it's because I'm tired of them winning everything, all the time. But even still, I sometimes sit back and stare at the T.V. in awe and say "man, they just won't die". My hat is off to Alabama, they are the king.
As an avid Alabama fan for 41 years, I have seen the ebbs & flow of our football program. I have seen multiple SEC and National Championships. I have seen our program struggle with mediocrity as well as placed on probation from the NCAA. Winning Championships with class is the Bama way. Fortunately, Bama has been blessed with multiple legendary coaches. Those coaches have brought a winning attitude to our program. Our program has also been blessed with high character athletes. Those athletes have brought a positive winning attitude to the program. I am also thankful to be an proud Alabama alumnus.
I'll leave the measurable to the other comments if you want Alabama's numbers and NCAA records. Instead, I'll use my post to explain why Bama truly is king despite trailing some of the other prestige programs in certain categories, as well as also explaining why claiming two national championships despite losing the bowl game is a reasonable claim after all. Alabama has only won 31 total conference titles (25 SEC, 6 SoCon) whereas Oklahoma, Ohio State, Texas, Michigan, Nebraska, and USC have 38 "52 conference championships respectively. The reason Alabama trails those schools is because they all started playing football before Alabama did. The game did not reach the South until the turn of the 20th century. There weren't enough Southern schools playing football in order for Alabama to have conference play until the mid 1920s" decades later than everyone else. The South was a very poor, agricultural region with insufficient infrastructure for decades following the Civil War, therefore ...more
2
Ohio State
Ohio State was a football powerhouse long before Alabama. They have far more individual awards (Heisman's, etc.). They have 8 National Championships (could easily claim more), they have the highest ALL-TIME AP ranking, and have spent more time at AP#1 than anyone, period. They have far more All-Americans than Alabama, and far more NFL talent over the years. And while Alabama has dominated a sometimes weak SEC, Ohio State dominated the Big 10 for years when the Big Ten's other teams such as Michigan, Michigan State, Iowa, Minnesota, etc., were typically top ten teams - not to mention dominating Nebraska and Penn State since they have joined the Big 10. I can see USC ranked above them on this list, although that is questionable - and Oklahoma is often listed as the top all-time collegiate program, and to be fair, Alabama should be a top five all-time team - but above OSU, I don't think so.
Ohio State was the first team to win the College Football Playoff. They have won 8 national titles, 886 games, 6 players who won the heisman trophy (Including the only 2-time winner), 418 players drafted in the NFL, the third most in the entire nation, and more weeks ranked in the AP Polls than any other team. They are also one of two teams to have never lost at least 8 games in a season, the other being Tennessee, and out of both of these teams, Ohio State will probably outrun Tennessee in that record.
OSU has some impressive accomplishments. Most Heismans (tied), Most weeks at #1, most weeks in top 10, 8 national Championships, 8 # 2 finishes (most of all time), 3rd most players Drafted, 3rd most All-Americans, 4 coaches on College Football HOF, not including Paul Brown who is pro-HOF, 3rd most players in pro football hall of fame, most players ever drafted in 7 round draft, most players ever drafted in first 3 rounds only one of 2 teams to NEVER have 7 losses in one season. They lost 2 NCs on 1970s to USC by one point each and they play in greatest rivalry in College football.
When you combine the tradition, level of excellence and the DURATION over which that excellence was maintained, no program not named USC comes close to Ohio State. Add to that the hardware for individual merits, NFL picks (including 1st round picks) and one of the highest football budgets (after you filter out the accounting noise, such as donations which programs like Penn State classify as football revenue, but Ohio State doesn't), they are among the bluest of blue bloods in college football. Plus it's the program that coined THREE YARDS AND A CLOUD OF DUST
3
Notre Dame
Being #3 on this list is an affront to my fandom & to my identity as a man. But if I'm being rational as a CFB fan & being honest with myself, it's probably fair. We should be #2 ahead of Ohio State at least (even though they've obliterated us in our last 3 matchups in big bowl games) since we have 8 consensus national titles in the poll era and Ohio State only has 5. Everything else is about equal between us in all the other areas with us having slight leads over them in those other categories. Only Alabama should be ahead of us because they've legitimately surpassed us now. It ' sucks and I can't stand it, but we've screwed around too much in the past 25 years and we've allowed Alabama to pass us. With the new "doom and gloom" mentality being the mindset that has set in among our fanbase; the stringent academic requirements; and the new focus/center of CFB being the Southeast, Alabama is the greatest program ever right now because their present and future look just as bright as ...more
I just visited this campus recently and it was nearly a religious experience. Great crowd, wonderful atmosphere and football team that places more weight on the scholar over the athlete than most other schools.
They won more national championships than Alabama, have more heisman winners (not including Two-Timers) than any other team, And more NFL Draftees than any other team except for USC.
Best winning percentage in college football history. Most all-Americans and heismans. Most consensus National Titles. No one has accomplished what and has. They are unquestionably the best of all time
4
Michigan
Most wins in CFB history, three heisman winners, second best all time record, 127 first team all Americans. This year, Michigan played THREE teams that have been in the top five. So many CFB and NFL greats went here like tom Brady, Charles Woodson and Desmond Howard. Not to mention the 2nd oldest CFB team in history w/ 136 seasons, And our four consecutive national championships from 1901 to 1904. I can't believe and and OSU are ranked higher than us. Wolverines taught the fighting Irish how to play football, and OSU could easily have double its national championships if they didn't play us at the end of the season. To top it off, we have the best fight song in college football, The Victors.
Michigan has the second largest stadium in the world(India has the first.
Michigan has won 920 games.
September 7, 2013 the Michigan Stadium held 115,109 people that broke the all-time attendance record for a college or NFL game!
Michigan's 1901 team was the first team to ever go undefeated, untied and not allow a team to score a point on them and win the Rose Bowl without being scored on.
Michigan's: The Victors is one of the most widely recognized songs in college football today.
Not only being one of the best colleges in America, but combining that with their fantastic comeback from past years in their 2016 season, you have a 5 star team. You can add on a sweet theme song (The Victors, you should check it out),the best defensive program in the Big 10, and legendary players. This team takes the cake when it comes to playing football.
One of the oldest teams in college football history, they've won 11 consensus national titles, 15 total national titles, 42 conference titles, and 924 total games (the most EVER). They have had 78 consensus All-Americans, 3 Heisman winners, and they currently have the largest stadium in not only in college football, but in all of the United States. GO BLUE!
5
Oklahoma
Are you kidding? OU is number 3 in national championships all time ( 7 AP) #1 if they claimed all of them (17), number 4 in heisman winners, number 3 in draft picks, has the longest winning streak in college football history (47) which will never be broken, has scored more points than any other program, 2nd most weeks ranked #1 AP (trailing Ohio State by 2 weeks), fewest losing seasons in college football history, Most top 5 finishes all time, most games won since WWII. OU is the GOAT no question. OU wasn't a state until 1907 and OU wasn't a relevant program since 1950. Think about if OU got started when Michigan did in the late 1800's. OU has accomplished more than anybody in 67 years. #Boomer #OU
Oklahoma is the most consistent program ever. Every decade besides the 90s they were always a top 10 powerhouse year in and year out. Not to mention right now in the modern era where talent is higher than ever they are churning out greater offensive players and great quarterbacks in college and the NFL. The fact that Michigan higher is terrible Oklahoma is a top 3 program at least.
To the moron that said Oklahoma plays virtually no one, study your history son. OU played Texas and Nebraska almost every year for 100 years. Name another top 8 program that had to get through 2 other top 8 programs (and yes regardless of what this list says, OU, Nebraska, and Texas are all top 8 programs all time) every year for the majority of their existence. Ignorance is bliss I guess.
17 national titles claimed and unclaimed. 45 conference titles, and 5 heisman trophy winners. They have only had 12 losing seasons, more 10+ win seasons than any other program, and the most wins since after World War II. No school but Oklahoma has had at least four coaches that won 100 games, and had the most weeks at no. 1 in the BCS polls. Oklahoma should be in the top 3 for sure.
6
USC
USC and Notre Dame are literally the two best college football programs of all time, and no other team, not even Nick Satan's Alabama is close to being as good as these. I'm surprised the USC vs Notre Dame Rivalry isn't bigger than Alabama and Auburn.
11 claimed Titles (5 consensus, 8 recognized by the NCAA), 6 Heisman winners, 36 Conference Championships, 80 Consensus All-Americans, 31 College Football Hall of Famers, most players drafted by the NFL (487) and most NFL Hall of Famers (11). King of the Rose Bowl. * USC would have 1 more Championship and Heisman but it was vacated by the NCAA
11 Claimed National Championships (5 consensus, 8 recognized by the NCAA), 6 Heisman winners, 36 Conference Titles, 80 Consensus All-Americans, 31 College Football Hall of Famers and the most NFL draftees (487) and NFL HOF (11). King of the Rose Bowl.
A symbolic west coast powerhouse football program packed with tradition and history. Greatest in the West? Look no further
7
Nebraska
Maybe not THE best program, but it did have THE best team of all time in the 1995 team. A great fanbase, a great stadium, and great tradition. Nebraska may not be that good now, but we have a chance to be dominant in the future

Side note; I think the 1983 team was the best team in college football history that did not win a national title.
Nebraska? When were they good,1995? Its 2015, this team has been an absolute joke since the mid 90s.

They were pretty good in the mid 90's & that was against a pathetically weak schedule that was crafted by Tom Osborne was infamous for scheduling cup cakes & scoring 90 points against Colgate & Western Nothern Southeast State Tech.made his team look unbeatable to the AP voters.
Nebraska is awesome, 1995 team most dominant of all time, they beat the unstoppable #2 Florida Gators 62 - 24 in the national championship game. No other team can compare.
Imcredible tradition. Great fans. Third most wins in the FBS. Three heisman winners. 5 national titles. 43 conference championships. Most consensus all americans in mcaa history. 354 consecutive sellouts.
8
Florida State
1 coach "Bobby Bowden" 34 years. Not to many schools could say that.
14 straight top ten finishes. No school can say that.
Unfortunately 3 wide left or right field goals cost us 3 national championships.

Boo
Most consistent team of last 30 years.
9
Texas
UT throughout the years has been a powerhouse. Not many teams have more all-time wins than the Longhorns. Although they are currently in a down period, you can rest assured they won't be down for long. Football is King in Texas, and The University of Texas has given their fans something to be proud of for years. Without a doubt they should be considered one of the best programs of all-time.
They have had some lean years lately but they've beaten the who's who of college football. 8-1 all time against Alabama, 2-1 against Ohio state ( overrated university). The talent they have produced and recruited such as Earl Campbell, Vince Young, Colt McCoy, Ricky Williams, Major Applewhite, Jamal Charles etc along with Mack holding a record for most consecutive ten win seasons speaks for itself.
Most dominant team of all time beat the 2 time reigning champs who were trying to make it a 3rd the cheating USC Trojans in 2005! Vincent Young
10
Miami
THE "U" posted 5 National Championships under four different head coaches
After THE "U" got ripped off in the NC game against Ohio State, the NCAA started using instant replay
"THE U" patented the pro-style offense in college football and made it what it is today
...and above all, THE "U" invented SWAG
Miami has been irrelevant since 2001, they were only good fro a short period between 1984 & 2000.
Outside that period they have been a joke, They don't belong in the top 15 of top tier teams.
Success in national championships is only matched by success in the NFL draft and pro bowls. Best players in this sport play in Miami
A great program that has produced many NFL Superstars. A lot of NC titles in a short amount of time.
The Contenders
11
Tennessee
The folk saying they shouldn't be ranked higher because they never had a heisman winner, obviously never played team sports. It's all about the TEAM with the VOLS. Besides, they were robbed of two heismans in '56 & '97. Majors and manning should have won it. Definitely a Top 10 greatest program on Rocky Top!
I'd put them around 10...although the past decade they have been HORRIBLE. Weird since they've stunk so bad without being on probation or something. Talk about falling off a cliff.
Just Look at the statistics over 120 years - tied number two all time in bowl appearances and fifth in bowl wins and top 10 in wins and % and six national titles overall (could claim couple more) - LSU, Miami, and FSU cannot under any statistical measure be put above the Vols. Tennessee is definitely # 9 or 10 all time.

Miami has no history before the 80s and FSU before the 90s? LSU is about 12 all time I think.

These people have an extremely short sports memory.
Say what you want, but these Volunteers are over 800 wins, true not enough national titles or SEC titles but they sure do draw a crowd. Rocky Top Rules.
12
LSU
A talent rich state and they get the loin's share from there as well as Mississippi and East Texas area.
13
Penn State
If we had Alabama's attitude about claiming National Championships, we would have at least 12! PSU is 3rd in wins since 1950 and has gone 15-9 since getting the worse sanctions in NCAA history (minus SMU)! Penn State will be back as a Title contender in a few years.
Beasts of the East! Linebacker U! Top 10 winningest program of all time and if we say the last 50 years, they're top 5! JoePa turned a regionally good team, into a nation power and Penn State has been one of the very best since 1966! WE ARE...
I know the NCAA took away 114 wins but let's be real, those games happened and Penn State won. How on earth did Oregon, Tennessee and LSU get higher on this list?
I bleed blue and white. If PSU wants to move up higher on this list, they need to string a few dominant seasons together again.
14
Oregon
Oregon! ? are you kidding me they shouldn't be on this list anywhere unless you need a good example of how not to play defense.
They've only been good recently. Doesn't belong on a list with teams rich in tradition and history
Oregon isn't even better than USC, Washington, UCLA, Stanford, Arizona State and Utah Utes... Oregon has only made uniforms a dynamic change and also there spread option offense run n gun. That's it, not even deserving top 20
15
Army
They were this high 70 years ago.
16
Florida
Bull. Teams ahead of Florida that shouldn't be?
Auburn: Florida has more national titles and SEC Titles than Auburn.

West Virginia: Are you kidding me? They have NEVER won a championship.

Virginia: Again, NO championships.

Georgia: Has 2 championships, which is less than 3. Also, Georgia hasn't won the SEC in 11 years.

Army: Yeah, back in the 1940s...but not today.

Oregon: NO national championships at all, and they've had SEVERAL attempts. They're only ranked high because of their flashy uniforms.

Tennessee and Penn State: This is arguable. Florida has more championships than Penn State and leads the series against Tennessee. Toss up here.

LSU: Bandwagon central. People only like LSU because of Odell. LSU football was not on the map until Nick Saban came in 2000. Florida has had more All-Americans than LSU, way more division titles, and Florida leads the series against LSU.

FSU: Florida leads the series against FSU, and more ...more
Much better than teams such as West Virginia, Virginia (why are they even on the list), Georgia, Oregon, Penn State, Tennessee, LSU, and Florida State.
17 Virginia
18
Auburn
I heard Auburn had a losing record against the worst team in the SEC, Vanderbilt.
Best team not to win a national title the last 25 years.
Acutely auburn is 21-21 against Vanderbilt stupid!
.sorry I'm live in auburn
Ownership of Bama, what country have you been in for the last 10 years.?
19
Michigan State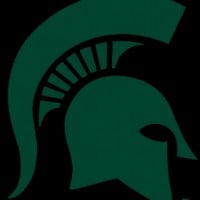 Honestly, UM's glory days are over. Alabama, OSU, Notre Dame, and Florida State all should be ranked ahead of MSU, sure, but UM is no longer a great program. They have the most wins total, yes, but they have also been around longer than a lot of programs have, so they have over 20 seasons on some teams. Now let's get serious: when was the last time UM won a bowl game? A championship? When were they last relevant? Oh, they made the playoffs twice after winning a cake schedule and beating up on an injury-plagued OSU team? Sorry, that's not much of a case for recent relevance. UM has not been the dominant team in Michigan in two decades, and they don't seem on their way to changing that. MSU has consistently been good, save a few weird seasons, since they first existed as a program. They reached the playoffs against one of the best schedules in college football history before UM could even dream of having a .500 program in a decade. UM's time as a great football school is over. MSU has ...more
We ought to be WAY higher on this list! We should at LEAST be ahead of those lowly, scumbag wolverines (intentionally left lowercase...) We win almost every year! Our main competitors are OHU who we win against roughly 50% of the time and PSU who we usually beat 60% of the time. Everyone else we beat 75+% of the time! Honestly! Put us in the top five ahead of these crap teams where we belong! When we play these other teams (except Alabama) we have (usually) a 90% chance of utterly trashing them! I know this glorious team deserves a higher spot on here. But, no matter the ranking, even if they deserve the #2 spot, they will keep on proving themselves. It all gets settled on the field. GO GREEN!
20
Syracuse
They may be really crappy now but look what they were, a national championship, BCS Contenders in the 90s. But sadly, they have lost talent, and the only thing people care about are the southern schools, Ohio State. And those wannabe national champions Oregon and try to look good with their uniforms
21 West Virginia
22
Georgia
The university of Georgia is always a contender in the SEC, and should therefore be ranked much higher in this comparison.
Always have great recruiting and have the potential to win sec championship every year.
Ga should be ranked higher on this list they are allways contenders winning is a tradition.
The University of Georgia, usually gets stoppeon their way to the national championship but ware a SEC powerhouse
23 Clemson
24 BYU
25 North Dakota
PSearch List