Top Ten Best Green Bay Packers Players of Week 4, 2021
The Top Ten
1
Randall Cobb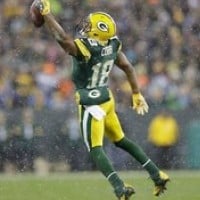 Randall Ladonald Cobb II is an American football wide receiver for the Houston Texans of the National Football League.
After a quiet first three games, we got to see a vintage Cobb performance. Playing more snaps due to MVS being injured, Cobb was our main third down converter, and had 69 yards receiving and 2 touchdowns. With MVS being out a least two more weeks, we might see more games like this from Cobb.
2
Aaron Rodgers

Aaron Charles Rodgers is an American football quarterback for the Green Bay Packers of the National Football League.
Rodgers also had himself a nice game, including throwing his 420th career touchdown pass, tying Dan Marino for 6th most all time. He threw for 2 touchdowns and rushed for another.
3
A.J. Dillon

Dillon had his first big game of the season. On 15 carries, he had 81 rushing yards, and nearly got a touchdown. He split time with Aaron Jones, and our backfield looked great because of it.
4
De'VondreCampbell
I'm continuing to like how Campbell has been playing at inside linebacker. In fact, he is probably one of the better ones right now in the NFL. Not on the level of guys like Bobby Wagner, but he's definitely been our best inside linebacker in a little while.
5
Kenny Clark

Clark has continued to be a beast in the middle of the defensive line. He once again bolstered our run defense and recovered a forced fumble.
6
Rashan Gary
Gary has been getting better as a pass rusher, but he hasn't always been able to hit home. He had a sack in the game, and was getting good pressure. He still needs to improve on some things however, particularly not just using the same pass rush move every time.
7
Davante Adams

Davante Lavell Adams is an American football wide receiver for the Green Bay Packers of the National Football League.
The Steelers did a pretty good job in containing Adams, as he had 64 yards and no touchdowns. Fortunately, that opened up the game for Randall Cobb.
8
Aaron Jones

Besides losing a fumble, Jones had a pretty balanced game. He had 48 rushing yards and 51 receiving yards. He shared time with A.J. Dillon in the backfield, and that seemed to go pretty well.
9
Kingsley Keke
Keke was pretty awful the first three weeks of the season, and he finally had a solid game here. He had a strip sack of Ben Roethlisberger, and wasn't a liability in run defense. He needs to be more consistent however.
10
Eric Stokes
Stokes had a very up-and-down game. He was targeted a lot and gave up a good bit of catches. However, he did have some nice plays, including two pass deflections and his first career interception. Seeing that Jaire Alexander might be out a little while, it's time for Stokes to take it to the next level.
BAdd New Item