Top 10 NFL Players of the 30s
The Top Ten
1
Don Hutson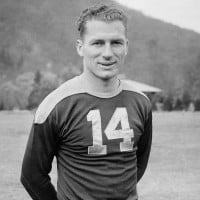 He was Jerry Rice, before Jerry Rice broke all of HIS records. But Hutson remains to this day the best Packers Wide Receiver of all time. He came from Alabama and there he set many of receiving records there. So it was destiny that he would do the same. Boy he did over and over again. he caught 488 passes which is today's NFL, that may not be good enough to go to the Hall of Fame, but in his day that was more than good enough. His 99 touchdowns when he retired was mind blowing. He was a true great.
Its Joeysworld
2
Bronko Nagurski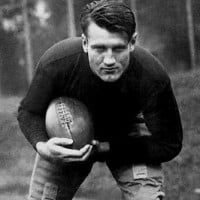 Bronislau "Bronko" Nagurski was a Canadian-born American football player, renowned for his strength and size.
He was a powerful man, so powerful that he was also a professional wrestler, so good he was a heavyweight champion in the N W A. In Pro football, he was a leader and a champion with those Chicago Bears. He rushed for 2,778 yards and 25 touchdowns. But the real strength is his heart and would do whatever it takes to make a team a winner. When many Bears went off to serve for their country during World War II. He came back in 1943, and with that he retired again, only this time as an NFL champion, a Bear legend for all times.
Its Joeysworld
3
Dutch Clark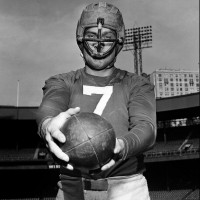 This man can do it all, kicking, passing, defense, running and was the first great star in the history of the Detroit Lions. He was Deion before Deion was Prime Time. He led the Lions to an impressive 10-3 in the first year (1934) of the Lions franchise. The next year, the Lions was in the NFL championship game and won as he helped out a 26-7 win over the Giants with an exciting 40-yard touchdown run. Potsy Clark, Clark's coach said "Dutch is like a rabbit in a brush heap when he gets into the secondary. He has no plan but only instinct to cut, pivot, slant and run in any direction equally well.'
Its Joeysworld
4
Ken Strong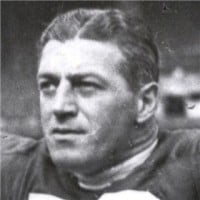 Elmer Kenneth Strong, Jr. was an American football player, a member of both the College Football Hall of Fame and Pro Football Hall of Fame.
It's a rarity to see this Hall of Fame great played for so many teams BUT never left the New York City area, because Ken played his whole career in the nation's biggest market, a city that today survived the early years of the NFL to became a massive big thing. Strong himself played very well, as a Giant in 1934, he led the team in rushing (431 yards) and played a big part in the Giants First NFL Championship win over the Chicago Bears as he scored 17 of the Giants 30-13 win. He was inducted into the Giants Ring of Honor in 2010. A original Giant.
Its Joeysworld
5
Dan Fortmann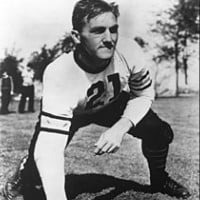 Dr. Daniel John Fortmann was a professional American football offensive lineman in the National Football League for the Chicago Bears.
He was picked very late in the 1936 NFL Draft. He was the 78th pick taken, but he used this late pick to work hard on a team that was destined to win, that team was the Chicago Bears. He played for 86 teams, and was named to the 1939 NFL All-Pro Team and was the key factor in the 1940 NFL Championship Game Bears 73-0 win over the Former Washington Redskins. When his career ended in 1943, the awards and Honors favor him including being named to the NFL's 100th Anniversary All-Time Team, and one of the 100 Greatest Bears of all time.
Its Joeysworld
6
John McNally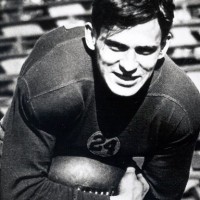 He was one of the many athletes who went off to serve for the United States during World War 2. But before he became an American Hero on the front lines, he was an American Hero on the gridiron. He played for 7 different NFL teams, but it was the Green Bay Packers that would suite him best. He joined that team in 1929, and he along with other first year players formed the nucleus of the NFL's first dynasty as the Packers from 1929 to 1931 ruled the pro football world, and John ran his way into the Pro Football Hall of Fame, and into the pro immortals.
Its Joeysworld
7
Clarke Hinkle
Today Emmitt Smith is the all-time leading rusher, BUT back in the 30s, no one worked hard to be the best he can be than Clarke Hinkle. He never gained 1,000 yards in a season, but he was the toughest runner of his day, and one of the best. He carried the Packers to 2 NFL Championships and a place in football history. He was a rare combination of speed, power and accurate kicking. That's right he was a great kicker in his own right. When his career ended, there was he was as the all-time leading rusher with 3,860 yards. A great runner.
Its Joeysworld
8
Mel Hein
He was called the first great New York Giant player. Mel played for 15 seasons and the first offensive lineman to be named the NFL Most Valuable Player, he earned that award in 1938, that year he led the Giants to the NFL Championship game and won it over the Green Bay Packers. He also won a championship 4 years earlier in the infamous sneaker game vs the Bears and was called Pro Football's first big time championship player. Steve Owen, former Giants coach said "I've been around this league a long time and I've never seen a player who made few mistakes than Mel. He has a feel for football, an instinctive understanding and grasp of it allows him to command every bit of action on the field."
Its Joeysworld
9 Tuffy Leemans
10 Turk Edwards
The Contenders
11 Arnie Herber
12 Joe Stydahar
13 Cliff Battles
14 Wayne Millner
15 Bill Hewitt
16 Cecil Isbell
17 Beattie Feathers
BAdd New Item