Top 10 Best Quarterbacks of the 2020 NFL Season
With the season coming to an end, we saw some great quarterback play. Some played at MVP levels, while others were still great as well. Who were the top guys. Here, we are looking at the top ten best quarterbacks of the 2020 NFL season.

The Top Ten

1 Aaron Rodgers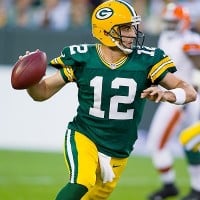 Aaron Charles Rodgers is an American football quarterback for the Green Bay Packers of the National Football League.
After two down seasons by his standards, people began to wonder if Rodgers was finally on the decline. Perhaps the Packers thought so too with the drafting of Jordan Love. As it turns out, it was not the case. Far from it actually. Rodgers put together not just one of the best seasons of his career, but also in NFL history. He finished the season helping the Packers to a 13-3 record and the first seed in the NFC. He threw for 4,299 yards, and led the league with 48 touchdown passes, passing his previous career high by 3, and throwing only 5 interceptions. He led the league with a 70.7 completion percentage and had the second highest single season passer rating in NFL history with 121.5, behind only his own NFL record 122.5 he set in 2011. He also rushed for 3 touchdowns. Rodgers had a historic season, and he is likely to receive his third MVP award for his performance.
An amazing guy, and he has donated millions of dollars in his hometown of Chico, which has suffered from devastating fire damage.
2
Patrick Mahomes

For a while in the middle of the season, Mahomes was the MVP frontrunner. Now he finds himself about to face Tom Brady in the Super Bowl. The Chiefs are there because of another stellar season from the former MVP. He threw for 4,750 yards, 38 touchdowns, and 6 interceptions, all while not playing the regular season finale. He had a 108.2 passer rating as well, as he helped the Chiefs to a 14-2 record and a second consecutive Super Bowl berth. Could Mahomes be at the forefront of the NFL's next dynasty?
3
Josh Allen

Allen skyrocketed this season to have a career third year. He got some MVP buzz throughout the entire season, and while Rodgers and Mahomes ended up over him, Allen still established himself as a potential future MVP and maybe even a Super Bowl champion and MVP. Making the Bills an AFC powerhouse, he threw for 4,544 yards, 37 touchdowns and 10 interceptions for a 107.2 passer rating. He was also a force in the ground game, rushing for 421 yards and 8 touchdowns. He was far better than he was his first two seasons, and looks to have a bright future in the league.
4
Deshaun Watson

We can speculate his future with the Texans all we want, but it can't be overlooked how good he was on a 4-12 team. He led the league with 4,823 passing yards to go along with 33 touchdown passes and 7 interceptions. It's a shame how things might end between him and the Texans, but he's one of the great young quarterbacks in the NFL.
5
Ryan Tannehill

Ryan Timothy Tannehill III is an American football quarterback for the Tennessee Titans of the National Football League. He previously played for the Miami Dolphins from 2012 to 2018.
Tannehill continues his redemption chapter with the Titans. In his second season as their starter, he proved that he is a top 10 quarterback in the league. He threw for 3,819 yards, 33 touchdowns, and 7 interceptions. He was arguably better this season than in 2019. It's easy to see why the Titans paid him well.
6
Russell Wilson

Russell Carrington Wilson is an American football quarterback for the Seattle Seahawks of the National Football League.
Wilson started off the season hot as the leading MVP candidate, spearheaded by the narrative of how he had never received an MVP vote. This year looked to change that. But, like a lot of Wilson seasons, he couldn't stay consistent. His middle stretch of the season was borderline bad as Seattle's offense got stale and their defense stepped up. He picked things up near the end of the season, but by then, multiple quarterbacks had already overtaken him in the race for the MVP award. Nevertheless, it was one of his best seasons yet. He threw for 4,212 yards and 40 touchdowns and had a passer rating of 105.1. What sunk his MVP candidacy was his 13 interceptions and spotty play later on in the season. If Wilson can put together a consistently elite season for a full 16 games, then maybe he will finally receive at least a single MVP vote.
7
Justin Herbert

The rookie phenom Herbert appears in the top 10 after a stellar showing with the Chargers. Did anyone expect him to throw for 4,336 yards and 31 touchdowns to 10 interceptions? Most rookie aren't this good to start off. The Chargers have found their future.
8
Tom Brady

Thomas Edward Patrick Brady, Jr., is an American football quarterback for the Tampa Bay Buccaneers of the National Football League. Brady is known for being the only quarterback in history to win 7 Super Bowls, and is often considered one of the best quarterbacks of all time. Brady is also frequently ...read more.
Why won't he age like every other old quarterback?! He's going to his 10th Super Bowl and he's showing no signs of slowing down. Why must he make all of us suffer? In terms of his regular season, it couldn't have gone much better in his first season with the Buccaneers, in which he threw for 4,633 yards, 40 touchdowns, and 12 interceptions. Keep in mind the man is 43 years old. How does he do it? When will he retire? If he wins his seventh Super Bowl, I won't even know what to say.
9
Kyler Murray

Murray, similarly to division rival Russell Wilson, had a hot start to the season but eventually cooled down. He finished the season with 3,971 passing yards, 26 touchdowns, and 12 interceptions. He ran for 819 yards and 11 touchdowns as well. His 2020 season will forever be known for his Hail Murray to win the game against the Bills. It was the best throw of his young career so far.
10
Lamar Jackson

It was unrealistic to expect Jackson to replicate his 2019 MVP season. This season, Jackson had some struggles, especially throwing the ball. Still, Jackson carved out a second straight 1,000 yard rushing season, with 1,005 yards, and 7 touchdowns. He passed for 2,757 yards, which is nothing to write home about, and had 26 touchdowns to 9 interceptions. Not on the level of his MVP season, but still a great season.
The Contenders
11
Baker Mayfield

Baker Reagan Mayfield is an American football quarterback for the Cleveland Browns of the National Football League.
BAdd New Item