Worst NFL Players of All Time
This is a list of some of the worst NFL players to ever step onto the field in any season.

The Top Ten

1 Ryan Leaf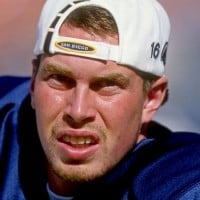 Ryan David Leaf is a former American football player who was a quarterback in the National Football League for four seasons. He was selected as the second overall pick in the 1998 NFL Draft after only Peyton Manning. He played for the San Diego Chargers, Tampa Bay Buccaneers, Dallas Cowboys, and Seattle ...read more.
The granddaddy of all draft busts, he was bad on the field, and arguably even worst off of it.
Best NFL player of all time! Oops...wrong list, sorry.
Chargers got a future hall of famer here...Oh wait I'm mixed up I think.
He has to be number one
2
Jamarcus Russell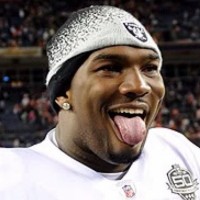 JaMarcus Trenell Russell is a former American football quarterback. He played college football at LSU, where he finished 21–4 as a starter and was named MVP of the 2007 Sugar Bowl. Russell was drafted by the Oakland Raiders with the first overall pick in the 2007 draft. He was out of the NFL after ...read more.
Future Hall of Famer...Wait who is this guy again? You just told me but I forgot who he was again.
The worst work ethic I have ever seen.
3
Rusty Lisch
One touchdown versus 11 interceptions in his career.
4
Bob Timberlake
He only made one of fifteen field goals in his sole season.
5 Akili Smith
6
Art Schlichter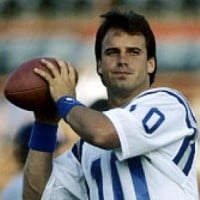 7 Charles Rogers
8 Ted Gregory
9 Babe Laufenberg
10
Kevin Allen
Said former Eagles head coach Buddy Ryan: "He's a nice big ol' fat kid who could probably go somewhere where they want to stand around and kill the grass. But here, we're going to practice... He looks like a USFL reject."
The Contenders
11 John McKay Jr.
12
Johnny Manziel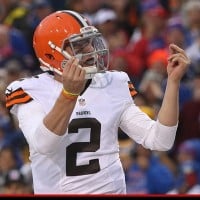 Jonathan Paul Manziel is an American professional Canadian football quarterback for the Montreal Alouettes of the Canadian Football League. He was drafted by the NFL's Cleveland Browns with the 22nd overall pick of the 2014 NFL Draft. Towards the end of the 2015 season, Manziel endured numerous scandals, including the infamous story that he was in Las Vegas instead of in Cleveland with the team that weekend. The team confirmed that Manziel did miss a scheduled check-in on the morning of the last game of the season, and he was released in March of 2016. He is often considered one of the biggest draft busts in NFL history.
It was obvious that he would flop in the NFL long before he was drafted. He had the talent, but he so completely lacked the necessary intangibles that he was completely unable to succeed at the NFL level. This should have been obvious to the Browns.
13
Cade McNown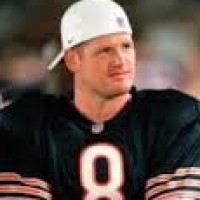 14
Colin Kaepernick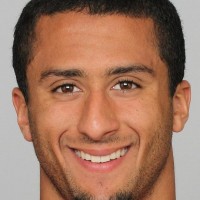 Colin Rand Kaepernick (born November 3, 1987) is an American football quarterback who is currently a free agent. Kaepernick played college football at the University of Nevada, where he was named the Western Athletic Conference (WAC) Offensive Player of the Year twice. After graduating, he was selected ...read more.
The media who criticized Tim Tebow for praying and expressing his beliefs praised Colin Kaepernick for kneeling during the National Anthem. I guess the media don't care that Americans laid down their lives for our country. But they have no problem criticizing a song to honor what we stand for. Media is run by liberals
Very disrepsectful player but that's not even the reason why. He cannot throw the football.. one game he threw 7/34 passes. honestly I do think he should be in the nfl to have another chance because I think he is a better man now
This guy is ridiculous
15 Rocky Thompson
16
Lawrence Phillips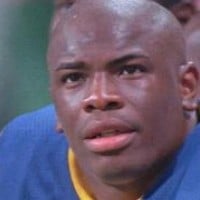 Why do I Always get LT confused with this guy? Anyways, he sucked. And he also killed himself in 2016.
I get this dude mixed up with Lawerence Taylor for some reason I don't know why.
17 Tony Mandarich
18
Kim McQuilken
He would later become executive vice president of Cartoon Network... long after throwing 4 touchdowns and 29(! ) interceptions.
19
Vernon Gholston
This #6 pick never recorded a sack in his short 3-year career.
20 Rae Carruth
21
Russell Erxleben
Yeah, way to waste your first round pick on a punter, New Orleans.
22
Justin Blackmon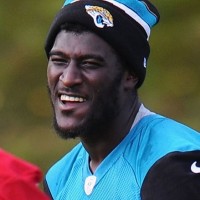 23
Heath Shuler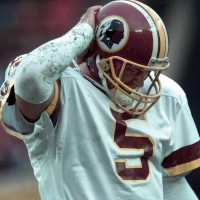 24 Jimmy Hines
25
Shante Carver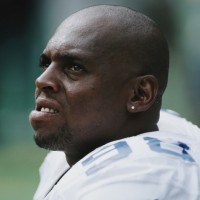 PSearch List