Best K-Pop Artist Pairings
The Top Ten
1
DBSK and JYJ
Even though I became a fan of DBSK after the break-up but I will still love them as DB5K!.. Though I wasn't there to witness them as five but I still cannot consider them as two separate entities.. Because they are 5 people I love most in the world. The 5 brightest shinning stars of the east. There can never be another group as as them. Though each members voice is so very different from the other but when they sang it just simply molded into ONE. The future groups may have the talent but the magic and charisma that these five had can never be recreated. It is one of my most deepest desire for them to reunite and mesmerize the world once again, and that is why I will always keep the 5 faith.. AKT5F!
DBSK has to be the best band ever. Period. Those five guys can touch anyone's soul with their harmony & melody. Their voices are truly amazing and creates magic when their beautiful voices come together as one, one can feel the intense passion and emotions they convey regardless if you understand a word of Korean/Japanese or not. They have such a wide vocal range and can sing any type of songs perfectly & you can't help but fall in love with the songs as well as them! They can sing, compose songs, dance and act, basically they are a complete package! They have achieved so much in so little time, they rule Asia & they aren't called 'The Gods rising from the East' for nothing. They are global superstars! Although they are JYJ & TVXQ duo now, we Cassies truly believe that they'll re-unite as One DB5K! Always Keep The Faith! DBSK Hwaiting!
2
Super Junior and SNSD
They both make a lot of money for SM, but SM should give them more hours and less work so they wont get easily stressed out!
3
Big Bang and 2ne1
BIG BANG is the very best ever
I never really into Korean songs before, but after I listened to their songs I found out that they're really different from the others in the greatest way.
They also won some big awards including EMA. The members are 5 really talented guy (G-Dragon, Taeyang, TOP, Daesung, and Seungri) who can not just sing but also good at making songs, dance, and else. They're also very unique and endearing personally. I think they're really capable of what they're doing and they have perfect abilities to fit as international singers. Their personalities are also great and humble.
As for 2NE1, I think everyone knows that they're a "monstrous rookie" that already great since their debut not so long ago. They have incredible voices and also really talented and have capabilities to go international too.
I really love them, especially BIGBANG and I think this would be another great opportunity for them to show the world how great they are!
4
F(x) and Shinee
F (x) and SHINee have good relationship, they're cute too... "SHINing Effect" it's hear good...
5
Beast and 4minute
UNITED CUBE! Haha, they're so cute together! I always love searching up the interactions between these two they're really like a family!
6 EXO and SNSD
7
2pm and 2am
I enjoy the hardship these both groups work together even though they are in different groups they are a team and family!
8
JS and Hyuna
Aw 2hyun. First kpop song I ever heard was Troublemaker and I was in love ever since.
9 After School and Son Dam Bi
10 SS501 and Fin.K.L.
The Contenders
11 Teen Top and Iu
12 H.O.T and S.E.S
13 Infinite and Teen Top
14 Super Junior and F(x)
15
Infinite and T-ara
T-finite is the best! They always joke around and they're closer than you think! They make the best couples! MyungYeon and WooMin!
I just love em together! Myungyeon and woomin are like amazing! I would love to see the two groups perform or do a show together!
16 B.A.P and Secret
17
BTS and Blackpink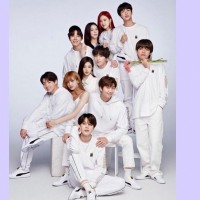 18 Dana and Sunday
19 Park Jung Hyun and Kim Bum Soo
20 Seven and Rain
21 Wonder Girls and Miss A
22 Big Bang and SNSD
23 Miss A and 2PM
24 SHINee and Girls Generation
25
T-ara and BTS
I don't know I just liked them together since BTS did Sugar Free
PSearch List