Top 10 Hottest Female K-Pop Groups
The Top Ten
1
Girls' Generation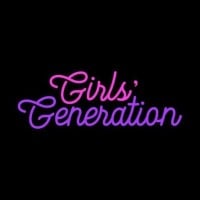 Girls' Generation, also known as SNSD, was formed in South Korea, in 2007. The current members are Taeyeon, Sunny, Tiffany, Hyoyeon, Yuri, Sooyoung, Yoona, and Seohyun. Jessica left in 2014. They are known as the second best selling girl group of all time, Korea's National Girl Group, and one of the best girl groups of all time.
Yes, maybe there's a lot keep accusing these group members were having plastic surgery to get that angelic face.. So what, is it matter?.. Don't you notice when you were hearing snsd song through earphone, how great Taeyeon's high tone?.. How fluence this nine girls having their English and Japan.?. Don't you see how seduce hyoyeon's dance?.. Did ever a girl group from South Korea make a show at Kelly Late Night Show?. They did that by The Boys.. You can see how great the ice princess that night.. So, it's not all about face, it's all about their talent and hardworking to achieve what they want.. Did they ever make your life miserable?.. Did they brought black music like other group until influencing your child like the other group? No right.. Starting from into the new world, an image of pure girl.. Gee, a cute and good girl.. The boys, girls who put up a stand to defense themselves from boys.. Mr. Mr, an image of matured woman.. Doesn't it a good example?.. So they deserved it..
2
2NE1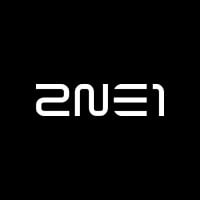 2NE1 was a South Korean girl group consisting of Bom, Dara, CL, and formerly Minzy. The group was formed by YG Entertainment in 2009.
As a supporter of both 2ne1 and SNSD, I have to say that 2ne1 definitely deserves to be first. There is no doubt that they have worked harder and are more talented than SNSD. I also believe that they have a much more exciting stage presence--rather than duplicating the song and MV like SNSD, they add their own personalities to the stage and help remind people why they didn't just watch it on T.V..
This is why 2ne1 should be first--but SNSD should still be second, because they have come a long way from just good-looking girls.
2NE1 is one of the most revolutionary girl groups in the kpop industry. Trend setters! They never fail to set the stage on fire! Girl group that doesn't need so many members to fill in the lapses and flaws of each and everyone. BOM, one of the prettiest girl with a miraculous voice! Minzy, the best dancer in the group, the maknae with intelligence! Dara, sweetest voice that stands out in acoustic and reggae! Prettiest in the group (Don't mention that she's an actress). And CL, the best leader a group could ever have. She has this cool voice that makes her versatile to any genre. Together, they have this charisma that surely people will love! 2NE1 forever! Let's go Blackjacks! =)
3
f(x)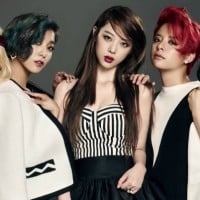 F(x) is unbeatable I grew tired of Girls Generation just by listening 2 songs. But F(x)? I kept listening to their songs non-stop. True Girls Generation are more famous but why? Because they are F(x)'s sunbaenims that debuted 2 years before them. F(x) are rising stars. Imagine F(x)'s popularity when they first debuted. Now imagine Girls Generation's popularity when they first debuted. What if they debuted at probably the same time. Who would win? F(x) would so please vote for them.
The members of the group just always seem so lovely, warm and authentic. They also took groundbreaking stances in the face of misogyny.
I am proud f(x)is this high on the list. Even though their MV's don't particularly show it, these girls are extremely talented and unique. Just by listening to one of their albums proves that these girls deserve more recognition.
4
KARA
I really love them. I don't know why I liked too. But. 1 thing sure is goo hara is the beautiful girl and Nicole is hottest. And other members are cutest among every girl group.
Their songs are catchy and each member has their own charms. They don't care about their image that much unlike other group. I just love KARA
KARA has undergo such an epic journey.. To be more well-known with their beautiful and unique voice..
5
T-ara
They are amazing! Even if you don't like them, after you listen to their song, guaranteed that it will get stuck in your head. They are one of the most legendary groups!
They are talented and beautiful, they have great voices and catchy songs that will always stick in your head, they are the AMAZING T-ARA!
If you want to see HOT, you need to see T-ARA! The hottest K-pop girl group ever with super-catchy songs, sexy dance moves and pretty faces. Go T-ara!
6
Wonder Girls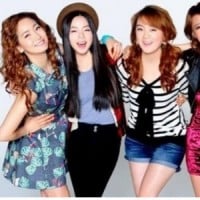 Wonder Girls was a South Korean girl group formed by JYP Entertainment. The group's final line-up consisted of Yubin, Yeeun, Sunmi and Hyerim. Members Sunye and Sohee officially left the group in 2015, while Hyuna left in late 2007.
WONDER GIRLS! They are the best I swear. Even though they didn't stay long in Korea, still they did their best to make Koreans proud. Now they are not active because Sun got married and now having a family, but I hope someday they will have their comeback and make us "wonderfuls" happy. Go wonder girls!
I really like wonder girls there so cute and talented... Wish all the best for this girl power group... Mmmwah
7
After School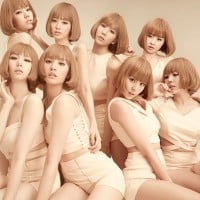 After School, stylized as AFTERSCHOOL in Japan, is a South Korean girl group formed by Pledis Entertainment with an admissions and graduation concept.
Creative concepts and one-of-a-kind performances, Afterschool pushes the envelope with their unique concepts from drumming, tap dancing, and pole dancing. They are by far the best group in terms of dance abilities. They also function together as a group as compared to other girl groups that are merely anchored by a superstar.
I think after school is really underrated they are so talented, but because they're not in a big company they can't have all the attention they deserve... After school fighting! They are the best Kpop dance group!
They don't get enough credit for what they bring to the table!
Beautiful choreographies! Great songs! They're stunning and tall.
Some people try to downplay their vocal ability when Raina and Jungah are great vocalists!
8
Sistar
I love SISTAR so much because they're sexy and they're have a good main, lead, vocal, and rapper singer that calm of every and enjoy them that's why ILOVETHEM so much and last but not the list they're powerful in the first up to the end AND kind of everyone of they're FANS... ILOVEYOU forever and ever SISTAR you're my IDOL and dream SOMETIMES iwish sometimes I see you and bonding, hug of all of you in my life I wish you're health always GOOD... I'm one of you're FAN but not totally FAN #1 FAN... (I'm SARA ARIEM) from pinas (Philippines) from the top ondthe bottom of my heart I will always SUPPORT your GROUP...
Hands Down best group ever. Can never get tired of their music!
B.E.S. T SISTAR! They have sex appeal, cute appeal, emotional appeal, and gold standard skills in dancing, singing and performing. They're looks complement each member and also stand out. They all look good and also different from other kpop bands. YaY!
9
Miss A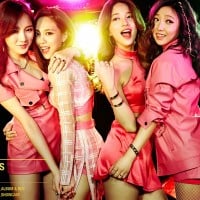 Miss A, stylized as miss A, is a South Korean-Chinese girl group based in South Korea formed by JYP Entertainment in 2010. Their group name stands for Miss Asia and the highest rank, A.The group consists of three members: Fei, Min, and Suzy.
They are really talented in dance and everything. I think they are beautiful too. Suzy and Fei, wow! Their friendship is real! Fei is like a mother to the members - creative, honest, sincere, and flawless. They are better than other girl groups because they put soul into their music and have a unique style in dance. Even if they don't write their own songs or create their own dance in music videos, they still perform with love. I love Miss A!
I voted for Miss A because I love the tune of their songs. However, I must admit I've been disappointed with them for a long time now.
This is because they have only made one song that empowers women instead of saying that they should always walk behind men like the rest of their songs. Also because Suzy is way overrated. The rest of the group try especially hard too, but are ignored. If this isn't fixed, this will soon become 4minute (AKA "Hyuna and the backup dancers).
10
A Pink
I like them, since the some of the members are cute and majority are hilarious. Even they are not that beautiful, they are the kind who are the yappie and good asian girl types.
A Pink is truly the very best of all Korean pop groups male and female, with a World- wide recognition!
Yay. They are in Top 10. Apink has lots of sexy members but they choose to keep their cute concept which I think is amazing. Apink jjang.
The Contenders
11
Blackpink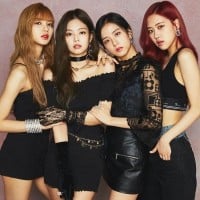 Blackpink is a South Korean girl group formed by YG Entertainment, consisting of members Jisoo, Jennie, Rosé and Lisa.
They have a great dynamic as a group yet all manage to shine individually. They are the ultimate it girls.
They are my crush. They are so powerful and not only "cute and good".
They are the revolution! Absolute goddesses. Unique music.
12
4Minute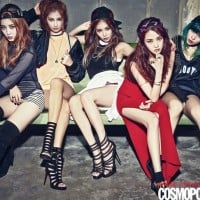 4Minute is a five-member South Korean girl group formed in 2009 by Cube Entertainment with music singles and albums released primarily in South Korea and Japan.
I love pretty much all of 4Minute's songs, even songs that I don't like at first, I end up warming up to after a few listens. They all are very talented performers, sure they each have their strengths, but none really have any glaring weakness. In American music, we have what's called super groups made up of top artists from different groups (like Cream; Crosby, Stills, Nash and Young; Slash's Snake Pit; Foo Fighters; Velvet Revolver), 4Minute is like a super group made up of it's own exclusive members.
Oh and of course, they are all ridiculously pretty. Ask me to pick out the prettiest member in any group, kpop or otherwise and I could probably make a definitive choice pretty easily, but show me 5 different group pictures of 4Minute and I could very likely give you a different choice for each picture. Cute, pretty, sexy, hot, all 5 can do them all very well.
Most of their songs are not about being sad about love, but being the stronger gender. They are fierce and bring their own funky style. They are honestly my favorite group, MUZIK, HUH, and What's your name are songs you need to listen too.
13
Secret
They work so hard to keep their fans happy! Their personality and style is so bright, no one should have a reason to hate on them... Plus, they are talented and beautiful.
Secret such a hot band changed it's style to cute...
Hottest girl secret has!
Jeon hyosung
So continue supporting this hot band!
14
AOA
Being bombarded with many kinds of rock songs and bands my whole life, this one pop girl group from South Korea has gained my attention. Actually I love AOA Black much more than AOA as a whole. Choa has great vocal, Yuna has nice piano skill, and Jimin wrote the raps really good while played role as main guitarist (I'm not sure about Mina and Yougyeong though). But I'd like to see AOA Black grows more as a rock band, just like it's senior CN Blue and FT Island. You should listen to their song titled "Without You" and you wouldn't believe it's a Korean pop girl group song.
I don't think they could be on the same stage as Bambino, which is just getting going and is on a rocket to the top. Hadam is the leader and does things no one is doing to combine erotic sensuality with great dance. If they produce a few more songs they'll be hits and they'll mop-up AOA, laysha (already done that actually) and eventually most of those old school Top 10.
15
Twice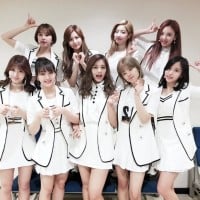 Twice is a South Korean girl group formed by JYP Entertainment through the 2015 reality show Sixteen.
Twice is literally one of the most well rounded girl groups out right now.
Why so low? They are so hot.
These JYP young girls are pretty and talented, they are pretty sexy too.
16
Brown Eyed Girls
Their vocals are so powerful, whether they are working on solo work or group activities. Ga In and Narsha can bust out a serious high note, Jea has a voice that is really nice to listen to. Miryo is one of the best rappers in the industry. Plus these four brought themeslves together, it wasn't a company that produced them. Sure they trained and are managed by a company but they met themselves and created their group. They have been together for about 10 years now, and while they have had plastic surgery, they own up to it. They don't deny the fact that they've gone under the knife, and they've even poked fun at it by doing a cover of Lady Gaga's Poker Face which they titled Plastic Face. Now I can go on and on about why you should give these girls a try, but I'm going to stop here. They are honestly my favorite female group, and If you're looking for something new, GO CHECK THEM OUT!
I love how sexy there songs are it is great.
17 Spica
18
Girl's Day
They are very sexy. They should be on the higher rank.
They all so cute
19
Red Velvet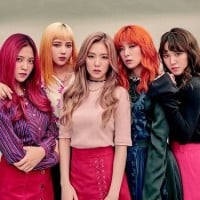 Honestly we haven't seen that much of Red Velvet, so I don't think we can call them the hottest female kpop group just yet. But they look very promising. I think their name has something to do with their concepts:
Red- Fun, bubbly side (eg. Happiness, Ice Cream Cake)
Velvet- Smooth, sultry side (eg. Be Natural, Automatic)

They are classy in one mv and can be fun and bubbly in the next. They look like a unique group, not cute like most girl groups.
20
EXID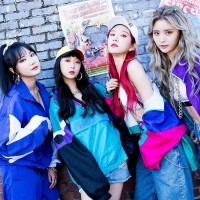 The members of Exid are the perfect mix of cute, hot and beautiful. Not to mention they are both amazing singers and dancers.
Solji is the best female lead nobody knows about. LE is the best female rapper knows too. Too much talent to ignore. Good dancers and catchy songs.
Up and down is the best
21
Mamamoo
Mamamoo is Everything. Beautiful, sexy, and talented group.
22
Nine Muses
All former models and all are above 170cm tall...
I love SNSD, but his list says 'hottest', which clearly made me think of 9Muses... SNSD would win the 'cutest' award, if not, Crayon Pop!
In my opinion the most classy & sexy girl group! Not to mention they're former models
When it comes to sexiness they are definitely leading the pack since they have so many members which are really outstanding with their looks AND their charme. The leading one would be Kyungri yet.
Though this is already quite the matured charme, younger fans may hesitate
23
Momoland
Momoland is my favorite!
Nancy is so hot
24
Rainbow
I love Rainbow! They are all great singers! There is something in their songs that you can't get bored at. Oh and very nice harmonics too. Sexy and Cute at the Same time. I love you Jisook!
25 Crayon Pop
PSearch List