Top 10 Best All Male K-Pop Bands
The Top Ten
1
BTS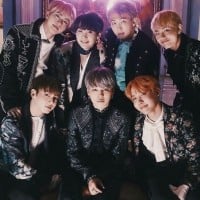 BTS, also known as the Bangtan Boys, is a seven-member South Korean boy band formed in Seoul in 2013. RM is the leader and the other members are V, Jimin, Jin, Suga, J-Hope, and Jungkook
Diverse music videos - with themes that range from No More Dream to Just One Day - engage fans in meet-and-greets, powerful lyrics, and choreography. They are hardworking, with almost equal split parts in songs. I love this part the most because it upsets me when, in a group with a certain number of members, one or two members get only one or two small lines.

Above all, I enjoy their strong stage presence and tough exterior when needed, and their bubbly, cutesy personalities off stage. They're fun to watch and great to listen to. Their dorkiness, respect, and love for their fellow group members and their fans are sincere. Stay true to yourself, BTS. You're all admirable men and will succeed in all you do as long as you stay true to yourselves and believe in all you do.
BTS is by far one of the BEST male idol groups out there today. Not only do they have phenomenal singers and rappers, but they are also composers, and their lyrics really speak to their audiences. BTS's music really pushes the envelope and goes against the status quo, which I admire. Moreover, they have such colorful and quirky personalities which they let shine every chance they get. Each member is different and unique in their own special way.

They aren't concerned with projecting the pristine "idol" image that so many other groups strive to uphold. They prefer to be seen as actual human beings and not put on some pedestal. I also love their performances. Such dynamic stage presence and crisp, clean dancing, accompanied by powerful vocals and amazing rapping, is what BTS does best.

I love their diverse sound as well, able to be both hard and intense and also sweet and mellow. What's more, they are so sweet and down-to-earth with their fans and one of the dorkiest male idol groups out there. They love to laugh and have fun and be themselves no matter what. I am a true ARMY and am so proud and happy to stan such an amazing group like BTS. Bangtan Hwaiting!
2
EXO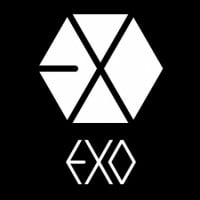 Exo is a South Korean-Chinese boy group based in Seoul. Formed by S.M. Entertainment in 2011, the group debuted in 2012 with twelve members separated into two subgroups, EXO-K and EXO-M, performing music in Korean and Mandarin, respectively.
EXO IS THE BEST. The members are all extremely good-looking, and the group is well-rounded. The looks are there, the dance and stage presence as well. They also have a fair share of good singers and rappers, and each individual member is able to excel in all three areas. They get along really well too, and their music videos are close to perfection.

They began with difficult dances, and it seems like that is an attribute that will never end. They are very good at variety as well as talking. (Kris can speak 4 languages fluently) They also have a good mix of ages to take care of one another and to appeal to a wide range of fans of different ages.

They are unique individuals with special skills and good, determined personalities. Each member's personality has its own flavor, and together they make a giant, epic, successful group, proved by the way they've been so successful since their debut. EXO is truly the BEST!
3
SHINee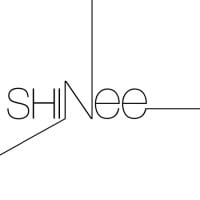 Shinee is a South Korean boy band formed by SM Entertainment in 2008. The group is composed of four members: Onew, Key, Minho, and Taemin. Originally a five-piece group, vocalist Jonghyun died in December 2017.
SHINee has always been great. Each year, they get even better than they were before. They have reached a point where everyone in the group is skilled at everything. They are all vocalists, dancers, rappers, etc. Every comeback is exceptional and consistent.

They never repeat a concept, which makes their group very interesting and gives people chances to like and get into them. How can anybody hate SHINee anyway? They all have great personalities and never seem to get tired of what they're doing.

They all do great when they're not doing group promotions as well. That shows that they are lovely even just by themselves, but SHINee works better when together.
SHINee is a unique group that exudes a different vibe compared to other Kpop groups. To me, it feels like they're not just a bunch of pretty faces. I wouldn't have bothered listening to them in the first place if they were, but they are a group with actual talent. Their songs and choreography are amazing. They are very hardworking and passionate when it comes to their work.

The members are amiable and funny. They can easily be touched by fans' gestures or appreciate an award with honest tears, as if all the hard work had paid off. I've only ever listened to rock/punk/metal and never liked rap/pop music at all - I tried but couldn't get into it. When I decided to check out SHINee, I was 100% certain I wouldn't like it but was extremely surprised to be proved wrong.

They were an amazing surprise, and I'm glad I found their music. I hope they continue to be successful for a very long time.
4
Big Bang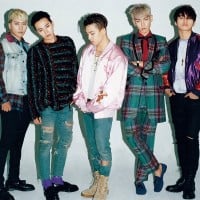 Big Bang is a South Korean boy band formed by YG Entertainment. The group consists of 4 members: G-Dragon, T.O.P, Taeyang, and Daesung.
Among all the male groups out there, there is something distinctive about Big Bang that makes them stand out and top the rest. Whether it be in talent, style, or stage performance, they own it all. They may not be the best-looking group, but they make up for it with their music and originality - and in the end, that's what counts.

Their popularity extends beyond Korea, and it's only going to continue to spread. They have already topped charts in Japan, Taiwan, and even the USA's very own, Billboard. Moreover, they have been recognized as a top name in Europe, having won the "World-Wide Act" award at the MTV EMAs and being nominated for the upcoming MTV Italy's "Best Fan" award.
They own every stage they perform on. People may have different music preferences, but BIGBANG are the best live performers. Their performances are both passionate and hilarious. They're such a cohesive team while also being successful independent artists. Their recorded music is amazing, but it's so strange how they sound EVEN BETTER live.

Their music itself sounds like it's targeted more towards adults than school girls, which is a challenge they surpass every time. This is because adults aren't going to promote them or vote for them like teenagers do for their favorites. And no matter how many years go by, new fans admit BIGBANG's old songs are music they'd still listen to today or mistake years-old songs for being something that probably came out recently.

BIGBANG are leaders when it comes to music and fashion. Finally, I also like that they prefer to be known through their music instead of their promotional activities. I hope they continue inspiring the newer generations.
5
Super Junior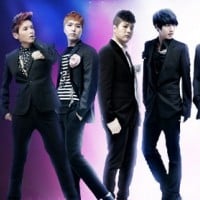 Super Junior is a South Korean boy band. Formed in 2005 by producer Lee Soo-man of S.M. Entertainment, the group comprised a total of thirteen members at its peak.
Super Junior. Have you ever seen any K-pop group with members that are singers, dancers, actors, models, radio hosts, MCs, comedians, CEOs (Shindong & Yesung), waiters (Yesung with his Mom's cafe), composers, lyricists, violinists, pianists, guitarists, instrumental players, concert producers (Shindong & Eunhyuk), and choreographers?

Have you ever seen any K-pop groups with members that are weird, handsome, perverted (Eunhyuk ~ hehe, even the members admit), people with variety personalities, people with 4D personalities that are out of this world, evil, genius, funny, mood-makers, strong, and the best?

Have you ever seen any K-pop groups that actually take good care of their fans, ask their fans if they're hungry, worry about their fans' health, talk to their fans as if they're best friends, make jokes with their fans, argue with fans, and always be grateful to their fans?

They shine the best out of all the K-pop bands I have ever seen. Super Junior is a miracle.
6
Got 7
If you haven't already, you need to check out Got7!

As a non-Korean K-pop fan, I feel like I can relate most to Got7 out of all the idol boy groups out there (my personal opinion! I know others will think differently!).

Three of the seven members are foreign, like me, which makes it fun to learn new things alongside them. This has helped me understand Korean culture better and made me feel closer to Korean traditions! They even did a Korean point lesson, which was cute beyond words! They think of their fans first, which I notice some other idol groups may not do to the best of their abilities...

This is just a bonus though. They're all crazy talented, irresistibly charming, and devilishly handsome! I can assure you, if you even watch a couple of episodes of iGot7, Real Got7, Got7ing, or Hard Carry, you will fall in love with these goofy, kind-hearted guys. They can make you feel happy beyond words or make you shed a river of tears.

All in all, Got7 is truly an amazing group, and they deserve all the success that they have! Love you, Got7!
7
B.A.P.
One of the best Kpop groups out there is this one. Their songs always have strong and badass meanings, such as Warrior, Mercy, One Shot, and Badman. But let's not forget about the dancing. For example, I have been to one of their concerts before (something I will never forget), and it's amazing. You feel as if the stage is about to break any minute (it actually happened) because of the power and energy up there. I recommend their songs for anyone who is tired of those girly boy bands. I <3 them. A baby forever!
B.A.P. is simply amazing. Words can't describe how talented they are. Their songs are full of meaning. When it comes to live performances, they are beyond amazing and never disappoint. I love their unique voices and bright personalities. I appreciate that B.A.P. is open to exploring different genres and concepts. They are the complete package: they can sing, dance, rap, and act. After watching their teaser trailers for 'SKYDIVE,' I was even more impressed. Not to mention, they are all very handsome. I hope they get the recognition they deserve. B.A.P. slays!
8
2PM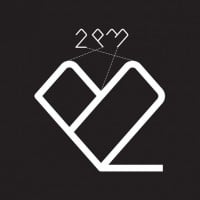 Many people don't know that 2PM exists. I used to dislike them myself a long time ago because of their childish acts. However, I was drawn to Taecyeon's performance in Dream High, and soon came to appreciate 2PM more when they appeared on Hello Counselor. I found all the members to be sexy, cute, and handsome for K-pop stars.

Since then, I have watched every single one of their documentary videos on YouTube, as well as variety shows such as We Got Married, and more. Now, I love them even more. I'm especially impressed with their creative thinking in songwriting and choreography without instructors, like Junho and Jun. K. I will continue to support them endlessly. Dear K-pop fans, please love 2PM.
They're the most perfect band ever. They have a lot of bromance, and they are always having fun, whether on or off stage. They practice really hard and are very serious about their work, but they are the funniest band ever on variety shows. I usually don't laugh while watching shows, but with 2pm, I can't even hold my laughter. They are seriously the most hilarious group ever.

They care a lot about each other too and deserve to be much more popular. They all have abs, an abundance of humor, and incredible dance and acrobatic skills. :) I'd do anything to meet them. <3 They're my favorite group and will always be!
9
Infinite
Infinite is the best and most talented boy band. Members are skillful in their individual performances, especially the main vocalists and main dancers. They not only have good-looking appearances but also possess excellent talents. They succeeded because of their own attempts. They are the best and are excellent in fan service. Their respect and love for fans are very warm and awesome.

Their leader, Sung Gyu, is the best guide for the members. The team spirit of the members is very amazing and lovely. I think that the best Korean Kpop boy band is "Infinite". I always expect the best of their performances and albums every year, including solo albums. I like the main vocal, Woohyun, the most.
Though they don't promote outside of Asia, only in Korea and Japan, I'm pretty sure they're well-known worldwide. They have powerful dance skills and are always 99.9% synchronized. Sunbaes see them as a group who will succeed because of their attitude toward work and others. Everyone in this group can actually sing, and individual members each have his own talent. Overall, what makes INFINITE the best is their love for Inspirits. No matter what they do, they always remember the fans.
10
SS501
No one can ever compare to them. I have currently become obsessed with Exo, like most, but even then, SS501 is still number 1. They have always been one of the top Kpop bands. When they come back, they will reclaim their spot.

They have everything as a band. They have main vocals, those who use their voices as instruments because of their amazing vocal capabilities. They have singers, the ones with also amazing voices that specialize in portraying the emotion of the songs. Each member is unique with a killer personality. They can be weird and dorky and sexy and mysterious the next moment. They are cute but at the same time remain manly.

Their dancing is also breathtaking, as is their live singing. Their energy, passion, perseverance, and also their humility and kindness make them amazing. In conclusion, they are perfect because even their imperfections make them perfect.
The Contenders
11
B2ST
I know there are other groups, and they are good, but BEAST gives me a different feeling about them. It's hard to describe them with just words. They are more than amazing, more than cool. They have unique characters that make them so different from others. Good harmony, in-depth lyrics, and songs that will make you love their music, combined with hard dance moves, they are full of sincerity! They are always playing around, full of silliness that makes fans, or people around them, happy and laughing all day.

But when they sing on stage, they really are idols who deserve to be the best! When they are singing, you will know that "oh, that is BEAST" because their vocals are different. Maybe they are the group with the best ballad songs. Listen to "On Rainy Days," "12:30," and "Ribbon" as examples. You would never say those are bad songs...
Every member is so talented and loves everything about what they do. And in all honesty, all of the B2ST members are complete dorks, which is another reason why I love them. Not to mention that there is no real favorite in the group. Each member is loved equally. Maybe I'm totally biased because B2ST is the first group I was introduced to, but in my opinion, BEAST is the B2ST!
12
Royal Pirates
I love their songs "Shout Out" and "Drawing the Line"!
Drawing the Line is my favorite from them. They're so cool and charismatic on variety shows/interviews. They are also handsome. I hope they become popular soon.
13
TVXQ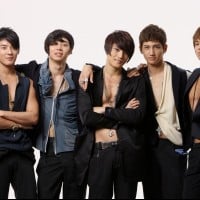 TVXQ, also known as Dong Bang Shin Ki, is a South Korean pop duo that originally debuted as a five-member group in 2003. They are one of the leading figures in the Hallyu wave and have immense popularity both domestically and internationally. TVXQ's musical style is diverse, spanning genres like pop, R&B, and electronic dance music. They have broken several sales records and received numerous awards,... read more
DBSK are so talented. They are not just pretty faces. They are the pioneers of the Hallyu wave. They are the ones who spread it, not like nowadays bands who depended on the wave to get famous. DBSK worked so hard, from performing in front of a small crowd to thousands and millions of fans worldwide. Their achievements are countless, and these come from pure efforts, not merely looks like some bands nowadays, but from TRUE efforts.

All five of them sing so well live, dance powerfully, and harmonize perfectly. Their looks give their power a bonus. They are simply the best boy band ever, with the vocals, moves, appearance, and beautiful hearts. They aren't just Kpop, but LEGENDS. Always keep the faith, even if it takes forever, because everything is worth it to see these five legends performing on one stage, to give a breathtaking performance once again. AKTF Cassiopeias!
14
F.T Island
I've listened to all of the Korean bands mentioned, but in my honest opinion, F.T. Island is the best! Just because the other bands are more well-known, doesn't mean they're better. I truly enjoyed each band's style and their members, but F.T. Island is in fact the most talented! Before you start recognizing your favorite, listen to each K-pop band out there! Then you can start saying who's really the best. F.T. Island is going to go far!
Wow! Ninth place? They should be ranked between 1 and 5! This awesome band is so incredibly talented. I'm so glad many people are now recognizing what they can do with anything that's handed to them. They have the looks - muahaha.

Honestly, I love this band so much! They pour their hearts into every song with so much love because it's for us, Primadonnas! They are all so energetic, talkative, and exciting to watch because you'll never know what they will do next.

Hongki's voice is raspy and so emotional. It pulls you into the song, whether you understand the language or not. Just keep singing, Hongki, and never give up! This band will make it far!
15
Winner
WINNER is the winner! Though the four members have different characters, they are surprisingly perfectly matched. They've gone through so many things, which make them more united. That's why I love them. #Winner4ever
Winner is a group of funny guys with a sound that is continually growing on me. They have beautiful forward vocal tones, bright vocal colors, and a strong rap sound.

It's possible to dance along with them. While this may sound negative, their simpler choreographies actually make them more memorable and allow for better live vocal performances.

The group has four wonderful members: Maknae Leader Seungyoon, Artist Rapper Mino, Beautiful Peace-maker Jinwoo, and Deputy Seunghoon Lee. I love them so much and am always looking forward to their next comebacks and activities.
Winner is an amazing group. Every member is so important to the group and talented. Jinwoo, with his angelic voice and cuteness. Seunghoon, with his charm and killer dance skill. Mino, with his unbelievable rap skill and handsome looks. Seungyoon, with his amazing voice and perfect leadership. And the sassy but talented maknae, Taehyun. They became my ultimate group so quickly, but their charm is undeniable.
16
Topp Dogg
They are the most beloved and adorable hip-hop boy group, in my opinion. They have the looks, charisma, and talent. They are all so perfect. Their choreographies and songs are so original and unique. What makes Topp Dogg the best in my eyes is the fact that they work so hard to appeal to their fans and are always close to Topp Klass because they appreciate the fans' support and love.

I love how they don't have to follow the trend but create the trend. I am so glad such a group debuted. I am a proud Topp Klass and will continue to support the amazing 13 boys that inspire them endlessly. All the best, Topp Dogg
I literally have the Topp Dogg logo tattooed on my wrist. Like, permanently. I love them so much. You don't understand.
Topp Dogg is pure cuteness and talent. Nice choreography, outfits, and great songs.

Love them!
17 A-Prince
18
VIXX
WOW, VIXX has been out since 2012 and rarely gets any attention. I think they should be in the top 10 because they've rocked every concept that they have done. Each is unique and different from other groups. They are all good-looking and talented at singing and dancing. Not only that, but they have awesome actors in the group. VIXX is my ultimate group, and I'm proud to say that. They deserve way more attention. I liked them since Beautiful Liar came out, and I love them more than anyone.
VIXX is amazing, but they rarely get any attention. They have astounding vocals and impressive dancing! What I don't get is that there are other groups with less vocal and dancing skills but receive more attention than them. They really do deserve way more attention than this. I really liked their single Chained Up, and have been a VIP since their debut. Keep it up, VIXX! Keep up the good work!
19
MBLAQ
Seriously, they are the best ever. Every one of them stands out with their own individual talent. They are not the usual K-pop groups who make the same songs every time. You can see that when they release each album. It's different from the previous one, making them more outstanding.

Moreover, the love they give to those who believe in them is very pure. They have the most amazing leader, Seungho, who can make you shut up with just one glare. G.O's singing ability is the best that I've heard. Joon's personality can make you laugh every time. Cheondung has a charm that's similar to her sister, Sandara Park, and the maknae Mir has a humor that can put a smile on your face. MBLAQ, fighting!
Each of them plays different roles and has different charms. With the most charismatic leader, Yang Seungho, this group is different from others because of their unity and closeness. Or should I say, they rely on each other so much and have a deeply close family relationship. The leader always monitors his fellow members with discipline and manner. Although he has been called a devil, he is also an angel for his group. He never leaves them and is always there for them.

G. O, who has a powerful vocal and amazing voice, really takes care of each of his members and has been called 'mom' among his members. Joon is really an amazing actor, and he expresses his feelings very well in acting. His dance is sexy and full of charm, but for me, Seungho is the most talented dancer in Mblaq. His dance always has charm and a magic to it that keeps me watching, even though the other members are also talented in dancing.

In Thunder's case, he has the potential to be a great composer and expresses his feelings well in songs. And for Mir, he always has great and high spirit, mostly because he is the maknae. But in the group, I found he is the most understanding and keeps his feelings buried deep inside. We can see he is really active and uncontrollable, but like his hyung, who are all type A, he can't really express his feelings well.

I'm proud to be A+... Not including their song and powerful gaze in 'Its War' MV. Great song 'Monalisa' and the sad song in 'Cry' and 'Scribble.' Plus, great choreography in 'Run' performances.
20
JJCC (Double JC)
These guys are the best. They are amazing!
21
Teen Top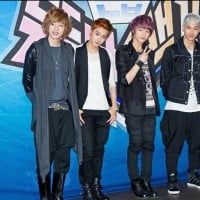 Teen Top is a South Korean boy group formed in 2010 under TOP Media. Known for their energetic performances and catchy tunes, the group quickly gained popularity in the K-pop scene. Their music primarily consists of pop, R&B, and hip-hop elements. Teen Top has garnered multiple music awards and nominations, making them one of the notable acts in Korean pop music.
I've seen many other boy groups but Teen Top left the most impact on me. The members all have a great sense of variety and have really amazing dance abilities. Even as I discover other boy groups, I still go back to Teen Top, and I have never seen a group as special as Teen Top. Each member is special and unique on their own, and I love watching the variety shows they appear on, even if it's just one of them, as every one of them really makes my day.

It's really sad that they aren't as popular as they should be, and I'm sure they deserve more attention than they have now.
It's so sad Teen Top didn't get the attention they deserved. I really love these guys and their songs!
Teen Top is such a talented group! They are different from other Kpop groups and they're focused on leg dance. Love you Teen Top, especially Ricky oppa!
22 2Bic
23
U-KISS
U-KISS is extraordinarily talented, and it's a shame they aren't recognized for it. They are so down-to-earth and faithful to their fans, although they haven't won a music show yet. They went through a tough time with the member change and came back even stronger, with high-quality dancing, singing, and music in comparison to other groups out there. AJ even helps compose some of their songs, and they're all great.
U-Kiss is an amazing band. They work incredibly hard and they really cherish their fans. I love how their songs aren't all the same. They give something different each time, and all of the songs get stuck in your head! Their dancing is so cool too. It's hard to look away! On top of that, they all have individual personalities but are all really nice and fun :) Sending love from New Zealand!
U-Kiss really is the best boy band because they work REALLY hard. They are incredibly talented and really funny in variety shows. They sing with passion and even try out different song genres. Not to mention, they are so handsome and charming. I believe that they seriously should get more recognition because of their effort. After all, they are called the "Weed Idols." U-Kiss FIGHTING!
24
24K
24K is the most underrated K-pop group in the industry. They really deserve a lot more credit than they already receive. I mean, they just came out with their new album "Super Fly," and it is amazing! You can check out the MV on YouTube. The song is something that I have never really heard in K-pop. It's like hip hop and dubstep, and not to mention the drop is sick. So please check them out. They need love too. Also, do not make the excuse that they are nobodies or they are not famous because they are not from the "Big 3". Remember, to become somebody, you must first understand what it is like to be a nobody.
To be honest, it takes me a while to get used to a song/music video of K-pop because I listen to rap all the time. My response to a lot of them is "why... just why." "Super Fly" is probably the closest I've heard a K-pop song come to a rap song ever, and I give them props for that. It's also a MV that my friends won't turn off after 2 seconds because they think it's stupid/uncomfortable. They are also pretty good at being better badasses than the other K-pop boy bands, so yep.
25
B1A4
They really care about their BANAs. They are a boy band with many talents. Like, 65% of all B1A4 songs are composed, written, and made by Jinyoung, the handsome leader. Every song has B1A4's idea in it. They really have good fan service. They aren't tired of saying thank you to BANAs. They are very friendly, and they really love each other. They really improve themselves.

For me, watching B1A4 can really make my day. They are totally funny, and they really look like they are siblings. I'll love and support B1A4 forever. Let's fly B1A4! Fly high! Be the one, all for one! You guys love BANAs equally, and I love you guys equally! Hwaiting!
B1A4 daebak forever! With their new song, Baby I'm Sorry, they look much hotter and better. When they are on stage, they look charismatic, but off the stage, they are the funniest and cutest guys ever. Support B1A4 all the way. They are the best. Their new album, Ignition, is amazing... Be The One, All For One!
PSearch List