Top 10 Most Anticipated Summerslam 2023 Matches
The Top Ten
1
Roman Reigns (C) vs Jey Uso (Tribal Combat; Undisputed Universal Championship)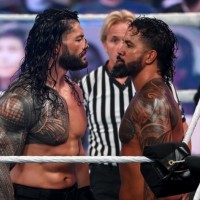 Three years in the making! No doubt the match I'm looking forward to the most, considering how great their matches were in 2020. Jey Uso has been one of my favorites of the Bloodline (Besides Roman and Sami). His facial reactions and storytelling are legendary. Match of the year candidate! If Roman doesn't lose here, expect him to be champ till Mania 40! One of the greatest storylines of all time!
2
Cody Rhodes vs Brock Lesnar III (Texas Bullrope Match?)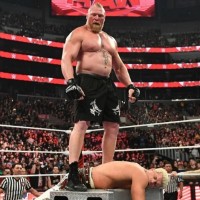 This stipulation has been a rumor for months on their match, and these are the two biggest raw superstars right now, should be a great way to end the trilogy. If Cody is heading towards a Roman rematch next year, smart to have him feud with the other biggest superstar on his redemption path, and he needs the win here.
3
Seth "Freakin" Rollins (C) vs Finn Balor (World Heavyweight Championship)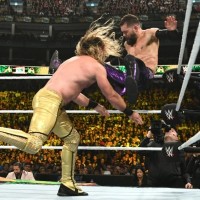 Should be a great match considering their history. Loving how they are using Finn's injury at Summerslam 2016 as a story, and Finn and Seth's characters have been so much better since then. The more interesting part is does Damien cash in if Finn wins, Seth wins, does Finn turn on Damian, is this the end of The Judgement Day?
4
Gunther (C) vs Drew McIntyre (Intercontinental Championship)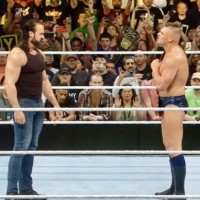 In terms of quality, expect this to be the match of the night considering how the triple threat with Sheamus turned out! Another BANGER! The question is, who wins? Drew might need a title, but I believe Gunther has been the best IC champ since Miz in 2016, and he's breaking Honkey Tonk Man's record.
5
Asuka (C) vs Bianca Belair vs Charlotte (Undisputed Women's Championship)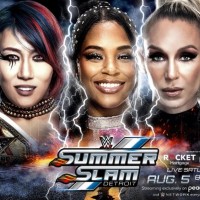 Not a big fan personally of the storyline, but I'm happy Asuka is champ. I feel that Bianca and Charlotte should be more of the heels than Asuka, cause Bianca needs something fresh, and Charlotte isn't likable. Anyway, this should be a great quality match, but just like Seth vs Finn, will Iyo cash in on the winner, or will Bayley turn on her?
6
Rhea Ripley (C) vs Raquel Rodriguez (Women's World Championship)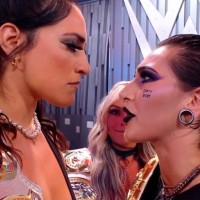 It sucks that Rhea is the best female on the roster by far, but she barely has any storylines with female wrestlers. She really just gets involved in the other members of Judgement Day's matches. Hopefully a match with Raquel can revitalize her reign and make her the dominant champ she should be until at least Mania 40.
7
Sami Zayn and TBD (C) vs Dominick and Damien Priest (TBD?) (Undisputed Tag Titles)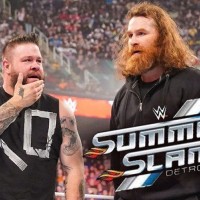 I'm thinking they'll still have Sami at Summerslam since he's one of the biggest stars right now, and I think he'll defend against Dominick and Damien, but someone has to replace KO. And I believe it's either gonna be John Cena or Randy Orton.
8
Ricochet vs Logan Paul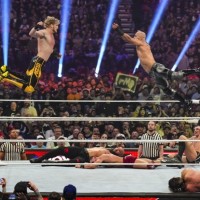 I'm so happy for Ricochet for finally having a legit feud for him to sink his teeth into. He isn't the best on the mic, but more than makes up for it in the ring. After Royal Rumble and MITB spots, these two had to have a match together, and with Logan's personality and pulverizing reactions, this could be a sleeper match, Logan most likely winning.
9
Ronda Rousey vs Shayna Baszler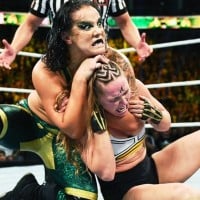 A WrestleMania worthy feud that felt way too rushed cause Ronda is most likely leaving WWE. At least we are getting it period. But if Ronda is on her way out, time to put Shayna over and have her return to being the badass heel she was before she lost to Becky at Mania 36.
10
SummerSlam Battle Royal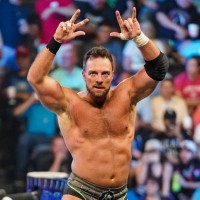 Random as hell, but at least gets some people on the card. LA Knight better 100% win, considering he's supposed to get a "Post Summerslam push" AKA he better be US Champ soon.
BAdd New Item