Top Ten Sexiest Male Rock Vocalists
The Top Ten
Kurt Cobain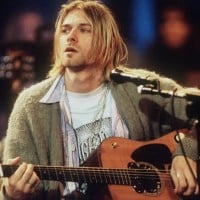 Kurt Cobain was born February 20, 1967, in Aberdeen, Washington. In 1987, he started the grunge band Nirvana, which became one of the most successful bands ever. He was a talented yet troubled grunge performer. Kurt Cobain became a rock legend in the 1990s with his band. He committed suicide at his ...read more.
I REALLY think he is ones of the sexiest men alive, is miraculous eyes, his smile made me quiver in my body, and his amazing, golden locks really adds something to it I miss him to much R.I.P Curt Cobain.
Hottest man ever because he didn't even realize it or need to try. Add to that his sensitivity and empathy. Beautiful, talented man who is so very missed. But on a lighter note...no one could paint such a beautiful face. Being in my twenties when he was, I remember how much sensuality he exuded in everything he did.
This man was absolutely stunning. Flawless beauty - chiseled nose, chin and don't get me started on those warm ocean water eyes of his. It's like you could peek right into his depths. But he didn't even care or realise. That is endearing. On top of that, he seemed like an incredibly sweet man. Bless him forever.
Kurt was and is perfectly beautiful in my eyes. From his heart and soul to his mesmerizing eyes, a smile that could light up the world, perfect facial features, beautiful hair, lack of arrogance and pure musical genius. Such a tender soul lost too soon. R.I.P.
Chris Cornell

Christopher John "Chris" Cornell was an American rock musician and singer-songwriter, best known as the lead vocalist, primary songwriter and rhythm guitarist for Seattle rock band Soundgarden and as former lead vocalist and songwriter for the supergroup Audioslave. His vocal range was C2 to A5, while ...read more.
Those incredible blue eyes, his sweet nature, his gorgeous body and hair, the incredible range of voice as well as lyric writing, etc. What's not to love about Chris?
He was the whole package- talent (voice and songwriting skills) and looks (tall, dark and handsome). Not to mention funny & smart, too. R.I.P. Chris Cornell
I love him so much. I was lucky enough to see him in Wisconsin right before he died. RIP my buddy.
Chris Cornell is beautiful. He's charismatic and charming. He's way sexier than Cobain.
M. Shadows

Matthew Charles Sanders, better known by his stage name M. Shadows, is an American musician, best known as the lead vocalist, songwriter and founding member of the American metalcore/alternative metal band Avenged Sevenfold.
By far the HOTTEST rock star I've ever seen! He has it all, voice, height, awesome tattoos, gorgeous eyes, nice built body, which is rare for rock stars. Plus, he is totally alpha.
He was back in the day! I got lucky enough to end up meeting a man that looks SO MUCH LIKE HIM! I eventually got engaged and had a child (son) with that man
M. Shadows is the hottest guy ever. That voice, those green eyes, the muscles and don't forget the amazing dimples! Hot!
His smile is breathtaking, those dimples are amazingly attractive and don't get me started on those muscles!
Jon Bon Jovi

John Francis Bongiovi, Jr., known as Jon Bon Jovi, is an American singer-songwriter, record producer, philanthropist, and actor, best known as the founder and frontman of rock band Bon Jovi, which was formed in 1983. He is famous for his band's hit song "Livin' On A Prayer" released in 1986. He ...read more.
The most handsome man I have ever seen. He is unique, because He is friendly and strikingly good-looking at the same time. His voice, charm, his smile and hair and body are impressive. He's got it all - beauty, presence, personality and sex appeal.
Nice face and nice voice hair
Just a handsome man
Does not look like he has aged much over the years.
Really has a wonderful stage presence
Like all his music and really enjoyed the song he sang
with Jennifer Nettles, "Who said you can't go home."
Beautiful inside and out. I've met him twice and he has charming and down to earth. He even remembered me from first meeting which wss 4 years earlier. He gives back to his fans and a true family msn. Most beautiful soul I've ever met
I don't know how Kurt Cobain is number 1, he just had the face. Jon has the whole package. People are blind. He was voted sexiest rock star anyway, not Kurt, lol.
Axl Rose

William Bruce Rose Jr., better known as 'Axl Rose', is an American singer born on February 6, 1962, in Lafayette, Indiana. He Is the founder and lead singer of the hard rock band Guns N' Roses. He is a celebrated but controversial figure in the world of rock.
Axl Rose was not only the sexiest male rocker, but he was also the sexiest man alive at the time. No one compares to him in the late 80s/early 90s. Every man I have ever seen falls short in my eyes now. Axl Rose is the epitome of sexy, both in his personality and looks.
It's not just his apperance that's sets him high -it's also his grace and charisma, along with the controversial attitude of his! Definitely number one for me! #Guns N' Roses
Axl was 100% the hottest male rocker in his youth. Personality, voice, looks, he had everything. Women went crazy over him
He was the hottest rocker during his time. He was very sexy and charismatic. All women drooled over him.
Jared Leto

Jared Joseph Leto is an American actor, singer-songwriter, and director. He is well known for being the lead singer of Thirty Seconds to Mars.
Jared Leto is such a gorgeous man, he's beautiful. He's funny, talented, sexy, adorable, environmental, caring, and looks so damn good shirtless. Heck, he made Joker look sexy.
He is so sexy its unbelievable. He made me love the Joker even more than I already did.
Him being the joker in suicide squad makes him even better
Those eyes, that hair, his hands, his unbelievale vocals. The man is pure sex on legs.
Michael Kiske

Michael Kiske is a singer best known as the former lead vocalist for the German power metal band Helloween.
The best looking guy on this list and also the sexiest. As a singer he is perfect, too, and in terms of vocal skills the only real competitors are Freddie and Cornell.
My top 5 (considering both their looks and vocal skills)
#1 Kiske
#2 Chris Cornell
#3 Bon Jovi
#4 Bruce Dickinson
#5 Sebastian Bach.
This is the most handsome male creature I've ever seen. Perfect body and face. So sexy. And a perfect voice - one of the best singers ever. Check out the original video for the song 'I Want Out' (1988) by Helloween.
The most beautiful male I've ever seen. He seems much better than this pic.
That moment when a guy has better hair than you 😔
Billie Joe Armstrong

Billie Joe Armstrong is an American musician, singer, songwriter and actor who is best known as the lead vocalist, primary songwriter, and guitarist of the punk rock band Green Day, which he co-founded with Mike Dirnt.
He's still as gorgeous as he was 30 years ago. Had been and still is my childhood idol.
I've had a crush on Billie Joe Armstrong for over 20 years now. He is just so perfect.
Cannot get enough of Billie Joe! He is so amazing and so is his voice!
He's hot, and I heard that he's bisexual, which is an amazing fantasy for me
Bruce Dickinson

Paul Bruce Dickinson, known professionally as Bruce Dickinson, is an English musician, airline pilot, and broadcaster. He is most well known for being the lead singer in heavy metal band Iron Maiden and his solo career.
Hell yeah, especially back in the 80s and 90s when he had long hair, He is a man, unlike all these emo-metal wimps that are floating around nowadays.
Masculine, masculine and masculine. What can be sexier than this?
He's got the best voice by far. multi-talented guy & yes a very fine butt!
He has the sexiest butt ever.
Adam Gontier

Adam Wade Gontier is a Canadian musician and songwriter. He is the lead singer, rhythm guitarist and main songwriter for Saint Asonia, but is best known as the former lead singer, rhythm guitarist and main songwriter of the Canadian rock band Three Days Grace.
Lol on my last one I say I could pick him all over on accident! I really meant lick! Because I could do that all day! Lick him head to toe. All over his hot, sweaty body.
He has an amazing voice and his lyrics are so deep. He is also the most attractive man in the world.
Love his voice! Why did he had to leave? He was amazing, despite what he's been through.
He has the best voice ever! Love Three days grace
The Contenders
Sebastian Bach

Sebastian Philip Bierk, known professionally as Sebastian Bach, is a Canadian heavy metal singer who achieved mainstream success as frontman of Skid Row from 1987-96. Since his departure from Skid Row, he has had many television roles, acted in Broadway plays, and leads a solo career.
! I couldn't believe when I saw him for the first time. He was hot and what a voice- spectacular. Gives me chills every time I listen to him. Definitely number 1 for me.
I say Sebastian should be in the top 3 if not one. He is the definition of sexy, and has a spectacular voice like nothing you could ever imagine.
He is the sexiest of them all... it's ridiculous that he's not in the top ten. He has the look, the hair, the voice and the attitude. I say number one!
How is Kurt Cobain's been voted sexier than Sebastian?! Sebastian has a better voice and a better personality!
Michael Hutchence

Michael Kelland John Hutchence (22 January 1960 – 22 November 1997) was an Australian musician and actor. He was a founding member, lead singer and lyricist of rock band INXS from 1977 until his death in 1997.
From the moment I saw him on MTV for the first time, I, like millions of others, fell in love with that gorgeous voice, body, and animal magnetism that he had more than any other performer I have ever seen. Those eyes could make you feel "funny" inside just by the emotions and excitement you would feel that he conveyed so easily. Sex on a stick is the best way to describe him.
Michael Hutchence had the voice, the looks, and pure animal attraction that females of all ages. Just listening to him sing puts a smile on my face even after all this time. And when he smiled... forget it. You were lost under his spell. Best ever.
In retrospect, the sexiest guy in the 80's. He just oozed "it". He had the voice, the looks, the moves. Charismatic to the extreme. What a heartbreaking end.
Please, this guy was so sexy. His voice made us girls fall in love with him and guys want to be him. Australian talent is underrated sometimes. He's one of my kind.
Andy Biersack

Andrew Dennis "Andy" Biersack, formerly known as Andy Six, is an American singer and pianist. He is the founder and lead vocalist for the American rock band Black Veil Brides, and is its only remaining original member.
Andy Biersack is insanly hot. Just telling the truth. He is one of the sweetest and best looking people in the universe. He deserves a higher ranking. Andy has one of the best voices in the world! He screams like a demon and sings like an angel. So, world, please give this wonderful man a higher ranking. He deserves it.
This number is not worthy of the guy! Have you heard his voice? Have you even seen him without all the makeup? He's practically everything that makes the best... Just try it out... I did and I went from a complete different person to what I am now! His band is a REAL band. THey cange lives and save them.
Andy really does deserve a higher ranking. If emo looking is not your thing check out some more recent pictures of him with short hair. He is stunning. He has an amazing voice and a great personality on top of that.
Andy Biersack is literally like an angel and is my idol and he sings very very good. He helped me get through my tough times through his music so I love him for that too. And I'm not gonna lie he is just really hot.
Chester Bennington

Chester Charles Bennington (March 20th, 1976 - July 20th, 2017) was an American musician, singer, songwriter and actor, best known for being the lead singer of Linkin Park. He also participated in side projects like Julien K and Dead By Sunrise. He committed suicide in 2017 after a period of depression. ...read more.
Chester has not only an amazing voice, he is also blessed with an cute smile <3 my heart is melting when I see his cute smile.

His cute smile and his awesome tattoos makes him to the sexiest man alive
When I see his smile... The whole world stops and I starts tears down, it is juz over happy because I love him so much
He wasn't just blessed with an amazing voice but with amazing looks too
The man is just fantastic, he's smart, funny and very very sexy
Elvis Presley

Elvis Presley was an American musician and actor. Known as "The King" He was mostly known for his number 1 singles including "Heartbreak Hotel" "Hound Dog" "Jailhouse Rock" "Love me Tender" Elvis debuted in the movie "Love me Tender" and focused less on his music and continued that way. ...read more.
The most beautiful looking singer, in any genre, ever. Gorgeous, sex on legs. Fantastic voice, great artist and magnetic charisma. He was and still is number 1. Passed away 42 years this month the same number of years he lived. He was pure class.
Elvis is number 1, he had it all. His face was perfect, in his younger days he was sleek like a panther. His voice was and is amazing. The best looking man on planet earth ever. How insulting to put beautiful elvis at 15. Get real.
No one on this list can match elvis for beauty, his looks were amazing. Number 15? What an insult to the best looking man who ever lived, outstanding. Get it right!
Absolute perfect looks, gorgeous man. Numbr 1 sexiest and best singer ever. Elvis is number 1. Fourteen above him? What is wrong with you people.?
Corey Taylor

Corey Todd Taylor was born in December 8, 1973. He is an American musician, author, and actor best known as the lead singer and lyricist of the Nu-metal band Slipknot and hard rock/alternative metal band Stone Sour.
I can only say that he is the sexiest man I have ever seen, apart from his voice he can take you to heaven or a nightmare in an instant, I love it.
Although I could have easily voted for Kurt or Axl, I had to vote for Corey to push him up the list.
Not only is Corey Taylor physically attractive, but he also is appealing through his personality. He's down-to-earth, completely, endlessly dedicated to his music, and he is never afraid to express his opinion.
Hot, hot, hot... He can sing you to sleep or roar you into a nightmare. Easily one of the most versatile and incredible singers ever. He's also down to earth and funny. What more could you ask for?
Corey Taylor beautiful inside and out. Absolutely no contest, I would happily climb over the rest to get to him any day!
Freddie Mercury

Freddie Mercury (born Farrokh Bulsara, 5th September 1946 - 24th November 1991) was a Zanzibari-born British singer of Indian descent, songwriter and record producer, known as the lead vocalist and songwriter of the British rock band Queen. He also became known for his flamboyant stage persona and four-octave ...read more.
Freddie was the complete package.
Amazing voice and vocal range, amazing piano skills, beautiful, hot, smart, sexy, badass, cute, gorgeous overbite, sweet, sassy, cool, oh my gosh! He's everything I could ask for!
Not only INSANELY talented, Freddie was beautiful. From his perfect body to his dark eyes, full lips and libidinous overbite, if you ever saw Queen live, men and women alike were mesmerized by his oozing sexuality on stage..
Freddie is the sexiest creature who ever lived! So sensual and so red, hot, scorching SEXY! Just Look at him for heaven's sake, he Oozes sexuality! So gorgeous!
There was and there is no one like Mr. FREDDIE MERCURY. he is no. 1, the sexiest and the most handsome frontman ever. I love him forever.
Glenn Danzig

Glenn Danzig is an American singer, songwriter, and musician from Lodi, New Jersey. He is the founder of the bands Misfits, Samhain and Danzig. He owns the Evilive record label as well as Verotik, an adult-oriented comic book publishing company.
He is just HOT! He has a gorgeous face, nice muscles, and one hell of a voice. He's just badass!
Robert Plant

Robert Anthony Plant (born 20 August 1948) is an English musician, singer, and songwriter best known as the lead singer and lyricist of the rock band Led Zeppelin.
Time passes. Everybody thought beautiful on this list will be old folks eventually. Robert Plant in his 1970's glory was a "golden god" that would run away with polls like these... More importantly and lasting is the fact that with Led Zeppelin he helped create music that will forever top polls.
What's wrong with you people? How the hell is that ape Dickinson higher than this rock god? He's inferior in every way! Especially in being attractive!
Watch "The Song Remains the Same", and see why he belongs way up near the top of the list.

(He's much more gorgeous than this photo. Find a better one? )
Um, Robert plant is not Number 1?
These people have no idea. Every man in this world would have lost their lady to this dude.
Ian Gillan

Ian Gillan is an English singer and songwriter. He originally found success as the lead singer and lyricist for Deep Purple, and the original singer on the rock opera concept album Jesus Christ Superstar by Andrew Lloyd Webber, where Gillan had the leading role (Jesus Christ).
No contest. That hair, that smile, those eyes, that not quite perfect face and slight lisp...a depth of personality and having something meaningful to say... that's sexiest of all. Integrity... even sexier. Playful, tall, confident packaged with one of the hottest rock voices there's been. And no one can swing their hair quite like him or woo the mic stand quite so lol and didn't he know it... in a good way
Such a pretty face...
Love his long hair...
Just he!
Gerard Way

Gerard Arthur Way is an American singer, songwriter, musician, and comic book writer who was the lead vocalist and co-founder of the American alternative rock band My Chemical Romance from its formation in September 2001 until its split in March 2013. His debut solo album Hesitant Alien was released ...read more.
He needs to be higher on this list, he DESERVES to be higher. I mean just look at him! If looking at him is not enough then do some research about him and the wonderful things that he is and what he has done. He is just beautiful
He is so sexy, don't even try to deny it! He's probably the dream of 9 out of 10 girls. Plus the sass is really strong with this one.
I love him. He's so cute and sexy and I live his personality so much. The honest man in the world and I want him on top 10!
He is freaking cute, and is the sexiest guy I've seen other than Ronnie Radke and Andy Black.
Jim Morrison

James Douglas "Jim" Morrison was an American singer, songwriter, and poet best remembered as the lead singer of the Doors.
Without a doubt the most handsome and intelligent human being with such a sexy deep voice and those leather pants and sultry lips... I could go on forever
Without a doubt the most handsome and intelligent guy with that sexy deep voice, those leather pants and sultry lips... I could go on forever
The epitome of a rock frontman. Girls wanted him, guys wanted to be him. Greatest frontman ever. So incredibly smart and handsome with his deep voice and great looks no wonder The Doors are so popular(besides their fantastic music of course).
This man should be in the first place, he's really the hottest rock and roll guy ever! His voice, his deep personality made him very atractive.
He is my idea of beauty.
Benjamin Orr

Benjamin Orzechowski, known as Benjamin Orr, was an American musician best known as a singer, bassist and co-founder of the rock band the Cars.
Benjamin Orr is my number one. Still makes me weak in the knees. His strong jaw, his dimple chin, his gorgeous eyes, his killer smile. I never get tired of looking at him or hearing his beautiful voice. He almost seemed unaware of his good looks.
So much sex appeal on stage! Life cut way too short! The guys in The Cars seemed like the least egotistical band mates ever! They shared the spotlight with each other. You could see what a wonderful person Ben was, just by looking into his eyes. I loved his slight smiles as he sang.
Ben Orr was the most sweet sexy dazlilng angel. The most beautiful blue eyes, so big like women eyes but with male shape. The same about the lips just as beautiful perfect as a woman but still male, sometimes like a child lips, so gorgeous sexy...and the body sexy as well with long legs and beautifull hands.
The only time a man has taken my breath away... And I'm a fashion model. I'm surrounded by beautiful men constantly. Benjamin Orr is the only man who has made my jaw drop. He's perfect! No. 1 for sure!
Paul McCartney

Sir James Paul McCartney is an English singer-songwriter, multi-instrumentalist, and composer . With John Lennon, George Harrison, and Ringo Starr, he gained worldwide fame with the rock band the Beatles, one of the most popular and influential groups in the history of pop and rock music .
He deserves to have a higher spot on this list! Girls were, and still are, crushing over him (I love George Harrison though)
He was the pretty Beatle. 'enough said.
Number 25? You have to be kidding! He is Drop Dead gorgeous!
And now at 76 years old he hasn't lost any of it! One sexy septuagenarian! 💖
One of the best looking men in rock 'n roll
Eddie Vedder

Eddie Vedder is an American musician, singer and songwriter best known as a member of the rock band Pearl Jam, with whom he performs lead vocals and is one of three guitarists.
Watch when he lets his hair down on Pearl Jam's MTV unplugged session. Then you'll understand why he should be #1!
He should definitely be higher on this list! The way he moves, his voice, and those cheekbones!
Humble, but driven. Eloquent and fierce. Eddie Vedder exudes a sexiness like none other.
Sorry but Eddie Vedder should be at the top of this list because he is just incredible.
PSearch List