Top 10 Soul Calibur 4 Characters
The Top Ten
Ivy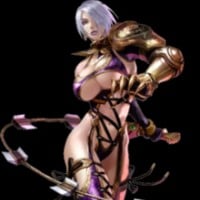 Yoshimitsu
Lizardman
Cervantes
Voldo

Voldo is a fictional character in the Soul series of video games. Created by Namco's Project Soul division, he first appeared in Soul Edge, and later in all games of the Soulcalibur series with the exception of Soulcalibur Legends.
Siegfried
The Apprentice
Darth Vader

Darth Vader is a Star Wars character and the main antagonist of the first three original Star Wars films and the main protagonist of the Star Wars prequel trilogy under his original name Anakin Skywalker. He had been trained as a Jedi but defected to the Sith lord and Galactic Chancellor Palpatine. ...read more.
Nightmare
Zasalamel
The Contenders
Maxi
Taki

Taki, known as the Hunter of Darkness, is a fictional character in the Soulcalibur series of historical fantasy fighting games by Namco.
My favourite character in the whole series
Kilik

Mitsurugi
Astaroth
Raphael
Seriously? This guy is now a vampire and is unsure if that's real him or not, but give this guy some credit.
Amy
Algol
Sophitia

Setsuka
Tira
Talim
I Use her to beat the apperantice on versus mode - POKEMON57000
Hilde
Yoda

Yoda is a fictional character in the Star Wars space opera franchise created by George Lucas, first appearing in the 1980 film The Empire Strikes Back.
Cassandra

PSearch List