Top 10 Strongest Pokemon
The Top Ten
1
Arceus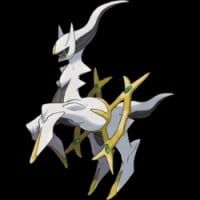 Arceus is a legendary Pokémon from the Pókemon series. He first appeared in the 18th Pokémon movie alongside other Legendary Pokémon.
Can change its type and it is a god and the creator of pokemon

He doesn't need to change types. He can use any type of move at any time, in his most powerful form, Normal Type.
It's justified to be the strongest of all pokemon because it created the rest of them. Also those shards are really helpful and kickass
Um no regigigas can't beat him not in the game at least for arceus a stat total 720
Regigigas only has 600
I don't believe that arceus is number 1. I thought arceus would be third or second. He is the strongest sayian in history
Without him no one can get destroyed. He has more than thousand forms.

Why do you say he shouldn't be number 1 if you just called him the strongest
I used to wonder who Arceus was as a child but when I got into Pokemon, I realised that Arceus was actually the Pokemon God. There are two things other than being the God Pokemon that making him the most powerful. One, he can change into any type so he can pretty much change into something stronger than his opponent and two, he has the highest stats of non-mega Pokemon.
2
Mewtwo

Mewtwo is a fictional creature from Nintendo and Game Freak's Pokémon media franchise. It was created by Dr. Fuji in an attempt to clone Mew.
This is the only pokemon that was created by man to become the most strongest pokemon no other pokemon than mew will stand against mewtwo

Mewtwo is the best
Mewtwo is number one always. He has awesome stats. He can learn basically any move. When I go up against the elite four I can use him and only him I do not have to use any potion either because all of hits hits are ko's
Mewtwo has no gender. But yea, it is one of the strongest pokemon.
Come on people who puts charizard before mewtwo he should be first this is the strongest pokemon not which one you like best, as for arceus he is over rated that's all mewtwo is king

Not to be a party pooper but how is Mewtwo ahead of its mega evolution :/
3
Rayquaza

Rayquaza is a Legendary Pokémon species in Nintendo and Game Freak's Pokémon franchise. It lives in the ozone layer, and frequently stops battles with Kyogre and Groudon, two other Legendaries.
it has a strong hyper beam and can take down both kyogre and groudon

Rayquaza can be defeated by both arceus (ice type) and articuno since they two are ice type.
Rayquaza is strongest Pokemon ever it took out my darkai level 100 when is was level 50 and on full health so vote for this good Pokemon. Come on it is so good it barley ever loses to other Pokemon it has never lost to any Pokemon apart from my lugia
Darkrai isn't great... what are you trying to prove here? That rayquaza can take out a weak pokemon? Big deal!
This is the best pokemon ever, why isn't it on the too 10! Hyper beam could take out anyone! It is realty cool! It is even a super smash brawl boss! Why, why, why isn't it number one! It could knock out either one of dialga or palkia!
No, dialga could knock out rayquaza because its also a steel type, which is resistant to normal, dragon, and flying
WHY ISN'T THIS NUMBER 1? Mega Rayquaza's Delta Stream gives it no Flying weaknesses so a Rock NEUTRALITY, an Electric RESISTANCE and only a REGULAR Ice weakness. It has the best stats in the game, with 780 base stat total, tied with Mewtwo's MEGA forms. And it DOESN'T need a mega stone to mega evolve, only Dragon Ascent, the Flying version of Close Combat, so you can give it powerful items like a Focus Sash, a Life Orb, a Leftovers etc. AGAIN, WHY ISN'T THIS NUMBER 1?
4
Mew

Mew is one of the fictional species of creatures from Nintendo's and Game Freak's Pokémon media franchise created by Satoshi Tajiri.
This pokemon is the one that defeated mewtwo
It can learn every move and can transform into any Pokemon! Plus it's cute and playful! Best Pokemon EVER!
Mew can learn any Tm or Hm plus he was the best Pokemon until arcues came along
Um no it's total stat is six hundred almost every legendary either ties are outdoes that so...
mew is cool too, I mean, it can turn invisible, which is one thing mewtwo can't!
5
Giratina

Giratina is a Pokémon species in Nintendo and Game Freak's Pokémon franchise. Created by Ken Sugimori, Giratina first appeared in the video games Pokémon Diamond and Pearl, but gained prominence in the sister game, Pokémon Platinum, which it was made the mascot of.
GIRATINA SHOULD AT LEAST BE PLACED SOMEWHERE BETWEEN NO.3 TO NO.6 BECAUSE IT'S ALMOST ABLE BEAT ANY KIND OF POKEMON ESPECIALLY IN ITS ORIGINAL FORM IT WOULD BE ABLE TO DEFEAT A WHOLE POKEMON LEAGUE ON ITS OWN BY TRAINING IT THE RIGHT WAY
Granting should be up the top! It's just as strong as Dialga and Palkia and in the Shaymin movie it was smashing Dialga!
By Giratina Giratina Orgin Form Is wich you can get with arcues in the Alpha Ruins Or Just Trade it to Pokemon Black and white
It's the god of antimatter and had to be banished to a different dimension because it would destroy any other. What more could you want?
6
Dialga

Dialga, known in Japan as the same name, is a Legendary Pokémon species in Nintendo and Game Freak's Pokémon franchise.
Dialga with his adamant orb and roar of time it can beat any pokemon in one move, Dragon Type Dragon Type Move Adamant Orb already 2.0 damage and the move is already ridiculously strong with 150 power. Also without this move Flash Cannon, Aura Sphere, and Earth Power are more than enough to take down anything with Dialga's Insane special attack.
Dialga could destroy everything as arceus gave him time. He could stop time and wreck the world!
This one just rocks...!
Should be on top for its power and elegance
Awesomely cool...
What else do you want?
He is cool but the Legendary Zekrom is a really strong Pokemon he can kill you in one hit literally kill you in one hit.
7
Lugia

Lugia, known in Japan as the same name, is a Legendary Pokémon species in Nintendo and Game Freak's Pokémon franchise.
As seen in the pokemon movie the power of one, this pokemon can talk like meowth, cool right?! Its so powerful that he lies in the bottom of the ocean, one flap of its wings can cause a 40 day storm, one of its signature move is aeroblast, its just huffin air and blasting it!
how is lugia not in the top 10?! he is my favourite and definitely the strongest pokemon
HOW come its at Number 14? ITS AEROBLAST Could take out any Pokemon
False, Sky Attack does more damage, and even that won't take out most of the competitive gods, whether legend or not.
Lugia is a psychic flying type pokemon, which is unconventional cause it lives in the sea. However, this is even better as it means more alternatives.
8
Darkrai

Darkrai, known in Japan as the same name, is a Legendary Pokémon species in Nintendo and Game Freak's Pokémon franchise.
This is the Pokemon that stopped palkia and dialga
Yeah, in the anime maybe. In game (where it counts) he sucks compared to Palkia and dialga.
The Evil Super Dark Pokemon Is ALSO AWESOME!
Darkrai is the number one Pokemon for me because he stoped the 2 strongest Pokemon from fighting and its very strong when you look at him in a Pokemon vcard version so he for me is my favourite and remember, darkrai is always nuber 1!
Very overrated by the people who only watch the anime, but in games it just gets vaporized by many things, including mewtwo who is weak to it.
9
Kyurem

Kyurem, known in Japan as the same name, is a Legendary Pokémon species in Nintendo and Game Freak's Pokémon franchise.
KYUREM IS AN INCREDIBLE DRAGON WITH ITS ICE CHARACTER AND BE ABLE TO FUSE WITH EITHER RESHIRAM OR ZEKROM IT WOULD BE ABLE TO RIVAL ARCEUS STRENGTH THAT ALMOST MADE ME WONDER IF ARCEUS AND KYUREM (THE ORIGINAL DRAGON) WOULD BE SIBLINGS THAT THERE WERE LIKE 2 POKEMON OR UP TO 5 BEFORE NOTHING EXISTED WAY BACK THEN NOTHINGS IMPOSSIBLE ITS FUNNY IF KYUREM HAD A BATTLE WITH ARCEUS AND LOST WHEN FELT LIKE IT LOST ITS PRIDE ANOTHER THING WHEN I TRAINED KYUREM IN ITS NORMAL FORM IT WAS DOING GOOD AFTER VERY HARD TRAINING ALMOST LIKE GIRATINA I SHARPENED THE SKILLS I'm LITTLE OF A PERFECTIONIST TRYING MAKE EVERYTHING LOOK GOOD I RAISED MY a lot AFTER A WHILE I TOOK MY KYUREM AND THE OTHERS TO CHALLENGE THE BLACK TOWER FOR ME I WAS EXCITED TO FACE IT SO I DID I WAS SAVING KYUREM FOR THE LAST BOSS TRAINER IT DID A BIT BATTLING IN THE LOWER AS LIKE BACKUP THE OTHERS WERE LIKE WIMPS COMPARED TO KYUREM HE HAD GOOD ENDURANCE AND THE SAME WITH EMBOAR AS FOR EMBOAR I ONCE DEFEATED IRIS THE CHAMPION ...more
Why do you have the need to write in block Caps? Your opinion would have made the same sense if you had written it with normal letters.
Kyurem is super strong and is the Girantina of the Unova dragon trio! It can flash freeze everything around it and is the only Pokemon that truly scares me.
An ice type dragon, that can change into a fire or electric type, and destroy a train system. No wonder its called "The most powerful dragon. "
My first ever shiny was Hyrum and a only two encounters too! I had no interest in shiny hunting and forgot to save after catching it. The next time I came back it was shiny and I was so happy
10
Palkia

Palkia, known in Japan as the same name, is a Legendary Pokémon species in Nintendo and Game Freak's Pokémon franchise.
Palkia is totally awesome! It's like the first Pokemon in a movie to actually nearly destroy the whole main town plus it's the guardian of space which makes it EPIC!
Palkia's powerful move spacial rend can destroy a building, if not distracted by weak Pokemon.
He should at least be third and dialga fourth because or both ranked fourth
because this is like palkia dialga and giratina are the first strongest trio and palkia is my most favorite pokemon.
Palkia is one of the top.For peats sake it is the ruler of space!
The Newcomers
?
Ultra Necrozma

Ultra Necrozma has a very high base stat total and can learn very versatile moves.It can also do lots of damage very easily.
Ultra necrozma has around the same base stat as Arceus, but way more powerful. It can learn sunsteel strike and moongiest beam, which just destroys the opponent.
I think he's actually the strongest I know you guys were gonna get angry at me because I can name about 5 Pokemon with higher base stat totals but I have this opinion because of how his stats are distributed because he has high speed and high attack stats being both capable of being a major special or physical attacker and having decent defense stats as well now that that's said Simone explain to me why in hell is he 103 on this list
He's stronger than arceus and light that Burns sky doesn't burn sky it deletes Omniverse then uses that giant light ball on enemy and Omniverse is back so watch universe size comparison and you'll see how big is Omniverse bigger than universe so Ultra necrozma is strongest Pokemon ever and it's beautiful
The Contenders
11
Deoxys

Deoxys, known in Japan as the same name, is a Legendary Pokémon species in Nintendo and Game Freak's Pokémon franchise.
In the movie it smashed Rayquaza! It's signature move has 140 damage and can change forms! Strongest alien ever!
Deoxys in attack forme possesses the highest Attack and Special Attack the Pokemon Universe. Deoxys in defense form posesses the highest Defense and Special Defense in the Pokemon Universe. Deoxys in Speed Forme possesses the highest Speed in the Pokemon Universe. Even in Normal Forme it has blistering speed coupled with insane attack and Special Attack.
It has a huge movepool with access to the devastating Psycho Boost that destroys almost every Pokemon, and hit with unparalleled power with other insane moves with impeccable type coverage such as Ice Beam, Thunder, Thunderbolt, Dark Pulse, Shadow Ball, Superpower and Extremespeed. Has been shown to have incredible regenerative abilities, reflected in its ability to instantly recover off damage.
Strongest Alien, and its true He did smash rayquaza in the movie!
Plus he has a lot of moves that are really tough and effect very much
Yes in anima, but in the game rayquaza is more powerful. But that dose not make deoxys weak.
12
Mega Rayquaza

This pokemon was so strong it had its own tier and was banned from many events.It also has one of the highest base stat totals in the game.
He is the best guy because of his ultimately powerful hyper beam,
This is the true definition of strong. 780 base stats, flying weaknesses neutralized, can hold an item in mega form with 180 attack stat, has close combat flying stab move, can have dragon dance set, and is one of the best offensive presences with mega Salamence.
You should barely search before you guys put mega rayquaza in the 12 position The spot for strongest pokemon is tied between Mewtwo Mega (X & Y) and Rayquaza Mega with a astounding 780 stat points whereas Arceus has 720 points... So, I should say that Mega Rayquaza is the strongest pokemon in terms of battle power with Mega Mewtwo as close second.
13
Magikarp

Magikarp, known in Japan as Koiking, is a Pokémon species in Nintendo and Game Freak's Pokémon franchise. It resembles an orange fish with whiskers. It was created by Ken Sugimori, Magikarp first appeared in the video games Pokémon Red and Blue and subsequent sequels. It is a water type that evolves ...read more.
Strongest Pokemon. EVER. No one can own it with it's infinity damage Splash.
Unfortunately, it's so infinitely powerful, it does absolutely nothing.
The only reason why Splash doesn't do any damage is because its power goes around twice on the HP bar so you don't notice the damage. In reality, any of your Pokemon that has battled a Magikarp has fainted at least once. You can tell they fainted because they hate you after every Magikarp battle.
All you have to do with this guy is - Splash

Splash can kill hoards of monsters in one hit. Splash BOOM BOOM BOOM

How can you not love this pokemon? BEST POKEMON EVER!
Why do people think that Arceus is so good, really Arceus, He's the god of Pokemon, highest stats of ALL Pokemon, So what, he learns judgment, wow it's so exiting, NOT! So we got a better Pokemon here, MAGIKARP. Take away the arp, that's what it is. It can learn SPLASH! Did you here in the games Pokemon black and white it says "A magikarp that lives for years can jump over mountains", that's right, OVER MOUNTAINS! Magikarp can do a lot more, but I can't fill the hole page about the awesomeness of Magikarp so by.
14
Zekrom

Zekrom, known in Japan as the same name, is a Legendary Pokémon species in Nintendo and Game Freak's Pokémon franchise.
Zekrom has outstanding attack! Its moves fusion bolt and bolt strike can hurt a Pokemon badly!
It's awesome! Because it van use Fusion bolt and other cool moves and zekrom should be 1 2 or 3 in unova so please have a good vote because he's my favorite pokemon

Zekrom is a black and white pokemon. And it is better than charizard in the pokemon pokedex list of pokemon with states pokemon data base.
He looks so awesome and is very strong and is my favorite pokemon!
15
Groudon

Groudon, known in Japan as the same name, is a Legendary Pokémon species in Nintendo and Game Freak's Pokémon franchise.
Groudon's weaknesses are water, ice and grass. Drought (Groudon's ability that makes the sun shine) lowers water's effectiveness and ups fire's (which is super effective against ice and grass). Kyogre's ability makes thunder have a 100% hit chance. Kyogre has nothing on Groudon.
I would put groudon in the same place as kyogre, but only because kyogre is super effective. Stat wise, Groudon kicks.
He was so powerful that he had to be sent to the volcano same with kyogure
One of the best and coolest looking legendaries, he is incredibly fun to use and just looks so badass.
16
Mega Mewtwo Y

It has the most highest base stat of all Pokemon
It was Pokemon killer of the world.
It has absurd statistics, and does everything Mewtwo does but 1,000 times better. Mega Mewtwo Y is superior to basically all Pokemon due to it's ridiculous Special attack along with it's absurd speed stat. I guess it would fall under Mewtwo's category, but if you're counting it as a separate Pokemon, Mega Mewtwo Y is number 1.
this thing is more powerful than Arceus!
780 mega mewtwo y and 720 Arces, the deer "God".
17
Dragonite

Dragonite, known in Japan as Kairyu, is a Pokémon species in Nintendo and Game Freak's Pokémon franchise.
Do I have to explain;
Water, electric, fire and a flying dragon pokémon.

You don't have to catch them all, just Dragonite.
Um... you do know pokemon can't have more than two types, right? Dragonite is dragon-flying
a lone wolf? A kick-ass dragon that will own anything you put un front of it and then cuddle its trainer
My favorite pseudo-legendary, he is super cool and terrifying, especially in the Unova anime.
Come on this Pokémon always kicks your ass till you can't fight no more. Face people aren't voting for it because they are just jealous of its incredible move coverage of almost every type.

Thunderbolt= fainted water and flying types
Flamethrower= fainted ice, grass, bug and steel types
Ice beam='fainted ground, grass flying and other dragon types

You just have to face it If it was in a ring with any legendary, especially Arceus, they would beg for mercy in the first minute.

DRAGONITE DRAGONITE DRAGONITE DRAGONITE!
Bearing in mind that Dragonite is physical based, so none of those attacks would do that much damage.
18
Yveltal

Yveltal is a fictional creature in the Pokemon Franchise. Introduced in the 6th gen, Yveltal is a legendary Dark/Flying type Pokemon, and is the mascot of Pokemon Y. It is classified as the Destruction Pokemon. Yveltal has the ability to absorb life energy, and when its life comes to an end, it steals ...read more.
Laugh out loud this should be @ the top now! It can shoot Death rays as its signature move.
My second favorite legendary and overall my favorite pokemon from x and y
New Pokemon joins use Oblivion wing. How awesome can you get
No mater what you will lose if he dies you die or he just kills you so...yea
19
Xerneas

Xerneas is a fictional creature in the Pokemon Franchise. Introduced in Gen 6, it is a legendary Fairy type Pokemon, and the mascot of Pokemon X. Classified as the Life Pokemon, Xerneas has the ability to give eternal life, which occurs when the horns on its head shine in seven lights. When its life ...read more.
Xerneas is a new Pokemon in kalos region and is a good example of the fairy type Pokemon as Xerneas has the power to beat yveltal however a legendary normally can't beat the enemy legendary Pokemon even though this is shown with the three legendary birds zapdos, articuno and moltres so therefore Xerneas is like zapdos, a legendary Pokemon that can beat another. That's my opinion
Let's get this straight. Max speed, max sp.A... Plus geomancy&power herb... Equals a 1-3 hit kill on anything. LITERALLY ANYTHING. Even a poison or steel type will die in 2-3 turns max. Plus, he is a badass deer who wipes the flour with like over half of the other legendaries. The only one he might not beat is steel arceus. Poison? Please poison types don't have enough attack
Personally, I think this is the stronk-est fairy type (but my favourite is Mimikyu). It's a RAIN. BOW. DEER. I mean, come on!
Xerneas is pretty OP with its' ability Fairy Aura, which boosts Fairy type moves, like the popular and powerful Moonblast, and if you give it a Power Herb, and use Geomancy, it'll boost its' Speed, Special Attack and Special Defense. It will, no joke, DECIMATE opponents. It'll also take not as much damage due to its' enhanced Special Defense, which I think is really neat.

I really like this Pokemon, and it's pretty good competitively, so it's your man (well, it's genderless, but whatever ) in a pinch.
20
Reshiram

Reshiram, known in Japan as the same name, is a Legendary Pokémon species in Nintendo and Game Freak's Pokémon franchise.
In the legend Reshiram is equally as strong as Zekrom so why is it so much lower?
Reshiram should at least be next or close to Zekrom, maybe even higher because it has more special attack. It deserves a place in the top 10.
I have beat the elite 4 like 10 times with reshiram he only was he insta killed everyone just train him correctly and you will see what I mean
Reshiram's Outrage is pretty cool, and it is said to rival zekrom. Why is it so low? I don't know...
21
Tyranitar

Tyranitar, known in Japan as Bangiras, is a Pokémon species in Nintendo and Game Freak's Pokémon franchise.
Tyranitar is the biggest pimp ever... If you put a wall of gash in front of it, it simply slays each one, one at a time, saw it once have a fight with the big man... Aser, and safe to say Aser won, but tyranitar is still beast.
Tyranitar is my favorite dark type Pokemon. When it was introduced in gen. 2 it destroyed every single psychic Pokemon I went against
Seriously! Only 20. Tyranitar is such a beast. he could destroy anything and everything. shut up ditto, I know you can turn into anything but it is anything that tyranitar could crush by lifting only a finger. when he rampages, he knocks down entire mountains and buries rivers, maps also have to be redrawn after that. he is 6 foot 7 inches and he can completely change the landscape. that is the definition of a strong Pokemon right there (kyogre is almost as strong, but I have this unwritten rule about using legendary Pokemon for battling in the games). Tyranitar is and always will be my favorite Pokemon. it will never change mostly because I don't really like gen. 5 or 6 too much
Absolutely the best Pokemon with a fantastic stat spread. SO versatile!
22
Ho-Oh

Ho-Oh, known in Japan as Houou, is a Legendary Pokémon species in Nintendo and Game Freak's Pokémon franchise.
This legendary Pokemon is the first which ash saw as seen in Pokemon, its believed that this Pokemon only shows himself to kindhearted trainers
Best fire pokemon ever. Got him and he killed rock and water gyms. Should be 2 best. You
Ho-oh is good saw it when starting and good luck ever since
Once I got a Ho-oh I used great balls pokeballs after 5 pokeballs I got the ho oh
23
Scizor

Scizor, known in Japan as Hassam, is a Pokémon species in Nintendo and Game Freak's Pokémon franchise.
Scizor is a really good Pokémon I mean scythes is strong so scizor is like double that strength
What, scizor is just one of the most perfect pokémon ever!
Bug/steel type, only week to fire, can learn almost every high priority move and has Technician! Even with is lost of speed (compared to his pre-evo), he can strike first with a hell of an attack power... And if he uses swords dance, baby he is invincible. Ever tried to use a 1hp scizor with 3 stages of swords dance and the reversal (I think it is this one) attack? And if you had one stage agility to him, he is indestructible. And believe me, with a speed team like ninjask, furret and others with agility, swords dance and baton pass, a technician scizor with, reversal, quick attack, bullet punch and pursuit/swords dance, and with that item that, if he is attack by a fire move (with full hp), it can survive with 1hp, congratulations, you win the game. (best strategy, ninjask/furret/other, one agility and one swords dance, with substitute for support, then baton pass (with substitute), one swords dance with scizor (opponent ...more
I feel this Pokemon DESERVES a higher rating.

He/she is the only one that makes razor wind worth while
Scissor is a boss enough sed
24
Primal Kyogre

It's a boat! It's a fish! It's Primal kyogre! This insanely powerful pokemon has water spout, with base stat of 770, it's pretty much unstoppable.
Primal kyogre is very versatile in its options for movesets and can easily sweep through teams and one-shot pokemon.
Honestly, if Groudon and Kyogre actually were to fight (not in the games); nobody would win. I mean, Kyogre has the advantage to obliterate Groudon but then again the abilities between the two say likewise. With both Primodial Sea and Desolate Land competing with each other, the attacks wouldn't be as efficient as the abilities make it. Each weakening Water and Fire moves. So as a result the battle would last forever. Typically this is why Rayquaza is the one to tame them both before they eventually destroy the world,leading to the battle being unfinished.
Primal Kyogre is really strong, trust me I agree,it's better than scizor.Just sweep with Origin Pulse.
25
Primal Groudon

Primal groudon is very versatile in its options for movesets and can easily sweep through teams and one-shot pokemon.
I like this Pokemon because of his powers and his look is like I will light you on fire then throw lava at your face.
Should be top ten easily. It can wreck ever thing. If its you first Pokemon it can take out any Pokemon. It can even learn dragon pulse. For a fire ground type it has decent speed and it can be used as a tank or an attacker. Depending on the moves you put on it.
Its incredibly strong.
It's only weakness is water type and with his ability (can't remember the name ) it can block water moves
It means OOooOOoOOOoO
PSearch List