Dwyane Wade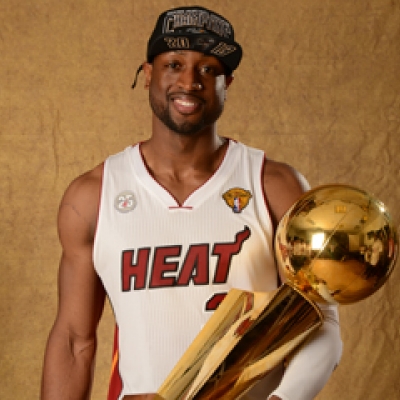 Uploaded by Htown3ball
Info
Dwyane Tyrone Wade Jr. is an American professional basketball player for the Miami Heat of the National Basketball Association.
Comments
Top
Popular
Newest
I have compared Michael Jordan, Kobe Bryant, LeBron James & Larry Bird with D-Wade, and Dwayne is better than all of them. He has a very unique and exciting playing style, and sometimes he does play dirty, but so does Kobe Bryant and Larry Bird did as well. He is without a doubt the greatest thing to happen to the Miami Heat, LeBron isn't the greatest player in the Team's history it is definitely this man! He also has a lot of team work, attributes he can work with any one Shaq, LeBron etc. It's a shame he didn't get to play against greats like Wilt Chamberlain, Larry Bird, Michael Jordan, Magic Johnson, Patrick Ewing or even Kareem Abdul-Jabbar, he would've definitely given them a challenge!
D wade will go down as the most underrated basketball player to ever play this game. He deserved the 09 MVP. The Miami Heat currently have the 2 best players in basketball with Lebron and Wade and I believe they will win multiple championships to bump them up to maybe the top 5-7 players to ever play the game. Wade will go down as one of the most clutch players to ever play. He knows when it's time to step up, and he lets no one get in his way. He may just be the best finisher at the basket to ever play the game of basketball, and if he keeps this type of play up for the next 5 years, watch out kobe and MJ.
Dwade should be higher his play making abilities and shot selection are amazing. He also has a knack for getting in the teeth of the defense and causing havoc for big men who've tried to swat the shot away. Top 10 easy. Le Bron would not be a champ without flash. Wade already had 1 now got 2. I'm mean if Miami would run it's offense through wade more you would see this man blow up just like mj instead of Michael and Scotty it's like bird and magic let's add bosh to the mix Miami will be a dangerous team for many years to come let's hope they can put together consistent runs together cause there is nothing worse than wasted talent.
I'm a HeatLifer and I know that this guy is definitely the greatest player in franchise history. He is for sure a top 15 player and a future Hall of Famer who was the most valuable player of the 2008 Olympics, 2009 Scoring Champ, 2010 All-Star MVP, and 3 time NBA Champ. He has had some MVP (best in the world) seasons but was robbed by LeBron and Kobe a lot. And let's not forget when LeBron was choking in the 2011 NBA Finals "Flash" was playing like an MVP especially in the first two games that the Heat won. There is no doubt that if Miami won that series Wade would have been Finals MVP and that would have screwed LeBron's legacy. And Wade is responsible for LeBron's first two rings because LeBron knew he could not win without Wade. He knew Wade was the perfect teammate because he had that experience from winning in '06. And he had that "killer instinct" that LeBron was missing.D. Wade should not be over shadowed by this guy because he had more talent in his prime ...more
Now I know most of you think that "he only has one ring he has no experience" but this list is called the greatest NBA players of all time well he's great so what he doesn't have 6 rings or that he hasn't got an MVP to his name (P.S. he should by the way) that does not matter what so ever he is great in fact the top 10 of all time it goes like
1) Wilt Chamberlain
2) Magic Johnson
3) Kareem Abdul-Jabbar
4) Shaquille O'Neal
5) Tim Duncan
6) Oscar Robertson
7) Bill Russell
8) Michael Jordan ( because he wasn't a team player but that's my opinion )
9) Dwyane Wade
10) Allen Iverson
Wade at the latest better than Michael Jordan anybody in the whole NBA Timmy and with his biggest fan and biggest fan I like when he plays really good now I know now he moved to leave Chicago because Miami Heat kind of use them but now it is better than Michael Jordan LeBron and did anybody because way is really good I think white is better than anyone in the home be 8 and post that everybody who agrees with me everybody family you guys are the best I wish you know I wish I hadn't wasted it because he's so good because I wish I had a waist cincher Kevin Durant
He is so quick and he do what POWER FORWARD can do. He can shoot outside he shoot difficult shot he has a great dribbling and passing skill with a height of 6 foot 4 he can he can jump and throws down the ball to the basket even there's a defender infront of him
Dwayne is THE best basketball player alive. He's too good to be Tenth. Even Third would be an insult, and second would still not fit him. He could beat anyone with his team, Miami Heat.
Wade will definitely be a top prospect in a couple of years, he already is better than Kobe and LeBron and one day he will better than Michael Jordan - robertoantonioortuso
Dwyane Wade is one of the best basket player ever seen he made Miami Heat one of the best team in the world he is a really good player if I pick which player will be better Michael Jordan or no way order or no what is the best basketball player for me my opinion we can win another championship without LeBron and Chris Bosh
Wade to me is the player in the nba now hi made not be good as Michael Jordan but hi win the first championship for the Miami Heat for me he's the best player in the NBA right now for me he's better than anybody he deserves more credit because he was the first player to ever when one championship for the Miami Heat
Dwyane Wade can easily match LeBron, I mean seriously James isn't that great and he doesn't have any rings. Dwyane Wade is probably number two right now before LeBron and after Kobe.
come on kobe is getting old. he is better all around player than nowitzki, more clutch than rose durant james. Pierce more clutch shooting but not defensivley. Wade is the greatest defender at the guard position ever
One the efficient players of all-time. Much better than Kobe, who has had the luck to have great teams. Wade is team player (makes his team better, where Kobe is never been a team player.
Wait a minute! D Wade is better than Lebron and Kobe... Dwyane Wade should be no.2! He can block Kobe's shot and block Lebron's lay up!
Dwayne Wade is the best stealer the best blocker and the man that you depend on during clutch time. I honestly think Wade deserves to be number one because of how eager he is to get on the court and how he wants to lead the team from zeros to heroes
Best player from 2006 season till now. Get's overshadowed by Lebron and other players but Wade's stats speak for themselves.
Dwyane Wade is a player with an amazing shot selection and knows hiw to play the game of basketball. He can lay up, shoot on the mid, turn around, fade away, crossover, dunk, post up, block, pass, run the offense, make trick lay ups, shoot good free throws, play defense, etc. Is there anything Wade can't do with s basketball? This man should be in the best of all time.
This List is BULL S H I T!
I don't mind MJ and Kobe but to make LeBron and " Pistol " Pete over D WADE?! I know both are great players and are one of the greatest but to put them ahead on Dwyane Wade?! No way - Xoomaru
He is the best even better the LEBRON JAMES! He's more humble and athletic than Lebron
Lol in my opinion he's okay now, kyrie irving is way better than him, and has still has lot more potential. Stephen curry is also better now than wade ever was. Damian Lillard will be better than him soon, when he gets a formidable team, and the list goes on. Top 30 at best, definitely not top 20
D. WADE! One of the most under rated players. Even though he doesn't score as many points as he used to, he is still one of the best ball players of all time.
This list is awful... Dwayne wade. Really. He's a good player but this list has no Hakeem Olajuwon no Tim Duncan Karl Malone... Justto name a few. Ll these lists are are basically uneducated basketball fans opinions on who the think is good. Obviously most of you guys don't know the history of the game.
Man D-Wade is so dominant that he made Shaq his side kick that's right SHAQ could Kobe do that could hardaway do that yeah no one could do that that's how awesome he is and when it's all said and done "He will be number one"
Quote
Dwayne Wade is my favorite and he is very amazing. I think he's better than LeBron James!