Kevin Durant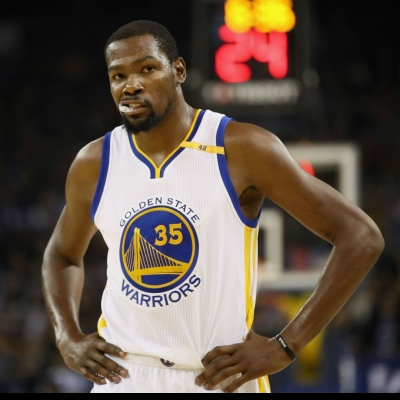 Uploaded by MasonOcker
Info
Kevin Wayne Durant is an American professional basketball player for the Golden State Warriors of the National Basketball Association. He was MVP of the 2017 NBA Finals.
Comments
Top
Popular
Newest
Durant is not even in the top 10? In the game at STAPLES Center in Los Angeles, Durant scored 34 points in 30 minutes of action! I know I copy and pasted that, but he has also won an NBA Most Valuable Player Award, four NBA scoring titles, the NBA Rookie of the Year Award, and two Olympic gold medals! Not many basketball players who can say that, huh?
41! No he is in the top ten I'm sorry we need a recount something is not right kevin durant is a beast nothing more should be said yao ming should be under him
Kevin durant is a beast better than kobe, lebron, and dwayne. Yao ming was just tall Kevin Durant is a BEAST enough SAID. Kevin durant best player ever
He should have been at the top 5.. An awesome player, just love him
Kevin Durant is the 6 best player in the league. How do they have Lebron James better than Durant when stats prove that Durant scores more Lebron is a chuck and might be BETTER than Kevin Durant when he die god FOR BID
He is in movies like thunderstruck in the hall of game awards russel westbrook and kevin Durant didn't win but they should of. I Think he should be voted number four.
This guy is the real deal. His talents together with his work-ethic put him on another level. Probably just the rings are needed now for his ascension into the top5. Largely underrated defender.
Great player, he dominates, he dunks, he shoots and scores, but I just feel saddened that he left the thunder and that's just my opinion, so you can hate this comment all you want, I just think that Russel is a little heartbroken and I can see why.
I think he deserves a better rank. After breaking an ankle when he was still recovering averaging 27 points a game. Durant is unstoppable when he is not hurt. I look up to Kevin durant. He is just all around beast mode
He is just the best he can score anywhere on anybody
Probably the best pure scorer in the NBA right now
Kevin by the end of his career will be in top 10 I think! He's got just as much potential as derrik rose that's for sure. I can't wait to see his game get better than what it is. To me he's really low on this list!
This obviously is some random blogger who doesn't watch the NBA, kevin durant is better than Lebron if were going of consistancey and team work.
! Kevin Durant is THE player. I love humans I'm a girl that knows almost nothing about basketball other than some rules, players, and Kevin Durant
Your stupid LeBron is better than kevin Durant and everybody knows that kevin does not score more points than LeBron, lebron is the best in the league and I don't have any words about kobe
The most versatile scorer of all time with his freakish length, shooting ability and athleticism. Never been someone at his size that can put the ball in the bucket from anywhere on the floor as easily as him. - decorulez97
Kevin durant can do anything he just has to put is mind on it and before you know it he is going to be leading his team to finals and then to the championship
KEVIN DURANT may not be first or second but third
KD is a phenom. I've watched him a lot live and on T.V. and he can do everything and is the go to guy for a must-have last second shot. Hd is definitely a top 10
He is a brilliant player and person. He is a much better scorer than LeBron and there for he should at least in the top ten
He' my favorite player and he is amazing. He's a good shooter and he's a really good player all around. Think he's the best player to ever play the game of basketball, that's my opinion
KD is the future of the game, his shooing game is unparalleled. He is going to become the franchise and be known as on of the greatest to have ever played.
Kevin Durant is definitely going to be the best but... He's not there yet. He should have grabbed that MVP.
When his career is over, he will be top 5, behind only wilt oscar larry and magic in order. He might achieve higher. Maybe kareem will be better, but I think he'll be #5 behind those 4
He is the best player of the decade! He out scores Lebron and Kobe and still is always 2nd. His quote I'm tired of being second
Related Lists
Best Kevin Rudolf Songs
Top Ten Kevin Spacey Movies
Best Kevin Costner Movies
Best Kevin Bacon Movies

Top 10 People Named Kevin