Top 10 Best Skateboard Truck Brands
Here's a list of the best skateboard truck brands. Trucks can be expensive, and picking out the right set of skate trucks can seem tough. But, if you get a pair of trucks off of this list, you should be good. There are other brands that are good quality too, but each of these brands has something that helps it to really stand out.

The Top Ten

1 Independent Trucks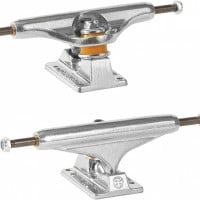 I've ridden every type of truck because I personally believe they affect your tricks more than the board does. Ten years ago, it was Venture. Five years ago, it was Thunder, and I mean everyone rode Thunder. I think that made Independent step it up, because now they are the best again. Just look in the magazines and videos. Everyone, regardless of sponsorship, is riding Indy Stage 11.

They're light, responsive, and offer great stability, which I feel is the most important factor. When you're flipping a stair set or grinding a rail, you want that stability to stomp your tricks, and Independent has that. Only true skaters ride Independent. Like their motto says, "Forget the rest, ride the best."
Independent trucks are a necessity if you want to be a real skater. They react and respond quickly, making your grinds smooth so you can execute them perfectly every time. They also come with extremely nice bushings, so you never have to replace them.

I've been skating for over 20 years and can do hundreds of tricks. The thing is, I can only perform them with these trucks. When I skate with other trucks, I can't do all the things I can do with my regular board that has these Independent trucks. They are by far the best trucks ever.
2
Thunder Trucks
I remember two years ago when I got my first Thunders (Senora 147 hi). I still skate them to this day. Before Thunders, I had skated everything from Tensors to Independents, Ventures, and Theeves, and none of them compare to my Thunders. Thunders are not only super light but also incredibly durable. They make the roughest curbs grind like butter, and they turn amazingly well! I bet that pretty much every person who says, "Thunders suck. Indys are better," or "Thunders aren't even that good at turning," hasn't even seen a pair of Thunders in their life. Thunders are the best truck out there by far, and I'd recommend them to any skater who's looking to try something new or doesn't know what kind of truck to skate. Skate Thunders for life!
I have no clue why Thunder is number two right now. They're the longest-lasting pair of trucks that I've ever skated, having skated numerous pairs of trucks before, including Independent, Venture, Theeve, Royal, and Destructo. They grind amazingly, they're super light, and they're really cheap. But don't let that turn you off. They're the best in quality and best in price. Thunder just cannot be beat.
3
Tensor Trucks
My Tensor Magnesiums have been great for many years now. I did once break a pair after riding them for about 3 or 4 years, and Tensor replaced them with a new pair for free. They do come with a lifetime warranty against breakage, and they honor that. That alone is a good reason to ride them.

Plus, they are nice and light and grind well. The only problem I have now is that after riding the new pair for about 4 years, the front truck keeps slipping slightly in its bushing. I have to twist it to the right often after doing tricks, and you can feel it click slightly. If I don't, my board curves to the left. However, the baseplate doesn't move, so it is the truck in its bushing.

Other than that, they have been awesome and I have had no problem with lack of strength. As I said, the pair that did eventually break were replaced for free. I might consider trying some Thunders next, but it's a tough choice as my Tensor Mags have served me well.
4
Venture
Venture trucks are probably the best trucks I've ever skated. I mean, all trucks turn because that's what they're made for, but Ventures are really good for grinding and are lightweight compared to other trucks. They are also moderately priced and affordable. So the next time you're looking for a pair of trucks, buy Ventures.
Ventures are my favorite because of the way they feel. They have some lighter trucks, but I tend to sacrifice weight for strength. I have always skated Ventures and always will. I have nothing against the other brands, but these are my favorite.
I've been riding Venture trucks for a whole year now and they have never failed me. They are much lighter than Thunder trucks, have a very smooth grind, and never fall apart if you loosen them, unlike Thunder trucks.
5
Krux Trucks
I've been skating for 20 years and have tried many brands before discovering Krux. After my first pair, I never wanted to skate with any other brand again. Krux trucks are light, strong, and offer the best bushings you'll find. Brand-new Krux trucks skate as if they're already broken in, and they turn great. I have no complaints whatsoever. I've been riding Krux trucks for a solid 12 years now. I did branch out and try Silvers once after falling in love with Krux, but I went back to Krux after a few months because Silvers' bushings were terrible. Independent trucks are heavy, and their kingpin is too close to the hanger. Many brands have the same kingpin issue, but not Krux!
Stop and read this. Krux trucks are literally the greatest trucks in skateboarding. I skated with Thunders for two years and then finally got a pair of Krux. When comparing them in terms of grinding, Krux completely outperformed Thunders. Krux trucks grind as if on a perfectly waxed ledge, while Thunders tend to stick. Krux trucks come with broken-in bushings, eliminating the hassle of breaking in new trucks. They are also the lightest trucks on the market, and their hole can even be used as a bottle opener.
6
Royal
I'm a sponsored skateboarder, and I'm sponsored by Royal Truck Company. You guys probably think it's weird that I'm writing on here. But I wanted to let all you skaters out there know that these trucks are undoubtedly the best trucks you can ride. I'm not just saying that because I'm sponsored by them. If you want to do some serious grinding, you've found the right truck.

Keep shredding out there! Peace!
I've been riding Royal trucks for years now. I have to say, they're great trucks. They're strong, light, turn well, and are very durable. Personally, I think they deserve more recognition. For me, they're well worth buying for the price they're sold at.
These are the best trucks I've ever ridden! They're ultra-light and easy to ride. I love them, and they are tight.

They're soft when popping hard tricks and large sets, so I would recommend them to any skater.
7
Theeve Trucks
My 9-year-old son got his first skateboard two years ago. It had Independent Trucks Stage 10, and they have proven to be great trucks. Nonetheless, we wanted to try something new for his second board, so we got it with Theeve TiKING V3 trucks.

It's hard to say if it's because of the trucks, but he has made some major improvements ever since he started riding Theeve trucks. They seem to be more stable during landings while also turning extremely well.

So, in our opinion, Indys are great, but Theeve seems to be even better. For his next board, we'll try the TiH V2 trucks that will hopefully come out this summer.
I love Theeve trucks. I used to only ride Krux, but when my board size started to get bigger, I had to pick another brand because, at the time, Krux only made smaller trucks. I've been riding them for 3 years now, and I love them so much. I'm patiently waiting for the Ti King V3's to drop. I like the Ti Kings the most because they are light, but not crazy light like the Ti H's. I've managed to convert most of the dudes I skate with to try them out, and they end up loving them. THEEVE FOR LIFE!
8
GrindKing Trucks
Grind Kings are the best and lightest trucks. I've skated Indys, Thunder, and even Ventures, but none compare to my Grind Kings. They are so light with an unbreakable kingpin. I also recommend Theeves and Thunders.
I've had my Grindkings for almost two years, and if I keep new bushings in them whenever they wear out, they still skate like day one. Other than the bushings, the trucks skate amazingly.
I've had my Grind King trucks since 1994, and they still work great.
9
Silver Trucks
Silver Trucks are by far the best trucks I've ever skated. I just love how they turn and they've lasted me for a long time. Silver Trucks are very light and durable. If you're thinking about getting Silver Trucks, I would recommend the Silver M-Class Hollows because they turn well, they are durable, and they are super light. Go for Silver Trucks!
I've had Silvers before. They lasted me through two totally shredded skateboards and I enjoyed them. Overall, they were in a class of their own for all I know. They were super light and I loved them!
I have these trucks on my Zero. They've lasted a lot longer than Indys. I broke the Indys on the third grind, whereas my Silvers have lasted quite a while. They have good graphics too. They're lightweight, unlike Indy, and they've got great bushings.
10
Ace
Indy lovers should try ACE. The turning radius is much better, they grind super smooth, and they're lighter. ACE was also designed by one of the Indy makers, if I'm not mistaken. You've got to try new stuff because ACE is worth trying!
Absolutely love my Ace trucks. I own them in sizes 33, 44, and 66, and they are perfect for my riding style. I find they grind super smoothly, and for a non-hollow truck, they are pretty light. Definitely worth giving a try.
Ace trucks are similar to Patent 5 Independents but are slightly lighter. They are very responsive. I would definitely recommend Aces if you skate bowls. They also seem to be gaining popularity.
The Contenders
11 Paris Trucks Co
12
Destructo Trucks
I rode Independent trucks for a long time, but when I switched to Destructo, I was pleasantly surprised. I've never gotten stuck on the kingpin while grinding. The trucks are light and durable. I don't know why people don't like them. They offer smooth grinds, light trucks, and a lifetime warranty. Perhaps it's because they moved production to China. I'm not sure. My trucks are original and made in the USA. The baseplate on the new trucks made in China is different, and they are no longer marked as made in the USA.

Maybe that's the reason - Chinese production. But I don't get it. A lot of skateboard decks have also moved production to China. For example, ZERO boards are now made in China and designed in California, as indicated on the board itself. I think it's a bad move, motivated only by the owners' greed.
Destructo trucks are often outshined by trucks like Independent or Thunder, but they are really good. Turning is great, grinding is smooth, and durability is amazing. Even if they break, the company will send you a free pair. However, the trucks have extremely hard bushings, so you should replace them. I replaced mine with Bones bushings, but Independent bushings work just fine too.
13 CCS Trucks
14
Mini Logo
They're the only trucks I use. Love them. Everyone in my family owns two sets.
Great price, great grind, great feel. Just great.
Supposedly durable trucks at a great price.
15
Iron
At least better than Thunders.
Best truck ever.
16
Phantom Trucks
Phantom trucks should be at the top because they are light and can be both low and high at once!
Awesome trucks turn well, grind well, and are very light and durable. They also have awesome graphics.
17
Orion
I love my Orions. I ride the low 140's, usually with 52mm wheels, and I love the way my board feels. They are a little hard to find. I have to buy them online, but I can get them through Skate Gonzo DNA, which saves me on shipping. I like the bushings, and if you get the Superiors, the base plate is hollowed out.
These are the best trucks in the world. I've had mine forever. Also, if you're a fan of Revive Skateboards, you need to check out the new decks that we're coming out with soon.
Orions are pretty good, but they don't come with really good bushings. They grind pretty well, and Andrew Shrock skates them, so I guess they're cool.
18
Anchor
I've been skating for 30 years. I bought an Anchor complete as a cheap hack for holidays. They're not Thunders, but they're actually pretty lightweight, grind nicely, and have withstood 5-step tricks.
Really nice trucks. I think Anchor should be on the top. I love these trucks!
These are rad grinding machines!
19
Slant
I have had them for a couple of weeks now, and all I can say is they're amazing. They perform at a professional level and are the best I've ever had.
Great for people who are just starting out. They're cheap, well-made, and provide a very pleasant experience. Go get them.
No doubt, these are the best trucks on the list.
20
Tracker Trucks
I have the classic Tracker B2's 153. They're slightly lower and lighter than my Indies, and I think they're awesome. They have nice bushings and turn really well. They grind perfectly in bowls and vert, and you feel in total control of them most of the time.
I have no experience with new Trackers, but "old school" Tracker Trucks and Indys were the bomb!
Tracker Darts are built well and turn really well!
21
Crail
Really nice trucks. They turn well, are well built, and last a lifetime. They also come in a lot of sizes and colors.
Quality and value!
22
Ruckus
Top-notch. I've had these for about 4-5 years and they're still going strong. I had two pairs of Indys before them, and they are similar: not too light and not too heavy. They grind well and are a bit cheaper than the rest. Good stuff.
I've had mine for about four years before I had to switch them out. These are some rad trucks!
I've had mine for 3 years and they are still in good condition!
23
Element
I haven't skated in like 10 years, but I remember back in the day, Element was really good. I guess I've been out of the game too long.
24
Positiv
Positive Skateboard trucks are gloss-painted, cast aluminum with a carbon steel axle and kingpin. High-rebound polyurethane cushions make turning easy.
The best quality for the price. It came with the Positive complete, and it is amazing.
25
Hornet
Nice, long-lasting.
Not too damn bad.
PSearch List