Top 10 Kamal Hassan Tamil Movies
The Top Ten
1
Nayagan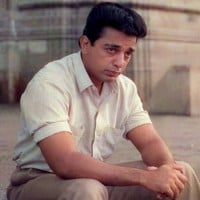 Shows the real effort an actor should take. Kamal hassan awesomely handled all the scenes. This all hits made him the evergreen most best largest greatest MEGASTAR ever. Any Indian who wouldn't have seen these please watch and see the greatness of Indian film industry
Kamal haasan acting is just pure. Nayagan is the best with best direction as well as acting. All hail the king kamal haasan.
Nayakan...what an awesome movie! Love it! Thank you kamal haasan sir for presenting the best movie for a 13 year old fan... I am thankful and grateful to you...Present more movies like nayakan
One of Evergreen Film in Film Industry.. Kamal Acting is purely best in this film... Janaraj, Delhi Ganesh, Saranya Acting is also good...
2
Indian

Good Action by kamal.
Nice story which created public awarness about bribe.
A great patriotic film.
All songs were hit.
Music great hit.
Nice cinematography.
Kamal double action role Awesome.
Expecting Kamal to join with Shankar again to give a block buster hit.
This is my favorite movies of Kamal Hasan. This is one of the best movies of him. The concept of the movie is very good. He is one of my favorite actor of Hindi & Tamil Cinema. Whenever I want to watch Tamil Hd Movies, I watch on Vodafone play app.
We thought no one will be like nadigar thilagam sivaji
But kamal.

U are great.

I will give full mark to indian movie.
Against of corruption and amazing acting
3
Vishwaroopam / Vishwaroop

Such a great movie that matches with Hollywood. Its definitely different from the same old usual Indian movies, and has taken the entire range of Indian Movies to a whole new level. Its just an amazing piece of work, that should be appreciated and supported to the maximum by us, Indians.
This movie is a specimen, new upcoming actors should use it as a bible for acting. Kamala hasan has proved what acting is in this movie. Hats off to the legend
He is JUST AMAZING! Excellent rendering of a very sensitive and thought-provoking subject matter- and only Kamal can do true justice to it!
I feel like getting married by my master's (kamal sir) daughter, shruti hasan
4
Apoorva Sagodharargal

Super acting one and only in Tamil cinema
Very good movie kamalhassan taken very risk in appu role cute songs in movie
Best movie in Tamil cinema
Best movie of kamal hassan
5
Michael Madana Kama Rajan

Who can even dream/imagine of such a wonderful acting. You just can not believe that a single man express such a different expressions. Tau of acting!
One of the best acting performances of all time
Intha movie lam yappadi sir select panrika brilliant sir
6
Salangai Oli

All time classic in india film history
This should be the no 2 of kamal movie number 1 is nayagan
Best ever from Kamal
Best movie I ever seen
7
Kuruthipunal

Would you believe if I told you this was a remake! Yes, it was a rare-remake that put the original to shame!
Beautiful screenplay and one of best movies of kamal hassan, Arjun did well too.
A police officers to die for our nations.
Best thing is this greatness.
He is the legend, nobody can beat him.
8
Panchathantiram

This movie was the most favourite cult comedy at that time
Kamal hassan super comedy movie
Wonderful comedy humor film
Acting la matum than king iruntha comedy yulakum yenga than king
9
Thevar Magan

Thevar Magan is Kamal's best movie. He showed an amazing transformation from a motivated NRI entreprenuer to the head of a village's feudal family, reminiscent of Al Pacino's performance in Godfather series, but a lot different. Kamal's acting prowess comes in full circle on the scenes when he confronts his mentor Sivaji Ganesan on screen. It could have been number 1.
This one movie not compared for any Indian films. The best story and screenplay. Kamal is definitely win oscar
Devar Magan is a Mile stone in Kamal's movies. The film got six National Awards and nominated for the Oscar by the Indian Gov. It must be in number 1
Kamal exposed excellent acting in this film being he is Brahmin he acted like thevar excellently
10
Moondram Pirai

The scene when he limps to catch the train is sure to moist your eyes.
Never before never after
Superb climax scene in Sadma movie
This Kind Of Actor Ever Seen In The Film Industry His Madness Of Acting Makes Everyone Silent Cry Happy Love. He Is A Legend Were He Stands No1 Who Won The Higest National Awards In India.
The Contenders
11
Aalavandhan

The 5 minute sequence when Nandu is from Jail & the retro Rail Gaadi song & cartoon fight! Wow! Second to none!
An excellent experimental flick in Tamil cinema
The best of kamal...
Love you the
12
Dasavatharam

Only Kamal Hassan can portray all 10 roles flawlessly, as a audience I liked his part a Bengali babu, very humorous & exactly how Bengali officials work.
Amazing 10 different roles
To link the 12th Bhakthi Movement to the 21st Century Bio Weapons Manufacturing can only be possible by a genius,needless to say that the genius was kamal haasan
Blockbuster film
13
Guna

Acting is very very fine
True love of world
Kamalj only do this
14
Anbe Sivam

Awesome movie!
What a story

I didn't see any films like this...

Awesome... This film is close to my heart
Very nice movie by kamal hassan. He go state award for screen writer, producer and acter for this movie
Excellent acting. He is the only man who can do this in indian hystory I believe.
Best Movie Of Kamal Hassan and One of the best movie in Tamil
15
16 Vayathinile

Mind blowing acting, only he could act so...! My darling kamal
16
Hey Ram

Kamal hassan and sharukhan are friends with two different religions
Muslim and hindu
Gandhi make peace and relationship of two religions...
Best ever movie from India...
The best movie of its time!
I would personally prefer number 1 for this movie and no 2 for anbe sivam.Anyone who had understanded the core of these two films will say this. nayagan and so movies are great but not so great as these movies.Kamal the only one courage enough to do such a movie.
17
Unnaipol Oruvan

Super acting and wonderful dialogue
18
Mahanadhi

One of kamal movies with the finest of his performance.
Such a nice performance of kamal hassan
19
Virumaandi

I have watched this movie more than 100 times... nice 1 from kamal
This should be in Top 5 list... Underrated One... Epic...
One of the best movie in Tamil cinema
Virumandy is terrer cinima I like that
20
Vettaiyaadu Vilaiyaadu

The best detective psycho thriller I have ever seen!
Daniel balaji(amuthan) terrific villain and kamal hasan(raghavan) a real and intelligent police officer.best director gautham vasudev menon
IT WAS THE FIRST TIME I GOT AN GOOD OPINION ON KAMAL SIR AND POLICE. HIS COMEDY MOVIES WITH CRAZY MOHAN SIR I LIKE WAS VASOOL RAJA MBBS, PANCHATANTIRAM AND Michael MADANA KAMA RAJAN.
21
Sippikkul Muthu

It was the first film that I decided to put him in Sivaji league.
22
Avvaishanmuki
Superb, extra credit for make up
23
Pesum Padam (Pushpak)

Just watch this movie and you'll keep kamal's acting before rowan atkinson's, Mr. Bean.
24
Punnagai Mannan

25
Vishwaroopam
Unexpected hit of the year and wonderful stunt and extraordinary film making.
PSearch List