Top 10 Best Tamil Actors
When it comes to Tamil cinema, there is no shortage of talented actors. From their impeccable acting skills to their on-screen charisma, these actors have become household names and have contributed immensely to the growth and success of Tamil cinema.

The Top Ten

1 Vijay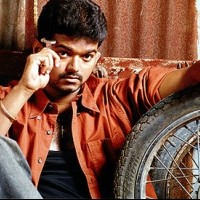 Vijay is celebrated for his versatility in a career spanning over three decades. Known for his impeccable comic timing as well as the emotional depth he brings to his roles, he has become one of Tamil cinema's most bankable stars. Vijay has the unique ability to elevate even a simple scene through his nuanced performance, capturing the essence of every character he portrays. His box office success, combined with critical acclaim for films like "Thuppakki" and "Mersal," secures his position as one of the industry's leading actors.
Vijay is the mass! He went through a struggle, but oh well - every actor goes through it at one point in their careers as an actor (e.g., Ajith, Vikram, and Surya). "Velayudham" is going to be a hit, "Nanban" BLOCKBUSTER, and Vijay's film with Gautham Menon is going to be MASS.
Vijay, the one and only result-oriented hero, is the mass hero in the Tamil film industry, next to our ever superstar Thalaivar Rajnikanth.
Vijay is the best in everything. No one can beat him in anything. Surely he is the next superstar. Every hero should learn dance from him, not only dance but everything. This is just my personal view.

I request other actors' fans, especially Ajith fans, not to fight with Vijay or any other actor's fans. Every actor is the best in their own styles, so don't comment on other actors. Please. I like Ajith too, and also all the other actors. But my first priority is Vijay.
Vijay Anna is the one and only Tamil actor to occupy the post of the next superstar, and he is truly loved by the masses all over South India. While many people give him the title of superstar, he humbly says he doesn't want it. He is a genuinely kind-hearted person, a good human being, and many, including myself, consider Vijay as a role model. I wish him all the best in attaining the position of superstar. This is the wish of the South Indian Vijay fans club. Anna, please accept it for us.
2
Ajith Kumar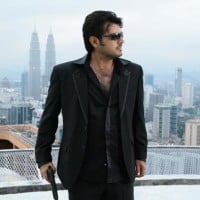 Renowned for his effortless portrayal of complex characters, Ajith Kumar has an enigmatic screen presence that captivates audiences. He has received numerous awards and accolades, showcasing his talent in genres ranging from romance to action to drama. Films like "Vaali," "Mugavaree," and "Villain" showcase his versatility and the ability to delve deeply into his characters. He also enjoys a massive fan following, which speaks volumes about his impact in the Tamil film industry.
A man without any publicity or show-off like other heroes next to Rajnikanth! He came to the industry without anybody's help!
A real-life hero, a man of discipline, a role model for most of the young blood, one of the finest performers on screen, a man with loads of willpower, a never-say-no-hearted human, known for his huge openings, a humble soul who knows how to respect other humans irrespective of their social status, a simple common man, outspoken and multi-talented. He is the only Indian actor to hold a pilot license, a great cook, an F3 racer, an aeromodeller, and a professional photographer. He is a man loved by everyone on sets, a man with zero ego and attitude, a successful hero with no backup from family members, and a mechanic to start with. He is a man who does loads of help with no publicity, one of the best-looking Asian actors on Blazers, and the only actor to look good with grey hair. He is the actor who gained fans even among other actors after Rajni, and he is the only actor to dissolve the fan club without losing a single fan. He has never lost his fans till date, even during the worst ...more
Ajith can dance well, but he had a major problem in his back. If no problem had occurred, then in the field of dance, he would also be one of the best in the Tamil film industry. Even though he has faced many problems with his physical body, he gives his best in the films without showing any signs of risk. Until now, actor Ajith hasn't described his problem anywhere. I think this shows his self-confidence and simplicity. People with such personalities are rare in this world. Proud to be fans of our Thala.
Amazing screen presence, solid acting, better antagonist. Very stylish, equal to a Hollywood look, confident actor who has a tendency to share screen space with others.

He is a real-life hero generally, always standing on his principles. A much-inspiring gentleman. He has strong belief in communism and has a habit of giving his hands to those who are in need without expecting any returns.

He is a better antagonist in reel life, which makes many amazed to see his transition to that kind of role.

Studied up to 10th grade, I guess, and speaks many languages fluently. He has interests in automobiles and on his own has made a few small-sized helicopters, flights, etc. He is the only actor to have a pilot's license. He is a Formula 1 racer too.

Very fluent in loving and caring for people, purely a self-made man.

He always restricts himself as an entertainer and will not use his stardom to ruin his fans' time. Apart from doing a single film in a year, he ...more
3
Suriya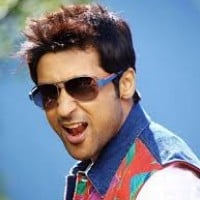 Known professionally as Suriya, his skills lie in his chameleon-like ability to adapt to diverse roles across various genres. He has received several awards for films like "Vaaranam Aayiram" and "Kaakha Kaakha," where he showcased not just leading-man charisma but also deep emotional vulnerability. A critical and commercial darling, Suriya also focuses on socially relevant films, making him a distinct figure in Tamil cinema. His varied filmography and the respect he commands from critics and audiences alike testify to his acting prowess.
He is a really hardworking person, and he looks like a hero, I would say. He has a good face to accommodate all the characters. He has a good enough attitude to listen to seniors. For sure, he will become a good hero in South India.
He's one of the precious gems that can be found. Surya is a truly versatile and handsome actor. Why has he not been given a title yet? I would suggest Six Pack Nayagan.
A hardworking person who chooses the best movie that suits them and entertains the viewers.
No words to express how talented he is. He acts well, he looks good, and he's a versatile actor too. Apart from being a good actor, he's a good human being too. He is one of the actors who are successful because of their pure talent and not because of a huge fanbase. The success of a film doesn't ever confirm the talent of the artist. At the same time, if a movie flops, it doesn't mean the artist is untalented. We're living in a society and era where the best actor and movie are judged by how big the fanbase it/he/she has. Not by pure talent. Sadly, Suriya is a wonderful and talented actor, and yet he's not addressed as the best because of his smaller but faithful fanbase compared to other actors. Suriya sir is Nadippin Nayakan for a reason.
4
Rajinikanth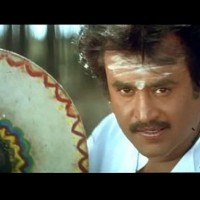 A living legend in Indian cinema, Rajinikanth's larger-than-life on-screen presence is unmatched. Beyond his iconic style and dialogues, his acting skills in emotionally charged roles, such as in the film "Mullum Malarum," have been universally praised. He has received multiple awards during his illustrious career and is regarded as one of the most influential actors in the history of Indian cinema. Rajinikanth's sheer magnetism and indelible impact on the film industry make him an unparalleled figure in Tamil cinema.
Rajnikanth should be placed on top of the tree. What did Vijay do in the film industry other than copying styles of various artistes? The only thing he does to perfection is dance. Is that the criteria you chose to select your number one in Tamil Cinema? Kamal at number 5! It's so sad that you people have forgotten the definition of an actor. And the Everest of Indian cinema placed at number 4! What a shame that you guys have voted this crap called Joseph Vijay as number 1 in Tamil cinema.
Padayappa, Chandramugi, Sivaji, Enthiran - these are record-breaking blockbuster movies! Who can break it except Superstar RAJNI?
Rajinikanth deserves to be on top. The tremendous practice and hard work he had done in the early days of his career may not be known to everyone. One can definitely say that the amount of talent present in him is more than the sum of the talents present in all the actors like Kamal, Vijay, Surya, etc. One can feel this by watching his earlier movies where his acting is definitely on par with giant actors like Sivaji, Kamal, etc. He has done many serious roles in his earlier movies like Mullum Malarum, 6-60, etc. When we watch all of his movies, we will see that the styles of the present-day actors like Vijay, Ajith, Surya have their domain in Rajini! Above all, in spite of all his fame and stardom, which is now at the world level, his simplicity and humbleness make him great forever. The way he balances his spirituality and his stardom must be contemplated before comparing him with actors like Vijay, Ajith, etc. Finally, I would say that Rajinikanth is definitely an exceptional ...more
No one can beat him. He always rocks. He's a good actor also. So my choice is Rajini.
5
Kamal Haasan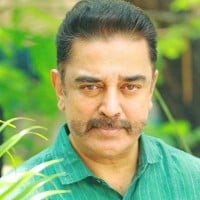 A multi-faceted talent, Kamal Haasan is not just an actor but also a director, producer, and writer. His roles in films like "Nayagan," "Indian," and "Hey Ram" are considered masterclasses in acting. He has garnered numerous awards throughout his career, including several National Film Awards. The depth and breadth of his performances, along with his continuous contributions to Indian cinema, set him apart as one of the greatest actors in the Tamil film industry.
He is definitely one of the world's best actors, comparable with Marlon Brando, Jim Carrey, Harrison Ford, and Mel Gibson. Also, he is one of the best directors of the world and a top-class filmmaker in all respects. You can nowhere catch a man like him, acting for 54 years and still with top position and large followers, a multifaceted actor, given blockbusters in all 5 languages he acted. Highest number of Filmfare awards and many national awards, and highest number of films represented for Oscar entry from India. Actor, Director, Producer, Script and screenplay writer, choreographer, playback singer, lyricist, and many more.
Hi everybody, Please don't compare the legendary versatile actor with kids like Vijay. We have some dignity with whom we compare. Please!

All is well, focusing only on the business for earning money. They want any one guy who is currently familiar to run the business.

Previously Mr. Rajinikanth, (But he came with many hurdles, so we should concern & respect him), Now the blank place is for trying to nominate by force.
Vijay, Ajith, Rajni may top the list because of them being the most liked, but when it comes to acting, none can deny that Kamal Haasan, a man born for Srinivasan and Rajalakshmi, had sculptured himself into an ideal for acting. After watching his acting, direction, screenplay, production, etc., no one can dare to deny the fact that he is the best of all actors in India from all times. Studying just 10th grade, he is now a man of great knowledge, wisdom, public service, helping tendency, and acting. I personally consider him as one of the definitions of Tamil cinema. My role model.
He's the best actor. Most versatile. He should be first on this list. Many directors say to new actors, Watch Kamal films and learn how to act, because he truly is a master of the art. An actor, director, singer, classical dancer, choreographer, and producer, he's really talented.
6
Sivaji Ganesan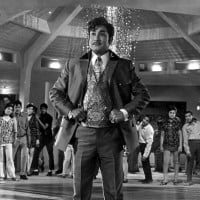 A doyen of Tamil cinema, Sivaji Ganesan was known for his powerful dialog delivery and stage-trained acting. He excelled in historical dramas like "Veerapandiya Kattabomman" and social-themed movies like "Pasamalar," showcasing his wide-ranging talent. Over his six-decade-long career, he was honored with numerous awards, including the coveted Dadasaheb Phalke Award. His monumental contributions to Tamil cinema and acting have left an indelible legacy.
Of course, Sivaji is an actor par excellence. It is actually an honor only for all awards to reach him rather than for him to acquire awards. He is the first Indian to have acquired an International Award in the movie "Veera Pandia Kattabomman," and probably the first to have been praised as far better by Marlon Brando, a 3-time Oscar Award winner, himself in the United States. He confessed Sivaji could act like him but not him like Sivaji. That's the greatest accolade for India for having given birth to an extraordinary son with unmatched exceptional quality of acting talent.
The only reason he is down in this 8th position is because of the generation gap. Obviously, he must be the one in first place. Most people of this generation only cherish the new movies that come up and the actors at this phase of the timeline. A good cinema lover must walk through all the good movies irrespective of the period to which they belonged. Sivaji sir is irreplaceable. - Gayathri. S. Sundareshwar
Even in small characters, he performs well. He does not bother about public images. If any role is given, he does his best. His full thought is to perform in any role of acting. He is the best and a super performer.
The worst actor of Tamil cinema. Overacting fellow. He became popular only because he came to act at the beginning of Tamil cinema. And by chance, he got good films by good directors.

M.G.R. had limited acting and incredible style.
7
Dhanush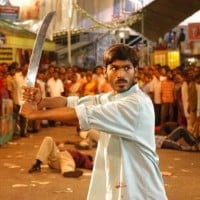 Dhanush has carved a niche for himself with his naturalistic acting and the ability to excel in both rural and urban roles. Not only is he well-regarded in Tamil cinema, but he also received international acclaim for his performance in the film "The Extraordinary Journey of the Fakir." With several awards under his belt, including National Film Awards, he continues to choose projects that showcase his wide-ranging talents. His achievements in both commercial and independent cinema establish him as one of the best actors in Tamil film.
Dhanush is the future superstar. He has the talent, and he is the son-in-law of a superstar. He will rock forever. He has won a national award.
He is simply one of the best actors! When he acts, it seems so real. He is extremely talented and never shows off, as opposed to some other actors who are untalented and arrogant (Simbhu for example). Dhanush is funny, can move swiftly, can sing, can act like it's real life. He is one of the most versatile actors. I believe he will continue to rise for a long time!
He's the embodiment of simplicity and talent in the younger generation compared to other young stars.
Dhanush is the future of the Tamil film industry. He's like a chameleon. He can do almost any role, from a photographer to an engineer. He is the only actor who can truly act accordingly. He takes his role seriously and tries to relate with his character. He is the only actor who can act, in my opinion.
8
Vikram Kennedy
Known professionally as Vikram, he is lauded for his commitment to method acting and his uncanny ability to transform himself for various roles. His performances in films such as "Anniyan" and "I" have received critical acclaim for their intensity and complexity. Vikram has earned multiple awards, including the prestigious National Film Award, reinforcing his reputation as a powerhouse of talent. His dedication to the craft and ability to immerse himself in diverse roles make him a standout actor in Tamil cinema.
He is the best actor in the Tamil film industry. There's no replacement for this actor. He is a very hard worker, creating new ways of acting in the current film industry. His reality acting in action movies and any character is beautifully executed.
I'm African (Nigeria), yes we do watch Indian movies a lot, and if someone raises the question of who is the best actor in Tamil cinema, the answer always lies beneath his feet. (VIKRAM) is not only the best in Kollywood.

Bollywood and Tollywood have no one like Vikram in terms of acting skills. I'm saying this honestly because VIKRAM, he is not even my favorite actor in all Indian cinema.
Why are people like Ajith and Vijay even at the top? They don't even act. The only reason they're so popular is that they act in those stupid movies with cool stunts and music. Like they don't even do those stunts either. They're done by doubles. This generation is spiraling downward. Honestly, Vikram is probably THE best actor in the Tamil film industry (apart from Kamal maybe). He's acted in so many different roles and pulled them all off flawlessly.
He is really a mass hero in the Tamil industry. His dedication and hard work prove that he is the best of all actors. Different thinking, different characters in each film set him in a high position and make him the role model for all new actors. I agree with the following points: "He is really versatile among the lot in terms of performance."
9
Silambarasan Rajendar
Often referred to as Simbu, Silambarasan Rajendar has earned a reputation for his knack for playing rebellious characters with flair and intensity. His on-screen chemistry with co-stars and the emotional depth he brings to his roles have often been the highlights of his films. He has ventured into various genres, earning praise and accolades for his performances in films like "Manmadhan" and "Vinnaithaandi Varuvaayaa." His unique style and willingness to take risks make him a compelling actor in Tamil cinema.
Versatile but not on track. Born actor. He is destined for bigger things, but he spoils himself. He has the most loyal fan base after Rajni and Ajith. Probably the most versatile after Kamalhassan. Many rate his abilities as an actor above or at least equal to the likes of Suriya, Dhanush. Having said all these, he has not reached the places his contemporaries like Dhanush have. That's a shame on him. Tamil cinema shouldn't let loose such great talent. Many don't like him, but many would agree with what I have said above.
One of the worst ever. Always arrogant, trying to show off even though he's talentless. Dhanush kicks his ass. Dhanush is more successful, more talented, seems to have a better personality, and has the woman of Simbhu's dreams.
The only Tamil actor you can never say is overacting, as he's been acting from a very young age. We've seen his style, his worst, and his talents. But his attitude must change.
Simbu is one of the most popular and leading actors in the Tamil industry. He is a multi-talented artist, and he plays several roles in cinema, covering dancing, singing his own songs, writing songs, delivering dialogues, specializing in albums, being a philanthropist, and playing the playboy to capture young girls' hearts. He is mass.
10
Karthi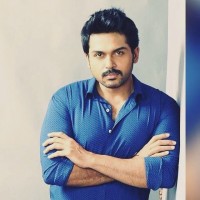 Karthi has been highly commended for his ability to shift effortlessly between commercial and content-driven cinema. He gained widespread acclaim for his role in the drama "Paruthiveeran," showcasing his flair for bringing authenticity to rural characters. He has demonstrated a broad range of acting skills across genres, including thrillers like "Kaithi" and romantic dramas like "Oopiri." The critical and commercial success he has achieved highlights him as a multifaceted talent in Tamil cinema.
He is known for his simplicity. Please do follow this, Karthik, even when you achieve greater heights in your life. I wish you a happy married life.
He is the real actor in Tamil. His actions are mind-blowing. What an actor! He is the most handsome star in Tamil. We love KARTHI. You are the hero.
He is a good-hearted person. He maintains good relationships with others. He won't hurt anyone while he talks. He is a good son to his parents.
He is a rocking star. He is a very simple man. I want to meet my hero Karthi. Please, fans, vote for him, and please Karthi, sir, act in many films to beat other heroes in Tamil. Kollywood is boring without your movies. I like Karthi so much.
The Contenders
11
Sivakarthikeyan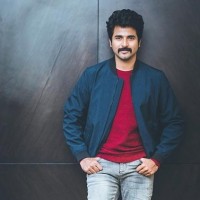 Sivakarthikeyan's rise to stardom is noteworthy for his skills in comedy and drama. With an innate ability to connect with the audience, he brings authenticity and warmth to his roles. Films like "Velaikkaran" and "Remo" showcase his versatility as an actor who can handle a variety of genres. His steadily growing career, coupled with a string of successful films, underscores his talent and audience appeal.
No words to tell about him. He is such a great, envious, lovely, cute, extraordinary, talented, handsome, pretty, childish, charming, nice talker, dream boy, etc. I think he is an inspiration to all the cinema actors, not only in Tamil but in all languages. He is a great gift from God to the cinema industry. He is going to break the great record in the cinema industry. He is the next superstar, not next. He is the superstar. There are more words to tell about Siva, but this is enough. And one more reason I like him is because he looks like my husband, who is my boyfriend.
I love him very much, so sweet and so cute. One of a comedian, hot, and sweet actor. There is no one like him. No one can lead him or act like him. He is an inspirational role model for all the lovely girls and youngsters. As this is my father's profile, but even I am a girl called Sara. If I am married or have a boyfriend, he should be like Sivakathikeyan. I love you very much.
I like Siva for so many reasons. Pray to God that all the good things with him, both 'inner and outer,' will continue forever. With honesty, I wish Siva all the best for his work, his wisdom of fellowship with others, for his family's well-being. Continue to have the spirit of work in unity. I know you are taking importance of life in unity with all. I like you the way you are. You are humble, even though you are great. Take care, Siva. Your friend, from Malaysia.
Sivakarthikeyan is a role model for the younger generation. A very simple man, down to earth, who can share love and happiness with all age groups is a miracle. All age groups love his acting. It's proof that he will be the next Super Star!
12
Arya
Arya has received recognition for his ability to excel in both romantic and action roles. Films like "Naan Kadavul" and "Madrasapattinam" underscore his ability to adapt to different genres and character demands. He has won numerous awards throughout his career, which testifies to his talent and versatility. Arya's magnetic screen presence and the acclaim he has received for his performances solidify his reputation as a gifted actor in the Tamil film industry.
His willingness, versatility, and the best honest personality, not just on screen but in real life.
I like Arya very much. He was a great star in India. He was really great. I like you so much.
Arya is so good and cute.
I love his eyes. He is such a darling. He tries different roles and different films.
13
Vijay Sethupathi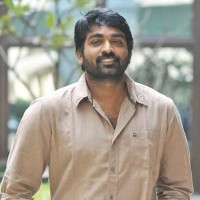 Vijay Sethupathi is lauded for his ability to excel in unconventional roles and challenging scripts. His work in films like "96" and "Super Deluxe" demonstrates his range as an actor and his ability to evoke deep emotions. Known for his subtle and nuanced performances, he has gained critical acclaim and numerous awards, including several for Best Actor. His adventurous choice of roles and natural acting skills position him as one of the leading talents in the industry.
He is simply superb in what he does, and he is the only actor in the world to say that he doesn't want his fans to follow or spend money for him, like posters for his movie, watching his movie on the first day with a struggle in their life. He also told all his fans to go learn and do their work, don't follow him. Follow your family and friends, and learn and earn money through hard work. Movies are just for entertainment. No one else says things like this. He is a man of casual and real goodness.
This rating is an utter waste with Vijay Sethupathi in 14th position. Great actor with very casual acting.

Makkal Selvan is better than Sivakarthikeyan, Silambarasan, or any other actor of today.

He has achieved great heights and is a result-oriented and crowd-pulling actor. His acting and screen presence are amazing.
Excellent find from the South film industry. I am pretty sure he'll find success in whatever he steps into. Very, very versatile. I am from Pune and I can follow a little Tamil, but I watch all his movies.
Good, interested to act in different characters in his movies, he shows good acting like reality. Good person in real life.
14
Ram Charan Teja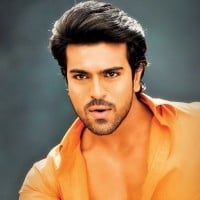 Though predominantly a Telugu actor, Ram Charan Teja has also made an impact in Tamil cinema with dubbed versions of his films. Known for his intense screen presence and action skills, he has received several awards for his performances in films like "Magadheera" and "Rangasthalam." His commercial success, coupled with a devoted fan following, extends his influence beyond the Telugu film industry. His ability to captivate audiences across linguistic barriers makes him a significant figure in South Indian cinema.
He is a very good dancer and actor. That's it.
He is a very decent actor and a very good dancer, and he will become a number 1 star in the Telugu industry.
Most talented hero.
He is the mass hero.
15
Jeeva
Jeeva (often spelled as Jiiva) has carved a niche for himself by choosing roles that are both diverse and challenging. His performances in films like "Raam" and "Ko" were highly praised for their emotional depth and subtlety. His ability to connect with the audience is evident in his commercial successes and the fan following he has garnered over the years. Jeeva's calculated career choices and the consistent quality of his performances mark him as one of the compelling actors in the Tamil industry.
Jeeva is the most handsome hero! He is good in acting. He is a positive thinker and a broad-minded person. I love his film Rowthiram very much, and it is a mass film.
Jeeva is the hottest person I have ever seen, and I love him no matter what people say. I like all your movies, and I will continue to support you. Hope your movie Yaan will be a blockbuster hit! I love you, JEEVA!
Jeeva has a lot of capacity. He looks like an over-smart person.
He looks more handsome and also has great acting, so I love him very much.
16
R. Madhavan
R. Madhavan has captured audiences' hearts with his charming on-screen persona and exceptional acting skills. His performances in movies like "Alaipayuthey" and "Minnale" have received critical acclaim, adding to his widespread popularity. Not restricted to Tamil cinema, Madhavan has successfully transitioned to Bollywood as well, proving his universal appeal. His charismatic performances, combined with a careful selection of versatile roles, affirm his standing as a skilled actor.
He is always the chocolate hero among women's hearts. Maddy always has good acting and is a versatile hero. I love to watch the Thambi movie because that film shows a good message to society. Finally, I would like to say, Come on, Maddy, please give more quality films.
His smile is appealing to everyone. His acting is natural. He deserves all the praise, applause, and fans.
Madhavan is one of the best and most hardworking actors in India. His film selection is superb, and he is very charming.
Could have been the next superstar with his good looks and acting, but he missed it.
17
Santhanam
Primarily known for his comedic roles, Santhanam has the unique talent of elevating a film with his humor and timing. He has since transitioned into lead roles, showing his versatility and range as an actor in films like "Dhilluku Dhuddu" and "Server Sundaram." His transition from a comedian to a leading man has been well-received, marking him as a multi-talented figure in Tamil cinema. The audience's affinity for his humor and his adaptability in different roles make him a cherished actor.
Santhanam's uncle is a very big comedian. I laugh like hell when I see his comedy. He is a very good comedian. I like him very much.
New generation's comedy king!
Comedian hero, bad choice.
Good commercial actor.
18
Mammootty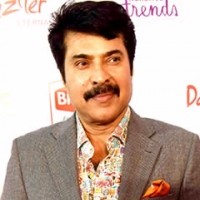 Although primarily a Malayalam cinema actor, Mammootty has left an indelible mark on Tamil cinema as well. Known for his commanding screen presence and versatility, he has been part of critically acclaimed Tamil films like "Thalapathi" and "Peranbu." He's a multiple award-winning actor, having bagged several prestigious honors, including National Film Awards. His performances across languages and his ability to portray complex characters make him a celebrated figure in South Indian cinema.
Complete actor of the world. Mega star of the world. Mega actor. Face of Indian Cinema. These are the titles given to this acting legend. Most versatile actor ever produced. His Tamil films like Thalapathy, Anandam, Makkal Atchi, Kandukonden Kandukonden, and his latest Peranbu show how versatile he is in the Tamil film industry.
Face of Indian film.
19
M. G. Ramachandran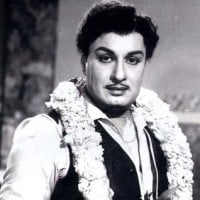 Known as MGR, he was not just an actor but also a cultural icon and politician in Tamil Nadu. Renowned for his roles in films that portrayed him as a hero of the masses, MGR had an extraordinary connection with his audience. Films like "Adimai Penn" and "Enga Veetu Pillai" became landmarks in Tamil cinema, largely due to his compelling performances. His enduring legacy in both cinema and politics confirms him as one of the most significant figures in Tamil history.
He should be in the number one position. If you don't believe me, you can go to whopopular.com and see who ranks first in India. Still, his movies, even after 40 years, are giving competition to all the heroes. The one and only "Box Office King" of Tamil cinema is MGR. It has been more than 30 years since he died, but no one can touch his stardom still in Tamil cinema. Moreover, he is a god for many people, including me, in Tamil Nadu. In my opinion, please don't compare him with any other heroes. Thank you.
One in a million. Par excellence! Genius! Master of silambam and martial arts. His films project human values, which are quintessential for life. Love his movies. Golden heart. Darling of the masses.
He is the first actor to become CM of Tamil Nadu (throughout the world). Again, he is the first person to win the election in India while he was admitted in America due to ill health.
He is number one. No one can touch him.
20
Jayam Ravi
Jayam Ravi has shown versatility by taking on a variety of roles, from action-packed characters to romantic leads. Noteworthy for his dedicated approach to acting, he has received acclaim for films like "Thani Oruvan" and "Peraanmai." He consistently chooses roles that allow him to stretch his acting abilities, proving his dedication to the craft. His wide-ranging repertoire and audience appeal make him a standout actor in Tamil cinema.
One of the best Tamil actors. His acting in each movie is speechless. Hats off to you, sir.
The most handsome person who can handle different genres of movies. His dancing skills are mind-blowing. Engeyum Kadhal, all-time favorite.
Superb Actor! A good, simple man. He should be in the top 10, no doubt! He is not the person to be ranked 18th.
He's cute, and he has the best body fit, which all the guys admire.
21
Vishal Krishna
Known professionally as Vishal, he has gained prominence through his performances in action-oriented roles. Not just an actor but also a producer, Vishal has made a mark with his command over commercial cinema, particularly in films like "Sandakozhi" and "Thimiru." His towering screen presence and knack for action sequences have garnered him a sizable following. His dexterity in balancing commercial success with critical recognition makes him a noteworthy talent in Tamil cinema.
His acting skills are superb, especially in the film Poojai. I love that one because it had full action and some comedy as well. His upcoming movie is Marudhu, so I wonder how that goes.
Great comeback by Pandiya Nadu film. He changed his total character. Directors Bala, Shankar, and Mani Ratnam appreciated his performance in the movie. Bala is also going to do a film for him, so in the future, he will become the best.
Vishal started off great with movies like Sandaikozhi and Thimiru, but the last couple of years, nothing from him. He better soon deliver a hit, or Jeeva is going to take over him.
He is the best actor and daredevil of Tamil cinema. I like him very much, and I am proud to be your fan.
22
Vadivelu
Vadivelu is a legendary figure in Tamil cinema, primarily renowned for his comedic roles. His unique style of humor, characterized by witty one-liners and exceptional timing, has made him an indispensable part of numerous blockbuster films. Vadivelu has also demonstrated his ability to handle serious roles with the same finesse, earning him several awards. His long-standing career and unique contribution to Tamil cinema through comedy elevate him as one of the industry's best actors.
Great comedian. He helps a lot to overcome stress. Want to see more of Vadivelu's jokes in future movies.
We are waiting to see him back again on screen.
He is the best comedian.
23
Bharath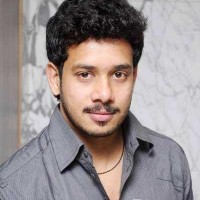 Bharath has gained recognition for his dedication to physically demanding roles and his knack for portraying emotional depth. Films like "Kaadhal" and "Veyil" have showcased his ability to fully inhabit his characters. He has received multiple awards, acknowledging his talent and contributions to Tamil cinema. His versatility in handling a variety of genres has made him a respected figure in the industry.
He is talented, but he doesn't get support from others. He will soon find a top place in South Indian cinema.
Bharath is one of the most talented actors in South Indian cinema, better than the so-called famous actors.
24
Karthik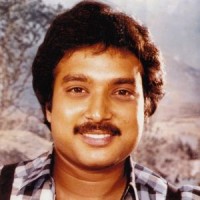 Karthik has been appreciated for his ability to bring complexity and nuance to romantic roles. His performances in films like "Agni Natchathiram" and "Mouna Ragam" were praised for their depth and sensitivity. Noted for his on-screen charisma, Karthik has a natural ability to connect with audiences. His work has been recognized with numerous awards, cementing his status as a notable actor in Tamil cinema.
25
Chiyaan Vikram
Known by his stage name Chiyaan Vikram, he is celebrated for taking on challenging roles that often require significant physical transformation. His performances in films like "Pithamagan" and "I" have garnered him numerous awards and critical acclaim. He has consistently demonstrated an extraordinary level of commitment to his craft, diving deep into the emotional and psychological complexities of his characters. His exceptional talent for embracing demanding roles places him among Tamil cinema's finest actors.
Good actor. And hard worker
PSearch List