Top 10 Most Overrated MMA Fighters
The world of MMA is a thrilling landscape filled with skilled fighters, breathtaking battles, and moments that will have you on the edge of your seat. But as you dive deeper into the combat, you might start noticing something intriguing: not all fighters are created equal. And we're not just talking about skill levels here. There's something more nuanced and perhaps even controversial at play – the notion of overrated fighters.

In the world of MMA, being overrated doesn't necessarily mean a lack of talent or skill. It might mean that a fighter has been hyped up beyond their actual achievements in the ring. Maybe they've had a few solid wins but have been placed on a pedestal that doesn't quite align with their track record. It could be the media, fans, or even the promotion machine behind the fighter inflating their reputation.

The Top Ten

1 Fedor Emelianenko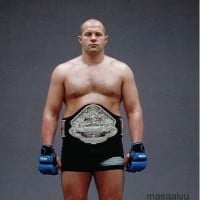 Fedor Vladimirovich Emelianenko is a Russian heavyweight mixed martial artist, sambist, and judoka, currently competing for Rizin Fighting Federation.
Had a chance to really solidify himself as the GOAT in 2009 but blew it by choosing to duck fighters like Cain, Junior, Carwin, and the champion at the time, Brock, in the UFC. Then he went to Strikeforce where he thought he would be safe, only to duck the champion there (Overeem), get submitted by Werdum, have his ass handed to him by Big Foot Silva, and be KO'd by a forty-something-year-old middleweight, Dan Henderson. Fedor is the most overrated MMA fighter I've ever seen, and his fan base is the worst, not only trying to convince others but convincing themselves as well that he is the greatest.
He was considered the best fighter in the world, which in Pride was fighters like Kevin Randleman who had 2 losses then 1 win to get a title shot. After losing to Fedor, he lost 3 more fights, also Mark Hunt who had his last fight a loss and somehow got a title shot, but after he lost to Fedor, he lost his next 4 fights. That is the case with most of Fedor's opponents. Then he left Pride and got smashed by Strikeforce fighters. I honestly think he's the most overrated fighter ever.
Who did he beat?
2
Alistair Overeem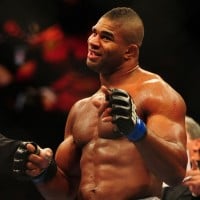 He was supposed to be the next big thing. He held the Dream, Strikeforce, and K1 titles. He won his first fight against Brock Lesnar. The only reason Brock isn't on the list is because he's not an MMA fighter anymore. After beating Brock, Brock retired and went back to the WWE. Alistair would then go on to losing his next 2 fights via KO.
3
Brock Lesnar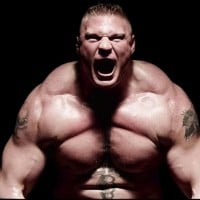 Brock Edward Lesnar is an American professional wrestler and former amateur wrestler, professional American football player, and mixed martial artist who is currently signed to WWE.
Worst stand-up ever. The only person that rivals him for that title is Jake Shields.
Brock is easily the most overrated fighter of all time.
How is 8-3 a good record? He also has no skill.
Easily the most overrated!
4
Glover Teixeira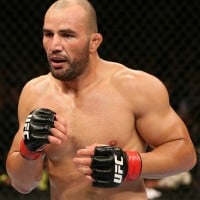 Glover Lucas Teixeira is a Brazilian mixed martial artist and former member of the Brazilian National Wrestling Team, who currently competes in the Light Heavyweight division of the Ultimate Fighting Championship.
Glover Teixeira is next in line for a shot at Jon Jones, but why? Who has he fought that's any good? He fought a washed-up Rampage, Ryan Bader, James Te Huna. Not a single top-10 guy, so why is he getting a shot at the belt?
He's just never looked too impressive against prime fighters.
5
Luke Rockhold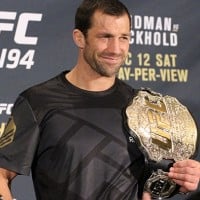 Luke Skyler Rockhold is an American mixed martial artist competing in the UFC, where he is the current UFC Middleweight Champion.
Elite fighter, but nowhere near elite in the striking department. Mediocre striker, judging by UFC top 10 contender standards. Even his infamous kicks, that many consider great, are good and nothing more.
He was the undefeated Strikeforce middleweight champion, came over to the UFC, and got KO'd in his first fight.
Beat Machida.
6
Uriah Hall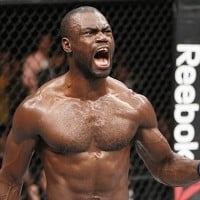 Uriah Alexander Hall is a Jamaican mixed martial artist and former kickboxer who competes in the Ultimate Fighting Championship, in its middleweight division.
He was the most feared fighter on TUF, but once he made it to the UFC, he has been 0-2.
7
Hector Lombard
He was 32-2 in his MMA career, also being the Bellator Middleweight champion. He came in the UFC, everyone thought he would be the one to beat Anderson Silva, but he lost his first fight to Tim Boetsch. Tim lost his next 2 after beating Lombard. Hector then won his next fight looking great, but lost his next to Yushin Okami who recently got cut from the UFC. Hector dropped down to welterweight and KO'd Nate Marquardt, but I think he will lose his next.
Got knocked out by an old, past-his-prime Dan Henderson.
8
Ronda Rousey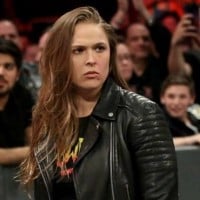 Ronda Jean Rousey is an American professional wrestler, actress, author, and former mixed martial artist and judoka who is signed to WWE as a wrestler since 2018. Her longstanding nickname, "Rowdy", was inherited from late professional wrestler Roddy Piper. ...read more.
She is one-dimensional and has been fighting tomato cans her entire career.
9
Jake Shields
He came to the UFC on a 14-fight win streak, undefeated for 6 years. Has wins over Dan Henderson, Robbie Lawler, and Jason Miller. He won his UFC debut via split decision against Martin Kampmann. Then got smashed by GSP, and his next fight KO'd by Jake Ellenberger. He won his next 4, all by decision, 2 split. I think he's still pretty overrated.
Some of the worst striking I've ever seen. Never looks comfortable striking.
10
Chris Weidman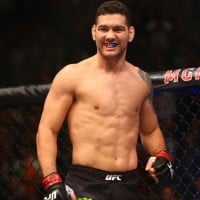 Christopher James "Chris" Weidman is an American mixed martial artist. He is the former UFC Middleweight Champion.
Chris Weidman may be the UFC middleweight champion, but how did he get there? His #1 contender fight was with Mark Munoz, who is 1-2 in his last 3 fights, then he got a lucky KO over Anderson Silva, who will probably win the rematch.
The Contenders
11
Conor McGregor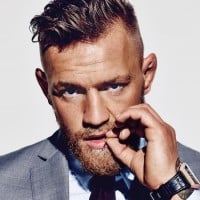 Conor Anthony McGregor (born 14 July 1988) is an Irish professional mixed martial artist and boxer. He is the former Ultimate Fighting Championship (UFC) featherweight and lightweight champion. ...read more.
He won a belt. Then, instead of defending it, he moved up in weight to collect another belt just so he could have two belts for pictures. Then he gets one stripped because he won't defend it. He's also faking a fantasy boxing match to ignore defending his belt.
No doubt, the most overrated MMA fighter ever because of his big mouth. Also, he has zero wrestling and BJJ, and got beat by Nate Diaz, who is a damn average fighter.
He hasn't defended his belt once, and he acts like he's the king of MMA.
Conor should be number one. No lower.
12
Nick Diaz
Beat a washed-up BJ Penn and a washed-up Frank Shamrock...that's about it. Oh, and refuses to fight anyone who's not a legend or champion, even though he would get killed by any top-15 fighter in any division. Was never that good. The face of overrated!
Has he beaten anyone ever in their prime?
13
Jon Jones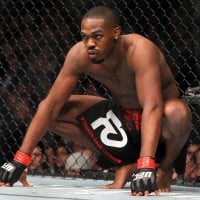 Jonathan Dwight "Jon" Jones is an American mixed martial artist and current interim UFC Light Heavyweight Champion.
He fought old-aged fighters, used PEDs during his entire UFC career, and eye-poked most of his UFC opponents.

He is a cheater and is overrated.
Came into UFC juiced to the gills and took out a very shallow light heavyweight division full of old men well out of their prime.
He's a dirty fighter that cheats to win, fails drug tests, and causes trouble outside of the sport.
I hate to say it. Jones may be the king of the weight cut, but all his wins except DC were against past-their-prime, on-the-way-out legends. Yes, they were legends, but Ken Shamrock is a legend. Jones defeated Stephan Bonnar, Chael Sonnen, Rampage Jackson, Rashad Evans, Shogun Rua, and Lyoto Machida as part of his supposed "best win streak in UFC history." All these men were well past their prime at the time they fought Jones. Rashad having been stank-legged by Machida, Bonnar having lost to literally everyone, Jackson having lost his title, and Shogun losing to Forrest Griffin, for heaven's sake.

Jones' size advantage over most of his opponents SHOULD lead to stoppage victories IF he is one of the GOATs, but they don't.

Jones has failed 3 of 4 PED tests since USADA took over UFC testing. He has fought twice since then, barely beating OSP (who went on to lose by KO twice in the next year), and then dropping 2 rounds to a 40-year-old DC before landing an expected head ...more
14
Chris Leben
Chris Leben has fought fighters that had the perfect style to get knocked out by Chris in his last few fights, but he lost them all via Unanimous Decision.
15
Chael Sonnen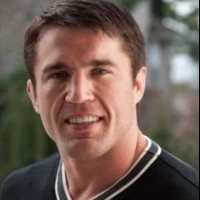 Chael Sonnen has talked his way into big fights. He was great at middleweight, but at light heavyweight, he has lost all his fights except a washed-up, poor takedown defense Shogun Rua.
16 Frank Mir
17
Royce Gracie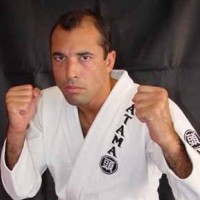 Royce is the king.
18 BJ Penn
19 Anderson Silva
20
Kevin Randleman
The guy was terrible! He even lost a fight to the floor once upon a time!
21 Bas Rutten
22
Artem Lobov
Look at his record. Tough guy, though.
23 Gabriel Gonzaga
24 Quinton Jackson
25
Nate Diaz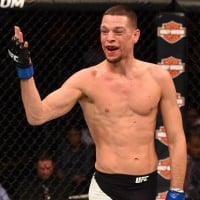 Nathan Donald "Nate" Diaz (born April 16, 1985) is an American professional mixed martial artist currently signed with the Ultimate Fighting Championship. Diaz is the younger brother of former Strikeforce Welterweight Champion and WEC Welterweight Champion, Nick Diaz. Prior to signing with the UFC, Diaz competed in World Extreme Cagefighting, Strikeforce, and Pancrase. He has been in the UFC since winning The Ultimate Fighter 5. ...read more.
Sick of this guy's moaning! He's the biggest crybaby in MMA. Attention-seeking waster!
PSearch List