Top 10 Female Metal Singers With the Most Powerful Voices
The Top Ten
Floor Jansen - Nightwish, After Forever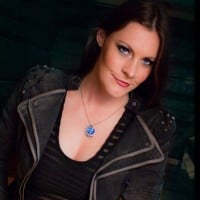 Floor Jansen is a Dutch singer-songwriter and vocal coach. She is currently vocalist of Nightwish and leader of Revamp.
Floor is my all time favorite singer in all genres of music. Her skills and hard work are finally paying off. No words describe her potential.
Floor Jansen has been moulding her vocal range while in Nightwish. Now, the world knows her range better. She has become the widest range vocalist of Nightwish, she has haunting operatic, pop, rock, metal scream, and, I have just found out she can, aggressive growl voice. For those not familiar with Floor's vocal range, do check YouTube for these 2 Nightwish's songs: Ghost Love Score (Live) and Yours is an Empty Hope (Live). I may not understand vocal techniques, but it seems Tuomas Holopainen has expanded Nightwish performance based on how Floor can sing.
Note: Ghost Love Score previously sang as duet song, with Floor it becomes a solo performance showcasing how dynamic her vocal style changing in each part of the song section. And Your is an Empty Hope has solidified as an Anthem song for Floor to showcase her range in a single short song (for Nightwish).
Floor Jansen, the most powerful female vocalist with great control, great technic, great performer, great song's interpreter and storyteller, and the most versatile female singer in nowdays.
She brings the songs to life! When I hear her it goes right to my heart...
Alissa White-Gluz - Arch Enemy, The Agonist

Alissa White-Gluz is a Canadian vocalist, best known as the former lead vocalist and one of the founding members of the Canadian metal band, The Agonist, and current lead vocalist for the Swedish melodic death metal group, Arch Enemy.
"I felt I had to make this statement in support of Alissa. In my oppinion, well the truth is I have honestly NEVER HEARD AS POWERFUL A VOICE AS HER'S BEFORE IN MY LIFE EVER! Especially that of a female! Now, may I clarify here. I am not by any stretch what I would consider a hard core Arch Enemy fan. However I do think The Eagle Flies Alone is AWESOME! And I further must say that Alissa's voice, while exceptionally strong and powerful is actually one of many female -fronted metal voices I currently favor. In any case I admire Alissa and TOTALLY RESPECT Arch Enemy as a truly awesome band! Thank you! "
That voice is definitely not female haha. She scares me. - Britgirl
She's by far the most talented singer in the history of metal bar none.
@Britgirl: haha, yes - she growls like a male. And yes, growls scare people, hehe. But why people watch horror movies?
One can't believe these growls come out of this incredibly beautiful and feminine creature. But Alissa can also sing "normally" and her clean voice is very good and pleasant. - Metal_Treasure
Tarja Turunen - Nightwish

Tarja Soile Susanna Turunen-Cabuli (born August 17, 1977), generally known as Tarja Turunen or simply Tarja, is a Finnish singer-songwriter. She is a soprano and has a vocal range of three octaves. ...read more.
Popularized operatic vocals when the style was just starting. After so many years, her name still is called.
Floor is great but Tarja was better!
Angela Gossow

Angela Nathalie Gossow is a German vocalist, best known as the former lead vocalist for the Swedish melodic death metal band Arch Enemy.
Brittany 'Kobra' Paige - Kobra and the Lotus

Brittany 'Kobra' Paige is a Canadian metal singer and founder of the metal band Kobra and the Lotus. She was listed as one of the Top 25 Women in Hard Rock and Metal for 2013. Kobra Paige is a classically trained singer.
Sharon den Adel - Within Temptation

Sharon den Adel, Dutch singer and the vocalist of symphonic rock band Within Temptation. ...read more.
Sharon has the voice of an Angel.
Dianne van Giersbergen - Xandria, Ex Libris

Dianne van Giersbergen is a Dutch dramatic soprano singer, songwriter, and vocal coach who is well-known for being the frontwoman and founder of the progressive metal band Ex Libris and German symphonic metal band Xandria.
Beautiful voice and great technique.
Sonia Pineault - Forgotten Tales

Sonia Pineault is the lead singer for Canadian metal band Forgotten Tales (symphonic power metal). Forgotten Tales was founded in 1999 in Quebec City.
Simone Simons - Epica

Simone Johanna Maria Simons is a Dutch singer-songwriter. She is the lead vocalist of Dutch symphonic metal band Epica.
Fernanda Lira - Nervosa

The Contenders
Tatiana Shmaylyuk - Jinjer
Her guturals are outstanding, deeper and more powerful than more famous candidates.
I guess she has the best vocal range that we have ever heard. She growls better that most men, and her singing voice is just perfect. Jinjer has a bright future ahead. Many saw Jinjer touring with Arch Enemy, and believe me...many told that they and her were better live.
Clémentine Delauney - Serenity, Visions of Atlantis, Melted Space

Clémentine Delauney is a French symphonic metal singer. She is a classically trained soprano, known as the singer for Austrian symphonic metal band Serenity, currently Visions of Atlantis, and French metal opera band Melted Space.
Brittney Hayes
Noora Louhimo

Powerful vocals, great versatility.
Lzzy Hale

Elizabeth Mae "Lzzy" Hale is an American singer, songwriter, and musician. She is best known as the lead singer and rhythm guitarist of the American hard rock band Halestorm, which she co-founded in 1997.
Such a powerful voice that make you want to scream too.
Jill Janus - Huntress

RIP Jill Janus. A powerhouse whose voice will never be forgotten
Jennifer Haben - Beyond the Black

Marcela Bovio
Marcela should be more recognized, she is a really talented, hardworking singer. She masters her voice in several styles. Her performances are always spotless.
Anneke Van Giersbergen

Melodic yet powerful. Anneke is an icon of female vocalists. A pioneer.
Vicky Psarakis
Really versatile singer.
Amy Lee

Amy Lynn Hartzler, known professionally as Amy Lee, is an American singer-songwriter, classically trained pianist and composer. She is also the lead singer to the Arkansas band Evanescence.
She is NOT metal, guys. - Metal_Treasure
Nina Osegueda
BAdd New Item