Top 10 Kansas City Chiefs Players of the 2010s
Previously we talked about the best seasons this decade now let's talk about the players. The Chiefs have had some dynamic playmakers even during the down years. All of these guys have contributed to make the Chiefs a team to be reckoned with. Here's the best players for the Chiefs this decade. Now let's see what the 2020s have in store

The Top Ten

1 Patrick Mahomes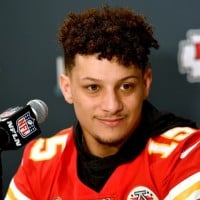 Patrick Mahomes took the NFL by storm when he became the starting quarterback for the Kansas City Chiefs in 2018. Within the first two weeks, Mahomes threw 10 touchdowns, the youngest quarterback to do so in the first two weeks of an NFL season. It was the first of many records Mahomes broke. Mahomes has become the youngest quarterback to shatter a lot of NFL records. Most recently, Mahomes became the fastest player to throw for 9,000 career passing yards, doing so in 30 games. Mahomes surpassed Hall of Famer Kurt Warner, who did it in 32 games. Mahomes threw for 50 touchdowns and more than 5,000 passing yards in 2018, earning him MVP honors he followed up his 2018 campaign with a 2019 campaign where he picked up right where he left off and led the Chiefs to a Super Bowl championship he's arguably the best QB in the league right now and through 3 seasons he's already shown he's Hall of Fame Caliber
The reason they won
2
Tyreek Hill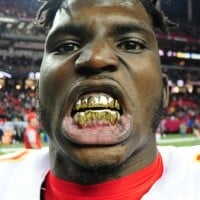 since being drafted in 2016. Hill was heavily active as a receiver, rusher and return specialist his rookie season, finding the end zone 12 times that year. Since then, Hill's role as a rusher and returner have decreased while becoming the starting wide receiver on the team and he's arguably a top 5 receiver in the league 2018 was a big season for Hill. He caught 87 passes for 1,479 yards and 12 touchdowns catches. Hill's 12 touchdowns tied second with
Chris Burford for most in a single-season while his 1,479 yards became a single-season best in Chiefs history. Hill passed Derrick Alexander 's 18-year record of 1,391 receiving yards in 2000 that's not even getting to his pure speed. He can create mismatches and take advantage of almost every defender he faces. They don't call him cheetah for nothing
He's so freaking fast
3
Travis Kelce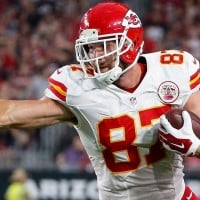 Travis Michael Kelce is an American football tight end for the Kansas City Chiefs of the National Football League.
When you have a tight end like Tony Gonzalez, who played 12 seasons for Kansas City, it is hard to think you'll find a tight end as good as him. Then Travis Kelce burst onto the scene. Kelce only appeared in one game as a rookie in 2013 after he was forced to get surgery on his knee. Since then, he has only missed one game with the Chiefs. There is a strong case to be made why Kelce is the best tight end in the NFL since missing his rookie season. Kelce just broke the NFL record for being the first tight end to have 1,000 receiving yards in four consecutive seasons, starting that run in 2016. In 2018, Kelce, briefly, broke the NFL record for most receiving yards by a tight end in a single-season. That record was broken in less than an hour later by George Kittle Kelce's speed is very rare for a tight end. His ability to beat linebackers and defensive backs and get open to make plays is similar to Gonzalez's. Kelce has been voted to five straight Pro Bowls and has been named First Team ...more
4
Jamaal Charles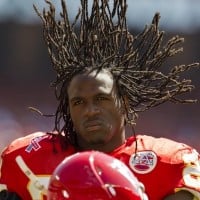 Jamaal RaShaad Jones Charles is an American football running back for the Kansas City Chiefs of the National Football League.
During the down years from 2007 to 2012, there weren't a lot of bright spots for the Kansas City Chiefs roster. Jamaal Charles, who was drafted in 2008 and was not used much until mid-2009, was one of the few bright spots on the team. This decade was one to remember for Charles. He finished in the top five in the NFL in rushing yards in 2010, 2012 and 2013. He led the NFL with 19 total touchdowns in 2013 and owns the NFL record for highest career yards per carry average for a running back with 5.4 yards per carry. He had his career cut short by ACL tears But Charles owns the franchise career rushing title with 7,260 yards. He has 64 touchdowns under his belt, the third most behind
Priest Holmes and Tony Gonzales
5
Derrick Johnson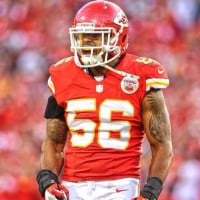 Derrick O'Hara Johnson is a former American football linebacker of the National Football League. Johnson was drafted 15th overall in the first round of the 2005 NFL Draft, and spent 13 seasons with the Chiefs. He played his final season with the Oakland Raiders in 2018, before retiring.
Derrick Johnson's career got off to an incredibly slow start.But Johnson was able to end a rough 2009 season and start the decade on a strong note. Johnson joined former Chiefs defenders Lloyd Burruss and Jim Kearney for most interception touchdowns in a game. Johnson is also one of 28 players to own the record for most pick-sixes in a game. That was the start of a new age for him. With the help of then-defensive coordinator Romeo Crennel, Johnson quickly evolved into one of the best linebackers in the NFL. becoming a force to be reckoned with. In 2015, Johnson surpassed Gary Spani for most tackles in franchise history, beating Spani's record of 999. Johnson set the bar high, placing the tackle total at 1,151. Johnson earned All-Pro honors twice while going to four Pro Bowls. He won the Pro Bowl Defensive MVP in 2013.
6
Eric Berry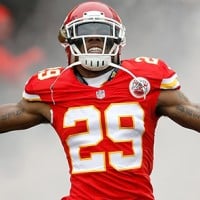 James Eric Berry, nicknamed "The Fifth Dimension," is an American football safety for the Kansas City Chiefs of the National Football League.
Eric Berry's story is one filled with a roller coaster of emotions. His terrific play on the field inspired many people and few are more beloved by KC than Berry. He was a fan favorite who helped improve the defense in no time at all. As a rookie in 2010, Berry collected four interceptions, had one pick-six and a forced fumble. Putting statistics aside, Berry was one of the elite cover safeties in the league, always challenging wide receivers and tight ends. Even during seasons where Berry did not force many turnovers, such as 2012 and 2015, his presence and leadership skills were always noticed. The unfortunate part about him is the amount of games he missed due to his health. He missed 54 games in total due to a torn ACL, a ruptured Achilles and being diagnosed with Hodgkin's lymphoma. When Berry was declared clear of cancer nine months after his initial diagnosis, Berry came back in 2015 and earned the AP NFL Comeback Player of the Year award
7
Justin Houston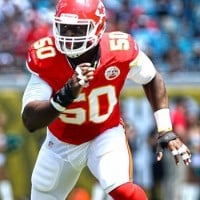 Justin Donovan Houston is an American football outside linebacker for the Indianapolis Colts of the National Football League.
Justin Houston has been beating offensive tackles and getting to the quarterback since joining the league. Houston had a big part in helping Kansas City's defense improve and become one of the better pass-rushing defenses. He logged 78.5 sacks in eight years with the Chiefs. His best season came in 2014 when he registered 22 sacks, falling one sack shy of the league record. Houston was one of two players to have 22 sacks in a season this decade. he was always one of the best pass-rushers in the NFL. He benefited from having Romeo Crennel as a defensive coordinator to guide him in the first couple of years in his career. He made four consecutive Pro Bowls from 2012 to 2015 while earning a First Team All-Pro distinction in 2014.
8
Tamba Hali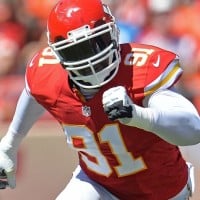 Tamba Boimah Hali is a Liberian-born former American football outside linebacker of the National Football League. He spent his entire 12 season career with the Kanas City Chiefs.
Tamba Hali was one of the most feared defensive ends and outside linebackers in the NFL. Plain and simple, Hali beat pass-blockers and constantly terrorized opposing quarterbacks. Hali was one the best pass-rushers in the NFL during his playing career, especially during the 2010s. His decade got off to a great start when he collected 14.5 sacks in 2010, leading the AFC. He had nine or more sacks each year from 2010 to 2013. Combine him with Justin Houston and you have a deadly duo on defense Hali had 62 sacks and 18 forced fumbles during the 2010s. He finished his career with 89.5 sacks and 33 forced fumbles. Hali is second in both categories, both behind Derrick Thomas. Hali has five Pro Bowls and two All-Pro honors to his name, achieving those accolades during the 2010s
9
Mitchell Schwartz
Prior to joining the Kansas City Chiefs in 2016, Mitchell Schwartz was one of the more underrated offensive tackles in the NFL during his four years with the Cleveland Browns. Since Schwartz joined the Kansas City Chiefs, Schwartz has improved and become an even better right tackle. Schwartz is not only one of the best right tackles in the league, but one of the best offensive linemen overall. He was named as a Second Team All-Pro twice in 2016 and 2017 before being named as a First Team All-Pro in 2018. Pro Football Focus tabbed Schwartz as the best offensive lineman for the 2018 season, where he allowed 21 quarterback pressures on 687 pass-blocking snaps. He's also one of the most consistent players who has barely missed a snap in his career
10
Alex Smith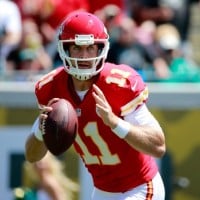 Alexander Douglas Smith is an American football quarterback for the Washington Redskins of the National Football League.
He's not the best QB sure I'll say that he's above average can get the job done and this decade he helped get the Chiefs from awful to being a playoff contender. He brought consistency to the Chiefs. Is he a bit too conservative sure but without him the Chiefs would have been in a much longer rebuild. He's still a serviceable and respected veteran and if not for Andy Reid he wouldn't be the same player. During his time with the Chiefs, he led the league in passer rating in 2017 and was named to three pro bowls he also got the first playoff win for the Chiefs since 1993.
The Contenders
11
Peyton Manning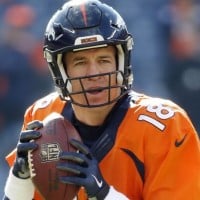 Peyton Williams Manning is a former American football quarterback who played 18 seasons in the National Football League for the Indianapolis Colts and Denver Broncos.
BAdd New Item