Top 10 Potential Offensive Rookie of the Year Candidates for the 2019-20 NFL Season
This past draft class had a fair amount of good players on offense. As these rookies prepare to take the field for the first time here's some players to keep an eye on as they might have a breakout season

The Top Ten

1 Josh Jacobs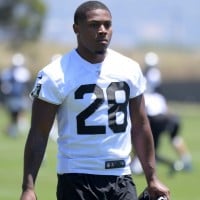 Oakland might have found their guy. The running back out of Alabama will be a key piece in the Raiders offense. He has an advantage of being in a better spot to be a leader than most other rookie running backs. Historically speaking the last time Gruden was coaching a team who drafted a RB in the first round Cadillac Williams won OROTY in 2005.
Nah I have him in my madden 20 team he is terrible and madden never lies
2
Kyler Murray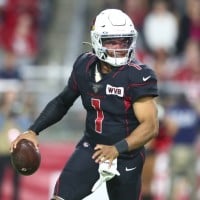 Kyler Cole Murray is an American football quarterback for the Arizona Cardinals of the National Football League.
A lot of people see him as the favorite to win but I don't know about that. Arizona has a horrible offensive line. Murray would have to be the next Brady/ Rodgers to work. And who's he going to throw to? Larry Fitzgerald? He has a chance but he shouldn't be the favorite
3
D.K Metcalf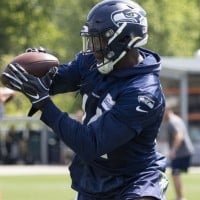 Metcalf might be a good fit for Russell Wilson in Seattle. With Doug Baldwin retired and Tyler Lockett the only real established receiver Metcalf should have no trouble finding success and getting into the conversation for OROTY
Metcalf will be found a lot, so I got Metcalf.
4
Dwayne Haskins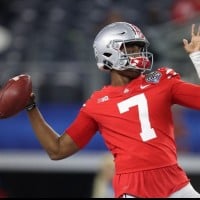 In my opinion the best rookie quarterback in the league right now. Haskins might not have quite the same skillset as Kyler Murray but if his season at Ohio State was any indication he has a bright future. The only issue is playing time seeing as he has to compete with Case Keenum and Colt McCoy (? ) But If Baker Mayfield showed us anything he can still be in the running even with a shortened season.
He will be on the bench to start the season, so it would definitely be an uphill climb for him
5
Mecole Hardman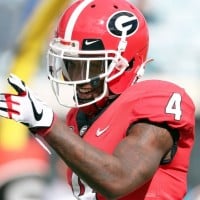 Hardman is a Wide Receiver out of Georgia and is pretty much Tyreek Hill 2.0. While not exactly like him this is a guy who could fit right in with Mahomes and Andy Reid. With Hill back it seems like Mecole Hardman could pick up a few tips from the veteran.
6
David Montgomery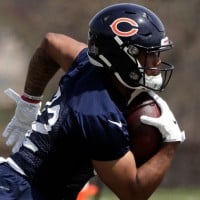 With Jordan Howard gone it seems inevitable that Montgomery will get some playing time even with Tarik Cohen and Mike Davis on the roster David Montgomery is in a good spot to be the go to running back for Mitchell Trubisky.
7
N'Keal Harry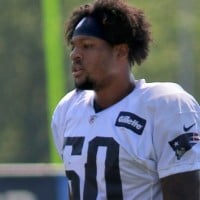 He'll have some big shoes to fill with no Gronkowski anymore but if Brady and Belichick like what they see in this guy then he has a shot. We can't doubt those two. Look what happened with Sony Michael. They drafted him and now he's a decent weapon for Brady? Could N'Keal Harry be the same way?
8
TJ Hockenson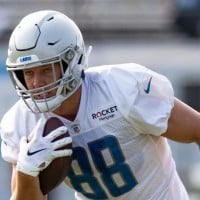 Hockenson will likely make an immediate impact on Detroit's offense, and I like this guy's potential. However, he's a pretty big dark horse, considering Barry Sanders was the last Detroit Lions player to win the award. As I have already mentioned, no tight end has won the award yet. He would have to be Rob Gronkowski to have a good shot, but perhaps he has a chance.
9
Noah Fant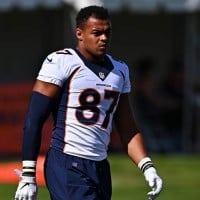 This guy could be a dark horse candidate. No Tight End has won it yet but Joe Flacco has been known to go with Tight Ends a lot plus there's not much competition for TE in Denver. He should get some playing time and we could see him explode
10
Parris Campbell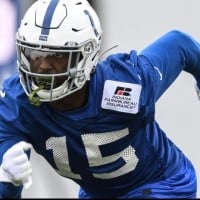 Another potential dark horse candidate but I see Campbell fitting in nicely in the Colts offense. Andrew Luck is back and with TY Hilton alongside him he's a guy to keep your eyes on
The Contenders
11
Gardner Minshew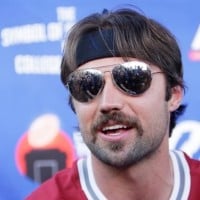 Flint Gardner Minshew II is an American football quarterback for the Jacksonville Jaguars of the National Football League.
BAdd New Item