Top 10 Oakland Raiders Players Coming Into the 2019 Season
I've done the Rest of the AFC West so I might as well do the Raiders as well. Honestly this is gonna be the hardest list to make of the entire division. Oakland was terrible last year after they decided to go back to "old glory" and relive the early 2000s by bringing Jon Gruden back as their coach. Entering year two I don't have high expectations. They'll be more interesting on Hard Knocks but not much better

The Top Ten

1 Tyrell Williams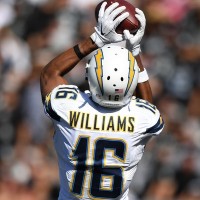 Williams is a solid #2 Receiver behind AB. He had a stellar 2016 season with 69 catches 1,059 yards and 7 touchdowns. 2017 and 18 were also decent seasons but not quite as productive. Williams is a good pickup for Oakland in free agency
2
Vontaze Burfict

Vontaze DeLeon Burfict, Jr. is an American football linebacker for the Cincinnati Bengals of the National Football League.
While Burfict might not be the cleanest player in the league he's very physical and could add some extra spice to the Raiders defense that they've been missing for awhile. As a Bonus he'll be reunited with Paul Geunther who was defensive coordinator for part of his time in Cincy
3
Lamarcus Joyner

He'll be a good starting Safety for the Rebuild. The Raiders need help in the back of their defense and Joyner will fill that void. Last year he racked up 78 tackles for the Rams ranking 3rd on their team
4
Trent Brown
The Raiders must like this guy after giving him the richest contract for an Offensive Lineman in the History of the league. Or they're just desperate. Knowing Oakland it's probably the latter. This guy did alright for the Patriots but will it transfer to Tom Cable and Oakland's O line?
5
Derek Carr

Derek Dallas Carr is an American football quarterback for the Las Vegas Raiders of the National Football League.
Carr has declined since 2016. With the receiving core bringing in some decent weapons one has to think that Carr will bounce back to decency in 2019. The Raiders need him to if they want to compete
6
Maurice Hurst
Maurice Hurst was considered one of the best talents in the 2018 draft. He didn't disappoint and could possibly become a leader on this defense. Khalil Mack left a large hole on this team after being traded and Hurst could potentially fill part of it.
7
Tahir Whitehead

Tahir Ali Whitehead is an American football linebacker for the Carolina Panthers of the National Football League.
8
Josh Jacobs
Josh Jacobs is a great athlete on the Raiders and joins an offense with some weapons. I don't expect him to be the biggest go to option but he could be a good contributor
9
Antonio Brown

Antonio Brown is an NFL wide receiver and for the Tampa Bay Buccaneers of the NFC South Division. He was drafted in the 6th round of the 2010 draft by the Pittsburgh Steelers, and has also been on the Oakland Raiders and New England Patriots. He is a 7x pro bowler, and regarded as a skilled player.
One of the biggest blockbuster moves in free agency this past offseason. Antonio Brown wanted out of Pittsburgh and he's getting out alright in fact he'll be playing his home games on the other side of the country now. This guy is one of the best offensive talents in the league. However expect a decline in production this year. Derek Carr is no Ben Rothlisberger and has regressed heavily since 2016
Swing and a miss he struck out of Oakland
Better figure out that helmet situation. Apparently he said he wouldn't play if he couldn't wear his older helmet. Yes this is a real thing in 2019.
Edit: "Aaand He's Gone"- South Park
Congratulations Raiders
10
Dwayne Harris

The Raiders resigned one of the best return specialists in the league. He has an average of about 14 yards per return which was the best in the league. He also contributes on offense although he's not a primary go to weapon
The Contenders
11
Richie Incognito

Richard Dominick "Richie" Incognito Jr. is an American football guard for the Las Vegas Raiders of the National Football League.
12
Brandon Marshall
Marshall is a player who will fill an area of need on this team in linebacker. He was okay in Denver and could really help improve Oakland's defense
13 Clelin Ferrell
BAdd New Item