Top Ten Worst Trades in NFL History
Some teams just know how to function properly, but then there are some teams that just have no clue what they are doing, and make some bad trades. Bad trades have bad consequences. Here, we are looking at the top ten worst trades in NFL history.

The Top Ten

1 Vikings Trade for Herschel Walker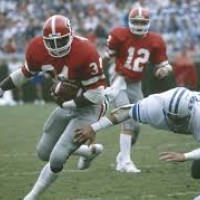 Herschel Walker is a former professional American football player, bobsledder, sprinter and mixed martial artist.
In 1989, the Cowboys were terrible. The Vikings were just desperate. This is probably a trade we will never see again, one in which the Vikings lost and made the Cowboys into a 90's dynasty. Thanks a lot, Minnesota. In the trade, they sent 3, yes, 3 first round picks (1990, 1991, and 1993), 3 second round picks (1990, 1991, and 1992), a third round pick (1992), a few other picks, and a few players. In return for this, the Vikings got Herschel Walker, Dallas' third round picks (1990 and 1991), a tenth round pick, and another low round pick. While in Minnesota, Walker never went over 1,000 yards rushing, scored 20 rushing touchdowns, and was just an average to slightly above average. Dallas however got a better running back in Emmitt Smith and safety Darren Woodson, and started a dynasty.
2
Saints Trade for Ricky Williams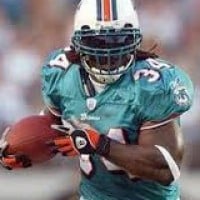 Errick Lynne "Ricky" Williams Jr. is a retired American football running back who played twelve seasons in the National Football League and one season in the Canadian Football League.
Well, they really traded for the pick to take him, but nevertheless, it was a huge one. Trading with the Redskins, the Saints got the 5th overall pick in 1999, and took the running back. But Washington got a huge hall, getting New Orleans' other first round pick, and third, fourth, fifth, sixth, and seventh round picks in 1999, and got the Saints' first and third round picks in 2000. Williams was average for the Saints, and was traded to the Dolphins after three seasons, where he later got his career on track, having a career year in 2002. Meanwhile, the Redskins somehow screwed up with all those picks, and didn't get much better from those picks.
3
Chargers Trade for Ryan Leaf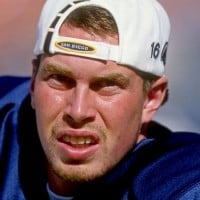 Ryan David Leaf is a former American football player who was a quarterback in the National Football League for four seasons. He was selected as the second overall pick in the 1998 NFL Draft after only Peyton Manning. He played for the San Diego Chargers, Tampa Bay Buccaneers, Dallas Cowboys, and Seattle ...read more.
They didn't trade for him, but traded up to draft him. So, they gave the Cardinals two first round picks (1998 and 1999), a second round pick (1998), and Eric Metcalf and Patrick Sapp. The Chargers certainly didn't get much out of this trade, getting arguably one of the biggest busts in NFL history. But it's not like the Cardinals benefitted much from this either.
4
Packers Trade for John Hadl
Talk about desperation on Green Bay's part. Hadl was a former pro bowl quarterback who the Packers acquired in 1974 for two firsts, two seconds, and a third. Keep in mind, Hadl was already a 34 year-old quarterback. Upon arrival in Green Bay, Hadl was nowhere near fixing their quarterback problems, and they never truly fixed it until 1993, Brett Favre arriving here. As for the Rams, they got a good haul out of it.
5
Bears Trade for Rick Mirer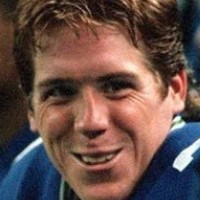 The 2nd overall pick of the 1993 NFL Draft, Mirer was already a below average player with the Seahawks. But somehow, they actually got a profit out of trading Mirer to the quarterback desperate Chicago Bears. The Bears gave the Seahawks a first and fourth round pick for a guy that eventually only started three games for them. Since the trade, the Bears best quarterback has been Jay Cutler, which isn't saying much.
6
Rams Trade Away Jerome Bettis
Bettis was a star from the start for the Rams, winning offensive rookie of the year in 1993 and continuing his success over the next few seasons. But, enter Lawrence Phillips, a running back the Rams drafted sixth overall in 1996. For some reason, they decided Bettis was indeed replaceable, and they traded him to the Steelers along with a third round pick, while the Rams got a second and fourth round pick. Phillips became one of the NFL's biggest draft busts ever, and Bettis had a prosperous career in Pittsburgh, and winning the Super Bowl in 2005 before retiring and being inducted into the hall of fame.
7
Texans Trade Away Deandre Hopkins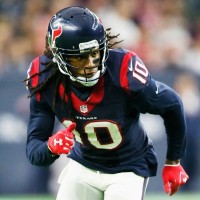 DeAndre Rashaun Hopkins, also known as "Nuk," is an American football wide receiver for the Arizona Cardinals of the National Football League. Hopkins was drafted 27th overall to the Houston Texans in 2013.
As of right now, this is the most recent trade. Before this trade, the Texans were viable playoff contenders, with a talented offense finally built around Deshaun Watson. He had a decent offensive line, two good running backs, and a great receiving core consisting of Will Fuller V, Kenny Stills, and of course, arguably the NFL's top receiver, Deandre Hopkins. But, for some really odd reason, head coach turned general manager Bill O'Brien said, "meh, we don't really want you anymore," and to the surprise of every NFL fan, traded him away for basically nothing. Wait, what? You have a top five receiver in the NFL for your top ten quarterback, and not only do you trade him away, but you also trade him for a half eaten bag of Doritos and a paperclip. What did the Texans really get from the Cardinals? Just a 2020 second round pick and a one-hit wonder in running back David Johnson. They didn't even really have a big hole at running back. The Cardinals meanwhile got someone to pair with ...more
8
Raiders Trade for Antonio Brown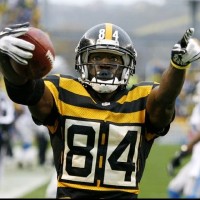 Antonio Brown is an NFL wide receiver and for the Tampa Bay Buccaneers of the NFC South Division. He was drafted in the 6th round of the 2010 draft by the Pittsburgh Steelers, and has also been on the Oakland Raiders and New England Patriots. He is a 7x pro bowler, and regarded as a skilled player.
One of the more recent trades, they traded a third and fifth round pick (2019) to the Steelers for all-pro wide receiver Antonio Brown. Of course, it didn't go so well, and over the course of the offseason, Brown clashed with management and the coaching staff, and he was eventually released, having not played a single game for the Raiders. The Patriots picked him up a few weeks later, and he played his lone game of 2019 in Week 2, scoring a touchdown, before being released the next week. The Raiders wasted resources for nothing.
9
Falcons Trade Away Brett Favre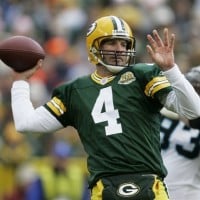 Brett Lorenzo Favre is a former American football quarterback who spent the majority of his career with the Green Bay Packers of the National Football League.
The Falcons drafted him in 1991, but they had issues with him, and got the Packers' first round pick in exchange for the troubled quarterback. Big mistake for a franchise that doesn't have a hall of fame quarterback. Favre went on to win three MVP awards and win a Super Bowl in Green Bay, while the Falcons trudged on with nothing gained from the trade, and still down a truly elite quarterback.
10
Oilers Trade Away Steve Largent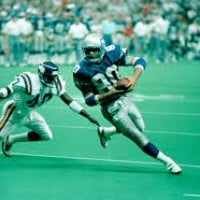 Stephen Michael Largent is a retired American football player, enshrined in the Pro Football Hall of Fame, and a former Republican politician, having served in the U.S. House of Representatives for Oklahoma, from 1994 until 2002.
In 1976, the Houston Oilers decided to trade away some random wide receiver to the Seattle Seahawks for an eighth round pick. All the Seahawks got was arguably their greatest player in franchise history, and the Oilers got basically nothing.
BAdd New Item