Top 10 NFL Players Who Didn't Look Right on a Different Team
In the NFL you have legends who made their legacy playing for one franchise but they then played for a second team or third in some cases. Often times they do this near the end of their career in a surprising turn of events

The Top Ten

1 Emmitt Smith (Arizona Cardinals)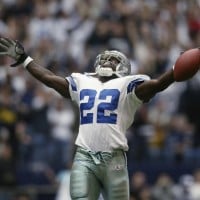 Emmitt James Smith III is a former college and professional American football running back who became the National Football League's all-time leading rusher during his fifteen seasons in the league during the 1990s and 2000s.
Emmitt Smith One of the three superstar "Triplets" for the Cowboys in the 1990s, Smith was a legendary running back with a lot of accomplishments throughout his Tenure for Dallas. eight Pro Bowls, three Super Bowl titles and an MVP award. He became a Cowboys icon and whenever you hear his name you immediately associate him with the Cowboys. His final year he suited up for the Arizona Cardinals in a very forgettable campaign
2
Joe Montana (Kansas City Chiefs)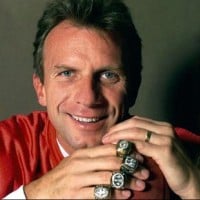 Joseph Clifford "Joe" Montana, Jr., nicknamed Joe Cool and The Comeback Kid, is a retired American football quarterback.
Joe Montana obviously built his name and legacy for the San Francisco 49ers with 4 Super Bowls and 3 Super Bowl MVP's. But in the early 90's he would swap red jerseys and play for the Chiefs. He played there for a few seasons and brought some success to KC but at the end of the day it still didn't feel right. But hey thanks Joe! You'll always be a part of Chiefs Kingdom
3
Tom Brady (Tampa Bay Buccaneers)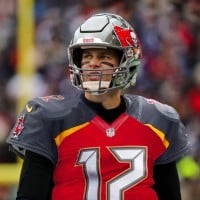 Thomas Edward Patrick Brady, Jr., is a retired American football quarterback for the Tampa Bay Buccaneers of the National Football League. Brady is known for being the only quarterback in history to win 7 Super Bowls, and was often considered one of the best quarterbacks of all time. Brady was also frequently considered to be the biggest steal in NFL history as a late 6th round pick. He had previously played for the New England Patriots from 2000 to 2019.
Well this is the most recent to happen as Tom Brady had made a legacy for The Patriots starting in 2001 with the Tuck Rule Game and the rest is history. Easily one of the most legendary and accomplished players in NFL history who has declined in recent years has decided to go to Tampa Bay... of all teams this may have been the most shocking as Tampa has been irrelevant since 2002. We'll see what happens but let's just say history suggests it will be a flop most likely
4
Brett Favre (Minnesota Vikings)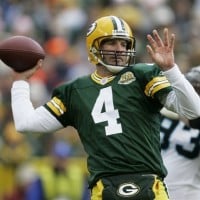 Brett Lorenzo Favre is a former American football quarterback who spent the majority of his career with the Green Bay Packers of the National Football League.
Contrary to popular belief he didn't go directly from Green Bay to Minnesota he had a brief few games as a Jet before pulling the ultimate betrayal to the Packers fanbase going to their biggest rival. Just like Joe Montana he somehow wasn't bad with the Vikings and nearly got them to the Super Bowl but it still wasn't right to see a packers legend as a Minnesota Viking..
5
Randy Moss (Tennessee Titans)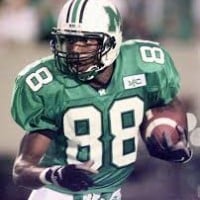 Randy Gene Moss is a former American football wide receiver who played 14 seasons in the National Football League.
I don't think Anything was as unceremonious -- as oddly forgettable -- as Moss's eight-game run with Tennessee in 2010. Claimed off waivers after a botched return to the Vikings that year, the former Minnesota superstar and Patriots record-breaker made more noise in 2012, with the NFC champion Niners, than he did catching passes from Kerry Collins. I didn't even know this happened until I did some research so yeah
6
Johnny Unitas (San Diego Chargers)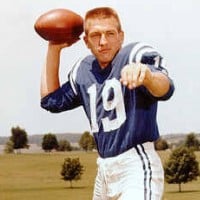 John Constantine Unitas, nicknamed "Johnny U", or "The Golden Arm", was an American professional football player from the 1950s through the 1970s.
Johnny U was one of the best quarterbacks in his era and he had a lot of ties to the Baltimore Colts with 10 pro bowls in his career. However he would then play a season for the San Diego Chargers and that didn't go well as he had just a 40.0 passer rating. Making the early legend's departure just odd and forgettable
7
Joe Namath (Los Angeles Rams)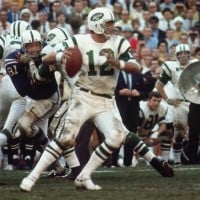 Joseph William Namath, nicknamed "Broadway Joe", is a former American football quarterback and actor.
Sure he may be the most overrated Quarterback in history but "Broadway Joe" had ties with the New York Jets comparably like Montana does with the Niners. There's no way around it. a legendary Super Bowl win and plenty of MVP honors will do that for you, especially in a market like the Big Apple. Like many other quarterbacks he tried to get a little more out of his career He went across the country playing for the Rams. His numbers as a one-time Ram in '77 were actually slightly better than his final outing with the Jets, but three touchdowns and five picks in four games isn't an ideal way to go out with a bang
8
Jerry Rice (Seattle Seahawks)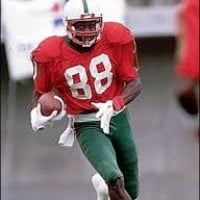 Jerry Lee Rice is a former American football wide receiver who played 20 seasons in the National Football League, primarily with the San Francisco 49ers.
Rice will forever be linked to San Francisco, where he won three Super Bowls, went to 13 Pro Bowls and broke more NFL records than any player to ever play the game. Which is why it's weird seeing him in a Seahawks uniform playing alongside Matt Hasselbeck, Shaun Alexander and Bobby Engram. He was almost a Denver Bronco as well but called it quits in training camp
9
Reggie White (Carolina Panthers)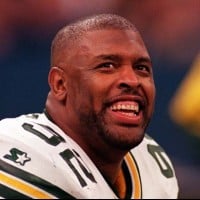 Reggie White was often called The "Minister of Defense" and he will forever be known as an all time great sack artist in history for the Philadelphia Eagles and the Green Bay Packers. He would retire for a year before coming back again and playing for the Carolina Panthers for a year. It was his worst season in terms of stats in an otherwise hall of fame career
Strangely I don't even remember that run.
10
Adrian Peterson (Washington Redskins)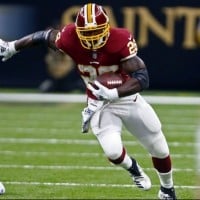 Adrian Lewis Peterson is an American football running back who originally played for the Minnesota Vikings and currently plays for the Washington Redskins of the National Football League.
I actually don't mind the change with the Redskins. Its with the Saints that really didn't look right. He goes from Purple and yellow to suddenly black and gold.
I have actually gotten used to it I'll tell you what was really odd was his tenure in Arizona. Does anyone remember that?
I'm more used to seeing him in a Redskins jersey than a Vikings jersey.
The Contenders
11
Terrell Owens (Buffalo Bills)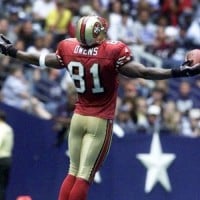 Terrell Eldorado Owens is an American football wide receiver who played for the Seattle Seahawks, San Francisco 49ers, and Philadelphia Eagles of the National Football League.
T.O. Was a San Francisco legend who had spent enough time with the San Francisco 49ers to warrant consideration as a one-team legend. He did make a few other late stops bouncing around a few teams and Without a doubt they were odd and he often played the villain. Apparently going from the Philadelphia Eagles to the Dallas Cowboys wasn't all too bad in his view. But Buffalo? Of all teams he played for that had to have been the most head scratching and bizarre. I don't think anyone remembers his one year being Ryan Fitzpatrick's top Target for the Bills.
12
Terrell Suggs (Arizona Cardinals)
Terrell Raymonn Suggs, nicknamed T-Sizzle or Sizzle, was an American football outside linebacker of the National Football League.
He was a long time Raven who went to Arizona for a year or that is until the Chiefs picked him up off waivers. And he actually played and got a ring with the Chiefs!
13 Ed Reed (Houston Texans)
14
Peyton Manning (Broncos)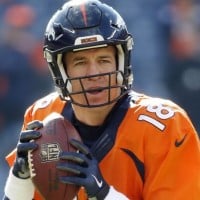 Peyton Williams Manning is a former American football quarterback who played 18 seasons in the National Football League for the Indianapolis Colts and Denver Broncos.
15
Kurt Warner (New York Giants)
Got benched to Eli Manning.
16
Rob Gronkowski (Bucs)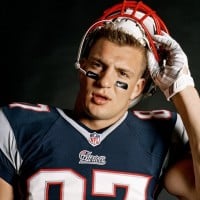 17
Franco Harris (Seattle Seahawks)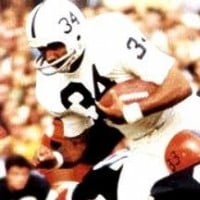 Franco Harris was an American football player. He played his NFL career with the Pittsburgh Steelers and Seattle Seahawks. In the 1972 NFL Draft he was picked up by the Pittsburgh Steelers in the first round, the 13th selection overall.
18 Antonio Brown (Patriots)
19 Tim Brown (Buccaneers)
20 Bob Hayes (San Francisco 49ers)
21
Tony Dorsett (Denver Broncos)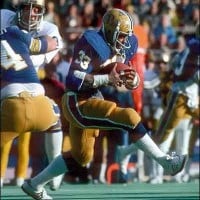 22 Alvin Harper (Buccaneers)
23 Thurman Thomas (Miami Dolphins)
24 Larry Csonka (New York Giants)
25 Bruce Smith (Washington Redskins)
PSearch List