Greatest Heavy Metal/Hard Rock Vocalists
Please, if you're going to add to or vote on this list try and know what you're talking about.
The Top Ten
1
Bruce Dickinson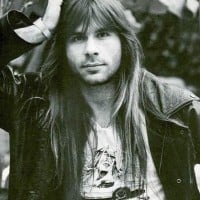 Paul Bruce Dickinson, known professionally as Bruce Dickinson, is an English musician, airline pilot, and broadcaster. He is most well known for being the lead singer in heavy metal band Iron Maiden and his solo career.
Bruce has an amazing voice and his range is amazing. What is he doing at no. 2?! Get him to no. 1 dang it! Up the Irons!
James is good in studio, but quite weak live. Bruce is good in studio and awesome live! Up the Irons!
His range is far superior to other metal vocalists. Especially hetfield, whose range is extremely limited.
Technically Bruce is better than Hetfield but Hetfield's range is not that limited - 3 octaves, 3 notes; Bruce - 3 octaves, 4 notes (not a big difference, 1 note). Limited ranges and skills - Mustaine and Ozzy (less than 3 octaves). - Metal_Treasure
Simply because no one else on the list could sing anywhere near as good as him, yet at the same time he could cover most other bands and make their songs better than they are including most bands in the top 10. No one even comes close to him. 55 and he still runs around stage for the full 2 hours and can still sing better live than anyone on the planet. Every member of Iron Maiden is number 1 in their given instruments.
2
Ronnie James Dio

Ronnie James Dio (born Ronald James Padavona; July 10, 1942 – May 16, 2010) was an American heavy metal singer, songwriter and musician. He fronted and/or founded numerous groups including Elf, Rainbow, Black Sabbath, Dio and Heaven & Hell. He is credited with popularizing the "metal horns" hand gesture ...read more.
Geez he should be first because of his work vocalizing in rainbow elf black sabbath and his own dio he will be a remembered singer for all time rock in peace dio R.I.P. god bless you dio
To me, Dio is transcendent. He's just at a different level in most every criteria I can think of for a great rock singer: most powerful, most melodic, most expressive, best dynamic range, best pitch, best phrasing, etc. His vocal range is not the best of all, but it's pretty damn good. He has a unique and intoxicating tone that is uncannily pure, and can subtly caress or primally scream any phrase. Plus, he may be the greatest frontman ever, and he's a hell of a songwriter. Ronnie gives me goosebumps all the time, on my arms and my soul, and I never know when it's coming.
He's always been number 2 on my 5 best singers ever list after Robert Plant of course but must admit love them both. Recently my parents' been doing a little redecoration of the house and called me to take my old cassettes because they knew how dear they used to be to me. Now I can listen to Heaven and Hell or Ritchie Blackmore's Rainbow in my car, and I'm pretty excited what makes my husband a bit nervous Dio is one of a kind with his powerful voice. His treatment and his funeral made me truly sad but I liked the joke about Dio and devil who wanted to seat him at his right hand. Dio replied "Satan, Fu... K out of my throne" That one cheered me up after his death. DIO STILL RULES!
He should be higher up. Love him. My favorite vocalist of all time. you rock.R.I.P.
3
Rob Halford

Robert John Arthur "Rob" Halford is an English singer and songwriter, who is best known as the lead vocalist for the Grammy Award-winning heavy metal band Judas Priest and famed for his powerful wide ranging operatic voice.
listen to Painkiller. Then try to sing for more than 10 seconds like Rob did. Impossible.
Listen to Unleashed in The East. No One else has the power like him. No One sounds like the album. It's so impressing.
He is a god on singing no one can get the notes so high like hem there will never be a singer like hem
Rob Halford has the same vocal range in the studios and on stage whereas there are two Bruce Dickinson, one in the studio who sings the highest notes in one shot performances and the Bruce on stage who sings most of the time the highest notes lower in order to spare his voice or just because he can't,even in live shows in 1982 but he is still a great singer. So, to me it's 1-Rob Halford, 2-Ronnie James Dio and 3-Bruce Dickinson.
4
James Hetfield

James Alan Hetfield was born on August 3, 1963. He is an American musician, singer and songwriter known for being the co-founder, lead vocalist, rhythm guitarist and main songwriter for the American heavy metal band Metallica.
Metallica is the most recognizable Heavy Metal Band and James Hetfield is one of the reasons why. He sounds great in the studio, and can get people pumped live, There is a reason why he has the crown.
Great singer, great screamer, best rhytim guitarist, great songwriter, he deserves to be number 1, best singer of all time, not just metal, bruce is good to, but james kills em all
He isn't the best singer, but he's the singer of the greatest metal band!
On Fade To Black he's amazing: #JamestheBest!
James Hetfield is truly a master vocalist his woice is incredible truly the best I have heard in a very long time. He is an inspiration to me and many other people. Long live James Hetfield the King of vocalists
5
Freddie Mercury

Freddie Mercury (born Farrokh Bulsara, 5th September 1946 - 24th November 1991) was a Zanzibari-born British singer of Indian descent, songwriter and record producer, known as the lead vocalist and songwriter of the British rock band Queen. He also became known for his flamboyant stage persona and four-octave ...read more.
Anytime FREDDIE MERCURY is Not NUMBER ONE on a 'Greatest Voice' list, whatever the voice, rock, or whatever, you Know it's a sucky, completely irrelevant, bogus list!
FREDDIE MERCURY IS THE GREATEST VOICE OF ALL TIME... NOW AND FOREVER! Period! No competition! No comparison! That would be just plain silly! Laugh out loud
FREDDIE MERCURY - THE GOD OF MUSIC!
This is the best HARD ROCK and metal singers, his first few albums could be qualified as hard rock/metal.
Queen has hard rock songs too: Hammer to fall, I want it all, Stone cold crazy, Tie your mother down...and Freddie was great in any genre.
Freddie Mercury is the best voice of all time. I think it should be removed from this list because his voice was incomparable.
6
Robert Plant

Robert Anthony Plant (born 20 August 1948) is an English musician, singer, and songwriter best known as the lead singer and lyricist of the rock band Led Zeppelin.
Are you joking?! Robert plant is the father of ROCK SINGING! All the rock vocalists have been influenced by the style of Plant's singing. And the most important thing is, he did sing hard, but there was a mixture of 'heart and lungs'... Robert Plant clearly sang to the top of his SOUL, not his lungs... Plant, planted ROCK in his soul... That's why he is so soulful even after being the lead vocalist of the GREATEST ROCK band ever. SO! It's just pure injustice! Robert Plant CAN NOT be at no.4! NEVER! HE MUST TOP THIS CHART!
I think Robert deserves the best place, the James' voice is great; but is nothing compared to the Robert's. I still can't believe Corey Taylor is before Robert Plant
At the birth of hard rock, there was Led Zeppelin and with that Robert Plant was made. He has a unique singing voice no one can imitate. He goes from a 'soft', girly voice to an enraged hard rock screaming. He is one of the best.
Are you kidding me? This guy is definitely #1 material!
7
Axl Rose

William Bruce Rose Jr., better known as 'Axl Rose', is an American singer born on February 6, 1962, in Lafayette, Indiana. He Is the founder and lead singer of the hard rock band Guns N' Roses. He is a celebrated but controversial figure in the world of rock.
Should be no 1. Who could run and sing like him in the stage. People don't like him because of his personality maniac. But he is the best vocalist, like james hetfield. Without him no guns and roses
He Is the Best, His Voice Is MAGIC! There Is No Other "Guns N'Roses " Without Axl! And There Is No Other Singer With Axl's Voice!
I voted for Bruce Dickinson as the best heavy metal vocalist but I had to add here that Axl Rose has the most beautiful vocal ever
Best vocalist, stage performer, song writer, pianist, whistler, entertainer. Most of all best vocalist!
8
Ozzy Osbourne

John Michael "Ozzy" Osbourne was born on December 3, 1948. He is also known as ''The Prince of Darkness''. Ozzy is an English singer, songwriter, and television personality. He rose to prominence in the early 1970s as the lead vocalist of the band Black Sabbath. Osbourne was fired from Black Sabbath ...read more.
He desserves higher than 9 for sure
He should be the 1st! You ROCK man! He's my favourite singer ever! One of the Greatest Singer of all time..
"Prince of Darkness"Osbourne is also known as the "Godfather of Heavy Metal
With Black Sabbath and has sold over 100 million albums worldwide Osbourne had received notice that he would be the first inductee into The Birmingham Walk of Stars. Osbourne was crowned with the prestigious Living Legend award in the Classic Rock Roll of Honor.
Ozzy Osbourne is the best man because of the variety of his fan base and they are still loyal yo him or nearly 50 years.
9
Matt Shadows

Matthew Charles Sanders, better known by his stage name M. Shadows, is an American musician, best known as the lead vocalist, songwriter and founding member of the American metalcore/alternative metal band Avenged Sevenfold.
Best vocalist on the face of the earth. His melodic vocals are amazing and he can reach incredibly high notes.

He also has the best screams in ALL of metalcore.
What the hell? Matt Shadows is at no: 9?
He should be in the top three! He is the best vocal of this time, how can he be at this position? I totally disagree with this list.
Haven't you guys heard the songs of A7X?
A7X is good but I highly doubt any of their member is top ten in their field, not even top 20. But Shadows truly deserved to be in this list, thanks to his awesome vocal. He can sing and scream equally great. A future face of the hard rock/metal world.
The best vocalist of all time! M. Shadows have great voice range and he is the best, even on early metalcore times his screaming was so great, but now he is even better, can't wait for new Avenged Sevenfold album.M. shadows and A7X foREVer!
10
Corey Taylor

Corey Todd Taylor was born in December 8, 1973. He is an American musician, author, and actor best known as the lead singer and lyricist of the Nu-metal band Slipknot and hard rock/alternative metal band Stone Sour.
He is one of the best songwriters and has a great stage presence.
No one has the crowd under control like him.
He has one of the best voices in the world, his screams are brutal and sounds extreme evil and his voice for emotional songs is epic.
No one put so much feelings in his songs like him.
He screams for over 10 years and his voice is still amazing.
He can sing every style of music and make 'songs that he cover to his own.
Slipknot's amazing vocalist. He is so good at changing his singing style during a song from close to shouting into almost normal singing.
He is by far the best! He has one of the most amazing death growls ever, and then he goes into this beautiful, yet agressive singing voice that people would give an arm and a leg to have. Best Metal Vocalist period. Followed by M. Shadows of A7X, and then Serj Tankian of System of a Down!
What makes him interesting isn't has technical range, it's his switching between growls and singing. He really doesn't change his pitch that much, but it seems like he has a lot more vocal range because the tone of his voice is so different. He's a great singer, but he shouldn't be in the top ten.
The Contenders
11
Chester Bennington

Chester Charles Bennington (March 20th, 1976 - July 20th, 2017) was an American musician, singer, songwriter and actor, best known for being the lead singer of Linkin Park. He also participated in side projects like Julien K and Dead By Sunrise. He committed suicide in 2017 after a period of depression. ...read more.
chester bennington rock the world I love him
What? Corey is higher than Chester? Chester is more better! Chester has the ability to scream, sing, and growl in different kinds of tunes. No one could ever beat his legendary 18 seconds of SCREAM! No one, I said, NO ONE, could ever beat him! Chester deserves to be the Top 1 of the list. Linkin Park is the best! Case closed.
Whether he screams or not he's voice is just great... Whether he sing's it in the hard guitar or in a piano alone, he's just amazing and I can clearly undertand the words.
Chester
Chester
Chester
First
First
First
Now
Now
Now
We love you bennington
12
Bon Scott

Ronald Belford "Bon" Scott was a Scottish-born Australian rock musician, best known for being the lead singer and lyricist of Australian hard rock band AC/DC from 1974 until his death in 1980. He was born in Forfar and lived in Kirriemuir, Scotland, for 5 years before moving to Melbourne, Australia, ...read more.
Scott is a bad ass frontman and an awesome lyricist And his raspy bark and screams are above many Not number 1, but definitely in the top 5 Hands F... N down!
Bon is absolutely perfect singer. In albums, his voice fills every song with his beautiful voice. And live, he could get that real screaming coming from his strong lungs. Bon is god. #1
If it weren't for Ronald Belford Scott you would've never heard of Brian Johnson or even AC/DC as a whole... One of the best songwriters ever. One of the best Showmen ever. It almost seems that everyone that has cast a vote on this list is still driving around with Back in Black stuck in there tape deck... No No wait a minute, I don't have time to explain that one. So go ask your mother what a tape deck is.
Bon Scott was the incarnation of Rock'n Roll. His wild voice still sounds rough like an animal scream. He lived like a true rocking' man. His personality and charisma will never forget. He died as he lived, savage and fast. God bless you Bon.
13
Brian Johnson

Brian Johnson is an English singer and songwriter. Since 1980, he is the lead singer of the Australian rock band AC/DC, with whom he was inducted into the Rock and Roll Hall of Fame in 2003. As of April 2016, Johnson is not participating in the remainder of the Rock or Bust World Tour due to hearing ...read more.
"For Those About To Rock". Need I say more. That song alone is lightyears beyond anybody's vocal ability. Even Brian Johnson's. (In all seriousness, best gritty, hard rock vocalist of all time).
Brian Johnson should be #1
Brian Johnson is an original. Best heavy metal singer of all time!
Brian Johnson is number 1, best in heavy metal, rock, hard rock, his voice is unbelievably incredible.
14
Ian Gillan

Ian Gillan is an English singer and songwriter. He originally found success as the lead singer and lyricist for Deep Purple, and the original singer on the rock opera concept album Jesus Christ Superstar by Andrew Lloyd Webber, where Gillan had the leading role (Jesus Christ).
Why do I have to add him? He should be at least number 5. Listen to Child In Time or watch Deep Purple New York 1973 on youtube. He has an amazing range and a rich voice
Please, just please listen to Child in Time, you will see his vocal range, and then vote for him. One of the best hard rock vocalists there is, and highly underrated.
I truly believe his best vocal performance is an aria from Jesus Christ Superstar: "Gethsemane (I Only Want to Say)". It's available on YouTube and it's mindblowing. Just make sure it's his version because this song has many covers. But Gillan was the original performer of this epic piece, he was the original Jesus Christ. Gillan is the most underrated rock/metal singer of all time.
In his prime, Gillan had a bona fide 3 octave voice - nobody before, or since, could have ever replicated his incredible 3 tiered screams on Child in Time. For those who have not experienced that awesome performance from DP's In Rock album (also live on Made in Japan), check it out. I guarantee it will blow you away. Cheers.
15
Phil Anselmo

Philip Hansen "Phil" Anselmo is an American musician who is best known as the former lead vocalist of the heavy metal band Pantera. He currently is the vocalist of heavy metal bands Down and Superjoint Ritual.
Listen to cemetery gates people, this guys range is unbelievable. From the high notes he can hold to the heaviness he can deliver on the mic, his great lyrical work, this guy should no doubt be in the top 5.
The dude goes from low growls to breaking glass, he has a hell of a range, he sings clean really well too, just listen to some of the stuff he's done with Down
No one can create the mass fury in the audience like Phil Anselmo. He has/had the look, the voice, but more importantly the throw caution to the wind attitude. Total badass.
Listen to medicine man and you will now this guy is the best metal voice in Earth!
16
Serj Tanikan
To be very honest about Serj Tankian, he is one of the best vocalists on the rock genre, simply awesome with his voice and not to forget he blasted a lot of your so called "honest politicians", this guy's songs attracts with one's life, both as a citizen and also he has songs about your romantic life, as a huge fan I recommend you these two songs "Empty Walls" and "Honking Antelope", you'll know what I'm talking' about. Long live Serj, long live.
He should be higher! Definitely. He has not only got a great voice, but his music has got sense.
This guy's all about opinion. Personally, I think he's got the best range and repertoire of all of the modern metal singers, but I don't think enough people like him enough to consider him to be one of the top ten metal vocalists. I'd like him to be higher, but it probably won't happen.
Why isn't serj on 1st!?!? He is simply the best vocalist and song writer ever enough said.
17
Layne Staley

Layne Thomas Staley was an American musician who served as the lead singer and co-songwriter of the rock band Alice in Chains, which he founded with guitarist Jerry Cantrell in Seattle, Washington in 1987. Alice in Chains rose to international fame as part of the grunge movement of the early 1990s. ...read more.
#30 is very high for this extremely talented singer. His ability to make you feel not just hear the music was amazing. I can only imagine the music he would have created if was still with us. Thankfully we still have a piece of him to remind us how great he truly was. RIP Layne Thomas... We will always remember you.
The man. The Genius. He could fit right in every type of compositions, such a wide range he possessed. From Blues, Hard rock/Heavy metal, Sludgy doom metal to Country laden acoustic tunes he could pull all off with ease.
There is nothing I can say that explains his vocal talents. "Imitations are pale... " Just read the name Layne Staley - says it all!
This list is all askew. Those who should be near the top are closer to the bottom. And those who should not be included in this list are near the top. Layne Staley makes me feel.
18
Dave Mustaine

David Scott "Dave" Mustaine (born September 13, 1961) is an American musician, singer, songwriter, actor and author. Mustaine is best known as a pioneer in Thrash Metal, being the former lead guitarist of Metallica before his dismissal in 1983, leading to finding and becoming the front man of his own ...read more.
Just listen to his growls on holy wars... The punishment due or on mechanix
You
Next victim
You
Next to die
You next victim
You your turn to die!
He's not a good singer but I don't think Megadeth would be as awesome as they are if the had a good singer
Dudes HE can't SING! He is a good guitarist and awesome song writer but his voice... no (i'm a megadeth fan but his voice sucks)
19
Steven Tyler

Steven Tyler is an American singer-songwriter, multi-instrumentalist, and former television music competition judge, best known as the lead singer of the Boston-based rock band Aerosmith, in which he also plays the harmonica, and occasional piano and percussion.
the best vocalist, frontman, and the most craziest performer ever! see his lips and and heard his screams?
Just listen to his scream at the end of Draw The Line
Are you ' kidding' me? Top five, at least.
20
Geddy Lee

Gary Lee Weinrib, known professionally as Geddy Lee, is a Canadian musician, singer and songwriter best known as the lead vocalist, bassist, and keyboardist for the Canadian rock group Rush.
This guy is SIXTY and still going strong with his voice.
His voice in the 70s is as good as it gets. That is the perfect voice for metal in my opinion. Even if Rush wasn't a metal band
Rush is the greatest rock band of all time.
21
Chris Cornell

Christopher John "Chris" Cornell was an American rock musician and singer-songwriter, best known as the lead vocalist, primary songwriter and rhythm guitarist for Seattle rock band Soundgarden and as former lead vocalist and songwriter for the supergroup Audioslave. His vocal range was C2 to A5, while ...read more.
Chris Cornell, Layne Staley, and Freddie Mercury should all be in the top ten. Kick out Chester Bennington, M Shadows and Corey Taylor. If we're going to talk about pure vocal power and awesomeness, then you have to go with Chris. Four octave range, screams, clean tones, and the ability to sing tons of different types of music, ranging from metal to moody rock (Like a Stone) are what makes him so great. In addition, he does this all while playing guitar. Myles Kennedy shares the same attributes and he's one of my favorites as well. Both of them should be in the top ten.
This guy can deliver powerful lows to soaring highs! His voice has to be one of the most powerful in grunge tied with Layne Stanley. The man can also scream his head off too! Just his to his performances on Jesus Christ Pose or Slaves and Bulldozers and you will know what I'm talking about.
Chris has the unique ability to whip and caress the listener at the same time, to project the whole range of emotions to the listener while playing a steady rhythm guitar at the same time. He IS music - and not confined to one style or expression only! Spawning a full four octaves is impressive, but a stupid measurement for voice quality actually... It's the amount of SOUL in the voice, and the singers ability to reach out tand touch his/hers audience that really defines the great vocalist.
Why Chris is not in the fourth...? It's interesting James is first... His live is not that good, but he makes efforts... be more objective!
22
Randy Blythe

David Randall "Randy" Blythe is the vocalist and lyricist of American heavy metal band Lamb of God and side-project band Halo of Locusts.
Randy blythe is the best and I mean the best he should be number 1 listen to "blood of the scribe" and "in your words" and vote again. Long live the prince of heavy metal!
Randy Blythe has the best metal vocals for sure, just listen to his voice, it's proper hardcore! And I don't know but why is he under Kurt?
His range is amazing and he can scream insane vocals. Should be number one for sure
You are great and I can't wait to see you in the flash
23
Jonathan Davis

Jonathan Howsmon Davis, also known as JD and JDevil, is an American musician best known as the leading vocalist and frontman of the nu metal band Korn.
Why the heck is Jonathan Davis of KoRn at 22 now?! Huh! I don't get it. KoRn is like one of the successful Nu-metal bands next to Limp Bizkit and Slipknot! But the thing is... KoRn invented Nu-Metal. :) I love KoRn and their music and effort. Head is back. David is not but I don't really care because I understand some KoRn fans say "David had more funky beats in his drums." which is pretty true but let's give Ray some credit, respect, and love. There is nothing wrong with Ray Luzier that's been in KoRn since 2007! Not only that but Jonathan said in an interview that he had a "normal hell childhood"..."Normal childhood? " No. His childhood and teen years were'nt normal at all. He got treated bad by his dad, step-mom, cheerleaders, classmates, teachers, and the principal in high school. And I also heard he got molested before high school or something like that. Yes. All of this came out of an teen KoRn fan and I've been listening to KoRn like crazy when I ...more
one of those who still put A LOT of emotions in his songs. A great inspiration for me. Bo:rni, from UNCLOUDED PERCEPTION
Haunting and raw vocal power.
He should be number one
24
Paul Stanley

Stanley Bert Eisen, known professionally by his stage name Paul Stanley, is an American musician, singer, songwriter and painter best known for being the rhythm guitarist and co-lead singer of the rock band Kiss.
I'm a big KISS fan, so I think Paul should have placed higher. Of course as the years went by, KISS was over shadowed big time by bands that sold way more albums & had way better guitar players than Ace. I think the only reason KISS even got so huge is because they came out in '75 when their was not a lot of real competition. If this list were made in '75 to '77 KISS glory years, then Paul would definitely be ranked #1. Paul's voice now is very bad unfortunately.
Amazing singer. If he'd had been in any other big band and not KISS he'd be up at the top of this list.
Must be some rap loser he is the lead singer for one of the big 4 zeppelin sabbath deep purple and kiss everybody else is afterbirth
He is very good or the best and no-one can correct this because I am right!
25
David Draiman

David Michael Draiman is an American songwriter and the vocalist for the band Disturbed as well as for the band Device.
Definitely the most underrated vocalists on this list... He has the perfect voice for metal... Unlike most on this list... He actually sings instead of screams... I mean I'm all for screaming (i love all types of rock and metal.. Now calm down old school metal fans who can't accept change) David can do more than that... He can still sounds badass while singing... Just like dio did... He deserves to be at least top 5
Disturbed is all about Draiman's vocals. His vocal sound gives creeps for even most metal singers and it's stunning to hear him first sing song like "Asylum" and right after "Darkness". Beautiful, just beautiful!
What the hell happening in here? I can't believe it man. David draiman AT O 20? Why? He should be on top 5(AT LEAST)... Do some vote... For Voice of metal. His voice range is unbelievable. Listen to Asylum. The animal. Sons of plunder. Darkness. The night... Water boiling when he SINGING!
Not only does David Draiman impress in original music from Disturbed and Device, he makes classics like "Sound of Silence" and "Land of Confusion" far better with his amazing voice. Badly underrated vocalist.
PSearch List