Top 10 Greatest MMA Light Heavyweight Fighters of All Time
Honoring Mixed Martial Art's finest light heavyweight fighters.
The Top Ten
1
Jon Jones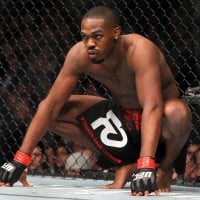 Jonathan Dwight "Jon" Jones is an American mixed martial artist and current interim UFC Light Heavyweight Champion.
Jones is #1. Silva is a middle weight and even though he has fought light heavyweights, he hasn't fought the best of them.
He's the greatest for a reason. He's definitely getting his belt back, and he's definitely going to be in the UFC hall of fame.
Jon Jones should be number 1, I have seen this guy fight and he fights in a better style then Silva.
I have a love hate relationship with how jon jones fights.
2
Chuck Liddel
Chuck is a legend and is still one of the greatest fighters to ever enter the cage. He was the knock out king. I think it is funny how bones jones and other fighters still to this day talk about him so that should let you know he is still one bad ass dude in the ring. Cause half of his haters couldn't hold a candle to him in his prime. They know it and it's just funny to me. It's like I always say respect your elders kids. But this is just my opinion we all have one.
Even though Chuck lost to Rampage I think he still belongs ahead of him knowing a lot more people were impressed with his knock outs.
Chuck is by far the greatest knocked out some of the greatest of all-time the Randy Couture Tito Ortiz and he was a great entertainer helped make mma what it is now
Chuck should be number 1. Unlike Jones chuck was a clean fighter that never needed to fight dirty to win. Jones poked eyes and used peds.
3
Lyoto Machida
The most elusive and puzzling fighter of all time.
Lyoto was a GREAT all around fighter!
Undefeated, UFC Ligh Heavywieght champion.
The dragon is the best heheheheheheheh hahaa go go go
4
Quinton Rampage Jackson
Rampage was the epitome of violence during his prime - fast, powerful, brutal slams, knockout power in both hands, concrete chin - Rampage was one of the most exciting fighters to ever step in the ring. And an often forgotten fact - Quinton Jackson is the first Undisputed Light Heavyweight Champion of the UFC / Pride FC.
Destroyed Chuck Liddell twice in his prime and defeated Dan Henderson (Who at the Time Held 2 pride titles at the same time! ) Undeniable one of the greatest light heavy weight fighters of all time, Rampage!
Over 30 fights, and only has 7 defeats. First Undisputed UFC Light Heavyweight champion.
An absolute menace, best favourite of all time
5
Daniel Cormier

Only lost to a ped up jon jones absolutely smashed everyone else
Only ever beaten by a cheat, he has my number 1.
Easily the greatest light heavyweight in ufc history
Cormier is the greatest light heavyweight and heavyweight fighter in the world and he has the belts to prove it.
6
Forrest Griffin
One of MMA's most popular fighter's, and has won often when he is mostly doubted.
Never a dull fight!
7
Anderson Silva

Anderson da Silva (born April 14, 1975) is a Brazilian professional mixed martial artist currently signed with the Ultimate Fighting Championship (UFC). He is a former UFC Middleweight Champion and had the longest title reign in UFC history at 2,457 days. This started in 2006 and ended in 2013 and included ...read more.
Undefeated in UFc, defeated Dan Henderson, Rich Franklin, James Irvin, and Forrest Griffin like its a walk in the park. Do research and Silva is in the world pound for pound number one.
is da best fighter ever should go back on ufc and kick sum more ass
I love Anderson Silva. Him and GSP are my favorite MMA fighters. It's almost sad how Anderson Silva is at the top of this list and this isn't even really his primary (best) weight class. He's just that good.
Silva is a middleweight.
8
Tito Ortiz

9
Mauricio Rua

Maurício Milani "Shogun" Rua is a Brazilian professional mixed martial artist currently competing in the Light Heavyweight division of the Ultimate Fighting Championship.
Easily the second best light-heavyweight of all time based on resume and longevity of elite level competition
Pride Grand Prix champion, and completely dominated Chuck Liddel.
He may not be as famous as the ice man but should be ranked higher
Should be ranked higher
10
Vitor Belfort

Vitor Vieira Belfort is a Brazilian mixed martial artist and former UFC Light Heavyweight Champion as well as UFC 12 Heavyweight Tournament Champion.
Former UFc light heavy weight champion, and UFC tournament winner.
One of the greatest steroids fighters of all time.
CHEAT.
shouldn't even be on this list. Oh and talking of cheats neither should Anderson, Jones, machida, wanderlei ALL CHEATS
The Contenders
11
Dan Henderson
To me its hands down either Hendo or Silva. Silva has a great win streak but Dan has been so great for so long and might still have the hardest punch in the UFC in his 40's. The fact he will fight anybody even a heavyweight speaks volumes about himself and why he's in the industry. The money will come and go but his legacy will be around for decades
The champion of Pride in multipule divisions, and tournament winner. Also legend in UFC.
12
Randy Couture

Randall "Randy" Duane Couture is an American actor, retired mixed martial artist and former collegiate and Greco-Roman wrestler.
Multiple time UFC champion. Wins over Chuck Liddel, Tito Ortiz, Vitor Belfort, and more.
Randy is top 5 all time great light heavy mma fighter. I don't know who made this list but they need to do some research
Put Jones or Silva against Coture in his prime. Chances are, it's a split decision. They absolutely do not run over him. Coture, Hall of Famer, is top 3 without a doubt.
13
Wanderlei Silva
Holds a record of 31 and 7 at light heavyweight, fought as a heavyweight with mixed results and eventually moved down to middle weight where he has established a decent record. Losses to Mark Hunt, Mirko, Rich (twice), and Leben do not count towards his light heavyweight resume. Greatest Light Heavyweight fighter ever.
For 6 years undefeated pride middleweight champion and the winner of 2003 PRIDE Middleweight Grand Prix Tournament.
Wanderlei Silva at 11. It's quite obvious you people never watched Pride and know nothing about MMA.
Wanderlei was an absolute savage in his prime when he was fighting in pride
14
Rashad Evans

Rashad Anton Evans is an American mixed martial artist from Niagara Falls, New York, signed to the Ultimate Fighting Championship.
Only one loss, Ultimate Fighter season 2 winner, and ex UFC light heavy weight champion.
One of the best to do it at this weight.
he ass
15
Alexander Gustafsson
Jon Jones is superior to Gustaffson, but it is the only one who can it fight againts Jones
Heart of a warrior! Fought easily some of the best ufc fights of all time!
If it wasn't for Jon and DC
Best
16 Rich Franklin
17
Anthony Johnson

Anthony Kewoa Johnson (born March 6, 1984) is an American retired mixed martial artist who competed most recently in the light heavyweight division of the Ultimate Fighting Championship. He was well known for his brutal knockout power and intimidating presence inside the octagon. Before retiring, he ...read more.
Absolute monster the only reason he lost to jon jones is due to a decision. The entire fight he crawled on the ground to avoid Johnsons NFL legs cracking his jaw. Both Jones and Cormier struggled with Gustafsson and Johnson knocked him cold out. End of conversation Anthony Johnson is a true GOAT
Both Jones and Cormier struggled to beat Gustafsson and had to do it by judges decision. Anthony Johnson knocked Gustafsson out no problem. He will eventually fight Jones and give him problems.
18
Ken Shamrock

Kenneth Wayne "Ken" Shamrock is an American mixed martial artist, Ultimate Fighting Championship Hall of Famer, and professional wrestler.
19
Gegard Mousasi
Don't even know him
Truly underrated
haha
20
Michael Diaz II
Has destroyed everyone! He literally took Anderson Silva's head and raised it on a stick and slapped Georges St. Pierre and he didn't do anything about. Pretty soon I'm a take your homeboy's belt (Jon Jones) and ima collect his head and raise it.
All right enough with the troll comments but a legit middleweight and light heavyweight
Awesome fighter and a legit black belt in Kyokushin Karate.
21
Aung la Nsang
The Goat of Asia
22
Ryan Bader

Ryan DuWayne Bader is an American mixed martial artist, competing in the UFC in the Light Heavyweight division.
23
Bas Rutten
Don't forget about the Bas
24
Antonio Rogerio Nogueira
In pride dominated, only 3 losses, and wins over legends like Dan Henderson
25 Phil Davis
PSearch List