Top 10 Most Overrated Disney Movies
WaltDisneytoptens1937
The Contenders: Page 2
21
Zootopia
If I wanted a two hour lecture on political correctness, I'd spend those two hours on Tumblr and Facebook.
Animal puns, washed up has-been pop star as the hot thing in this animal world, annoying overdone political satire, the fourth Disney movie in a row with a "surprise" villain... nope, doesn't deserve to be the best animated movie of all time like everyone's making it out to be.
Only out a week and it's already overrated. I don't watch movies for blatant social commentary.
Movie This up To the top 5 - VideoGamefan5
V 28 Comments
22
The Princess and the Frog
Overrated because the "representation matters" crowd felt the need to support it and push its "greatness" because in their minds not doing so meant Disney would make more "people of color" princesses. Meanwhile, ignoring the skin color of its heroine, this movie tried too hard to be "modern", the songs weren't that great, and ALL the characters (black, white, not human) were varying degrees of annoying or unappealing.
Everyone keeps bringing up how Tiana worked two jobs and was so "focused" and "driven" making her this wonderful, perfect role model and so much better than any other Disney princess (except maybe Mulan). Thing is, had Tiana been white none of that would have meant squat to the same people shouting her greatness from the rooftops.
Unfortunately, people always feels the need to cry "racism" every time someone says anything even slightly negative about this movie.
To Be honest, It's Underrated - VideoGamefan5
V 6 Comments
23
Toy Story
The first movie is heartbreaking but amazing!
Nope not overrated at all deserves all the praise it gets
This One Gets A Pass For Me, It Started Pixar And Disney's CGI Thingy So I Can't Say No To That - VideoGamefan5
How tf is this overrated? It started the 3D movie obsession and us the reason we HAVE 3D movies!
V 3 Comments
24
Cars 2
People need to lighten up. I love this movie! It had a great story, great action (a lot of violence and a kill count! That's pretty gruesome. ), and fun new characters! Plus, more stunning visuals as the story takes us to Japan, Spain (Italy? ), and England to follow the racing circuit with Lightning McQueen. If you don't like Mater in the first film, then that is probably why you don't car for the sequel.

I wouldn't call this movie overrated or underrated. But I want to point out that it is NOT a bad movie. You just have low expectations.
This is underrated, not overrated. So much people said that it sucked, was the worst Pixar movie, and gave it terrible reviews. This is more for James Bond- fans. Not Disney fans.
This doesn't even follow the first one right. Cars was among Pixar's weakest efforts. I didn't hate the first movie but it's not something I would want to make a sequel out of. It dodn't even make that much money. Unless you count the $8 billion made in Cars merch. If you are relying on toys to get money when you are a film company, you need to start trying. - Garythesnail
This movie overrated puhh right everyone hates I like it I think its cool I don't listen to those critics
V 8 Comments
25
Cars 3
It's Not Even Out Yet And Yet Everyone is Going Bonkers Over It, Pixar is this a mattel toy showcase or an actual film? - VideoGamefan5
This Film Should Have A Much Higher Spot - VideoGamefan5
V 1 Comment
26
Alice in Wonderland
This is for the original only. The other version was better.
"If you really want to know he went that way"
"Who did?
"The white rabbit."
"He did?! "
"Did what? "
"Went that way"
"Who did? "
"The white rabbit."
"What rabbit? " Funniest thing ever and no the animated one is a classic the Tim burton one is god awful
I never really liked the story of Alice in wonderland but the Tim burton version just made it worse
V 1 Comment
27
Brave
I don't understand why people hate this film. It's a visually stunning film, which is different for Pixar (though for Cars they did well with landscapes too). I love the history and culture behind the piece. People didn't like the plot story with the mother turning into a bear, but if you read ANY sort of fairy tale from ANY culture, there are a lot of stories of similar things. This isn't a "new" idea that made Pixar to be a bad storyteller. For a story taking place in ancient Scotland, it was a powerful story about "mending the bond torn by pride" between a mother and daughter. I liked Frozen for doing something similar, but with sisters. But why does Pixar get hate and Frozen doesn't? Seriously people, I don't understand you! The only negative thing about the film is the abundance of boob jokes about Mottie (or whatever the maid's name is). That's pretty much it. I place it up with Incredibles and Finding Nemo.
Brave should be number two next to frozen. Wreck - it - Ralph is not overrated at all. It is underrated. Tangled is underrated too. But brave us too overrated
The female brother bear
Why Do So Many People Hate This Movie? - VideoGamefan5
V 3 Comments
28
Cinderella
Never liked this story. Every retelling makes me feel like Cinderella "deserves" a prestigious life after being emotionally tortured by her step mother and step sisters. How about a story where she doesn't get the prince?! Plus, why is it that the prince doesn't recognize her after dancing together at a ball? If he really loved her, he's know what the heck she looked like, even WITH rags on! Overrated for me, for sure!
V 1 Comment
29
Tarzan
Why is this on this list, Tarzan is so underrated not overrated, the story is nice and a bit sad. The sound track it one of the most beautiful I've ever heard in a Disney movie, it may actually be my favourite. I liked the characters a lot to. Why is this on this list?
Why Is This Here, Sure The Songs Suck, But The film itself is Very fun And Exciting - VideoGamefan5
30
101 Dalmatians
Hello, shouldn't this belong in the "Underrated" section.
V 1 Comment
31
Camp Rock
Oh Look!, Another Teen Disney Channel Film! - VideoGamefan5
32
Lady and the Tramp
This is my favorite Disney movie
That stupid spaghetti scene is everyones favourite thing in the world
V 3 Comments
33
Geek Charming
Lol I have never even heard of this movie
Who in the blue hell decide this movie is so overrated it had to be on the list
V 1 Comment
34
Moana
As much as I love this movie, I am aware that it rather borrows elements from Frozen.
95% On RT, This Film Is Great But Overrated - VideoGamefan5
While I wouldn't call Zootopia as good as the score on rotten tomatoes implies, but I can at least understand why people will call it that good.
Moana is by no means bad, but it has the most conventional "chosen one" narratives (which causes problems for reasons that are hopefully obvious), a plot structure that felt like 5 episodes of a T.V. show put into one, and songs that while not awful completely forgettable. Yet has a 95% on RT.
35
The Incredibles
The Movie Is Awesome, But The Fans Need To Calm Down About Cars Getting A Sequel First, HELL, Has Anyone Even HEARD That Toy Story 4 and the Incredibles 2 Switched Release Dates? - VideoGamefan5
I love this and so happy there making a incredibles 2
Why the ruck is this here I love this movie and the SECOUND movie has jack jack as a bad boy I think
V 1 Comment
36
Bolt
Miley Cyrus was in it. Need I say more?
As a dog lover it's hard for me to hate any movie about an owner and their dog. But this movie just isn't that good
Never liked this film. I liked the idea of it, but I guess I hated the side characters and the overall storyline that I never once saw it in a positive light.

P.S... The dog wouldn't ever think he could actually bark sonic waves because that would be done in post production of whatever T.V. show he was on. Either this dog is stupid or just drugged all the time.
V 1 Comment
37
Planes
Not That Overrated, It's Pretty Hated - VideoGamefan5
38
The Fox and the Hound
39
Alice In Wonderland (2010)
The original 1951 version is way better (yeah, I just said that). This needs to be in the top 5s. The character design is just boring.
I Have No Clue - VideoGamefan5
40
Rogue One: A Star Wars Story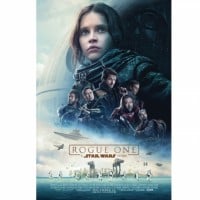 Oh my god it's really overrated. It's boring, bland, and unnecessary. - DCfnaf
Hey Fanboys, Am I Funny Yet? , Quit Hating On TFA And Praising This Film, It's Really Hypersensitive! - VideoGamefan5
V 1 Comment
PSearch List
Recommended Lists
Related Lists
Top 10 Most Overrated Disney Animated Movies
Top 10 Disney Movies that are Good but Overrated
Best Disney Animated Movies
Top 10 Best Disney Movies
Best Disney Channel Original Movies
List StatsUpdated 27 Feb 2017
1,000 votes
157 listings
2 years, 353 days old

Top Remixes (32)
1. Frozen
2. High School Musical
3. Teen Beach Movie
VideoGamefan5
1. Fantasia
2. James and the Giant Peach
3. The Nightmare Before Christmas
opinionsarenotwrong
1. Mulan
2. Lilo & Stitch
3. Toy Story 3
traveling_elusive_prncss85295
View All 32
Posts
Error Reporting
See a factual error in these listings? Report it
here
.