Best Rappers of All Time
Presenting the top 10 greatest rappers of all time based on over 400K votes from fans like you. Disagree with the list? Vote on the hip hop rap artist you think should be number one.
The Top Ten
1
Eminem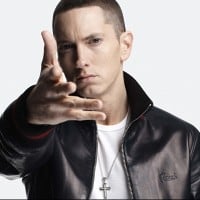 Eminem, born Marshall Bruce Mathers III, is an American rapper, actor and music producer born on October 17, 1972 in St. Joseph, Missouri. Eminem has sold over 300 million records making him the bestselling hip-hop artist of all time. In addition to his solo career, he is a member of D12 and (with Royce ...read more.
Best flow, best lyrics, best beats, best singing, voice, best rapper ever he's best artist ever. Both of his personality, slim shady and Marshall Mathers, are great to listen to. He has a song for whatever mood your in, If you need to get pumped up listen to Till I Collapse
I agree with this comment. What blows my mind is HOW DID THIS COMMENT GET 8000 THUMBS UP? HOW?
Em is easily #1 his first 3 albums (sslp mmlp and eminem show) showed rap fans a style never heard before. His metaphors and word play are crazy and his lyrics are probably the best ever. He was the first rapper to blow up from the underground battling scene and he always talks about real stuff unlike Wayne and all the other mainstream rappers. Hell the sequel is gonna be insane! SHADY 4 LIFE!
Eminem's life made him who he is today, one of the greatest of all time, when I listen to his songs he reminds me of pac, biggie & rakim, one of the greatest of all time and the best rapper alive
They remind you of biggie and Tupac? In what way are they similar to Eminem? But yeah I agree I loved Lose Yourself and My name is. And. I thought My Mom was kind of funny of a song
MASTER OF WORDS, KILLER OF FLOWS, INDESCRIBABLE RHYMER, LYRICAL GENIUS, FREE STYLING MONSTER! Tell me something I'm missing.
2
Tupac

Tupac Amaru Shakur, also known as 2Pac, was an American rapper and actor born on June 16, 1971 in East Harlem, New York. Tupac sold over 75 million records worldwide and has been referred to in multiple major publications such as Rolling Stone as one of the greatest music artists of all time. 2Pac was ...read more.
Enough said! Tupac's a community dude.. Rapping for the people, it doesn't get better than that. Eminem is great agreed! But tupac gives a whole new meaning to what rapping is supposed to be about.
He is only one of the ultimate, honest as well as Gangsta rapper standing alone for the people who is suffering... His lyrics, flow and husky voice has inspired me and he will be remaining the no1 rapper till the end of time...R.I.P. leasane parish crooks...
I agree. Listening to tupac's music is like a journey through his life and thoughts. By the way I started listening to tupac a while after he died, I actually started listening to eminem first. Tupac treats rap as what it should be, an art-form, not just entertainment. Poetry not nursery rhymes, intellect more so than wit. Even in his casual songs strictly for entertainment he still displays a tremendous level of talent. He is immensely passionate about his poetry and has something real to say.

Tupac will forever be the greatest rapper ever... Period!
Followed by Nas...
This man right here was the greatest Emcee to ever live. He truly took rap to the next level. Those of you voting Eminem above him need to go listen to 2Pac because even Eminem said in his own words that 2Pac was the greatest songwriter in history! No joke, he is above Elvis, Bob Dylan, The Beatles, Kurt Cobain, Michael Jackson... All the great legends of music. 2Pac reached the next level. He wrote and created music not just about his own circumstances, but a society and a world. The man could recreate his own authentic soul into a musical form that the majority of the ignorant world overlooks because it is created by underclass people in the ghettos. 2Pac put his voice out beyond people sharing his community and cultural background(he did this though); the man like no other rapper before or after him recreated an experience shared by everyone in the world. For example he raps about things like being trapped, having to make money to survive, our hyper-competitive world, relationships ...more
3
Notorious B.I.G.

Christopher George Latore Wallace, born May 21, 1972, better known by his stage name The Notorious B.I.G (sometimes Biggie Smalls or just simply Biggie), is an American rapper from Brooklyn, New York. On March 9, 1997, he was murdered in a drive by shooting in Los Angeles, California at the age of only ...read more.
His raps are genius, you can actually picture what he's saying... Story to tell, hypnotize are his top
***His raps are genius, you can actually picture what he's saying... JUICY, EVERYDAY STRUGGLE are his top
He is one of the only 5 Rappers that have reached Diamond...

The Best...R.I.P.B.I.G.
Sorry its a disgrace that Lil wayne be put above him.. Long live The Flow. Biggie was to the East Coast what 2Pac was to the West Coast. Biggie released the Hip Hop classics "Ready to Die" and "Life After Death" and became a Hip Hop icon. He changed the way an MC flows, and stopped everyone in their tracks when he dropped his verse on "Notorious Thugs" using the Bone Thugs style better than they did themselves. Also one of the great storytellers in Hip Hop, The Notorious One had every element an MC could dream of. Would have easily been number 1 if not for his untimely death in 1997.
My list:
1. NOTORIOUS B.I.G. :Amazing rhymes, lyrics, flow, and rhythm;he can even rap almost as fast as Eminem
2. TUPAC SHAKUR/MAKEVELI:just plain fun to listen to, great lyrics, flow, and rhythm. He is not the most lyrically talented but can rap about any topic and make any lyrics about it.
3. NAS:fantastic rhymes and lyrics, never even needs to breathe, his raps teach you lessons.
4. EMINEM:great rhymes, amazing lyrics, and great speed, not close to busta, 2nd place on this list, anyway has so many songs that are catchy AND good unlike lil wayne which is always one or the other. Also hilarious, til he overdosed, practically switch funny and awesome for fast and serious.1st rapper to have 2 diamond albums.
5. JAY-Z:great lyrics, good pace, hard rhymes, great voice. So many classics, he gets better and better each album in my opinion
6. BUSTA RHYMES:his name says everything, awesome speed, great rhymes, shocking lyrics, and when he raps slow, he rhymes better. ...more
4
Nas

Nasir bin Olu Dara Jones, better known by his stage name Nas, is an American rapper and entrepreneur born on September 14, 1973 in New York City. His album, Illmatic, is considered to be one of the best rap albums of all time. He is also considered to be one of the best rappers of all time.
Knowledge and lyricism, A MC not just a Rapper.
He knows brings discussions, He did that with hip hop is dead and the untitled album
He gives you something to think about. He knows the history of hip hop and gives a strong answer to commercial rappers of today.

Old Skool MC KRS ONE praised him and brought a tribute to him. He is respected by Rakim and Slick rick!
He influenced A lot of rappers in the 90 and today. Think about Jay Z, Tupac, Common, Kanye west, Talib Kweli, Eminem.

A Poet! A Rebel, A MC, A Storyteller. Nas brings Oldsckool and New Skool together.
Lyrics - 10
Voice - 9
Themes - 10
Popularity - 8
Critical Acclaim - 8
Overall - 47/50
Arguably the best lyricist of all time. Very very powerful messages delivered through his songs to empower the young generation much like Pac did (Nas frequently said that him and 2Pac were soldiers of the same mission) and never mainstream topics.

Nas has some of the most iconic and yet underrated hit songs of all time. From his incredible debut on Illmatic to his latest works which are really consistent.

Songs like Hate Me Now and Get Down are forever classics and you can never really get used to listening to him.

His flow is top tier without a doubt and his verses are poetic to a point that transcends rap or music in general.

Not to mention that Nas delivered a wrecking ball-style diss track on Jay Z called Ether which was so nasty that it became an actual term of disrespect (I.e. "you just got ethered").

Underrated by the latest generation because of his seriousness and old school style which are gold to find these days.

A true ...more
In til I collapse Eminem put nas before him on the top ten list they seem pretty equal nas is an amazing rapper. He definitely could be number one on this list. It's hard to decide who is the best. There both better in different ways. Nas has better lyricism word for word when he describes in his music. Eminem has better rhymes most of each line he says has 2-3 rhymes. Nas is tough with his lyrics his flow and versus are harder but not his beats and keys. But nas tends to have some really good instruments in his songs. Nas takes the style from the 70s and 80s and has current generation styles.
5
Jay-Z

Shawn Corey Carter, known by his stage name JAY-Z, is an American rapper, record producer, entrepreneur and investor born on December 4, 1969 in Brooklyn, New York. He is best known for his albums Reasonable Doubt, The Blueprint, and The Black Album. He is considered to be one of the best rappers of ...read more.
Jay Z is not only one of the best rappers STILL in the game, but he's also one of the most successful men on this planet. Coming from the streets, he turned himself into a business man. He's discovered most of the greatest talents in the industry today. He discovered Kanye. Nobody thought Kanye could rap till Hova supported him. Jay has been putting music out for the past 19 years. What rapper can stay relevant for that long? This dude is in his 40s. And with age, his lyrics have grown. He went from a 90s thug, making freestyles about killing cops with Big L to being one of the most influential artists in pop culture today. Listen to one song on Magna Carta Holy Grail, and you'll be scratching your head to the lyrics. You look up what he's talking about and you realize that Jay Z is a lyricist like no other. He's getting to the point where his music is almost art. Can he spit fast like Eminem? No, but he's got a style that surpasses speed. And the only reason Tupac and Biggie are ...more
Okay okay, his old stuff was pretty damn good. But "STILL in the game"? Are you kidding? He hasn't written his own lyrics for 10 years. He's the perfect example of how the rap game is going downhill. Tupac spat things that were way more intelligent and revolutionary and Biggie destroys him in lyricism and flow. I remind you they were the most famous... BEFORE their deaths. They. Ruled.

Oh, AND he found Kanye? Well thanks a lot for bringing another piece of garbage like you to the rap game, Jay.
Jay Z was really good in Empire State of mind back in 2009 he mostly does rapping but he was singing good like Alicia keys while rapping a little bit. His voice was on key and his words are always clever he is pretty well in his flow and his words the way he scrambles it together. Examples are the references he uses and than puts it together and he in general has good rhymes.
Jay-Z should be in the top 10! No other rapper went 15 times platinum like him! He can rhyme smooth and fast. His style is almost like Big Daddy Kane's or Big L's Rap Style. See Brooklyn Style.. Laid out feat Big Daddy Kane. See Hard Knock Life! He started '94 and is still in the game. He is #9 on my list. A great lyricist and he never wrote down a song. He spits his rhymes from the heart.
Best flow of them all and relatable, emotional lyrics to lots of people (not me but others) he has longevity, brilliant consistency and a huge vocabulary
6
Dr. Dre

Andre Romelle Young, better known by his stage name Dr. Dre, is an American rapper, record producer, and entrepreneur born on February 18, 1965 in Compton, CA. He is the founder and current CEO of Aftermath Entertainment and Beats Electronics.
Alright, Dr. Dre has definitely contributed the most to hip hop out of everyone on this list by far. Two start off, he made two of the most classic rap albums ever; 2001 and The Chronic. Anyone who disagrees just has to listen to them. Also he was part of the best rap group ever NWA. He also made the careers of Game, Eminem, 50 Cent, Snoop and even contributed to the Nas career. He is wildly known as the best producer/beat maker ever. He is the best rapper alive.
He's the father of the hip-hop industry, not being the first hip-hop artist, but having the biggest impact of any artist. He's brought us some of the best, and he's still on top of the game today, working with the best new-school rapper, Kendrick Lamar. No one can take more credit for the history of hip-hop.
If it wasn't for him rap would be so much different.. He belongs at 1 or 2, along with eminem
Dre should definitely be higher up, he is the most influential rapper ever, with classics like 2001 and the chronic. My two favourite songs of all time are 'nuthin but a g thang' and 'still dre'. I've looked down this list and seen will smith, lil wayne, chris brown, drake, John cena, soulja boy etc. , which just makes this a joke of a list straight away! This frustrates me! DETOX!
Dr Dre has musical tunes which makes him a great rapper and musician because the musical part is what he is also good at.
He plays piano pretty well he could do a lot of songs of others and his own songs on piano. He has good beat he is rich enough to be a successful leader and own lots of good equipment. He and snoop dog could sing a little bit too while rapping like what drake does some times. Dre is awesome
7
Kendrick Lamar

Kendrick Lamar Duckworth (born June 17, 1987) is an American rapper and songwriter. Raised in Compton, California, Lamar embarked on his musical career as a teenager under the stage name K-Dot, releasing a mixtape that garnered local attention and led to his signing with indie record label Top Dawg ...read more.
Kendrick Lamar is 182? You guys are flat out idiots. This list is way past being a joke. Its an insult to RAP and Hip Hop.
Thank goodness Kendrick elevated from 182 to 14. It's about time we show this man respect.
Kendrick Lamar in my opinion is one of the best rappers in the game right now. His rediculous flow in rigamortus amazes me as well as his 100% beast flow in look out for detox. The way he slays every track he features makes the actual artist who made the song look small compared to his lyrical thunder. Don't believe me? Just check out the song The City by The Game or Text Book Stuff by XV. This MC is a monster and for many in 2011 he made his first album Section 80 that was by far the best album of the year for many. Also checkout his song Cartoons and Cereal. For kendrick to be in 98th place as the best rapper is a shame for he is definitely better then overrated Eminem and should be in first. This is only the start of Kendricks career. Wonder what he'll put out next.

P. S kendrick lamar and J Cole collab album in the future.
And he managed to make three of the most overrated and overpraised albums in hip hop.
78? This is a joke right? Kendrick is one of if not the most talked about artists at the moment. After releasing a brilliant album in Section.80, he signed with Dr. Dre to Aftermath and just recently put out his major label debut, good kid, M.A.A. D city. That album is a future classic. Honestly, Kendrick's style is very similar to 2Pac. Deep lyrics with a meaning, which make him easy to relate to. The one thing Kendrick has that 2Pac didn't really have is the ability to be one of the greatest lyricists of all time. Not to mention his crazy and unique flow/delivery. Kendrick is the future and is sure to be one of the best by the time he's done. Mark my words.
He's not near one of the greatest lyricists of all time and his flow isn't that great or at least it isn't anymore since he dumbed it down to fit in with the mainstream.
Kendrick is the greatest conceptual lyricist since Nas, has an unique delivery and flow, made two masterpieces in Good Kid, m.A.A.d City and To Pimp a Butterfly and still is very young. Some people that call him boring probably just want some easy lyrics and catchy hooks, but in my opinion he's unarguably the best rapper of this decade (2010s) and will finish his career as an undisputed top 5 all-time.
8
Rakim

William Michael Griffin, Jr., better known by his stage name Rakim, is an American rapper. He was born on January 28, 1968.
Why are any of the guys ahead of him. Nas, biggy, and Eminem are the only ones ahead of Rakim that are even close to as good as Rakim. And to anyone who is thinking of voting for Eazy-E they should know Ice Cube ghostwrote for him and Kool G Rap is the real godfather of gangster rap not eazy he doesn't even make my top 100 much less 20.
The man made the standard for being an MC and he still continues to extend his legacy and to put all these bitch ass rappers like lil wayne and 50 ahead of him is a travesty and a spit in the face of all true hip hop fans
This whole voting circus clearly shows when the majority of these visitors here started listening to real rap/hip hop.
Anybody who is in 40's now like me has seen the start of this music style and has listened long enough to actually be a fair judge.

Rakim is in a league of his own, and boy it's lonely at the top!
A lyrical genius that can actually rap a complete album without having to default to swearing, now that's impressive...

He's probably too lyrical for most who cannot comprehend it all and prefer to listen to Mc's that fill albums with chrome rims and bitches.

Just look at the fact that it's the most sampled MC of all time, even to this day you hear powerful one liners of Rakim in modern day Rap.
Coupled to a great DJ like Eric B or Primo he cannot be stopped and I'm certain he can take on ANY modern day rapper at any time.

Hat off to the God of Rap who remained the same even to this day.

The microphone fiend. He lead the way and can still move the crowd.
9
Ice Cube

O'Shea Jackson, born June 15, 1969 in Baldwin Hills, CA, known by his stage name Ice Cube, is an American rapper, record producer, actor, and filmmaker. He began his career as a member of the hip-hop group C.I.A and later joined the seminal gangster rap group N.W.A. After leaving N.W.A in December 1989, ...read more.
The Fact that Ice Cube is 24 and Lil Wayne is 2 makes me want to punch somebody Ice cube is the best S. Ice Cube was the definition of Microphone Controller.
Ice Cube is a veteran in the game, but also has had a rich career and diverse with it! NWA was his stage and did everything in his power to make everything he did (still does) look so good!
Ice Cube was one of the front men of N.W.A. , one of the pioneers of Gangster Rap, has produced a lot of singles and platinum albums, has a very successful acting and movie producing career! Has a lot of money and is one of the faces of West Coast Hip-Hop! Is this is enough? There is plenty more
Ice cube is a legend he can be one of the best he overall is one of the most well balanced in flow, voice, beat, pitch, lyrics, and rhymes. He has a lot of his own stuff. Ice cube and Dre must be very good at piano and other rappers play some other instruments because the notes in lots of his songs are awesome. He still is one of the best his rhymes are clever for instance in straight outta Compton he gets two rhymes in each line mostly comparing it to mc ren and eazy e more in a complete word way but ren and eazy have syllable rounding in there verses. In his latest album he is more consistent he always has been. He is one of the masters in diss tracks so he is well rounded.
10
Kanye West

Kanye Omari West is an American rapper, songwriter, and fashion designer. He was born on June 8, 1977 in Atlanta, Georgia. After West's parents divorced, him and his single mother moved to Chicago, Illinois. At the age of 10, West temporarily moved to Nanjing, China, because his mother was teaching ...read more.
Listen to my beautiful dark twisted fantasy and you wouldn't even think about voting another rapper! Only lupe fiasco is almost as good as 'ye!
Sorry, Kanye write popular songs not good rap songs, there is a huge difference
Kanye isn't only a rapper but he is a musician who has that cross-over appeal. He's a dope producer too and that's why he has to be in everyone's top five yo. Respect!
Really? 13? This is the guy that brought you:
1. Gold digger
2. Stronger
3. Touch the sky
4. Good life
5. Diamonds from Sierra Leone
6. Jesus walks
7. Power
I won't go on... Do I need to? He's worked with Eminem, Lil Wayne, Drake, T-Pain, Adam Levine, John Legend, Jay Z...
His albums are IMMENSE and basically, no matter what you do, YOU CAN'T BEAT KANYE WEST
He has his own record label and has john legend in it and big sean
The best all around rap artist. The greatest producer with unforgettable lyrics. Every album provides classic rap hits that shaped that rap game. From the College Dropout, "All Falls Down", "We Don't Care", and "Jesus Walks" helped Kanye place himself at the top of the rap game. Next album, more of the same. Kanye showed the same sarcasm on "Gold Digger", but also showed a touching, emotional side on "Roses" and "Hey Mama". 808s and Heartbreak was the most ambitious move of his career. He risked his place as the top rapper for a pop album. But not just any pop album. This was a pop album that normalized auto tune. Kanye used auto tune to create a melancholy sound on "Heartless", one of his biggest hits ever. If 808s changed the game, Graduation, his next studio album, might have changed the music world even more. Graduation fused a rap, pop, and electronic sound all together. "Homecoming" had Chris Martin ...more
The Newcomers
? Dezetaka
?
T-Ski Valley

The Contenders
11
Snoop Dogg

Cordozar Calvin Broadus Jr., (born, October 20, 1971) known professionally as Snoop Dogg, is an American rapper, actor, record producer, and television personality from Long Beach, California.
Very world famous, probably one of the faces of this rap era
Adding to this comment, the best part is his "too cool to even try" attitude
Just like rick the ruler, he has a cool flow great rapper doggystyle one of the best albums ever made
He's snoop dogg. Wanye, kanye, and even eminem wouldn't know how to freestyle without snoop
Kanye doesn't freestyle, no one knew who Snoop Dogg was when Eminem started battle rapping (1985-1986) and Lil Wayne sucks
He makes great songs! He has a great voice and everybody knows him!
12
50-Cent

Curtis James Jackson III, better known by his stage name 50 Cent, is an American rapper, actor, entrepreneur, investor, record, film, and television producer.
50 cent is a great rapper he's smart and a great business man. Perfected the slow flow.
Get rich or die tryin his best album sold 15 million he should be in everyone top 10 rapper list
Best of all time! Great lyrics, done so much for the industry, can freestyle unlike Lil Wayne, doesn't do depressing songs like Eminem all the time. G-Unit!
Most of Eminem songs aren't depressing like Rap God and The Monster and some are funny like Real Slim Shady and Just Lose It
To me he should be 2nd behind Eminem. Or maybe first. He's made a lost of songs. His lyrics are smart. He's preformed Madison Square Garden. His songs get a lot of views. He's made songs with Snoop Dogg, Eminem, Etc. He is a Hip Hop legend. He has great style. His G-Unit was much more famous then YMCMB or D12. He's got a great 'Gangster' like voice. He's got a great name too. It was very creative. Not like some rappers that ain't creative. Like a lot of rappers that just use there own name. He is very Strong. Dr. Dre should not be in front of him. He made only 7 songs. Sure they have a lot of views but 50 cent made 31 songs on his Vevo so far. And they all add up way more views then Dr. Dre. Neither Lil, Wayne. Lil, Wayne is good.. Lil, Wayne has almost lost his voice. All of his songs since 2010 are edited. Listen to one of his songs. Then listen to one of Lil, Wayne's songs. Then look up Lil, Wayne live or interview. He does not sound the same. 50 Cent is a rap legend. He don't edit ...more
13
Eazy-E

Eric Lynn Wright better known by his stage name "Eazy-E", was an American rapper who performed solo and in the hip hop group N.W.A. He is affectionately called "The Godfather of Gangsta Rap". He was born to Richard and Kathie Wright in Compton, California. On March 26, 1995 Eazy-E dies from complications ...read more.
He deserves respect for his talented skills and my favorite rapper R.I. P
He definitely deserves to be in the top 3 he is the King of Gangster Rap, he literally co founded G-Funk
Eazy e is awesome, he is the most legendary rapper that have ever lived. Not only did he start N.W.A he also got the most smashing solo career ever. By the way I like Eminem but eminem would never been here if it wasn't for the godfather of rap.
Eazy puts the G in OG if you ask me. No MC has ever done hardcore crime rap with as much menace and brutal honesty as E. He set the standard for rhyming detailed lyrics about committing felonies: They're more scary when they come from a high voice that sounds mad, mean, serious, anxious, excited, devious, and mechanical all at the same time--rather than a slow mellow voice that sounds like it's exhaling blunt smoke. I'm a peaceful hippy, but E makes me feel like breaking laws.
14
Big L

Lamont Coleman (May 30, 1974 – February 15, 1999), best known by his stage name Big L, was an American hip hop recording artist, born and raised in Harlem, New York City, New York. Coleman embarked on his career in rapping, with the hip hop trio, Three the Hard Way. His first notable appearance came ...read more.
Lyrical talent... Plus you can't kill him he was born dead
I can't believe that Drake, Will Smith, EZ, Snoop, 50, or a lot of other rappers are on this page. In my opinion it should go Big L, GZA, Biggie, Eminem, Pac. Gotta put all Wu Tang up there on flow and lyrical ability... Except ODB he still killed it though
Can't consider him the best all time cause there just ain't enough of his material... But he definitely could have been =/
Would have been one of the greatest. No one has done it like L before or since, even Nas was scared he might have to battle this guy.
15
Andre 3000

André Lauren Benjamin, known by his stage name André 3000 is an American rapper from Atlanta, Georgia, and is most known as one half of the hip-hop duo OutKast. Despite never actually releasing an official solo studio album, 3000 has built up a strong following online among hip hop listeners and often ...read more.
I like his rap style. Great flow good lyrics. And he sold a lot of records great all around rapper
Are you people serious, this guy is one of the top ten rappers of all time at least. At 110 this is absurd. And where in the hell is Big Boi.
Massive vocabulary, brilliant storytelling and he is impossible to imitate in the slightest a phenomenon in hip hop
Should be in the top fifty and is way better than most people ahead
List is dumb(Lil Wayne at 3? )
16
Drake

Aubrey Drake Graham, known professionally as Drake, is a Canadian rapper, singer, songwriter, record producer and actor, born on October 24, 1986 in Toronto, Canada. He started his career on Canadian reality show "Degrassi: The Next Generation".
I have been following Drake's music before he got signed and just released the mixtape comeback season, he is my favourite rapper right now. No other singer or rapper has lyrics like Drizzy right here! His emotion and lyrics that he gives and shows us is incredible! He talks personal and is relatable to nearly everyone, he has a song for every person for every mood! A fantastic genius! He can also sing as well as rap his new album Take Care is the most phenomenal thing I've heard in a long time, every single song I can listen to without skipping this shows he's wicked! His flows are also Unique! Not heard drake? Man listen and vote for him, he needs to be in the top ten of this list!
Drake. Where do I start? He's had more number ones on the Billboard Rap Songs then anyone else. All 4 of his albums have gotten a 75 rating or better on Metacritic. He's DIFFERENT. He has emotion, he doesn't rap about pussies and money and weed and clothes and guns, and he sings. Because anyone cam say they rap, but you need something more these days. Drake raps from the heart and mind, which really establishes him. All of his songs sound different, and he's a mastermind. Plus it's awesome how's he a better rapper than his mentor Lil Wayne. I don't think he's the greatest of all time. In fact, there are about half a dozen better rappers (Em, Pac, Big, Nas, Busta...) But man is this guy underrated. He has delivery, originality, sincerity, and lyricism in his rhymes. His producers are amazing and most of his songs are great! Drake deserves to be top 10! PLEASE VOTE FOR DRAKE!
When you think of Best-of-All-times, you have to think about lyricism, think about delivery, originality, and sincerity in the rhymes. Then when you acknowledge that, you have to think about production quality and consistency. He has the most #1 singles of all times, and he's ben out for only 3-4 years! He touches on raw thoughts and feeling that a lot of guys shy away from because they fear ridicule, but this young man embodies realism in his music and he rarely, if ever, puts out a sub-par song.
And I'm Guessing Your A Fan Of Lil Wayne Too right ?

Kendrick, Biggie And 2Pac Are Great. Drake Is The Most Overrated Man In Music. The Only Good Song He's Got Is Forever Thanks To Eminem And Kanye.
Drake raps real talk. He has good verses and sounds like he has a good hearts. He don't rap about girls girls girls, he raps from his mind and hearts. In my mind Drake is in the top 10s/100s/1000s whatever he's my #1 rapper.
17
Immortal Technique

Felipe Andres Coronel, better known by the stage name Immortal Technique, is an American rapper and urban activist from Lima, Peru. He was born on February 19, 1978
Immortal is a beast. Easily the most underrated rapper on the list and should be in the top 6 or 7 instead of Wayne or 50. Just listen to industrial revolution and you'll see what I mean.
I WAS SPEECHLESS WHEN I HEARD DANCE WITH THE DEVIL
The guy speaks of all the smart stuff that other people are scared to rap about, that's why he is underrated, his flow isn't the best but rap requires poetic skills, he is the lyrical giant!
He is more than just a rapper, he is a revolutionary. The man lives what he rhymes about. He reads constantly and speaks intelligently in his rhymes and interviews. Immortal Technique is the next level of a political emcee like Chuck D, and critiques the whole social order that we live under. He raps to spread truth, and not for money. Listen to songs such as "Dance With the Devil", "One (Remix)", "You Never Know", "Caught in a Hustle" and "Toast to the Dead" to understand why nobody today is with Immortal Technique on a lyrical level. He raps for higher purpose which is displayed throughout his rhymes. His metaphors are so deep, that you can hear every emotional twist that he adds to his songs for effect. He is vastly underrated because he is an underground rapper first and foremost. He came up through battle rapping, and carries a style that carries hard hitting complex metaphors. Techniques freestyles are very good Listen to ...more
18
Lil Wayne

Dwayne Michael Carter, Jr. is an American rapper from New Orleans, Louisiana. He was discovered by Brian "Baby" "Birdman" Williams at a very young age, and was signed to Cash Money Records, where he would be one quarter of the rap group Hot Boys. In the years to follow, he would go on to find his own ...read more.
I think people have bought into the negative hype surrounding Wayne and his music. Lil Wayne is a truly talented artist and one that cannot simply be ignored. Love him or hate him he has had a huge impact on the rap game and his longevity speaks for itself. I'll agree that he has fallen off recently and a lot of his mainstream music is just that: Mainstream music. But dig a little deeper and you'll find an array of mixtapes and earlier albums which offer the best of Wayne. His lyricism, not as a storyteller, but as a rapper who can manipulate words and think completely outside the box is second to none and his flow is one of a kind. Its become cool to hate Lil Wayne and that's probably because of his latest bodies of work, which have not been up to par, but its unbelievably ignorant to dismiss him as "garbage" or the "worst rapper ever", especially when you consider how respected he is by other rappers and those who actually know what they are talking about.
I don't say he is the best rapper of all time but he is a top 10 - 15. His lyrics are not just about money and girls, in his song famous he had very strong bars and his impact and influence is so huge that he influenced a whole generation and a that every single new rapper has lil in his name and he helped a lot of rappers to blow up like Drake, Nicki Minaj, Tyga and a lot of other rappers! People who hate on him listened to one or two songs of him because if you see his whole discography he is a lyrical mastermind and his voice is just calm and entertaining
He truly is one a of a kind in the rap history, he made a rap that's honest, even if some say it's just a bunch of crap that rhymes together, at the end It pleases the ears. Lil wayne may not be the best rapper but he's at least for me the greatest raw talent the HIP hop culture has seen so far.

His voice is so deep, tormented, his flow is irregular And so interesting, you'll never heard anything sounding Like him. His honesty in his music And his fierce originality touch many people. When he's recording he's not searching for the perfection he just say what he thought at that moment on this flow. And that's genius. He may laugh, smoke, breathe or even pause in the middle of a song And doesn't even care because that's truly How he felt. He is for me a true complete artist.
Lil Wayne is NOT rap. He is just a pure gimmick. An absolute Joke & A circus clown. I can not take him seriously at all. He would do anything for a touch of success & fame. Also He's a rubbish rapper, I swear auto tune should be left out of rap because it's just ruining the whole scene. NO, Lil Wayne fans, Lil Wayne hasn't created something new by auto tuning his already freaky, creepy voice & talking rubbish down the mic he has created a new genre of rap called GARBAGE & an open door to the new wave of rappers like Iggy azalea & Nicki Minaj who are all crap. This is not real Rap or Hip Hop it's just Rap-crap & these wannabe's ain't real & Lil Wayne should not even be on this list.
19
Big Pun

Christopher Lee Rios, better known by his stage name Big Pun, was an American rapper. Emerging from the underground hip hop scene in The Bronx borough of New York City, in the early 1990s, he was the first Latino rapper to have an album certified platinum as a solo act. ...read more.
Can't believe Pun ain't in the Top 10 (yet)! For me he definitely is one of the best - if not THE BEST. EVER!
Hands down ain't no one and I mean no one can come up with the bars he comes up with underground battle mainstream you name it he did it and better he was featured on more mc cd mix tapes underground to prove one point ain't noe * with me! He put the best mc of that time on one track and killed it better no doubt pun is #1
Big Pun the best lyricist alive on his time. Gotta give him props! First Puerto Rican to ever hit Platinum.
Big Pun should be top 10! He is #8 on my list. He rhymed fast and lyrically top from '98 to '2000! See Capital Punishment (Album), Yeeeah Baby (Album) and Endangered Species (Album). He could have been the best rapper like Biggie or Big L. He rhymed better than Black Though!
20
Tech N9ne

Aaron Dontez Yates, born November 8, 1971, better known by his stage name Tech N9ne, is an American rapper. In 1999, Yates and business partner Travis O'Guin founded the record label Strange Music. He has sold over two million albums and has had his music featured in film, television, and video games. ...read more.
People forget what makes an MC an MC. An MC has two elements: delivery and lyrics. The best MC should have the best combination of those. Tech N9ne has better delivery than ANYONE. EVER. BY WAY FAR. I don't think his lyrics are quite the most complex, but his rhyme schemes are crazy. Pay attention to what words rhyme and you can tell. That being said, his lyrics are still some of the best ever. I think only Eminem, Lupe, Pac, and Nas can compare in lyrics.

Here are some things that are included in this argument that have nothing to do with being a great M popularity, impact on the game, beats, sales, and awards. Those all have to do with money. Tech didn't go for a major record deal, because he wanted to do his own thing. Therefore, he doesn't have money to spend on high-profile producers or advertising. This also means he's not as widely known, popular, high-selling, and he can't make much of an impact on the game. This is about to change though, as he seems to be becoming a ...more
Tech n9ne is a real rapper and if lil wayne is number three then I'm a monkey's uncle. Tech should be in the top ten for sure.
For those of you who don't know tech nine, he is exactly what the perfect rapper is in most people's book. He is faster than anybody in the top ten especially lil Wayne and it's a shame they work together now. He has killer lyrics and a good voice to with it. For some reason he goes unnoticed and it's a shame
Has the most versatile flow of all rappers because he's been around so long and still is in the game. He came from nothing and isn't on another artist label, he made his own and is helping others off of it! He does multiple genres within reason unlike lil Wayne. Has the most loyal fan base, every fan of him is a strong fan and knows almost everyone of his songs. Goes by the motto "tech will never go mainstream, mainstream will go tech" he also doesn't hate on artist, he's done stuff with lil Wayne multiple times as well as E-40. He does features with rappers he notices are elite like Hopsin and B.O.B. I personally think he's the best rapper, his KOD album was looked at as dark and evil but it actually teaches people how to deal with their dark times and people have even said this album stopped them from committing suicide. He is also the fastest rapper that is understandable and can switch the flow up at those speeds, he is just clearly the best and any fan would say that, people that ...more
21
KRS-One

Lawrence "Kris" Parker, better known by his stage names KRS-One, and Teacha, is an American rapper and occasional producer from The Bronx, New York City, New York.
Lil Wayne? Really? I love reading all the comments that say Lil Wayne or Drake or Wiz Khalifa should be number 1, it's just so funny! Rakim, Nas, Big L, KRS-One, 2Pac, Biggy, Big Daddy Kane, Percee P, Big Pun, Slick Rick, Kool G Rap, Immortal Technique put a BULLET in your fake rappers. Laugh out loud at all these people saying, "yo dawg, wayne is the truth man, listen to his lyrics man, they're so deep and he kills everyone else, even 2pac dawg" Man, hip-hop is dead in the mainstream, DEAD. You're not listening to rap anymore, its just garbage pop with people thinking they're hard. It's okay kiddies keep drinking the kool-aid that these "rappers" feed you, it's all good.
He And Edo G with Ace in Art & ent. Show what the hip hop is. He is about the true school. He talking about emceing dying about breakers about graffiti about RAP and HIP HOP not about fake fame that giving money. I don't even guess how such a bustards as lil wayne could appear in this list He Is Not A Rapper! He Is Pop artist (far from best). One Day I'll meet KRS-one to say him what I do and show him that I wanna put the DJ's on your screens. Dj and MC do Rap!
Will work any rapper on this planet in a freestyle battle. Period the ultimate no contest no competition. Intellectual, technical, unearthly stage presence, can battle anyone on the planet. His best quality? Keeping it real he could sell out and sell more albums than any sucker MC rocking out on mtv, but has too much integrity.
I honestly threw up after reading this god awful list! I used to think that hip hop had some hope and we would get back to the good old days but apparently not if KRS-One one of the original emcees of hip hop is number 55. I guess Nas was right, Hip Hop is indeed dead
22
T.I.

Clifford Joseph Harris, Jr., better known by his stage names T.I. and Tip, is an American hip hop recording artist and actor born on September 25, 1980 in Atlanta, GA.
T.I. deserves top 5! He's the king of the south for a reason! Enough said

King of the South should be the best rapper alive, 2Pac and Biggie sent T.I. to save Hip Hop... Salute to the King
T.I. is a king he like kills all yall he's got the best rhymes ever and yea
Tell me how big pun is before T.I? I mean I get drake because he only got famous because he did that song with Eminem... before that no one even knew of him... T.I. got famous without Eminem
23
DMX

Earl Simmons, known professionally as DMX and Dark Man X, is an American rapper and actor. He was born on December 18, 1970.
That's the best rapper for me. I like songs of DMX, they are about real life of the people, world situation, past and future.
Without the drugs and court cases, he would have owned the rap business. I wish he would get rehabilitated and come back. Still listening to him today!
Cause his raps has a lot of meaning and he inspires those of which that really look of the value in his music. Unlike some of the rapper today he put his soul into his music. That is the value of rap.
DMX brought his deepest emotions into rap when he decided he would rap to sustain his family. He wanted to be good for others, and expressed this passion with lyrics deeper than most rappers since he was in the game.. His emotion and determination are moving, and his story is sure to bring a tear to your eye, and he poured all of his emotion into his songs, and made music that was remarkable, launching him into fame. When he went to meet the definitely jam president, he was recovering from an accident, and had wired in his mouth. People were amazed when Kanye "spoke through the wire", but DMX spat so hard wires could be heard POPPING out of his mouth. His downfall was brought on by his cocaine addiction, but if the seemingly harmless blunt he smoked wasn't laced with cocaine, he would tear down all of the rappers in our time. His lyrics are profound, his voice gets an old hag hyped, and his passion is immense. DMX will always be the greatest rapper and man alive...
24
MF Doom

Daniel Dumile, also known as MF DOOM, is a British-born hip hop recording artist who spent most of his life in the United States.
If I gotta explain, it says a lot about you. The underground's rapper's favorite. Most of the guys in this list fell off, succes killed their style, even mobb deep. MF DOOM makes the art an art again, original, with rhymes that keep you puzzled. No, I'm not gonna put up some lame quote, go and listen! Then spend the rest of your life ashamed for this list and its contents.
Underground artists largely get ignored on T.T.T. music lists, but even then this guy should be Top 10 at the very least
nice lyrics and interesting vintage I guess instrumentals
I want to cry when I see this legend placed under so many trash rappers (Nicki Minaj). This guy literally has an unbelievable amount of talent, I guarantee you will never find a better lyricist. I still remember the first time I listened to "Hoe Cakes" and I've loved him ever since. DOOM comes up with such innovative raps and never disappoints. His unique style, voice, and lyrics are near impossible to replicate as he influenced those like Earl Sweatshirt and Joey Badass. MF DOOM considers himself to be a villain, but he's a hero to the rap game.
25
Busta Rhymes

Trevor George Smith, Jr., better known by his stage name Busta Rhymes, is an American hip hop recording artist, actor, record producer and record executive.
SO FAST I need to look at the lyrics to understand what he is saying. HAHA that's what's so great about him.
Fastest rapper I know. I mean look at his name! Bust-a-rhyme. And he studied by him self! Who else can rap that fast without any lessons?
Busta Rhymes is the best rapper I've ever heard his awesome, he should be number one rapper of all times
Being fast isn't necessarily what makes Busta so good, it's the way he delivers - with some of the most uplifting, funny and by far some of the most unique verses in rap right now. When he strayed from his old style a lot of people discredited him for it, but right now he's getting better and better - he doesn't need to stay the same. Look at me now wasn't a hit because of Lil Wayne's verse or because of Chris brown's - even though both have a colossal fanbase, it was a hit because of Busta Rhymes. A lot of people just hadn't gotten that kind of style before, with good reason. No one else has it - Busta taught himself how to rap like that. Hell, he only ever did a one minute feature and he managed to own the song with it. That was 2011. It's 2012 now, Extinction Level Event 2 is coming and frankly, with some the stuff he's been dropping out really recently my faith in his new album is through the roof. Old fans are dead right, Busta isn't as good as he used to be. He's better.
PSearch List