J. Cole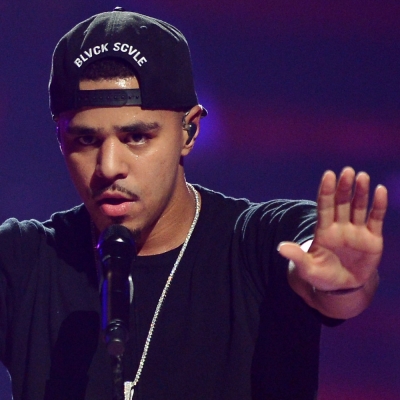 Uploaded by DolanDuck1
Info
Jermaine Lamarr Cole, better known by his stage name J. Cole, is an American hip hop recording artist and record producer.
Comments
Top
Popular
Newest
J. Cole is the best in my mind, and will be the best in all of yours soon too. The depth that his lyrics have and the subjects he hits on are second to none. Yes, Em is dope, he raps about many things as well and can do the funny witty raps a little better, but that's what makes him more than just a rapper. As far as real hip-hop goes though, this southern dude is going to be king. He has the flow, he has the delivery, clever punchlines, and has more puns than Shakespeare. You're going to see a bit of every great rapper all rolled into one with Cole. He emulates all the greats while bringing an original and new type of persona to his music that makes him so great with his own stories. Each song has a story to tell and he tends to shy away from the mainstream crap and stick to what he does best. The man also produced the majority of his unbelievable album. He's a genius. How many rappers graduate Manga Cum-lade? Not a lot.. How many went to St. Johns for crying out loud? The dudes got ...more
J. Cole is, and or will be the greatest rapper alive. What I like best about him is his lyrical talent allows him to ALWAYS have a good verse in a song he sings, perhaps maybe even the best verse. He has a song for everything. If you want a Story listen to "reams" or "The Storm". If you want straight up rapping listen to something like "Simba" for an example and read the lyrics Genius. And if you think he's not a lyrical genius listen to "Lost Ones". FOR HIM NOT TO BE IN THE TOP 10 IS A DISGRACE TO HIP HOP. Signed By Jay-Z he has nothing but talent. COLE WORLD!
Seeing wiz khalifa ahead of Cole almost made me turn off my phone, how is Cole so deep 2014 Forrest Hills Drive became the first album since 1989 to with no features to go platinum and was named best rap album at the billboard awards the guy tells the best stories and shot at rappers and they are still scared to reply Cole belongs in the top 5 if not at #1 and you all know it
Are you serious? Why is J Cole down here? He definitely deserves to be in the top ten. He delivers and never disappoints, I mean when was the last time when you were listening J Cole and you hated it? Exactly. The man is too underrated he deserves more than Lil Wayne, face it, half those rappers lost their flow. Jay Z, used to be great but what happened? Never really here him anymore. Same with Eminem, some of his songs on his new album were good but the rest were trash. Even if Tupac and Biggie were alive they would've lost there flow too. And you know I'm right. Cole is a GOD
In 3 years J. Cole and Kendrick Lamar will be the top 2 rappers in the game. Mark my words. Underrated.
Top 15 for sure! J Cole has the potential to be top 5 ever. His albums keep getting better and better. 2014 Forest hills Drive is 1 of the best rap albums of the past 5 years. It's storytelling at its finest and Cole deserves to be much higher on this list.
To be honest, J. Cole is the best! His lyrics are so deep that it crates a story. I think J. Cole should be number 1 or at least number 2 cause compared to all those in the top ten, J should for sure be in there and it is just a disgrace for him to be categorized as 44 and John Cena hire... Come on now
Come on, why is J Cole so low down, he is a pure rapper with great flow and lyrics, you guys should hear his albums to prove it, hear "The Sideline Story" and his new one "Born Sinner". When it's all said and done, he will be mentioned as one of the greatest of all time. It's soon gonna be "cole world" believe that.
There are many rappers who should be higher on this list who have been displaced: Rakim, Big L, and Kendrick Lamar are three notable ones, among others. I voted for J. Cole because he is the lowest among those who I believe should be in at least the top fifteen (with the exception of Royce the 5'9", Mobb Deep, Method Man, Mos definitely). He is a rapper with great potential who, in my opinion, should be a little higher than #46.
You people are not smart enough to appreciate the meaning behind his lyrics, he is a story teller he ain't rhyming for the sake of it like Kanye and Jay-Z, each line has some meaning in the track. Tupac's legacy lives on through Cole and Kendrick... Have you listened to "Black Friday"!
He's probably like one of the best rappers I know, his lyrics in his songs give out meaningful. Every single one of his albums are fire as hell and he should be in the top 3 best rappers, because he's a hard working guy and I like how much hard work he put into all his songs.
I feel like Cole should be top 10 at least. His words are the realist I've heard out of all the greats in my opinion. He can do hype Rap,story telling and even love music type of rap. He tells stories that I can relate to and that most people can relate to. He's hated on for no reason. He can turn his voice into a singing kind of tune while still be rapping. He's not telling stories about doing drugs and killing people and stuff he's telling about his life and others lives
J. Cole. Is the best rapper in the game. The only problem may be that your not intelligent enough to feel him.J. cole. Is coming for the throne and he is going to take it
For no reason should Cole be below anyone associated with Young Money. The way he paints an image in your head with his lyrics is truly unmatched. Don't believe me? Sit down and listen to Lost Ones and Breakdown
J cole is a great lyricist (but people say his lyrics are simple). He is one of the best rappers in the game, catchy beats and hooks, intricate storytelling, great lyricism. Just listen to "Let Nas Down" and for storytelling "Lost Ones" "Show me Something" "Breakdown"
I just want to say that he has the best messages in his songs. Everyone of his albums has at least 4 relatable, catchy and outright brilliant songs on it. He is definitely the best (now that pac and biggie are gone) in my opinion and does not get the credit in which he deserves. He's bae.
What what sort of list is this, J. Cole is easily top 10. He is lyrically better than 50 cent, Lil Wayne and Kanye. Also he makes his own beats himself and his lyrics are close and touching soon hopefully becoming on the level as Eminem.
He came up, he warmed up, and then he blew up. Friday night lights is one of the greatest mixtapes of all time and he speaks from the heart. Going to go far in the rap game guaranteed.
This man is lyrically gifted and speaks the truth of his own story, not to mention that he remains humble and doesn't flaunt all of his riches to the fans of hip hop. Unlike these other wack rappers he comes up with his own lyrics and needs no features to make himself known. Definitely should be top 10.
J. Cole is one of the most underrated rappers today. He's no 2pac, or Nas, but his flow, lyrics and everything else put him up there with them. And more importantly he is such a likable person with no ego problems like Kanye West. Swap him for Lil Wayne on the list and I'm good
Lets be honest people, this guy raps like no other. His songs have true meaning unlike losers like Lil Wayne who rap about the same crap over and over again. Listen to the Born Sinner Album and you will agree with me. True Rap Legend, should be in the top 10. Period.
J. Cole is THE BEST Rapper Of Today's Hip Hop. The Only People That Would Say Otherwise is The People That Don't Listen To Lyrical Rappers. I Think He Is So Slept On. I Will Always Vote COLE!
Right now one of the most lyrically sound and reliant rappers out there. He's also very talented, not only can he rap, but he can also produce his own beats and music. If you disagree I have three words for you: Friday Night Lights
J cole should be next to kendrick one of th greatest listen to his album born sinner that was something else and Forest Hill drive man that was amazing listen to his lines he relates though his songs J cole changed My perspective on HIP HOP
J. Cole gets on that mic - just flows and flows and flows. Man's backed by Jay Z but that's only good for the droves? He should be up there beside the top spots. When will ignorance let the pennies drop? Just saying.
Related Lists
Best Cheryl Cole Songs

Best Songs On J. Cole's 2014 Forest Hills Drive

Best Keyshia Cole Songs
Best J. Cole Album/Mixtapes