Most Respected Athletes of All Time
The Top Ten
Roger Federer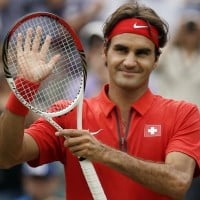 Roger Federer (born 8 August 1981) is a Swiss professional tennis player who is currently ranked world No. 3 in men's singles tennis by the Association of Tennis Professionals (ATP). He has won 19 Grand Slam singles titles, the most in history for a male tennis player. He has held the world No. 1 spot ...read more.
Roger Federer is the best, greatest, most respected sportsman of the world of all time. He is one of the greatest human being, a purest soul, most decent player ever.
This guy is just amazing. Very decent, very elegant, a very pure soul. He is undoubtedly the greatest sportsman ever. I just love this guy.
He is one of my few hero's and is a great human with great talent and respect which he has no reason not to get back in return.
Roger Federer - hands down the most respected athlete of all time.
Michael Jordan

Michael Jeffrey Jordan, also known by his initials, MJ, is an American retired professional basketball player.
Hands down best basketball player of all time
Muhammad Ali

Muhammad Ali (January 17th 1942 - June 3rd 2016) was an American former professional boxer . He was generally considered among the greatest heavyweights in the history of the sport.
No doubt Ali was a magnificent boxer, and his slick style and controversial big mouth rejuvenated boxing, particularly the heavyweight division.
But for a big man, he wasn't very good at putting opponents away. Example: Joe Frazier, who finally silenced the motormouth. However, the wars with Frazier put to rest the myth that Ali couldn't, or wouldn't, stand up to punishment. He was indeed, a warrior. Believe Ali and Frazier deserve equal respect.
Muhmmad Ali should be at the top, I respect him before all these great athletes.
Babe Ruth

George Herman Ruth Jr., better known as Babe Ruth, was an American professional baseball player whose career in Major League Baseball spanned 22 seasons, from 1914 through 1935.
Pele

Edson Arantes do Nascimento, known as "Pelé", is a retired Brazilian professional footballer who played as a forward. He is one of the best players in football, hence why he's nicknamed the "king of football".
HIS passion for football was everything, he only paid attention to what he needed to focus on .
Derek Jeter

Derek Sanderson Jeter is an American former professional baseball shortstop, current businessman and baseball executive who is the chief executive officer and part owner of the Miami Marlins of Major League Baseball.
Classiest act in baseball since Thurman Munson. Also, high among the best all-around players ever, and the most stupefying shortstop of all time.
Yes I agree, also where is Mariano Rivera?
There will never be another DJ #RE2PECT
Wayne Gretzky

Wayne Douglas Gretzky CC is a Canadian former professional ice hockey player and former head coach. He played 20 seasons in the National Hockey League for four teams from 1979 to 1999.
He is the best
Jackie Robinson

Jack Roosevelt Robinson was an American professional baseball player who became the first African American to play in Major League Baseball in the modern era.
He is awesome
Peyton Manning

Peyton Williams Manning is a former American football quarterback who played 18 seasons in the National Football League for the Indianapolis Colts and Denver Broncos.
Sachin Tendulkar

Sachin Ramesh Tendulkar is a former Indian cricketer and captain, widely regarded as one of the greatest batsmen of all time.
Sachin tendulkar had the best technique in cricket. He had a passion for game
Batsman with most runs in both the major formats of cricket. A hundred international centuries.A great sportsman and a Gof
Most respected cricketer all over the world.
A greatest and true legend of all time.
The Contenders
Jean Beliveau
Perfect combination of class and leadership leading to 10 Stanley cups.
More impressive even his charity works helped so many thousands.
Could have been Gouverner General of Canada but for his commitment to his family.
Unique
Lionel Messi

Lionel Andrés "Leo" Messi is an Argentine professional footballer who plays as a forward for Spanish club Barcelona. He is also known as one of the greatest football players of all time. He was born in Rosario, Argentina on June 24th, 1987.
Must have been a mistake...12? I think you mean 2104
Jerry Rice

Jerry Lee Rice is a former American football wide receiver who played 20 seasons in the National Football League, primarily with the San Francisco 49ers.
Ted Williams
War hero and baseball superstar. That combination deserves everyone's respect.
Kobe Bryant

Kobe Bryant (1978 - 2020) was an American retired professional basketball player. He played his entire 20-year career with the Los Angeles Lakers of the National Basketball Association. Kobe Bryant has won 5 NBA championships with the Lakers and was the all-time leading scorer in Lakers franchise history. ...read more.
Tom Brady

Thomas Edward Patrick Brady, Jr., is an American football quarterback for the Tampa Bay Buccaneers of the National Football League. Brady is known for being the only quarterback in history to win 6 Super Bowls, and is often considered one of the best quarterbacks of all time. Brady is also frequently ...read more.
How can anyone with a three digit IQ put Manning ahead of Brady? Look at the Super Bowls against the Seahawks as all the evidence you need. Payton with a vastly superior team to Brady's (on both sides of the ball) lost what 42-8, Brady the following year beats them 28-24. Game, set, match for Brady...
He is #1 on my list
I love Tom Brady
Best qb ever
Kareem Abdul-Jabbar

Kareem Abdul-Jabbar is an American retired professional basketball player who played 20 seasons in the National Basketball Association for the Milwaukee Bucks and Los Angeles Lakers.
Manny Pacquiao

Emmanuel Dapidran Pacquiao is a Filipino professional boxer and politician, currently serving as a Senator of the Philippines. He currently ranks #4 in BoxRec's ranking of the greatest pound for pound boxers of all time.
Donald Bradman

Sir Donald George Bradman often referred to as "The Don", was an Australian international cricketer, widely acknowledged as the greatest batsman of all time. Bradman's career Test batting average of 99.94 has been cited as the greatest achievement by any sportsman in any major sport.
Nene

Nenê is a Brazilian professional basketball player for the Houston Rockets of the National Basketball Association. His birth name was Maybyner Rodney Hilário, but he legally changed it to Nenê in 2003.
Usain Bolt

Usain St. Leo Bolt is a Jamaican sprinter. Regarded as the fastest person ever timed, he is the first man to hold both the 100 metres and 200 metres world records since fully automatic time measurements became mandatory in 1977. Along with his teammates, he also set the world record in the 4×100 metres ...read more.
The fastest man on earth who has a cool name 😎
Shaquille O'Neal

Shaquille Rashaun O'Neal, nicknamed Shaq, is a retired American professional basketball player who is currently an analyst on the television program Inside the NBA. He is known for his fun, friendly personality, and is one of the most beloved athletes of all time.
Larry Bird

Larry Joe Bird is an American retired professional basketball player who played for the Boston Celtics of the National Basketball Association. Bird is a 3x champ, 1x ROTY, 1x Finals MVP, 3x 3PT Contest winner, all with the Boston Celtics. (1979-1992)
Walter Payton

Walter Jerry Payton was an American football running back who played for the Chicago Bears of the National Football League for thirteen seasons.
A true role model!
Michael Phelps

Michael Fred Phelps II is an American competition swimmer and the most decorated Olympian of all time, with a total of 22 medals in three Olympiads.
PSearch List