Hardest Rainbow Roads in the Mario Kart Series
The Top Ten
1
Wii Rainbow Road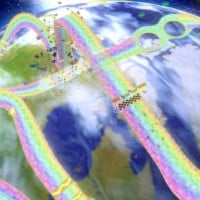 This is the hardest Rainbow Road out of all of the Rainbow Roads in the Mario Kart franchise. You have to go through steep decline as soon as the race starts and every lap, which has three boosters that you could likely fall out of the course. There are sharp turns without any guardrails what-so-ever. Personally, this is my favorite Rainbow Road out of all of the Mario Kart Franchise because it has a dynamic experience. The soundtrack of the course is by far the best, which has a mix of Super Mario Galaxy tune. Overall, a great course to play on.
Wii Rainbow Road is very fun to play on, and definitely very hard. Add sharp turns to crazy waving roads split paths, speed boosts, risky shortcuts and amazing music and you've got an impossible track.
I nearly lapped my old ghost on this track, which was Birdo on the Super Blooper. My new ghost is the race where I nearly lapped my old ghost, and the new time is a 3:11.
My sisters and I are crazy expert players... and yet it took us a couple months to master this one. Second only to Moonview Highway (the only bad track in the game in my opinion), this is possibly the hardest track in MKWii. The hardest track overall... that's one poll to take another day.
2
GBA Rainbow Road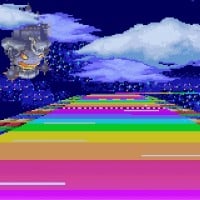 Reasons why this is harder than any other Rainbow Road:

SNES Rainbow Road: No Boost Pads that make you feel out of control. GBA's Rainbow Road has Boost Pads that make you feel out of control.
N64 Rainbow Road: Easier in every way. GBA's is harder in every way.
GCN Rainbow Road, DS Rainbow Road, Wii Rainbow Road, and 3DS Rainbow Road: Good control mechanics. GBA has bad control mechanics.

Playing this track feels like getting sucker punched in the gut, and at the same time someone kicks you in the balls (with shoes on). And after that, you get stomped on by an elephant. Then you get shot in the foot by Clint Eastwood. Then your hand gets run over by a dump truck! Then you get roundhouse kicked by Chuck Norris! Then a guy with a battle axe chops your fingers off while your other hand gets set on fire! Then you get hit by an explosion, sending you flying off a cliff, causing you to use your hand to break your fall! And then, on top of that, your head gets bitten off ...more
The only one that really comes close to Super Circuit as the hardest RR is Super Mario Kart, and honestly they cold be interchangeable. Although SMK RR has no walls, MKSC RR has barely any, and most of the track edges covered in Jump Pads, so if you even go near it you'll likely die. Experienced players will find good shortcuts, but risky ones at that.

Stars and Thunderclouds aren't that deadly, but the boost are. There's this one stretch of boost pads that will send you flying off the edge unless you have Jedi reflexes. Unlike the Mario Karts from Double Dash and onward, luck will do you no good in this course, only skill and practice. Sure, Items make it interesting, but they shouldn't dominate the race's outcome. Mario Kart: Super Circuit's Rainbow Road is to me the idealistic "impossible" course. Shout out to SNES RR for close 2nd, and Wii to a 3rd place.
This is way too hard. How is Wii Rainbow Road number one? Wii and SNES Rainbow Roads are NOT harder than this. Mario Kart Wii has good graphics unlike Mario Kart Super Circuit, so Mkwii's Rainbow Road is extremely easy compared to GBA's Rainbow Road. All those retards keeps voting for Wii's Rainbow Road just because it's the first thing they see on the list. Also GBA RR track is extremely narrow unlike Wii's version which is extremely wide.
This has to be the hardest in my opinion. The fact that the edges of the track are bouncy and make falling go by slower than normal makes this very hard. Also the Boost Pads will make you feel out of control and makes it easy to fall off of! If it wasn't for the Boost Pads than the SNES Rainbow Road would be harder than this! The retro mechanics do not help at all!
3
GCN Rainbow Road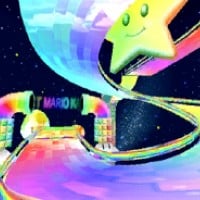 So GCN Rainbow Road. It has the second best music of all time, and is brutally difficult. So let's start with the fact that there are boosts all over the place, increasing your chance of falling off. PLUS the fact that the turns are really sharp. PLUS the usual slippery controls of Double Dash and you've got yourself one of the hardest tracks of all time.
I had a lot of trouble with this Track especially on 150cc. It took a while to really master, but even still at times you could not avoid falling or being pushed off, going from first to last in a matter of seconds. With no railings and boosts on turns, this is definitely the hardest Rainbow Road
Those sharp turns are too painful to turn through. And if someone knocks you off the track on the first lap, good luck catching up to those other people!
The spiral with the boosts is a death trap if hit a boost or get hit by anything
4
Wii U Rainbow Road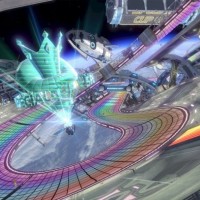 This is the one I played first, and I must say, I think it's the second hardest of all time. Mainly because of 200cc. While there aren't may boosts, it's still impossible to stay on because of how fast it moves! And the cannon doesn't help, either.
You have 5% chance of winning on this one.
I remember falling off the track a lot when I first played mario kart 8 rainbow road
5
DS Rainbow Road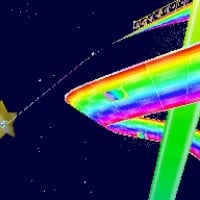 Even though this track has a lot of boosts, I generally don't find it that hard to stay on. However, I do think getting hit can greatly increase your chance of not getting first. Especially on that loop.
It's like a driving test for all the skills learned and if you stop at the middle of the loop, good luck of catching up.
I can't see why it's not in mk8? Oh we'll, maybe next time.
I thought it was going to be in Mario Kart 8 because the loops would have been a great place to use the anti-gravity feature.
I thought it was going to be in Mario Kart 8 because thr loops would have been a great place to use the anti-gravity feature.
6
N64 Rainbow Road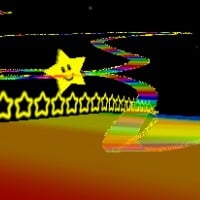 Oh, N64 Rainbow Road, you mean the easiest thing of all time? The Chain Chomps don't even take any effort to avoid, and even though it's really long, there are guardrails all the way through.
You mean the bordered one with no obstacles?
7
SNES Rainbow Road (GBA version)
Slightly easier than the original. Some areas are hard, and the Thwomps are still very threatening. Not much more to touch on here.
8
SNES Rainbow Road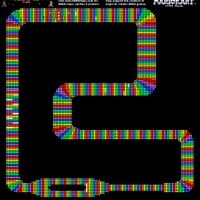 This is way too hard. You can go flying off at every turn. And the Thwomps are way too threatening. Also, Lakitu takes FOREVER to put you back on the track if you fall off.
9
N64 Rainbow Road (Wii U version)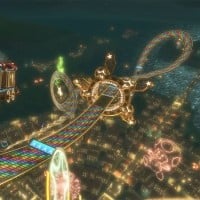 Even easier than the SNES retro in this game. The Chain Chomps are really easy to dodge, and none of the turns are sharp. Also, it's just one big lap.
The chomps are impossible to avoid. Is there more to be said.
10
SNES Rainbow Road (Wii U version)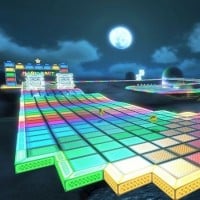 The fact that the thwomps make you not only spin out, but actually lose some coins is pretty annoying. And the one ramp that cuts off that one turn... I fall off more than I succeed. And the final ramp that stretches over the gap-- Forget it, unless you have a mushroom, and even then speeding into the 90° turn is absolute heck. It's a wonder why Nintendo even bothered to remake this one THREE TIMES!
A lot easier than the original. In fact, I've never struggled with this. All you got to do is take the easy turns and avoid the easy-to-dodge Thwomps. That's it. You can finish this track in a lot less than two minutes.
The Contenders
11
3DS Rainbow Road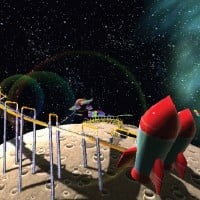 Fun, that's all
BAdd New Item