Best Domain Registration Companies
A domain name can be an extremely valuable asset, more so than you may realize. And having the right domain registrar is key.

Many people choose to purchase their domain names form the same hosting provider that hosts their website. In fact, hosting providers often time provide a discount to users who do. But many experts warn that this may be putting too many eggs in one basket.

The world of online business can be cutthroat, and not everyone plays by the rules. Suppose a competing company or website decides to contact your hosting provider and claim that you are stealing their content and that they are going to sue both you and the hosting provider. Or suppose someone spoofs your e-mail address and sends out thousands of spam e-mails that look to have come from you. Or suppose someone manages to hack your website and starts causing all sorts of trouble. Even if it isn't your fault, any one of these reasons may be enough for your hosting provider to decide to suspend or terminate your account. Now your website is dead in the water and who knows how long it will be until it is back up, or until you are able to transfer your domain.

Now, if you had registered your domain from a different company than you use for hosting, you'd be back online in a matter of minutes to hours (depending on DNS propagation). You'd simply purchase another hosting account, upload your site backups (please make sure you have everything backed up locally), contact your domain registration provider, and point your domain to your new web host. Crisis averted.

If you don't have control of your domain name, then the rest doesn't matter. Make sure you have selected a domain registration provider you can trust. To help you get started, here are the top ten domain registrars.

The Top Ten

1 Namecheap

Namecheap has great prices and also great customer service. We are glad to get our domain and hosting through them.

Best company ever. I have 45 domains in Namecheap. Best for hosting also.

Good service, quick online help, easy to use site.

Much better customer service than Godaddy.

Visit Website

2 GoDaddy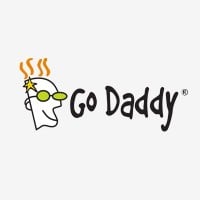 GoDaddy is a publicly traded Internet domain registrar and web hosting company. As of January 2016, GoDaddy was said to have had more than 61 million domain names under management, making it the world's largest ICANN-accredited registrar. As of December 2021, GoDaddy had more than 21 million customers and over 6,600 employees.
They have come a long way since their beginnings. The service is far better and the products they offer are well integrated.
Good service, quick help, easy to use site.
Honest and fast service.
Visit Website
3
Name.com
I have all my sites there. No hidden costs, everything transparent. That's why I moved there. Hate GoDaddy, who cheated.
It's the best of all!
Visit Website
4
Cosmotown
They really stand by their word! Truly worthy of using this domain registration service to register your domain. It is nice that Cosmotown does not dupe customers by varying their prices every year. You are in safe hands with this domain registrar, with free "whois" privacy!

- Vanisha
I like that they post their fixed prices! They don't ask for a dollar one year, then jack it to thirty the next!
They offer the best prices compared to any other domain registrar I've seen.
Most honest site, and friendly too.
5
eNom
I have been working with ENOM for a number of years now, probably 10, using them exclusively for my domain registrar. I have never had any complaints, not from myself nor any of my clients.
6 1&1 Internet
7 Dotster
8 Network Solutions
9
BigRock
I am a user of it. I also have a domain from GoDaddy, but the service from BigRock is better.
10 Moniker
The Contenders
11 Register.com
12 Bruwink
13 Namesco
14 NetFirms
15 Hosting Raja
16 Hostindia.net
17 Hostpapa
18 American Domain Services (ADS), LLC
19
Cloud Shards
Handy to use when ordering a VPS or Shared Hosting service. All-in-one package is nice.
20 Register.it
21 ZNetLive
22 1and1 eCommerce
23 Register365
24 Whois.com
25 Hover
PSearch List