Incredible Crew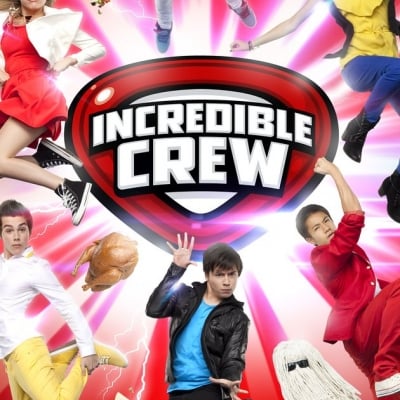 Found on ssl-images-amazon.com
Info
Incredible Crew is an American sketch comedy television series, created by Nick Cannon for Cartoon Network.
Comments
Top
Popular
Newest
This show is awesome, why is everybody putting the good shows way up there, Teen Titans Go, The Amazing World of Gumball, Uncle Grandpa, Ninjago, Steven Universe, and now THIS. Sure it has absolutely no plot whatsoever, but it is better than a lot of shows that do have a plot. This is coming from a guy who hasn't watched the original Teen Titans, so Teen Titans Go seems good to me, the rest are AWESOME, especially this. Adventure Time is cool too and the guy who said Ice King is like Bowser, I have a message for you: ICE KING PALES IN COMPARISON TO Bowser!
I'd Rather Watch Uncle Grandpa Or Even Level Up Than This Stupid Dramatic Robot Chicken Rip-Off, That's Not Even A Cartoon! Which Makes It Even Worse, Seriously Does Anyone Even Watch This Crap?!? Cause If I We're Them I Really Wouldn't Care, This Show Actually Deserves To Be Above Uncle Grandpa And Clarence Maybe Even The Problem Solverz Or Level Up, This Is Absolutely Ridiculous The Only Live Action Show That Was Able To Be Worse Than This Was Nick Studio 10, The Only Redeeming Quality About This Show Is That Is Got Itself Cancelled.
Honestly, looking back at this show, it really is a stupid show. But compared to other live action CN shows, this is probably the best. I can actually tolerate its corny humor and strange skits, because it's sketch comedy! It's just that there's a really small cast compared to other big sketch comedy shows. I want you to imagine this show as a YouTube channel. Each skit is its own video. You'd be saying it's the best channel ever. This series was ruined all because Cartoon Network didn't know what to do with it. 3.2/5 - naFrovivuS
THANK YOU! I have never seen such rubbish in my life! Worst show! I neatly threw UP when I first saw that rubbish! What is even going on! If they want to fill time slot show more adventure time and regular show, I don't care if there repeats way better than having my brain vomit inside my eye balls
The humor in this show was all over the place, it tried way too hard and relied too much on toilet/gross-out jokes. It doesn't even feel like it belongs on Cartoon Network too, same goes for the piece of trash show that is Level Up. Disgraceful.
Sometimes it's actually funny. For about 5 minutes. The rest of the sketches don't make sense! Like adults using toy versions of things. Two people singing a dumb song about a dumb topic. Sad
I used to watch this show since it was funny back then, but now it's canceled and the episodes are getting me boring since I'm a teenager now. So I'll give this show a 5/10 now, used to be 9/10. - MeeMeeCandy777
Okay Is This Even A Show? Because To Me It Looks Like A Useless Commercial! But Seriously Though Do Not Watch This Show And If You Do Then That Pretty Much Proves You Love To Watch Boring Things!
Incredible Crew was a show that was on Cartoon Network in 2014 I'm glad they cancelled that show it was so stupid and so not funny the characters were doing all sorts of crazy crap like those commercials and stupid songs sometimes
I'm sure this show would have been great if it didn't air on Cartoon Network, aired in the 90s before the advent of the Internet, and wasn't advertised with that god-awful theme song.
This Show Couldn't Even Come Close To Funny! So If Anyone Ever Laughs At This Then They Must NOT Know What Real Comedy Is Like...
First of all, a Oven MIT high five is LAME! So is a human ice cube dispenser. Is this show trying to compete with Loiter Squad?
It's Cartoon Network. Get rid of the people with heavy resemblance to unpopular celebrities. Get rid of crappy live action shows! Keep cartoons.
There Is Absolutely No Point To This Stupid Show! Plus It's A Live Action Show So Why Does That Have To Be In CN I Think They Should've Put This In Nickelodeon Instead Sure It's A Terrible Show But Nick Would Be A Perfect Place For That Show, And By The Way If Anyone Else Thinks This Show Is Bad They Might Think Nick Studio 10 Would Be Worse Than This Or At Least Just As Bad.
Nick cannon go take that back to Nickelodeon, worse show ever, No body! I mean no body funny! Thanks god its gone, No reruns! I mite kill myself
More like Incredible Crap wow! Cartoon Network wow another live action show that's ridiculous glad you got rid of Level up and I hope this ends come on this is bull crap and I'm tired of how stupid they are and whatever there doing seriously Face Jeans come on!
MY COUSIN AND I LOVE IT! YOU GUYS ARE LIKE, TWENTY! WE'RE LIKE, KIDS! PLUS, IF YOU DON'T LIKE A SHOW, CHANGE THE CHANNEL! THERE'S PLENTY OF OTHER SHOWS OUT THERE TO WATCH, BUT RANTERS DON'T REALLY CARE ABOUT ANYTHING BUT SUBSCRIBERS. WHATEVER. I DO AGREE THAT LEGENDS OF CHIMA IS STUPID THOUGH.
Unless If This Is " Live-Action " Network. This Show Should Not Be On " Cartoon " Network.
Some things on this show are kind of funny. For example, the bigfoot wedding is kind of funny, but the hot dog cereal is just gross. I'm glad it is not on anymore.
The DUMBEST show I have ever seen. I literally feel like tearing my arms off whenever I see a commercial for it on T.V.. I am counting down the days until this show gets cancelled.
Simply having nick cannon as the brainchild behind this show automatically makes it one of the worst T.V. shows of all time
Take it off the air! It is an insult to the human race! They should be ashamed for putting this on the CN! Or any other network
This show is the living hell! It sucks crap!
It's the crack head version of All-That and the electric company. Awfully corny
Never watched it but it looks really bad and the commercials are weird annoying and a waste of time.