Worst Nickelodeon Scandals
Television description of the top 10 worst scandals that Nickelodeon has ever made.

The Top Ten

Amanda Bynes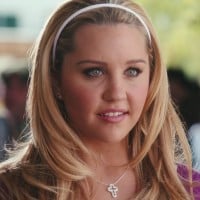 Amanda Laura Bynes is an American former actress. After appearing in commercials and in plays, Bynes rose to prominence as a child star in the late 1990s and early 2000s, first on the Nickelodeon series All That from 1996 to 2000, and then on her own show, The Amanda Show (1999-2002), becoming a teen ...read more.
Amanda Bynes has gotten into a lot of trouble lately, she was on of the stars of the comedy sketch All That, and eventually became the host of The Amanda Show, her own show, years later, she retired, then had a meltdown that came across Twitter in 2013, she set a random person's driveway on fire, was taken to a hospital for mental evaluation, she even tossed a water pipe toward a neighbors house and got arrested for that, she has definitely changed from good to bad, which can happen to more new stars in the future, this was Nickelodeon's worst scandal until Tom Kenny faced child pornography charges, which led to SpongeBob SquarePants being cancelled.
Amanda Bynes has gotten into a lot of trouble lately, she was one of the stars of the comedy sketch All That, and eventually became the host of The Amanda Show, her own show, years later, she retired, then had a meltdown that came across Twitter in 2013, she set a random person's driveway on fire, was taken to a hospital for mental evaluation, she even tossed a water pipe toward a neighbors house and got arrested for that, she has definitely changed from good to bad, which can happen to more new stars in the future.
Amanda Bynes has been diagnosed with a mental illness. She's sick and she needs help, she's not an a-hole and she needs to be accepted.
Tom Kenny

Thomas James Kenny is an American actor and comedian known for his long-running role as the title character in the SpongeBob SquarePants TV series and films. Kenny has voiced many other characters including Heffer Wolfe in Rocko's Modern Life, the Ice King in Adventure Time, the Mayor in The Powerpuff ...read more.
Tom Kenny, the voice of the legendary show SpongeBob SquarePants, was facing child pornography charges which led to the cancellation of SpongeBob SquarePants, this is Nickelodeon's darkest moment & biggest scandal it will ever have.
The November 18, 2014 report of cancellation of SpongeBob due to Tom Kenny showing his child porn is now false, thank goodness, it's time to take this off the list.
What this doesn't even really make sense
Jennette McCurdy

Jennette Michelle Faye McCurdy is an American actress, screenwriter, producer, singer and songwriter who is best known for her role as Sam Puckett on the Nickelodeon sitcom iCarly and its spin-off series Sam & Cat.
ICarly & Sam & Cat star Jennette McCurdy took almost nude pictures of herself wearing just underwear leaked online, she skipped the 2014 Kids Choice Awards and blamed Nickelodeon on Twitter, which claimed that the network treated her badly.
this is why Sam & Cat got booted off
Jamie Lynn Spears

Jamie Lynn Spears is an American actress and singer/songwriter. The younger sister of recording artist Britney Spears, she is best known for her role as Zoey Brooks on the Nickelodeon teen sitcom Zoey 101, on which she starred from 2005 to 2008.
She was the main role of Dan Schneider's most decent show Zoey 101, but at 16, she got pregnant, which ruined the fandom and led to the cancellation of Zoey 101.
So what? Lots of teenagers get pregnant at 16, but cancelling it was a dumb move.
Wow u got peggs at 16 and u have a kids T.V. show...HAHAAHAHA
Drake Bell

Jared Drake Bell is an American actor, voice actor, and musician. Born in Newport Beach, California, he began his career as an actor in the early 1990s at the age of five with his first televised appearance on Home Improvement.
Drake Bell, who played one of the characters on Drake & Josh, filed for bankruptcy, and now he mostly makes headlines to bash Justin Bieber on Twitter.
He also got arrested recently for DUI.

I can't believe legends like him would screw up.
The same actor who appeared in the remake of Yours, Mine & Ours (2005).
Matthew Underwood

Matthew Underwood is best known for his role as Logan Reese in the Zoey 101 series , but he has also worked in various film and television productions. He was originally for the role of Troy Bolton in the musical film High School Musical intended, but had to because of his contract with Nickelodeon ...read more.
Zoey 101 character Matthew Underwood got into real trouble, He was arrested when police searched his home and found marijuana and drug paraphernalia, during the search he was found in the master's bedroom with a 17 year old girl, he was 22 at the time, He was arrested a few months later outside a hookah lounge that he owned for violating his probation, he managed to stay out of the headlines even since.
He has been in jail so many times
Emma Roberts

Emma Rose Roberts is an American actress and singer. After small roles in films such as Blow, she rose to prominence with her role as Addie Singer in the Nickelodeon television series Unfabulous, for which she was nominated for a Teen Choice Award and six Young Artist Awards.
Emma Roberts from Unfabulous got arrested for domestic violence against her boyfriend Evan Peters, who reportedly had a bloody nose and bite marks when after the police had been called about the violence, they said they have worked through their issues and got engaged.
Lucas Cruikshank

Lucas Alan Cruikshank is an American actor and YouTube personality who created the character Fred Figglehorn and the associated Fred series for his channel on the video-sharing website YouTube in late 2005. These videos are centered on Fred Figglehorn, a fictional six-year-old who has a dysfunctional ...read more.
He left Nickelodeon, after ruining the beloved character, Fred Figglehorn, from YouTube, by being on T.V., and by playing Marvin Marvin, but after he left, he has gotten worse by quitting his channel, then he started telling the world that he is "gay", and ever since that moment, he started making out with one of the characters from Jessie, and then split up, and started swearing and ruining people's childhoods, what happened to him, He used to be good until Nickelodeon killed him off, That's why he's going on here.
The true trouble was that even after leaving Nickelodeon, he sold his Fred channel, of course his personal channel doesn't get enough views, so not very many people know about it or go there, but those who go there will find "dirty little secrets" from him, of course that's what pretty much all of YouTube is like, stars doing "dirty little secrets".
Ryan Rottman
Ryan Rottman became famous when he starred as Joey Colvin in Gigantic, which also led to a love connection between Rottman and Victorious star Victoria Justice, after their relationship fizzled out, He got into trouble when they found alcohol and Rottman failed a field sobriety test with his breathalyzer results showing he was driving with more alcohol in his system than twice the legal limit, He was arrested but eventually got released.
Ariana Grande

Ariana Grande-Butera, known professionally as Ariana Grande, is an American singer and actress. She was born on June 26th 1993 in Boca Raton, Florida to Joan Grande and Edward Butera. She is best known for her role as Cat Valentine on the Nickelodeon sitcom Victorious and its spin-off show Sam & Cat. ...read more.
Ariana Grande used to be sorta ok, but she went too far and took nearly nude pictures of herself with Jennette McCurdy and posted them online, then she starred on Sam & Cat, the worst Nickelodeon spinoff, and she and Jennette had a fight at the studio, and now she sings and surpasses Victoria Justice, her voice is so bad that she's Miley Cyrus for Nickelodeon.
She did something worse than before, she wrote "I hate America, and she performed doughnut licking, which is pretty suggestive, It was reported all over the place, She's changed a lot, but the star with the biggest change is Amanda Bynes.
The Contenders
Jerry Trainor

I know he didn't do anything like the other stars, but he was good on iCarly, and even TUFF Puppy, but when he was on Wendell & Vinnie, he cussed and made sex jokes and took them too far, he needs to learn a lesson.
Nick Jonas

Nicholas Jerry "Nick" Jonas is an American singer, songwriter and actor, best known as one of the Jonas Brothers, a pop rock band he formed with his brothers Kevin and Joe.
He dropped f-bombs in his album "Jealous", and he wanted people to have sex in his album.

Never in our life have we ever believed he would turn from a good guy into another scandalous idiot.
These people are really unintelligent.
Christopher Massey
Zoey 101 star, Christopher Massey, who played Michael Barret, got arrested in 2016 for domestic violence, he got into an argument with his girlfriend, Cassie Jackson, early on Sunday morning at the Marquee Club in Las Vegas Nevada.

Authorities told the website that Christopher Massey had been accused of pushing her to the ground.

Security at the Marquee Club held him until the police arrived and arrested him for domestic violence.
He was bailed out, then told friends he did get into an argument with Cassie Jackson, reported by TMZ.

But he said she accidentally fell as they were leaving the club together and security wrongly thought he had pushed her.

Christopher Jackson will not press charges according to the website.

Her mother, Shar Jackson, was once engaged to Kevin Federline, who later,arried Britney Spears.

They had two other children together before Kevin Federline left her to begin a relationship with him.
Justin Bieber

Justin Drew Bieber (born March 1, 1994) is a Canadian singer, songwriter, and record producer. He currently resides in Ontario, Canada and is Christian. He is the son of author Pattie Mallette. ...read more.
Fred: The Show

Fred: The Show is an American television series, created by Lucas Cruikshank that originally aired on Nickelodeon, in the United States from January 16 to August 3, 2012. It was cancelled after the first season due to low scores.
Dan Schneider
Dan Schneider, the man responsible for shows like All That, Zoey 101, Drake and Josh, and iCarly, is said to have used his shows as vehicles for an alleged foot fetish. He's also been said to've been very inappropriate with his shows' stars. Even more so, it's alleged by some that he is the true father of Shamir Lynn Spears' baby.
Chris Savino

Christopher Mason "Chris" Savino (born October 2, 1971 in Royal Oak, Michigan) is an American animator, writer, producer, director, and storyboard artist. He is best known as the creator of The Loud House on Nickelodeon.
Fired from the Loud House following sexual harassment allegations
John Kricfalusi

Michael John Kricfalusi /ˌkrɪsfəˈluːsi/, better known as John K., is a Canadian animator, voice actor, producer, writer, and director best known for creating The Ren & Stimpy Show and founding the animation company Spümcø.
John K, of Ren & Stimpy fame, was ousted as being a creepy, rapey pervert towards young girls.
BAdd New Item