Best Players in Lakers History
The Top TenXW
1
Kobe Bryant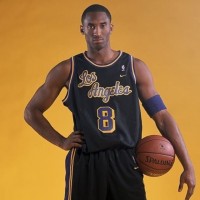 Kobe Bean Bryant is an American retired professional basketball player. He played his entire 20-year career with the Los Angeles Lakers of the National Basketball Association.
kobe could shoot, dribble, shake/trick people and can dunk/lay up. so kobe is like the best basketball player in the NBA like michael jordan.
Not a ball hog. Period. He averages more assists than Durant, my goodness. 81-point game. Career high assists is 15 and had 14 twice. Youngest to 30,000. 12 threes made in a game. Highest score at the Rose Garden by an opponent and Madison Square Garden, two tough places to play at. Made two free throws off an Achilles injury. If someone asks you who's better Kobe or Jordan I hope you get your facts right.
Kobe is the best in nba compared to the other star player in nba. We can compared him to mj but kobe always been different...
He is my favorite player I have his Jersey and shoes it's the black mamba
V69 Comments
2
Magic Johnson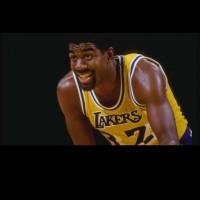 Earvin "Magic" Johnson Jr. is a retired American professional basketball player who played point guard for the Los Angeles Lakers of the National Basketball Association for 13 seasons.
Outside of being the All- star game MVP despite having HIV. Outside of his miracle shots. Having a triple-double at have time. Outside of getting those rebounds. Outside of making no-look passes. Outside of being one of the 50 Greatest. Outside of winning championships. Outside of being at least one of the 20 greatest. He was the greatest ever. Look at his accomplishments and comparing that to Michael. The only one to have the Finals MVP as a rookie. Don't see it? I hope you are understanding me, really.
Magic Johnson is the greatest Laker be far, Kobe is great no Magic Joshnson, this poll seen to favor younger votes who didn't witness the greatness of Magic Johnson.
13 years and 9 finals appearances. 3 MVP's in the Jordan and Bird Era. Never bounced in the first round. I love Kobe but Magic is the best Laker ever hands down!
Magic should be number 1!
V44 Comments
3
Kareem Abdul-Jabbar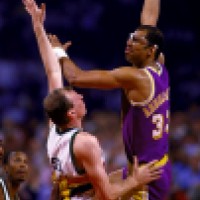 Kareem Abdul-Jabbar is an American retired professional basketball player who played 20 seasons in the National Basketball Association for the Milwaukee Bucks and Los Angeles Lakers.
Throughout KAJ's career not just with the Lakers he racked up the most All-Star selections, All-NBA selections, points, regular season MVP awards and double digit years with LA that can't be overlooked for two things that every body wants in a guy dominance pure pure dominance and that is Kareem for you, you never know what he pulls out of his pocket whether it is a break away dunk or a crisp clean sky hook. - logankulas
Kareem abdul Jabbar is not only the the #1 Laker, he is the #1 NBA player of all times. He has 6 MVP's, 6 championships. 5 with LA, and more points than any other Laker or player in the NBA. He always stayed in great shape. No real injuries that put him out of the season. Unlike Kobie or Magic. The "sky hook" was the single most unstoppable weapon in sports history.
Kareem is better than kobe bryant if you ask me because he was a legend because of his famous move the skyhook the problem with kobe is that he does not pass he always goes for it himself he is a selfish player also kareem is better than kobe but not better than magic
He is the best player to ever play the game.. Way better than Kobe
V12 Comments
4
Wilt Chamberlain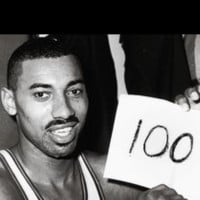 The big dipper is with out a doubt the best player in franchise history he defeated one of the greatest feat in NBA history he scored 100 points in just one game and he scored nearly as much as Michael Jordan even though his career was five years shorter and Wilt Chamberlain was the greatest player of all time has 4 MVP awards 31,000 career points and he only had a fourteen year career and recorded over 23,000 career rebounds and averaged 22.5 rebounds per game so you can't say he is fourth of all time
Could do things that most big men can't like pass well and handle the ball! He led the league in assist once! Also, dominated games like no one else!
Rest in peace to him. He scored more 50 point games than MJ and he was more than a scorer. People thought he was a ball hog and than he said he going to lead this league in assists one year. He did. Shot blocker and he got rebounds for the teams he played for and was a part of the that 33-game win streak. Once again, rest in peace.
He should be 1st
V8 Comments
5
Shaquille O'Neal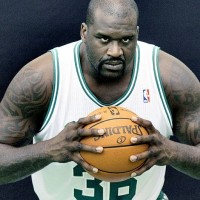 Shaquille Rashaun O'Neal, nicknamed Shaq, is a retired American professional basketball player who is currently an analyst on the television program Inside the NBA.
Shaq is totally better than Kobe Bryant. Bryant just touches the ball gets it in. He's only good at shooting. Well, SHAQ averages better than Kobe Bryant and he gets the most rebounds. Look at his body. He's 136kg and 216cm. Kobe doesn't have 2m
I love shaquille o'neal I want to come to mount vernon il so I can meet him and play basketball with him one on one with the great one
Most dominant and feared big man every to play in the NBA, plus his stats in LA don't lie 27 points per game and 12 boards for his career there
Shaquille O'neal is off the hook! He rocks
V4 Comments
6
Jerry West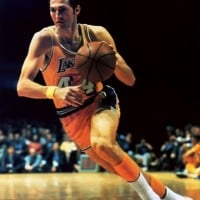 Jerry Alan West is an American retired basketball player who played his entire professional career for the Los Angeles Lakers of the National Basketball Association.
When you talk about commitment the number one person that would come to your mind is Jerry West even if you did not know it because he stuck with the Lakers (and the all star team) for his entire career and now he owns the Lakers and he brought together the greatest one-two punches since Scottie and Jordan and if you can't see a fourteen time all star as great then what is - logankulas
I'm not even a Lakers fan and The Logo earned my respect. I want to see Kobe make a full-court shot in the last seconds of the FINALS! I want to see Kobe lead the league in assists and make it to the Finals 9 times. That's why Jerry West should be higher than Kobe. - bishop.moore07
His commitment as a player for the Lakers and making the All Star team for an amazing 14 years. Then as Laker coach and general manager. I would call that A lifetime career of Love and Dedication!
Jerry West might not be a better player than people higher on this list like Shaq and Wilt but he deserves to be higher than them because he is known as a laker, the others aren't.
V6 Comments
7
Elgin Baylor
Elgin Baylor is the best from this list period. He made what the Los Angeles Lakers are today!
He scored 71 points in a game once the 2nd Lakers record in scoring. He also was a good defender and rebounder.
V3 Comments
8
James Worthy
He dunked like the statue of liberty. And, he was a Finals MVP and number one draft pick. The Lakers would not have 16 if they did not draft him.
James Worthy third member of the Showtime era
V1 Comment
9
Derek Fisher
3 pointer with. 2 left. Never fails the last couple of seconds. Great team player, great athlete. D fish is the best.
10
Byron Scott
People forget that Byron Scott was the leading scorer for the Lakers the 1987-88 championship season. He averaged 21 points a game - that was more than Magic, Worthy or Kareem!
I very much agree with you that byron is good but I think Kobe is my favorite I like Kobe a lot and I look up to him a lot!
Kobe's the best... but Byron is my favorite Laker of all time.
V1 Comment
The Newcomers
?John Wall
BAdd New Item
The Contenders
11
George Mikan
George Mikan utterly changed the way "big men" played the Center position. Top 5, for sure. Rating Mikan as #11 is a result of people thinking in the short term. My top 5: Magic, Kareem, Jerry West, Kobe, George Mikan.
He is another one that passed great and was a great post player. Rest in Peace he passed away about 13, 14 years ago. The first Lakers and NBA star.
George Mikan was one of the NBA's first big stars and the Lakers should be glad to have him as part of their history. George Mikan led the Lakers to four out of five championships.
The Original Lady's and Gentleman. I believe some respect is owed here!
12
Karl Malone
He was so bad as a laker muggsy bogues could have trashed he's ass in 1v1 but a beast as a jazz
V1 Comment
13
Pau Gasol
One of the most dominant big man to ever play with the lakers.
As a matter of fact he only helped win 2 rings not 4
V1 Comment
14A.C. Green
15
Steve Nash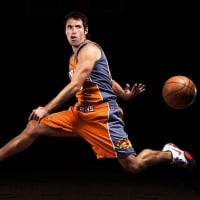 Stephen John Nash, is a Canadian retired professional basketball player who played in the National Basketball Association.
V1 Comment
16Michael Cooper
17Gail Goodrich
18
Robert Horry
So clutch he absolutely needs to be in the top 10.
19
Kurt Rambis
How is this legend not number 1 on the list!?! This guy won played 9 years with the Lakers and won 4 championships in that time! Not to mention he coached the team for 10 years!
A true god to the game of basketball. Changed the game. Do I need to say more?
The most underrated player ever in the NBA by far
Changed the game with that mustache
V4 Comments
20
Nick Van Exel
The third most exciting Laker, after Magic and Kobe. Van Exel WAS the Lakers in the mid 90's. He had so many clutch shots, to include his game winning three at the buzzer in the last game at the Celtics old Boston Garden.
V1 Comment
BAdd New Item
Related Lists

Most Clutch Players in NBA History

The Best Defensive Players in NBA History

Best Players in Chicago Bulls History

Most Versatile Players in NBA History

Top Ten Greatest Players in Super Bowl History
List StatsUpdated 26 May 2016
2,000 votes
39 listings
8 years, 154 days old

Top Remixes (13)

1. Kobe Bryant
2. Magic Johnson
3. Kareem Abdul-Jabbar

decorulez97

1. Magic Johnson
2. Kareem Abdul-Jabbar
3. Kobe Bryant

BR1995

1. Kareem Abdul-Jabbar
2. Magic Johnson
3. Wilt Chamberlain

Lameformer
View All 13
Posts
Error Reporting
See a factual error in these listings? Report it
here
.